Rick Perry May Not Be Conservative Enough For Texas
His protege is struggling against a libertarian insurgent. "People are tired of" Perry and Dewhurst, warns a conservative.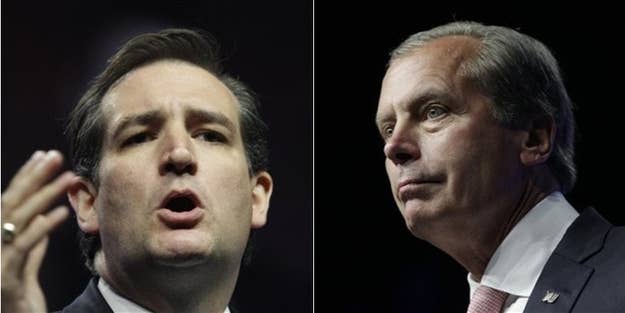 FORT WORTH, Texas — There are two wings of the Republican Party in this state, a Rick Perry ally noted recently: "Conservative and very conservative."
And Governor Perry, whose reflexive antipathy to the federal government defined "very conservative" on the national stage, suddenly finds himself making the case back at home that he isn't a squish.
The stage for Texas's latest Republican civil war is the Senatorial runoff between Lieutenant Governor David Dewhurst, a Perry ally who is very conservative by most measures — he passed tax cuts through the State Senate and tightened abortion laws — and former Solicitor General Ted Cruz, who among his conservative beliefs, has said that the Council on Foreign Relations is "a pernicious nest of snakes" that is "working to undermine our sovereignty."
Cruz surged into a surprisingly close second in the primary on May 29, forcing a runoff next month, and marking the arrival of the Tea Party revolution in Texas, where the unusual dynamic — Perry beat back challenges from both a relative moderate and a Ron Paul supporter in 2010 — had muddied the ideological waters. The Texas runoff is part of a national shift in the balance of power inside the Republican Party, and is centrally between Establishment figures like Perry and Dewhurst and populist outsiders like Cruz. And while the race probably won't have immediate national implications — either candidate will be heavily favored to carry the state in November — Cruz's emergence is a mark of the shift in how the Republican Party chooses its candidates.
"It's a message to [Perry and Dewhurst] from the party that they need to move on," Joe Barnett, a precinct chairman from Arlington, told BuzzFeed at the Texas Republican Party Convention at the Fort Worth Convention Center.
"People are tired of them. Republicans are tired of them," said Barnett, a member of the state board of the Texas Republican Assembly — which bills itself as "the Republican wing of the Republican Party."
Cruz, too, has sought to cast the race in those terms — outside against inside, his charisma against Dewhurst's personal and acquired deep pockets.
"Cruz has given Texas Republicans something to be excited about," an operative supporting Cruz said. "Dewhurst is just more of the same. It's not really about conservative or not conservative, it's about change."
Perry and his aides, however, reject this narrative, and their fight for Dewhurst is also a battle to maintain the delicate balance between anti-government conservatism and the dexterous political use of government that was a running issue during Perry's failed presidential campaign. Perry, the nation's longest-serving governor, is taking yet another political risk just two years before he is to face reelection — and the outcome of which could determine the success of his political rehabilitation after his unsuccessful presidential run.
"We need more strong, conservative Texans in Washington, including my friend and colleague David Dewhurst," Perry, among the most conservative candidates in the 2012 Republican presidential race, said in the middle of his speech, drawing boos and chants of "Cruuuuzz," from thousands of conservatives in the audience.
Asked about the response after his speech while fleeing a flock of reporters, Perry replied — in an episode out of The Simpsons — "I thought they said Dew."
It was a stunning rebuke of the otherwise popular governor from the conservative activists in his own party.
Perry took the stage at the Texas Republican Convention last week after an blockbuster action-movie trailer with a swelling score, but there was no bigger celebrity there than Cruz, who has been endorsed by Ron Paul and Rick Santorum. Cruz's campaign flooded the conventional hall with an army of volunteers passing out stickers and signing up volunteers.
In a particularly awkward moment, Perry, who was signing autographs at the booth of the advocacy group "Empower Texans," found himself face-to-face with many of the same people who booed him minutes earlier.
Perry pretended as if nothing had happened — signing autographs and even drawing a heart to dot the "i" in his first name for several female supporters wearing Cruz stickers.
Many Perry supporters said they are stunned that after Dewhurst failed to avoid a primary runoff with Cruz, Perry doubled down on behalf of his Lieutenant Governor.
"Why — just why?" asked one Perry supporter who is now backing Cruz. "First his presidential campaign was a disaster and now he's putting his muscle behind a loser."
But a Republican operative close to Perry and Dewhurst, rejected the notion that it would have been pragmatic for Perry to back off his support of Dewhurst. "He won 48 percent of the vote — he won the primary with a double digit lead over Cruz. Backing the winner seems pragmatic to me."
"They've been in the trenches together. They believe in each other. Every bill Perry signed Dewhurst passed," the operative added, as to why Perry was sticking behind his number two.
Unlike races in Nebraska and Indiana, where conservative candidates defeated moderates and portended a national split within the Republican Party, both sides say the race is less significant even if it does fit the mold — most notably that the eventual Republican nominee is almost certain to win in November.
Dewhurst supporters bristle at the DC-based outside groups spending vast sums to help Cruz, and are trying to cast the race as a struggle for the political independence of Texas. "Texas is not Nebraska, Texas is not Indiana — Texas is Texas. This race Texas vs. Washington, D.C. and Dewhurst is fighting for Texas."
Perry is now hoping that his organization — especially in absentee and early votes — can overcome the momentum and election day turnout of Cruz's high-energy campaign. The vote is July 31st.
And Republicans on both sides of the battle say that while it may determine the shape of the Republican Party in the state, Perry is strong enough to weather even this.
Republican consultant Matt Mackowiak, a Cruz supporter, said that while Perry's support for Dewhurst is unpopular, it likely won't have a lasting effect should he chose to run again.
"The audience response was a disaster for Dewhurst. It was much worse than anyone expected and he will have a rough time addressing the convention," he said. "While Perry is deeply invested, I don't think this will hurt him much. He has credibility with the base in a way Dewhurst doesn't."