Cody D'Ambrosio
Head of Physical Production
7:12AM - Welcome to Production / Happy to be here, what a team / Rap game Lou Bloom
Matt DeGroot
Production Manager
World traveling Production Enforcer and eater of all things gummy.
Angela Ruffin
Production Manager
Inimitable...I walk to my own beat! Love Film/Food/Travel pretty much everything else.
SeungWan Choi
Production Coordinator
Megan Baxter
Production Manager
2 truths and a lie: Superwoman, Betty Crocker, future dog walker.
Brian Castile
Equipment Manager
I live for all things lighting and cinematography, I'm also a shape shifter.
Matt Miller
Equipment Specialist
I like dogs and taking photos and dogs taking photos.
Laina Kaffenberger
Art Department Associate
I make things look pretty. Donut connoisseur. Chicken enthusiast. Twin Peaks fan.
Hakuna matata, within reason.
Senior Video Research Associate
When I close my eyes I dream of Oprah's garden on harvest day.

Leo seeks a dangerous life.
Awkward dance enthusiast.
Post Production Coordinator
Just a nice girl from the Midwest who loves wine, puppies, sushi, and whiskey - but not in that order though. =D
Video Syndication Specialist
250 pounds of twisted steel and sex appeal.
Maira Ferranti Correa
Production Assistant
I'm here for the spreadsheets (while I still wait for my Hogwarts letter).
Jason Pierre
Jr. Production Coordinator
I watch too many movies, love jazz and I know the world is an illusion.
Rachel Youdale
Jr. Production Coordinator
World Traveler/Beer Enthusiast/Canadian Native/Please Don't Ask For My Greencard...
Emily Sawdey
Post Production Supervisor
You can not just "fix" it in Post....
Katie York
Post Production Coordinator
Lookin' for a mind at work.
Indiana Fawcett
Media Coordinator
I move media from one place to another.
Stephen Santayana
Production Coordinator
I could survive for years on leftovers.
Matt Ford
Jr. Production Coordinator
I'm just here for the vidz.
Florida native, experimental filmmaker...until I get my cult off the ground.
Morgann Franson
Head of Casting
I watch people be funny for a living
Katie LeBlanc
Show Producer
Making videos into videshows. An otherwise sensible lady.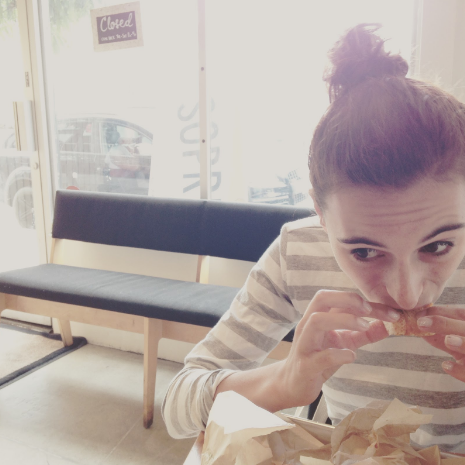 Thespi Guatieri
Show Producer
Kate Donnelly
Show Producer
Dog park socialite. Dance party enthusiast.