Solange Responded To The Evening Standard After It Photoshopped Her Braid Out Of Its Cover
A journalist apparently responsible for the reporting in the piece has also distanced herself from it.
Today's Evening Standard Magazine has a cover story about Grammy-winning singer Solange Knowles. She accused the magazine of photoshopping out part of her braided crown.
Solange responded to the cover's publication by highlighting the missing part of her braid on Instagram Stories. She posted a segment of her interview where she spoke to the magazine about the importance of braiding.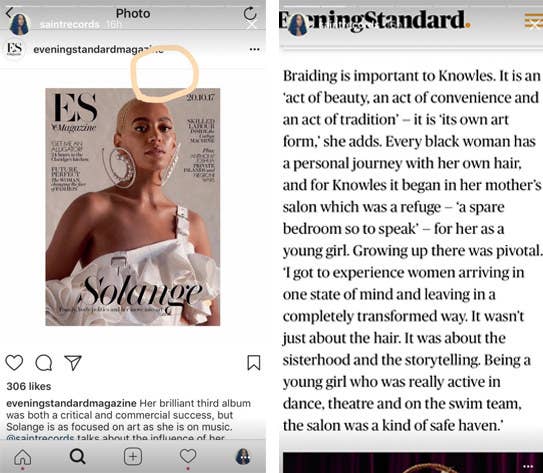 She then posted an Instagram picture of the unedited photo with the caption "dtmh", an abbreviation of "Don't Touch My Hair", the title of one of her critically acclaimed songs about micro-aggressions.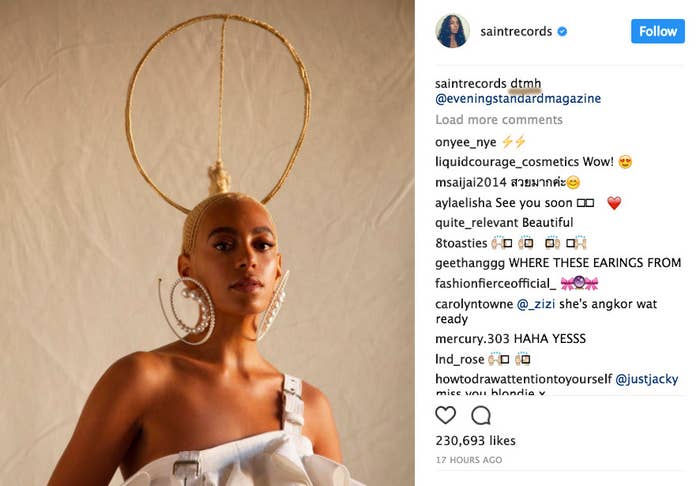 Many others called out the magazine for photoshopping Solange's braid.
And described it as a "weird" thing to do.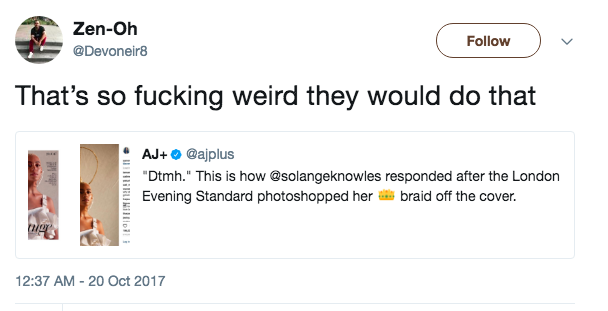 Some felt it was ironic as Solange was talking about hair in the piece.

Separately, Angelica Jade Bastién, a writer for Vulture, has tweeted about asking the magazine to remove her byline from the piece.
UPDATE
In an article posted on its website, the Evening Standard apologised to Solange.
The apology said: "We were delighted to have the chance to interview the wonderful Solange Knowles and photograph her for this week's edition of ES magazine.
"It is therefore a matter of great regret that the finished cover artwork of the magazine caused concern and offence.
"The decision to amend the photograph was taken for layout purposes but plainly we made the wrong call and we have offered our unreserved apologies to Solange."