Small Channels On YouTube Are Blaming Logan Paul For Being Demonetized‬
"Demonetizing small channels... that'll show Logan Paul."
YouTube has announced that channels with under 4,000 hours of watch time and 1,000 subscribers will not be eligible to make money from their accounts.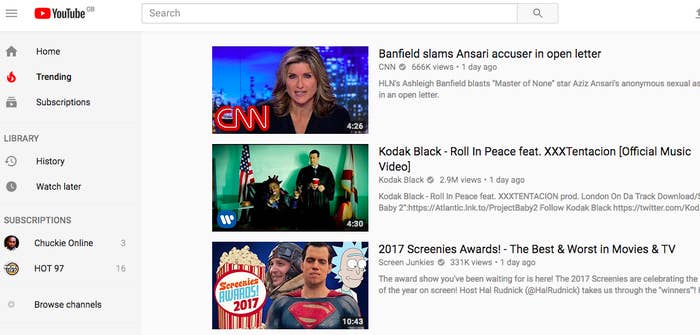 The news was posted on YouTube's Creator blog by Neal Mohan, the chief product officer, and Robert Kyncl, the chief business officer.
Mohan said in the post: "On February 20th, 2018 ... channels with fewer than 1,000 subs or 4,000 watch hours will no longer be able to earn money on YouTube. When they reach 1,000 subs and 4,000 watch hours they will be automatically re-evaluated under strict criteria to ensure they comply with our policies."

He went on: "New channels will need to apply, and their application will be evaluated when they hit these milestones."
Many YouTubers with small channels are not happy about the news.
Some people are annoyed and find it hypocritical that Logan Paul made money from his videos in Japan despite the controversy over his showing a dead body.
On Thursday 11 January, YouTube removed Paul as a preferred ad partner.
Matt Wisniewski, 33, from Denver, Colorado, has been making YouTube videos for several years now. He has over 600 subscribers and said he's "pissed" about the news. He made a video yesterday addressing it.
Speaking to BuzzFeed News, he said: "The new regulations are not fair to small channels."
Wisniewski, who works as tech support for a local law firm, fears that YouTube will not promote his videos because he doesn't meet the threshold. "When I got the news I felt like all the work I have put into my channel was for nothing. I don't make money from YouTube, but at least they saw me as working to make content for their platform," he said.
He posted his first ever YouTube video 10 years ago, but three years ago he started taking it seriously. Wisniewski's channel focuses on movie reviews and superheroes.
"I am not making regular money on YouTube," he said. "I have not made enough ad revenue to get a check yet. I love YouTube — I watch it all the time; it's one of my main sources of entertainment. I can always find something new to watch or an interesting point of view."
He added: "I think it's unfair that Logan Paul hasn't been demonetized for his actions, which are against YouTube's rules and regulations."
Kufuor said she loves creating YouTube videos and was well on her way to making her first pay cheque from her content. "But now with the new regulations that have been announced, I fear that if I don't meet the criteria of 4,000 hours of watch time and 1,000 subscribers by February 20 all that I have built up will be wiped clean," she said.
"I think it is unfair that YouTube has made this change to the criteria to be able to monetise videos," she said. "There has not been much explanation as to why this decision has been made and it affects a large proportion of up-an- coming YouTubers."
Kufuor said: "Scrolling through Twitter after the announcement I came across many tweets from people whose livelihood will now be affected. There is definitely panic in the air amongst the YouTube community."

Many people were sharing their channels under the hashtag #SmallYouTuberArmy to try to reach the threshold.
YouTube declined to give BuzzFeed News a statement that went beyond its blog post.