Police have launched an investigation after a "spontaneous water fight" in London's Hyde Park led to violent clashes between young people and police.
Large numbers of young people started appearing in Hyde Park at 3pm on the hottest day of the year for what the Metropolitan police described as "a spontaneous water fight".
A flyer encouraging people to come to the "Bashment in the park" was circulated on social media asking people to "repost this lets make it happen!!"
According to police, the tensions started when its officers approached a group who were trying to set up a soundsystem. It was after this that a small section of the large crowd became hostile and started throwing bottles and other items at officers prompting police in riot gear to be deployed.
The crowds were dispersed by 2.20am on Wednesday morning.
Met commander B.J. Harrington condemned the violence and warned parents to "think carefully about whether these events are the sorts of places you want your children to go".
A police officer who was stabbed in the hand and another who suffered a head injury during the clashes were taken to hospital for treatment. In total, five officers and at least three members of the public were injured, the Met said. Two members of the public were treated for stab wounds, according to the BBC.
London mayor Sadiq Khan condemned the incident.
Footage posted on Twitter showed police in riot gear surrounding the area and trying to get the crowd under control.
In a Periscope stream recorded of the incident, teenagers were heard shouting "fuck the feds".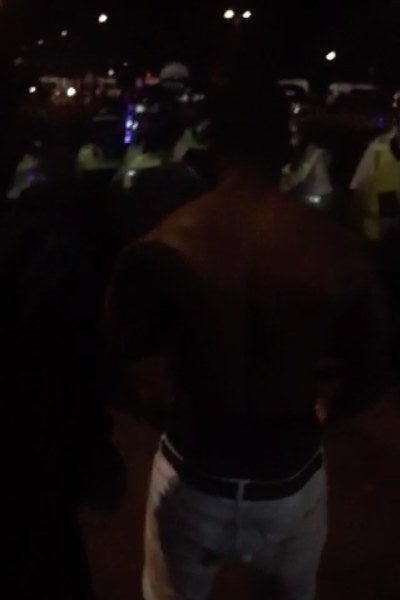 There were also unverified claims that members of the crowd were shouting "black lives matter". No footage has been seen to substantiate the claims at present.
Met police commander B.J. Harrington said: "What took place wasn't a group of people out enjoying the sunshine, but crime and disorder which is quite simply unacceptable."
He added: "If people are going to go along to unlicensed or spontaneous events then please think very carefully, they are simply not safe. You do not have the protection of attending a well organised and safe event. Parents and guardians are urged to think carefully about whether these sorts of events are where you want you children to go."
The Met has opened an investigation into the matter and is urging anyone with footage to get in touch. No arrests have been made.
In a statement, the London Ambulance Service told BuzzFeed News:
We were called at 8.41pm on Tuesday, 19 July to reports of an incident at Serpentine Road, Hyde Park.

We sent a number of resources to the scene including two single responders in cars, four ambulance crews and three incident response officers.

We treated two men for stab wounds and they were taken to hospital.

Two police officers were also injured, we treated one at the scene and he was taken by police to hospital, the second was taken directly to hospital by the police.