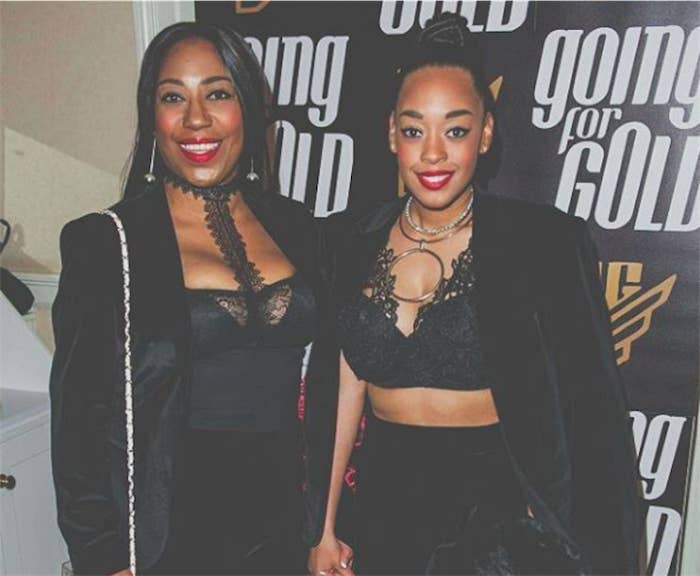 Partygoers were denied entrance to a Sony Xperia launch in London over the weekend on the grounds of race, according to a number of people who have spoken to BuzzFeed News.
Mother-and-daughter YouTube duo Imani and Sue Evans, from Bedfordshire, were the first to speak about the incident and said that they were refused entry. Imani, 24, told BuzzFeed News that she was "emotionally abused" by staff from PR firm Citizen Relations, which was hosting the event.
The women, who have appeared on the BBC2 series The Kitchen and the MTV show Judge Geordie and are now YouTubers, said they were turned away from the club in Soho twice. On both occasions they were refused by different staff members and for different reasons. Imani said the pair were denied entry for "no good reason".
A spokesperson for Citizen Relations denied the pair's claims, saying: "We have taken these claims extremely seriously and following a review, do not believe them to be justified. More than 350 guests attended the event and no complaints were made on the night. Entry was at the door's discretion and any refusal was due to capacity limitations.
"We are finalising our legal position and will take the appropriate course of action."
The company subsequently released a statement on its website in which it said that race "had nothing to do with the incident" and that racism from its staff "wouldn't be tolerated".
Imani said she and her mother were initially turned away as the staff member stated the club had hit full capacity. "I go to a lot of events; if an event is full, you can get in as long as you're on the guest list," she said.
At this point she said she asked the door staff to fetch the woman who had arranged her and her mother's guest-list passes via email.
After being turned away, Imani said, she then saw a group including a white male – TayTay Stahrz from the boy band Franklin Lake – being allowed into the club. She said she and her mother then put their wrists out to get stamped as well, whereupon the staff member "pulled the stamp back... and said, 'Sorry, we are full.'"
She replied: "You've just let my three friends in after telling me you're full, but you're full again for us" – only for them to tell her she wasn't on the guest list, and refusing to let her see it.
Imani said she told the staff member that she'd like to speak to someone else. She said she had "never felt something so toxically humiliating" and that she felt "degraded". Afterwards, she said, she walked off in tears.
Following the incident, the duo's talent agency sent Citizen Relations an email of complaint. Imani said Citizen Relations replied, saying, "We are having capacity issues. We have to prioritise journalists and Sony staff."
Celebrity love coach Nadia Essex, who was in a group that included people of colour, was refused entry to the event too. She told BuzzFeed News, "Twenty white people, not one black [person] were let in, even though they said they were at maximum capacity."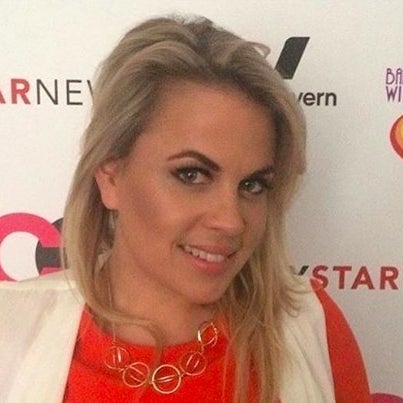 Essex was with The Apprentice finalist Scott Saunders at the time. She said a member of the door staff "looked us up and down" and then told the group the club was at maximum capacity.
She said she wanted to speak to a manager about this and, as she was waiting, she heard a staff member say, "We're not letting them in."
Saunders said, "I don't get refused anywhere."
He added: "We were all pretty much people of colour and we asked politely. We were all confused as to why we were refused entry and they let other people in."
TayTay Starhz, who was allowed into the club, would not comment on the incident. His management told BuzzFeed News: "TayTay from Franklin Lake tried to assist Sue and Imani, however was told the event was to full capacity. Franklin Lake stayed for one drink and then left."
After she was turned away from the club, Imani posted about the incident on Instagram. "Something has to be done," she said.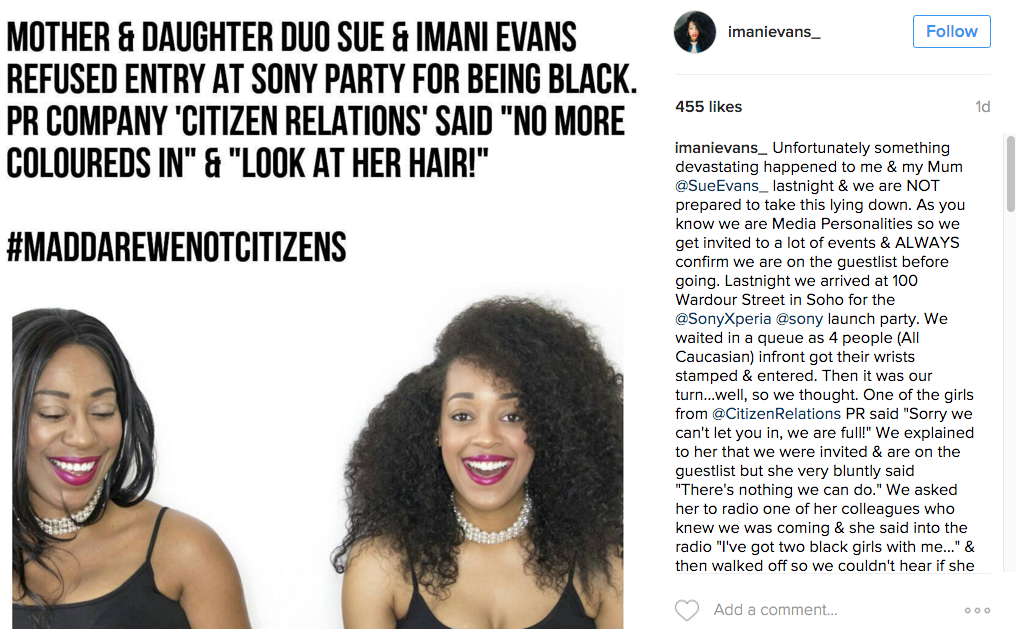 She said: "Our campaign is called #MADDAreWeNotCitizens and people are using the hashtag because their PR company is called Citizens, but we did not feel like citizens that night."
She said she had received many messages of support on Sony's own Instagram post about the event, but they were being deleted.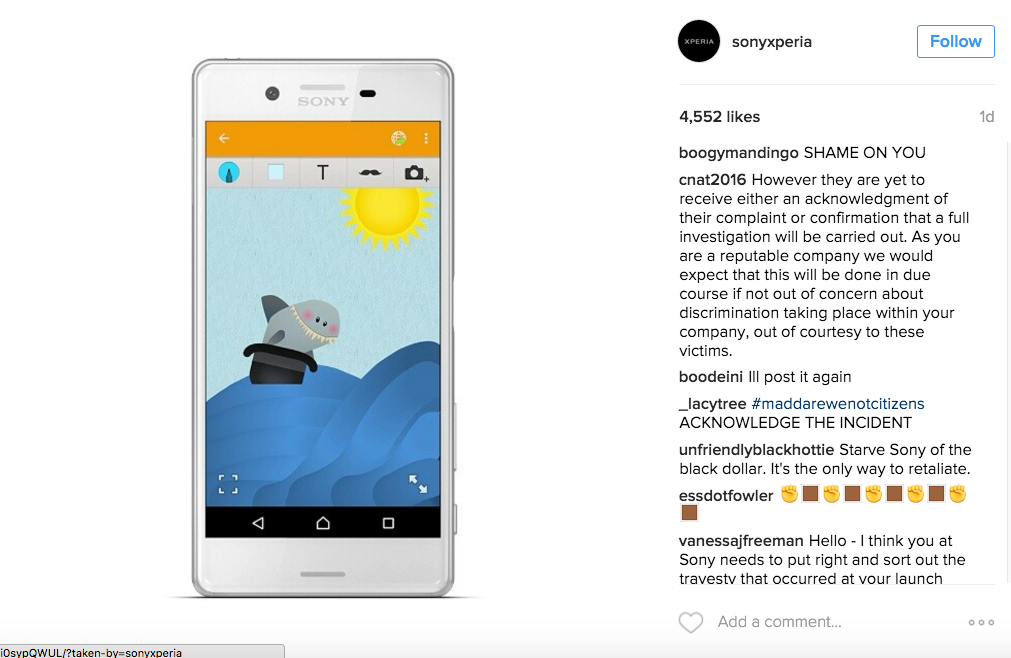 The full statement from Citizen Relations is below:
As you may have read, a client event that Citizen hosted last week in London couldn't accommodate everyone that wanted to attend, resulting in a number of people being turned away. Two of those people claimed that race was involved in this decision.

We took this allegation very seriously and immediately launched an investigation with our staff and suppliers to confirm details of what happened at the event. Now that our investigation is complete we're confident our team acted fairly and professionally.

Further, we are confident race had nothing to do with it as we don't stand for that and it simply wouldn't be tolerated. That said, we're deeply sorry for their disappointment. It has not been our team's intent to make anyone feel excluded nor ignored in the aftermath as we fully investigated the matter.

At Citizen, we are committed to equality and diversity, and do not tolerate discrimination of any type. We believe these values are central to who we are as an organisation, and we will continue to champion equality for everyone in all areas of our work and culture.