Abusive tweets targeting MPs doubled in the wake of the Manchester and London Bridge terror attacks, according to new analysis by BuzzFeed News and the University of Sheffield that reveals for the first time the scale of abuse faced by politicians on Twitter during the general election campaign.

The research covered 840,000 tweets and suggests that the amount of abuse in the run-up to the snap election was heavily influenced by news events, with abusive tweets to MPs soaring in the wake of the two terrorist attacks.
It also found that:
Women candidates were more likely to receive gendered abusive words like "witch".

Jeremy Corbyn was the politician who received the highest amount of abusive messages on Twitter during the campaign.

The overwhelming majority of insulting tweets were targeted at a relatively small number of prominent politicians.

When the findings were broken down by party and gender, male Conservative candidates were the group receiving the highest percentage of abuse in their Twitter mentions.

The government has announced an inquiry into the abuse, both online and offline, that politicians faced during the general election, following a debate in Westminster in which MPs detailed the abuse they and their staff had faced. One MP said this was "driving people out of politics altogether," but others have countered that the debate risks labelling all criticism of politicians as "abusive".

BuzzFeed News worked with researchers at the University of Sheffield to analyse tweets sent in replies to a wide range of politicians. The politicians included candidates standing for major parties who have a known Twitter profile, plus a small number of other prominent politicians who were not standing as candidates.
The analysis focused on tweets using obscene nouns ("cunt", "twat", etc), racist or otherwise bigoted language, milder insults ("you idiot", "coward"), and words that can be threats ("kill", "rape"). Obscene language more generally ("fucking", "bloody") was not counted as abusive as it was less likely to be targeted at the MP personally.
Here is what we found:
The percentage of abusive tweets sent to candidates from all parties spiked dramatically in the wake of the two terror attacks during the election campaign.
In general, the percentage of tweets that the study flagged as likely abuse made up between 2% and 4% of all tweets sent to the politicians on any given day.
But directly after the attacks at Manchester Arena on the night of 22 May, and in London Bridge on the night of 3 June, the volume of abusive tweets doubled, before quickly declining again.
The bulk of abuse was received by a small number of the most prominent politicians.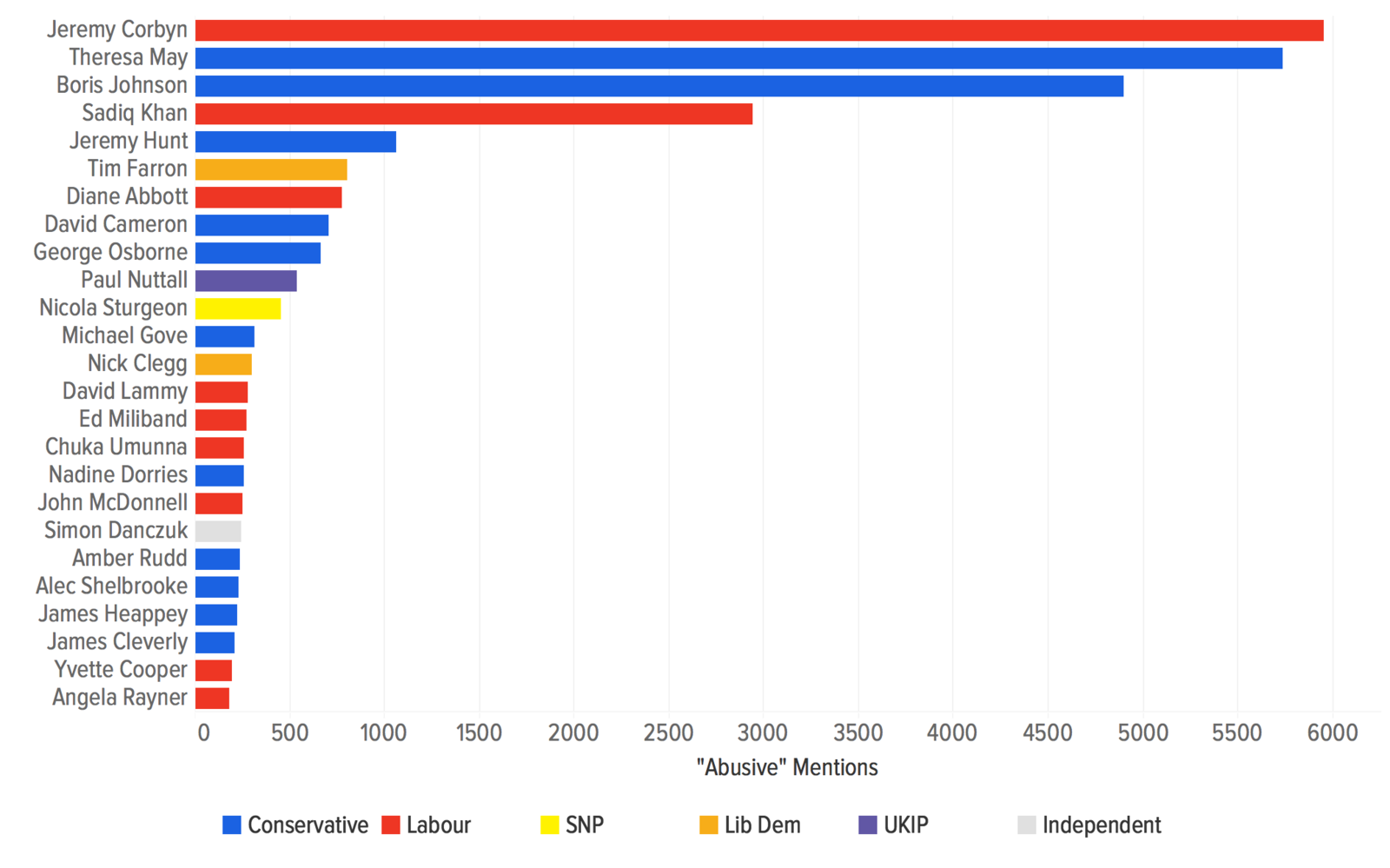 Between them, Jeremy Corbyn, Theresa May, Boris Johnson, and Sadiq Khan received over 50% of the total abusive tweets sent to politicians in the month the team at Sheffield studied. (As mayor of London, Khan was not standing as a candidate in the election: However, he remains one of the country's most prominent Labour politicians and became even more of a target after the president of the United States criticised him on Twitter following the London Bridge attack.) Corbyn received the highest number of abusive mentions.
Major figures like Jeremy Hunt, Tim Farron, Diane Abbott, Paul Nuttall and Nicola Sturgeon – plus former prime minister David Cameron and former chancellor George Osborne, both of whom stood down before the election – also attracted significant amounts of abuse. Between them, the top 10 most-targeted figures accounted for over 70% of all the abusive tweets sent to politicians during the period.
Abbott has spoken out repeatedly about the abuse she suffered in the election, during which she was heavily targeted by Conservative campaign in the final days before the vote. A previous analysis by BuzzFeed News showed that 10% of the most viral right-wing news stories during this campaign had been attacks on Abbott.
"I've had death threats, I've had people tweeting that I should be hung if they 'can find a tree big enough to take the fat bitch's weight', there was an EDL-affiliated Twitter account '#BurnDianeAbbott', I've had rape threats, been described as a 'pathetic useless black fat piece of shit', 'ugly fat black bitch', and 'nigger' over and over again," Abbott said during the Westminster debate on abuse.
Overall, just under 3.9% of all the tweets in the sample were flagged as potentially abusive. However, it's worth noting that this figure will include some non-abusive tweets wrongly identified using our filters – for example, one false positive was just a journalist telling a Lib Dem candidate that they thought the band Garbage were better than the band Elastica.
It's not possible to automatically identify abuse with 100% accuracy (as Twitter's own attempts to crack down on it have shown).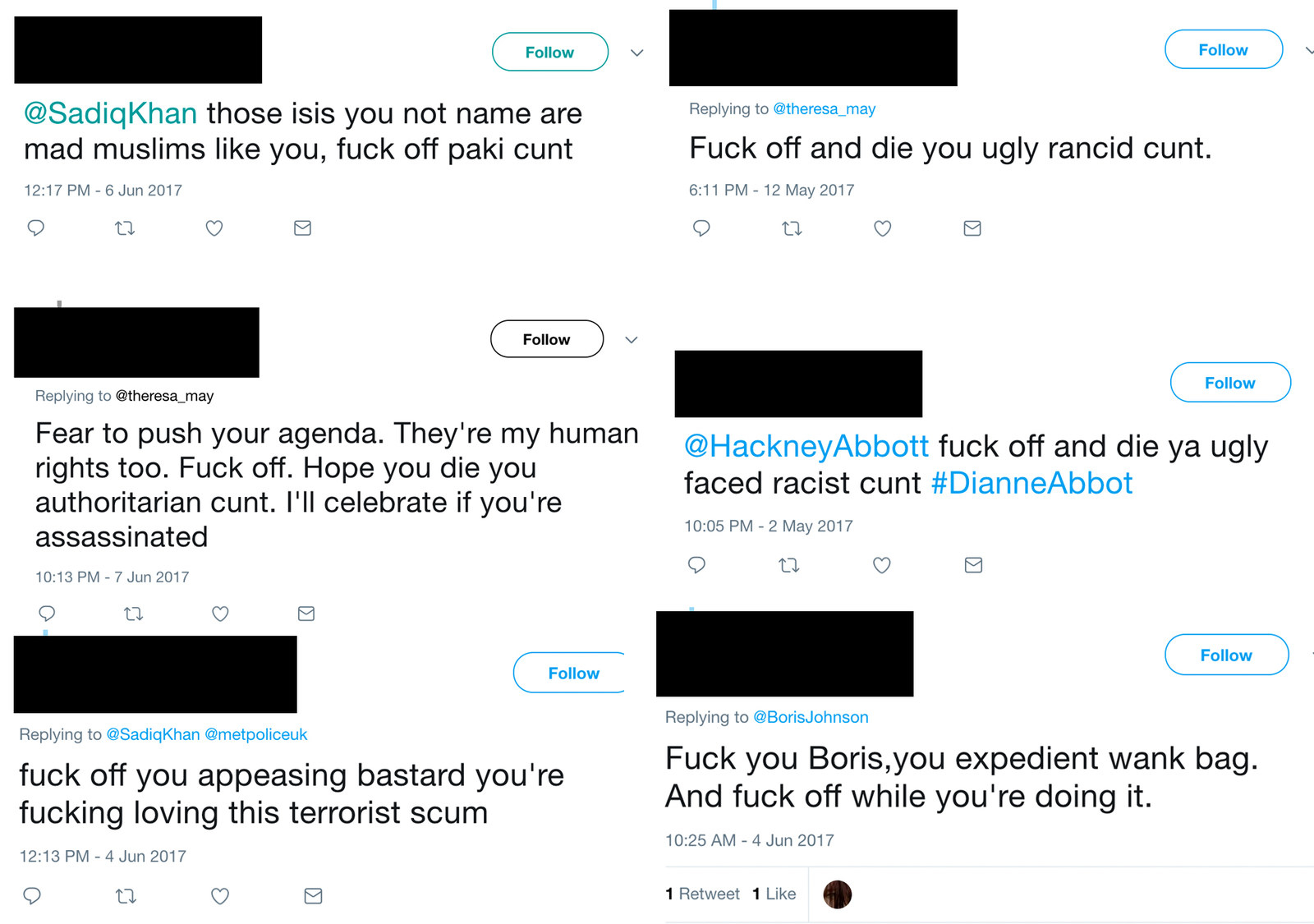 We were able to extract the individual tweets and found some were outright racist or misogynist, some were obscene, and some were merely mildly insulting.

Broken down by party and gender, male Conservative candidates were the group who received the highest percentage of abuse in their mentions, followed by male UKIP and Labour candidates, and female Conservative candidates.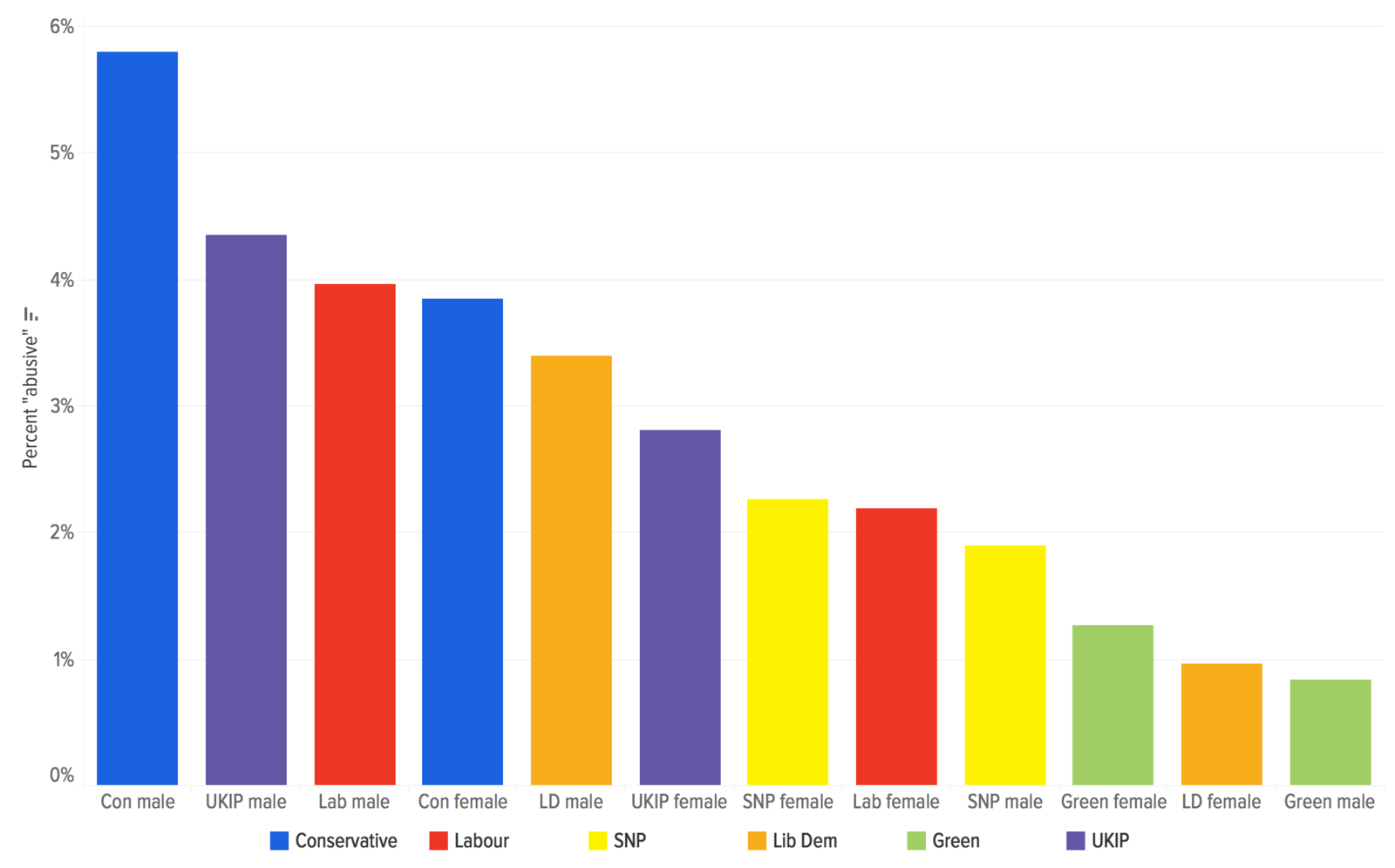 It's important not to over-interpret this finding, however. As we've already noted, prominent politicians act as magnets for the vast majority of the abuse – and there are significantly more prominent male politicians than female ones. And given the UK was governed by a Conservative majority before the election, that party was fielding more high-profile candidates.
There is a clear difference in the insulting words directed at male and female politicians.
While some terms are common to both ("fuck off", "idiot", "coward"), female politicians received more gendered insults ("bitch", "witch", etc).
And of course "cunt", which appears in the top 10 lists for both genders, has different connotations when directed at women than at men.
These are the 10 most common abuse phrases directed at male politicians from major parties.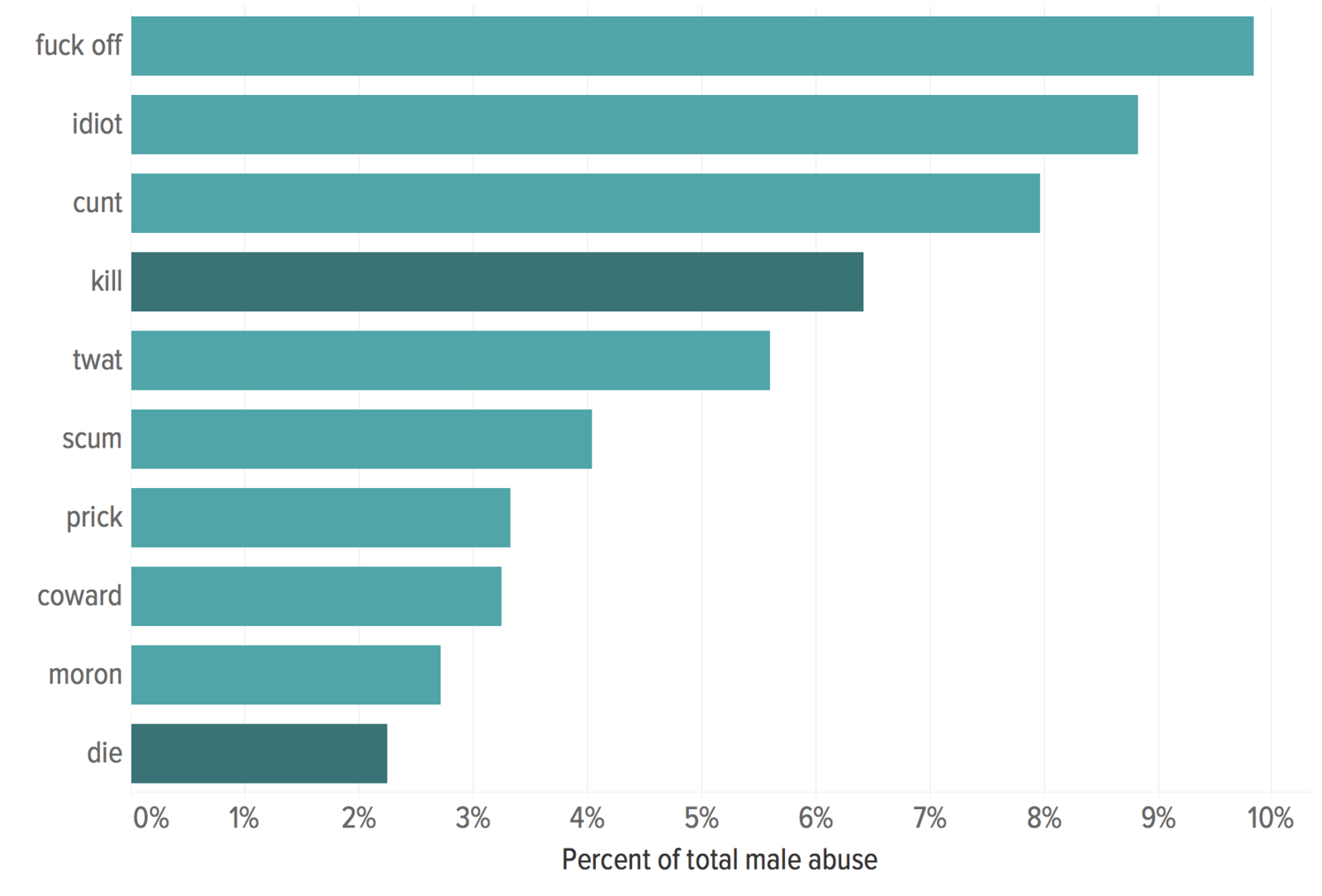 And these are the most common abuse phrases directed at women from the same parties.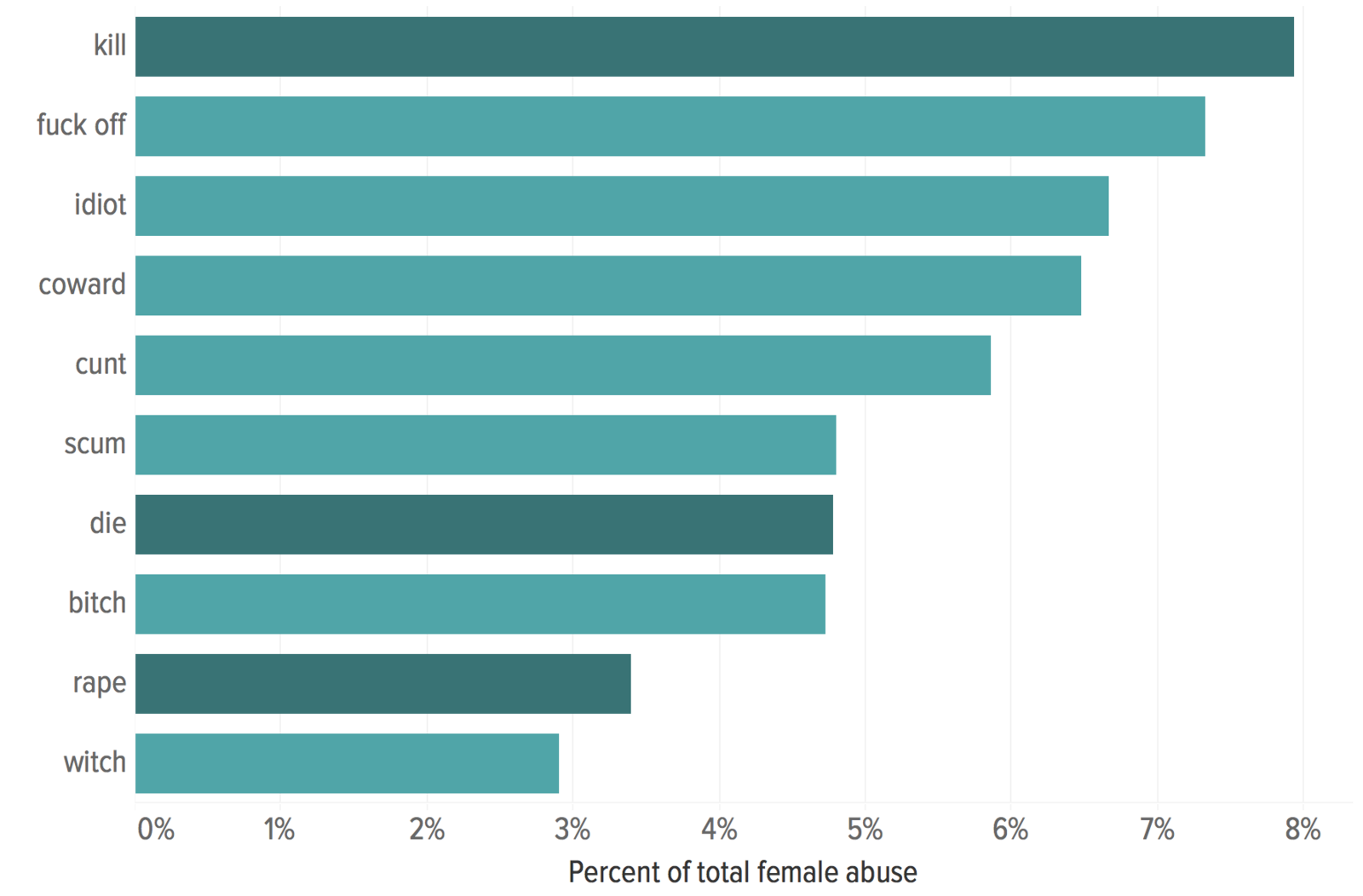 In both of the charts above, the darker green bars mark phrases that were sometimes used to abuse the MPs but were also often used to discuss issues in the campaign: such as Jeremy Corbyn's attitude towards "shoot-to-kill", the Conservative government's "rape clause", or general discussion of people dying because of various policies.
There were not enough transgender or nonbinary candidates standing in the general election for the data on abuse directed towards them to be significant.

The spike in abuse in the two days following the two terrorist attacks was far more pronounced for prominent left-leaning or liberal politicians than it was for right-wing politicians.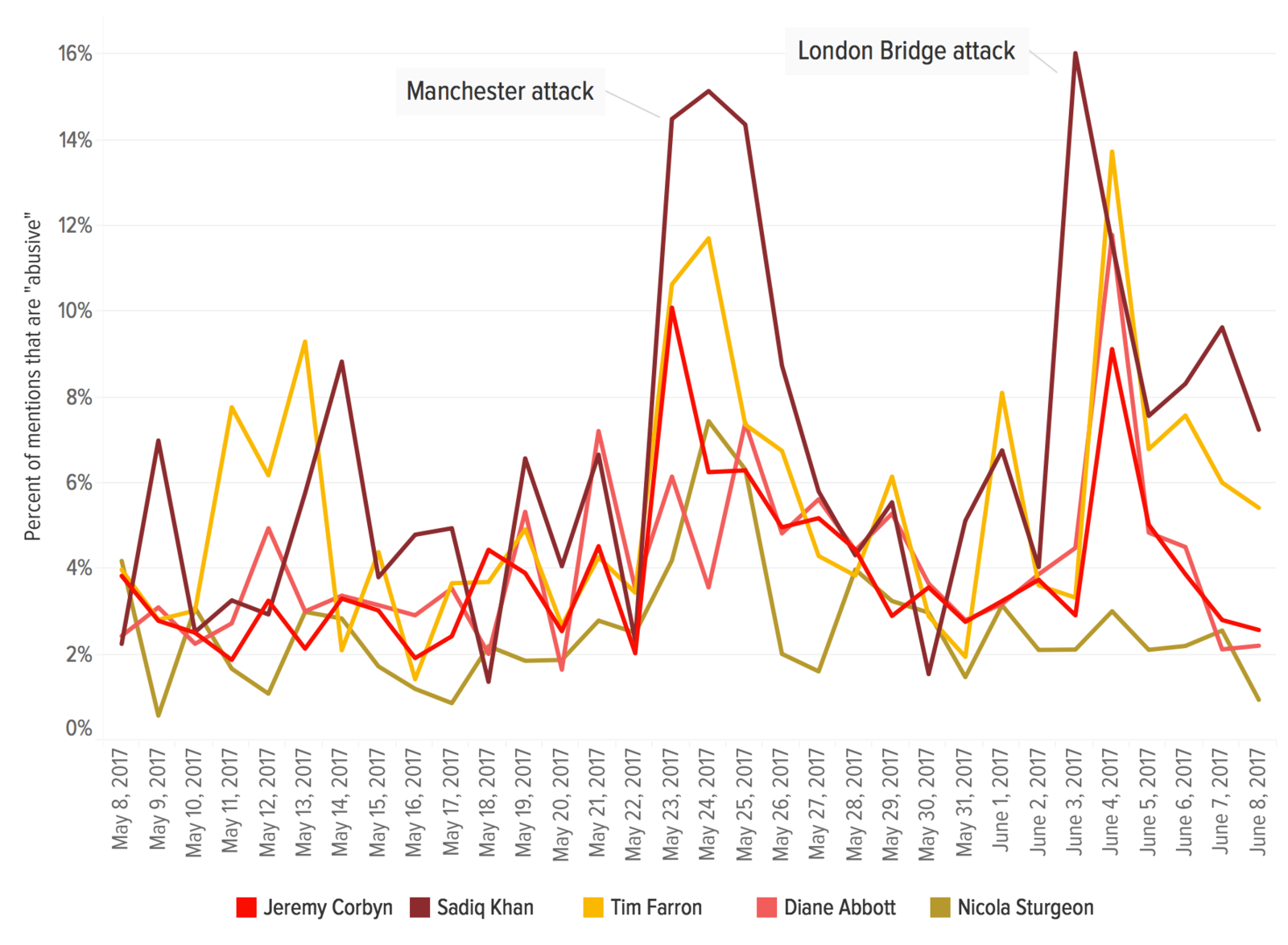 The abuse directed towards Khan spiked directly after the attack, on the day President Trump singled him out for criticism. Farron, Abbott, Corbyn, and to a lesser extent Sturgeon all saw significant spikes the following day.
By contrast, right-wing politicians saw much smaller spikes, or no spike at all in the immediate wake of the attacks.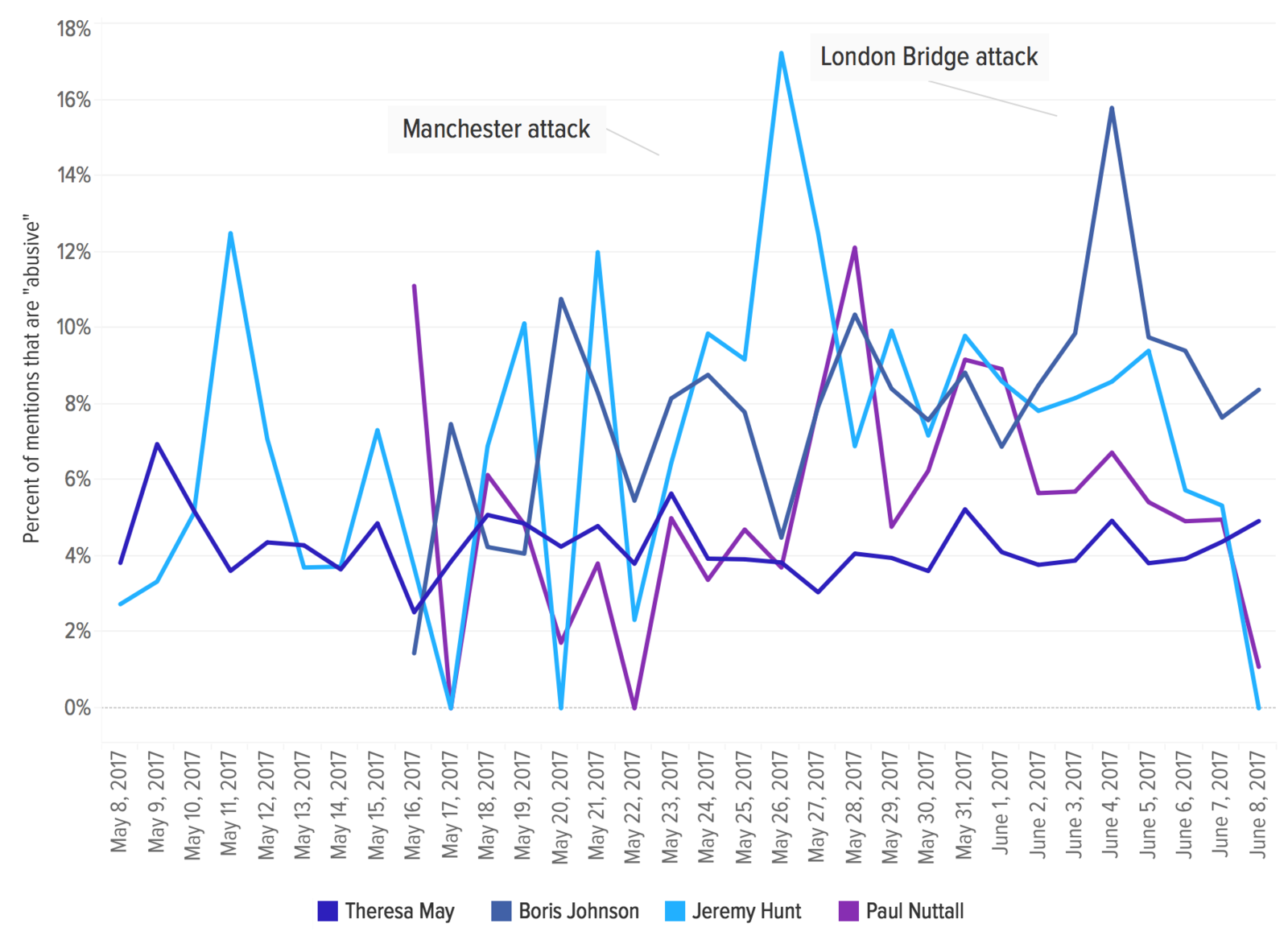 While much of the discussion of online abuse has focused on obsessive "trolls" who bombard their targets with abuse, the analysis found very few Twitter users who sent significant numbers of genuinely abusive tweets.
The most sustained campaign of abusive language from a single account came from a Twitter user who sent 34 abusive tweets to Tory candidate James Heappey in the space of one week. These tweets predominantly referred to Heappey as a "douchebag", with occasional variants ("James why don't you fuck off back to your cave. You nauseating Neanderthal"; "APOLOGISE YOU DAMN GOBLIN").
This appears to have been prompted by a news story about Heappey being forced to apologise after telling a schoolgirl to "fuck off back to Scotland". He claimed afterwards that his comment had been intended as a joke.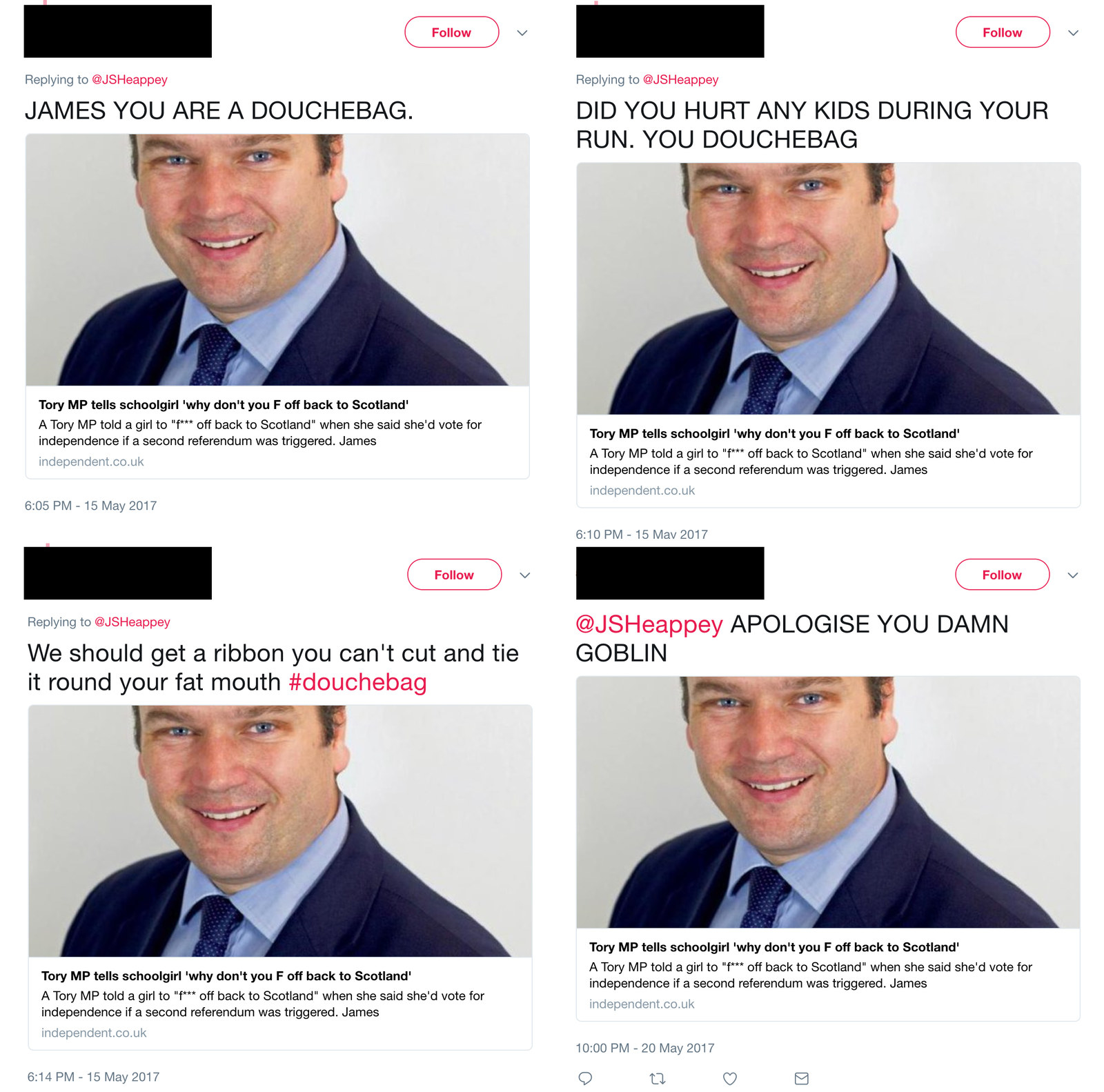 Methodological notes
This is the detailed methodology of how the research team behind the data identified tweeters, topics, and more during the process. All interpretation of the data in the above article is that of BuzzFeed News.

The team: Mark A. Greenwood, Ian Roberts, Dominic Rout, Kalina Bontcheva

Tweet sample
This analysis is based on tweets from the general public, that are replies to tweets made by MPs, candidates at the election, and other prominent politicians. Although we have collected data spanning a much longer time period and the collection is still ongoing, we only included just under 840,000 reply tweets, which were sent between 8 May 2017 and 8 June 2017 (i.e. one month before the general election).

This sample does not capture all tweets an MP or candidate would see in their timeline, as it does not include tweets where they are just mentioned. We took this approach as, firstly, the reply sample is significantly large already, and secondly – the analysis results are more reliable. This is due to the fact that replies are directed at the politician who authored the tweet, and thus, any abusive language is more likely to be directed at them. On the other hand, it is much harder to ascertain the target of abuse in tweets just mentioning a politician. We leave the latter for follow-up, more in-depth linguistic research.

Abuse identification method
Since this research was carried out within a very limited time period, we restricted ourselves to identifying occurrences of abusive words directed at people (e.g. moron), with sub-classification for kind (e.g. racial) and strength (e.g. mild, medium, strong) derived from an Ofcom research report on offensive language and refined further by Buzzfeed staff.

We also made a distinction between offensive/strong language and abusive language, where only the latter is aimed at the politician, while the former is often used to express strong opinions on political issues.

Topic identification method
Topic analysis of tweets is based on reusing the methods from the Political Futures Tracker project – funded and led by Nesta (team led by George Windsor) with the GATE team at the University of Sheffield (led by Kalina Bontcheva). The PFT project focused on real-time analysis of tweets in the run-up to the May 2015 General Election.

In brief, for topics we adopted the UK government's high-level "policy areas" on https://www.gov.uk/government/topics , such as public health, immigration, and law. For each of these, we then associated sets of keywords (e.g. for public health: NHS, nursing, doctors), which were discovered automatically from the party manifestos and UK election tweets, then post-edited and extended manually.

Given the high tweet volumes and the need for reliable, real-time analysis, we chose to opt for this high-accuracy, efficient method.

Large-scale, real-time analysis with GATE
The data analysis was carried out both in real time on the tweet stream and in parallelised data batches post-hoc, as we chose to run new types of analysis after election day.

We used GATE Cloud for this, which supports continuous Twitter data collection; real-time and batch analysis for words, names, topics, and sentiment over time; result aggregation, visualisation, and interactive search over the analysed tweets.

For a chosen time period and optionally tweet type (original, reply, retweet), GATE Cloud enabled us to analyse the:

· top X most frequently mentioned words, nouns, verbs, or noun phrases

· top X most abusive and offensive words

· top X most frequent posters/frequently mentioned tweeters

· top X most frequent locations, organisations, or persons within those tweets

· top X topics according to our topic classifier

· geographic spread (via NUTS 2 regions) of tweets, topics, user mentions, etc.

· frequent URLs, language of the tweets, and sentiment

Further technical details are available here.

Funding support: European Union's Horizon 2020 research and innovation programme under grant agreement No 654024 (SoBigData) and EPSRC career acceleration fellowship (EP/I004327/1).