In case you haven't heard, Gwyneth Paltrow is selling $75 candles that "smell like my vagina" on her Goop website, but the candles are SO popular they're currently sold out.
On Saturday, comedian Adam Ray had some fun with the news and challenged Dwayne "The Rock" Johnson to release a candle scent of his balls:
"It was only a matter of time until normal scented candles would be out of style," he wrote. "Your move Yankee Candle Co. Time to get [The Rock] to sell candles that smell like his balls," Adam added.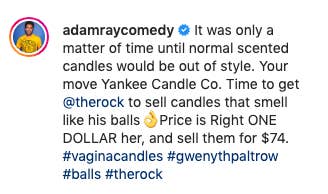 It didn't take long for The Rock to respond to Adam's request, LOL. He commented, "Brother I tried to make those candles but I kept burning my balls. So I moved on to shampoo #scentofsac."

Me after reading that response:
Gwyneth was dead too. "This is fucking priceless #deceased," she wrote when Adam and The Rock's exchange was reposted on Comments by Celebs.
But no, really, how much would you pay to smell what The Rock has been cooking?