20 Reasons Why D'Angelo's Magic Will Never Run Out
What's 14 years to a soul god? *clutches chest*
1.
Let's be honest. There's a generation of teenagers that wouldn't be born if it weren't for VooDoo. 2.
Without him, your fav R&B artists WOULDN'T EVEN EXIST.
3.
Justin Timberlake took a page right out of D'Angelo's Holy Soul Book when he released "Pusha Love Girl" on The 20/20 Experience album.
4.
Beyonce's "Rocket" paid homage to the bewitchingly sexy vibe D'Angelo is known for.
5.
So when Black Messiah dropped, understandably the public couldn't contain itself.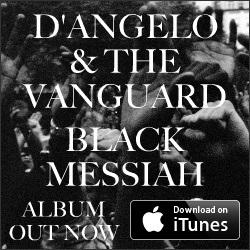 6.
You know you're the man when J. Cole would rather promote your album than the one he put out LAST WEEK.
7.
And justifiably so. I mean, it's D'Angelo. 8.
He became the king of musical euphemism when he wrote "Brown Sugar" and everyone thought he was talking about a woman... 9.
... when he was really talking about this. 10.
With a consistent musical vision that oozes soul from both ends, the Virginia native blesses us on both keys AND guitar.
11.
He PRACTICALLY INVENTED SEX with the heart-stopping, ab-tastic video for "How Does It Feel," which remains one the best videos of all time.
13.
Even when you can't understand what he's saying, you understand EVERYTHING he's saying.
14.
He keeps live instrumentation alive, and brought the Rhodes electric piano back to the forefront of soul music. 15.
D'Angelo has shown that you can be a musical genius AND insanely attractive... 16.
...and as seen in his GQ spread from 2012, he's shown the best things only get better with time. 17.
D'Angelo takes his time to make quality music, and after 14 years, he is right on time.