1.
A set of 10 ~fantastical~ unicorn horn makeup brushes to ensure your lewks are out of this world!
Promising review: "Honestly it took me a week and half to use these because THEY ARE SO BEAUTIFUL. I couldn't even bring myself to dirty them with makeup. But then I finally did. AND THEY ARE AMAZING. HEAVENLY. Seriously they apply makeup so well it is wild. I have never experienced a brush this nice before and I own $100 brush sets. No joke." —Amazon Customer 
Get it from Amazon for $8.99.
2.
A water-based instant carpet spot remover because all messes should be quick and easy to clean. Say goodbye to those stubborn wine, pet, coffee, food, and dirt stains!
Promising reviews: "TikTok made me buy it, and I am amazed with the results. I'm trying to figure out how I've never heard of this before. There are no strong scents, and I didn't have to use very much elbow grease. It truly was like a spray and wipe off. It dried beautifully with great results." —drea b
Get it from Amazon for $11.95.

3.
A CeraVe body wash with salicylic acid and ceramides that'll help you deal with any "chicken skin" flare-ups. This will exfoliate your skin and leave it feeling moisturized!
Promising review: "My 6-year-old daughter has keratosis pilaris, commonly known as 'chicken skin.' This year it really flared up during warm weather so I gave this wash along with lotion a try. Wow, I saw results after just a few uses and after a couple of weeks most of her bumps disappeared. Thrilled we skipped a trip to the dermatologist! Can't beat this price for the results either." —Ashley Steigerwald
Get it from Amazon for $13.99.
4.
An Essence mascara if you're looking for bold and intense lashes even *you* will think came from falsies. Salon quality at a fraction of the cost? Yes, please!
Promising review: "I don't usually write reviews of products but this one is worth it!!! I loooove it! For the price, it is the best mascara I have ever used, hands down! My lashes are short and very light-colored. This stuff lasts all day and doesn't smudge and is reasonably easy to remove with makeup remover. My new fave mascara for sure!!!" —Amazon Customer
Check out BuzzFeed editor Kayla Boyd's Essence Lash Princess mascara review!
Get it from Amazon for $4.99.
5.
A fume-free oven cleaner so powerful you might just convince yourself you replaced your oven altogether. This heavy-duty cleaner can remove grime, stains, and caked-on food in 30 seconds!
Promising review: "I don't normally write reviews, but HOLY MOLY if you're looking for an oven cleaner, BUY THIS ONE!! I'm fairly sure no one has ever cleaned my oven since the day it was installed in this apartment many years ago, and I'm embarrassed to admit that includes me (seven years living here). I wiped up spills and such after cooking, but never did a deep clean before because I thought it was going to be a gargantuan task. I sprayed on a layer of Easy-Off foam, let it sit overnight, and started wiping it off with a wet sponge the next day. Talk about 'easy to remove' — this cut through YEARS of baked-on grease splatter like it was nothing. My sponge was black after the first swipe, but I could actually see clean metal! Many rinses/wipes later, I have an oven that looks almost new." —L. Lietzke

Get it from Amazon for $6.27.
6.
Or an eco-friendly oven scrub cleaner for tackling all the stubborn messes you've learned to ignore. It's made with natural ingredients (including pumice stone and baking soda), so you'll get your oven back without all the toxic fumes.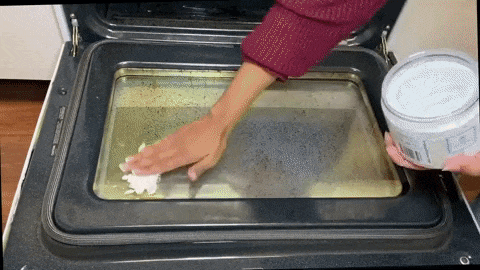 Everneat is a small business based in Fairfield, Connecticut, that specializes in natural cleaning products.
Promising reviews: "This oven scrub is LEGIT!!! An absolute miracle worker. Before trying this, nothing seemed to be able to cut through the baked-on grease that had accumulated on the window glass over the years. Plus I didn't like using harsh chemicals, especially having a dog in the house, I didn't want her breathing chemical fumes. I tried this scrub because of so many good reviews and they are true!!! I took a picture after scrubbing one half of the oven door and window and couldn't believe the difference. And that was after only 10 minutes of scrubbing! I had forgotten what a pretty cobalt blue my oven's interior was! I will be telling everyone I know about this amazing scrub. This would be a fabulous gift to a new homeowner!" —katemgs

Get it from Everneat on Etsy for $19.99+ (available in a plastic or glass container and in three scents).
7.
A cute lil' octopus-shaped blackhead remover to gently scrub away excess sebum and exfoliate your pores. It'll help remove blackheads, whiteheads, and whatever else is trapped in your clogged pores. 
Promising review: "After just two days of use, this adorable little octopus has done wonders for me. Smells great too. Here's how I used it: I wore down the stick just a little to where the texture from the salt is visible, scrubbed around on my face so there was plenty of product, then I used my fingers to gently massage all the gunk away. Rinse, pat dry, and enjoy the softness. Highly recommended for people with sensitive skin like myself." —LuckLocust
Get it from Amazon for $12.50. 
8.
A Schitt's Creek-inspired mug featuring the inimitable Moira Rose saying "the world is falling apart around us, and I'm dying inside" because...same. At least she's surrounded by her many wigs, though.

9.
An exfoliating glove that'll help you bring the spa experience home. Easily lift away dead skin to reveal soft and healthy skin.
Promising review: "You might think you're exfoliating your skin but TRUST ME, you haven't been. You'll be SHOCKED and maybe even a little disgusted when you see how much skin comes off on these gloves the first time you use them. Take a long, warm shower, then, with no soap, use these mitts after you're all rinsed off. Scrub your body well in a circular motion. Then look at the mitts! They'll look like they've been sprinkled with flour! You'll never get that much skin off your body again with subsequent uses, so don't forget to look because it's incredible. And get ready to be bowled over when you dry off. Hello softness!!!" —isaidso
Get it from Amazon for $8.19+ (also available in a pack of two).
10.
A vegan and paraben-free self-tanner if you simply don't have the time to lay in the sun to get the glow you deserve. Get the tan of your dreams in just an hour!
Promising review: "If you use St. Tropez tan products or any fake tanner, do yourself a favor and try this. This stuff is AWESOME. Dries quick, lasts longer, does NOT make your skin stinky, applies even, and you get a fair amount of product!! Other tanners I've used become VERY noticeable when they start fading. Gross hand lines, patchy white spots, etc., but not this stuff. The best one-hour tan I have ever used!" —Amazon Customer 
Get it from Amazon for $9.97 (available in 16 shades).
11.
A set of bedsheet detanglers from Shark Tank so you can stop spending hours in the jungle of your laundry trying to not get devoured by fitted sheets. These will also ensure your sheets actually dry instead of coming out like a moist hairball.
Wad-Free is a woman-owned small business working to make sure your laundry day isn't in vain! After wasting time and energy on wadding problems, Cyndi Bray invented Wad-Free for bedsheets.
Promising review: "It's a miracle product! Oh my gosh, I only had to run the dryer one time to dry the sheets instead of my usual four times. They looked cleaner too!" —Bonnie
"I was mildly skeptical, but it works exactly as promoted! I've used it five times and each time there's been no twisting of the sheets and no pillowcases balled up and still wet when the dryer goes off. Super helpful that it comes with two units, one for the top sheet and one for the fitted sheet so I don't have to split them into separate loads. I no longer dread washing sheets and plan to buy some of these as gifts. LOVE it!" —Amazon Customer
12.
A cute detangling brush for easily gliding through wet or dry hair, removing those noticeable knots as you go. Whether you need it for you or your little one, it'll get the job done without so much as a single "ouch."
Promising review: "I'm a single dad of a 6-year-old girl and combing her hair is the hardest part of taking care of her. She gets really bad knots in her hair. This brush is the only thing that has ever worked. Thank you so much. She even likes to brush her own hair now." —Nguyen P.
Get it from Amazon for $12.49 (available in six colors).
13.
A curly hair children's leave-in detangling conditioner made with jojoba oil, vitamin B5, and plum seed oil to make wash day for your little one waaaay easier.
Promising reviews: "This has been a lifesaver for thick, somewhat fine, curly hair that tangles and elicits the screams of a banshee when brushed with a wet brush and any other detangling product or oil. We've tried at least six different ones, including making our own with coconut oil/grapeseed oil/conditioner, which just resulted in oily tangles. This spray is now on our subscriptions and all our kids ask for me to use it." —happyshopper
Get it from Amazon for $8.61.

14.
A colorful pocket tarot deck you can take with you wherever you go because you never know when you're gonna need to pull a message from the universe. This pocket deck even comes with a guidebook so you can learn what each card means.

Promising review: "These cards and the accompanying book are soooo cute. They are a tiny bit narrower than Bicycle cards but the same quality! I love them because I can put them in my knapsack and do readings whenever I need to. Overall, I am quite happy with this purchase!!" —Kathidiva 
Get it from Amazon for $12.59.
15.
A revitalizing hair protein treatment that'll help condition and repair dry, damaged, and over-processed hair. TBH I'm already obsessed with your hair evolution!
Promising review: "My hair used to be really soft, and then I discovered hot tools and hair dye. While my hair looks good, I have really missed my hair's soft texture. This treatment works so well. There are no instructions on the box but I washed my hair with my usual shampoo, towel-dried it, worked about two quarter-sized dollops through my hair, let it sit for 20 minutes, and then rinsed out. I went to bed with wet hair, which usually results in my hair being kind of tangled and rough looking. When I woke up, my hair was as soft and silky as it was before I started coloring it. I'm totally in love with this product! I have long, fine hair, but this doesn't leave it greasy or weigh it down. I'll definitely buy again." —Ellie
Get it from Amazon for $7.90.