1.
An exfoliating glove to help you bring the spa experience home. Easily lift away dead skin to reveal soft and glowy skin.
Promising review: "You might think you're exfoliating your skin but TRUST ME, you haven't been. You'll be SHOCKED and maybe even a little disgusted when you see how much skin comes off on these gloves the first time you use them. Take a long, warm shower, then, with no soap, use these mitts after you're all rinsed off. Scrub your body well in a circular motion. Then look at the mitts! They'll look like they've been sprinkled with flour! You'll never get that much skin off your body again with subsequent uses, so don't forget to look because it's incredible. And get ready to be bowled over when you dry off. Hello softness!!!" —isaidso
Get it from Amazon for $7.99+ (also available in a pack of two).
2.
A nail and cuticle repair oil that'll help soften cuticles and strengthen your nails when used daily.
Promising review: "My nails have always been cracked, thin, and brittle. I read about this product and decided to give it a try. It's the first time I have been able to grow out my nails. I'm so amazed by this product that I had to come back to write my first review. It really works!!" —Stace
Get it from Amazon for $9.90+ (available in two styles and three sizes).
3.
Paula's Choice BHA liquid exfoliant if you're sensitive to scents but want to gently unclog your pores, as well as exfoliate and brighten your skin. This unscented leave-on formula is even safe enough for daily use.
Promising review: "I bought this in a dark time: My skin texture was garbage, all my pores were massive, I had clogged pores all over my face, and I was just waiting for them to become actual acne. I got this because I just wanted SOMETHING to help with my skin texture while I waited for my oral prescription. Now listen here — THE FIRST time I used it, I saw a difference. My forehead and my cheeks right to the side of my nose were flawless. I don't know what kind of stuff was in it that provided immediate results. I thought maybe that was just 'fake' results, like it has something to gloss over the skin surface to give the appearance of smoothness. But then I used this stuff twice a day for four days, and alllll of the tiny red pimples all over my cheeks and forehead were gone and my pores STAYED small! I am telling you. This product has changed my whole face in under a week. It's so clear! I expect to have full celebrity skin going forward. You have to try this. You barely need to use any of it, too. It's a thicker gel liquid, so it smooths on so easily and you don't have to use a ton like with a toner or micellar water. I'm just shook. I'll buy this for the rest of my life!!" —K Fied
Get it from Amazon for $13+ (available in two sizes).
4.
A vitamin C serum with hyaluronic acid, retinol, and salicylic acid to help brighten skin and clear acne. This is perfect for anyone who prefers serums with multiple actives so you don't need to apply them separately. Fresh-looking skin is just a bottle away!
Promising review: "This product is just perfect for my skin type! I'm using it every night and it's helping me a lot with my post-inflammatory hyperpigmentation problems caused by my last acne outbreak. I have been using this product for 1.5 months and the results are visible. My skin looks more hydrated and the dark spots have cleared. (I'm also using benzoyl peroxide-based acne treatment to control my acne while I'm using this product)." —Desiree
Get it from Amazon for $13.49+ (available in two sizes).
5.
Or a gentle, plant-based face serum whose blend of vitamin C, hyaluronic acid, vitamin E, witch hazel, and jojoba oil will help even skin tone and reveal your inner radiance.

Promising review: "I am prone to the rare chin breakout during that time of the month. After reading so many reviews, I gave this a shot and I'm very glad I did. My skin has cleared up considerably in the three months I've been using this product. I put it on every morning under my makeup, after my shower, and again before bed. WOW my skin looks so great! The texture is smoother, I have even less small acne than before and overall I see a marked improvement in my complexion. Love this stuff and will continue to buy it over and over each time the bottle runs out." —C. Morris
Get it from Amazon for $19.77+ (available in two sizes).
6.
A bottle of professional-grade callus-removing gel that'll remove years' worth of calluses quick and easy. Just presoak your feet, apply the gel, let it do its magic, and rinse!
Promising reviews: "This is a Hail Mary! This is hands-down the best product ever!!!! I have been using this product on my clients and it has made my job so much easier and less time consuming." —Diamante Valentine
"Best foot callus remover I have ever used! I read a lot of the reviews before purchasing this product. Most callus removers I have purchased in the past were not very effective. So I was encouraged by the reviews. I saw that a lot of reviewers mentioned to be very careful not to leave it on longer than three or four minutes. My feet were the softest they have ever been. Love love love." —Cheri whisker
Get it from Amazon for $14.99.
7.
Or a vegan urea foot cream to rehydrate dry, callused, and cracked feet. Get ready to strut your stuff in open-toe sandals!
Promising reviews: "I was skeptical about this topical product to heal broken, dry, callused feet and toes. I ignored my foot care for quite a bit while pregnant (couldn't reach!) and then postpartum a bit. After the winter in the desert, my heels and large toe pads were cracked and parched. I used this product every day for 10 days and the results were amazing! I slathered it on after my shower in the morning, put on socks, and wore that during the day for 10 days. My feet are healed with no trace of dryness. Even my toenails are improved and hydrated. My hands are also healed (constantly washing hands) from applying to my feet and rubbing the rest in. I highly recommend this product for anyone suffering from super dry, cracked feet. It works — it is thick, so cover with socks and let the warmth and barrier marinate your dry feet and toes into soft beautiful skin!" —Natalie
"I have never seen a product like this ever, my feet were so soft and radiant after one application only. I usually don't give this rating easily but this product truly made me do it. Seriously, it deserves 10 stars, not 5. I would strongly recommend it to everyone." —Nora
Get it from Amazon for $15.99 (clip the coupon on the product page to get $1 off this price).
8.
A tub of O'Keeffe's hypoallergenic hand cream for anyone suffering from dry, cracked, and sensitive skin. It restores moisture, promotes healing, and creates a protective layer on the skin's surface that locks in moisture.
Promising review: "I have suffered from splitting and cracking fingers for years. I tried Eucerin, Lubriderm, and Gold Bond creams, but none seemed to relieve the splitting from reoccurring. I tried O'Keeffe's Working Hand Cream and within two-and-a-half days, the splitting and cracking were no longer a factor. Since using the cream, I have not suffered any more cracking or splitting. I am on a busy schedule and only use it at night when I go to bed. It says it's non-greasy but you can definitely feel a slick texture on your hands once applied. That's why I use it at night before bed when I don't have to open door knobs, touch smartphones, or shake hands. It has the texture of cake icing, goes on smooth and works into the skin quickly. It has no smell I can detect. I am so glad I found this cream, it has ended years of split and cracked fingers/hands." —T.H.
Get it from Amazon for $11.72.
Our O'Keeffe's Working Hands Cream deep dive goes into more details, so be sure to check it out.
9.
A Burt's Bees sunburn relief lotion formulated with coconut, aloe, and antioxidants to help soothe and hydrate your skin post sun exposure. No need to be afraid of the sun with this by your side!

Promising review: "I'm happy to say this product works! I purchased this product due to my inability to provide my skin with appropriate sun protection one day this summer. I proceeded to spend a night wishing that I could safely freeze myself into an ice cube. Midnight discomfort lead me to this product. The initial use was a day or two after the day of regret, but it eased the discomfort and moisturized my reddened skin, helping to soften the leather layer I had started to form. Of course this review would not be complete without me faulting myself a second time. Two times in one summer I proved my inability to adult well. I applied this lotion the MINUTE I realized that I had experienced another exposure to the sun for too long a period. To my absolute joy, this product relieved my discomfort. It left a layer that stayed cool for a few hours (at which time I reapplied it), it was a little tacky to the touch (not sticky or oily), and my skin did not experience the crocodile and subsequent peeling experience it had earlier in the season. The scent is soft and not overpowering. I have experienced skin sensitivity in the past to products, but I had no issues with Burt's Bees products. Thank you for providing me with such a helpful product." —Meghan 
Get it from Amazon for $8.29.
10.
Hydrocolloid acne patches for times when you feel a pimple coming on. Wear one of these overnight and wake up to find that your acne gunk has been absorbed by the patch.
Promising review: "I wasn't sure if this was going to hold up to its promise...but it did! I used this on a massive zit growing on my nose, making me look like Rudolph, and the first night it took down the swelling a bit and lessened the redness. Day two it was significantly smaller in width and circumference! If that doesn't help you decided to purchase this, nothing will." —Cassee Colson
Get 36 patches from Amazon for $11.97.
11.
An oil-absorbing face roller made using absorbent volcanic stone that'll soak up any excess oil. Forget those disposable oil-blotting sheets and get instant matte skin ASAP!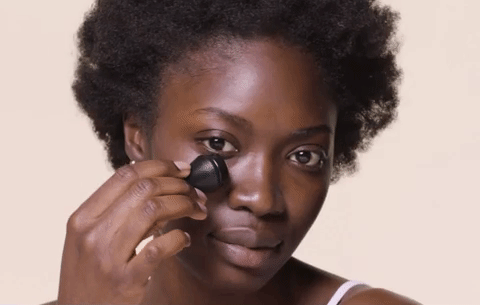 Promising review: "I have super oily skin and am always looking for something to help control it during the day. The linen squares are good but you have to keep them around (aka keep replacing them) and they end up in the landfill. This little contraption really works and I just rinse it at the end of the day and start over again the next. I keep one in my desk and bought a second for my purse. This is magic for my shiny skin, especially on camera in my hours of Zoom everyday." —Jennifer Helseth
Get it from Amazon for $11.94.
12.
A rejuvenating eye cream because it's all-natural and vegan ingredients absorb quickly into the skin to start the process of brightening and lifting your under-eye area. Perpetual late nights got nothing on this cream!
LilyAna Naturals is a family-owned small business using natural ingredients to craft high-quality skincare products.
Promising review: "I never ever write reviews. I have tried every eye cream out there. Not one does what is says. This was immediate! I saw softening of my wrinkles and crow's feet. It's amazing. I will be buying this again and again." —melisa delaney
Get it from LilyAna Naturals on Amazon for $14.99+ (available in three sizes).
13.
A vegan and cruelty-free First Aid Beauty bump eraser scrub made with 10% AHA to help you deal with any "chicken skin" flareups. This will exfoliate your skin and leave it feeling smooth and moisturized!

Promising review: "Amazing! I am so happy to say this product is a game-changer! I have always been so embarrassed of the extremely red and bumpy skin on my arms above my elbow. I've tried tons of products with zero sign of improvement. I always moisturize daily and nothing has ever helped. I have used this product two times and the skin on my arms is almost all the same color and the bumps are gone! I could cry I am so grateful for this product. It doesn't have any kind of smell which is perfect cause I can pair it with any moisturizer I like." —Lynn

Get it from Amazon for $12+ (available in four sizes).
14.
A Shark Tank-famous bug bite suction tool for mosquito bite relief if you're excited for tank tops and short shorts but not the fact that you'll be exposed to some nasty bloodsuckers. It pretty much sucks the irritant out from under your skin so you can live an itch-free life.
Promising review: "I am a magnet for bites of all kinds and carry topical and medicines with me at all times, so I figured this would be a good product to see if it really works. It arrived Monday and Tuesday morning I woke up with a bug bite on my arm, so I used this little tool (three times per the instructions) and immediately after use, it stopped itching! And less than 24 hours later the bite gone! There is a very faint red mark from using the thing but a small price to pay IMO. Bottom line: it's awesome. I'm carrying it with me everywhere!" —Rebecca
Get it from Amazon for $6.99+ (available in seven colors).
15.
A proactive invisible acne spot treatment that not only goes on clear but can also be worn under makeup. Because it contains lemon oil, orange oil, grapefruit oil, salicylic acid, and tea tree oil, this treatment won't dry your skin out as it works to heal it.

Promising review: "I love how moisturizing this cream is while also being exceptionally successful at minimizing or completely clearing up my non-cystic pimples and acne. It smells great too if you love tea tree. It's like gold for my acne. I can't recommend it enough!" —Sierra Robinson
Get it from Amazon for $19.99.