1.
A Color Wow anti-frizz spray since it'll help combat humidity by repelling moisture. Just blow-dry to activate!

Promising review: "I really suffer in the humidity of summer. My hair turns frizzy and wavy, but not a cute wavy. If I try to straighten my hair and then go outside, it looks like I have done nothing. If I try to curl my hair, it looks like a rats' nest after 30 minutes. So I decided to do some research and found this product being mentioned over and over. It seemed simple enough to use, so I bought it. I used it all last summer and I have started using it this spring. This product really is the best at fighting humidity. The barrier it creates on the hair really does resist the moisture and keep styled hair looking good for days! And it holds up after a few washes as promised." —krisvan
Get it from Amazon for $28.
2.
A blow-drying spray designed to cut your hair-drying time in half while also helping to get rid of frizz and tangles. Its lightweight formula will also protect your hair from heat damage and breakage. Bad hair day where?
Promising review: "Used it immediately after shower while my hair was still wet then blow-dried my hair and straightened it. It did help my hair to dry faster, the scent is nice, and when I washed my hair back a few days later I noticed my curls had no damage. Without using this product my curls would be limp and take about a week to come back to life, but this product definitely protected them. Very happy with this purchase. It was worth it!!" —Cdodson
Get it from Amazon for $14.99+ (available in three sizes).
3.
A detangling Denman curly hair brush whose staggered rows of round-ended nylon pins will help you define your curls and smooth your hair. If you're looking for knot-free, ribbon-like curls, this might just be the brush for you.

Promising review: "It truly is a nice, perfectly sized, lightweight hair brush for detangling mini-fro, short, tightly coiled natural hair!!! It glides through my curls with ease, whether my hair is wet or completely dry. Depending on the desired style, it can also be used to create various (short) hair styles and/or perform a variety of techniques!! THANK YOU!!" —DLTolliver

Get it from Amazon for $21+ (available in three sizes and 10 colors/patterns).
4.
Or a cute detangling brush with an ergonomic handle because it'll glide through wet or dry hair, removing knots as it goes. Whether you need it for you or your little one, it'll help get the job done without so much as a single "ouch."
Promising review: "This is my new favorite brush, and I use it all the time. I have mostly 4a hair, with maybe a touch of 3c here and there, but my hair is definitely in the kinky category, and this brush works great. I'm able to use it on my hair wet or dry as long as I have some product in it. When it's wet, I normally use oil and leave-in conditioner, and it glides right through with ease. With my dry hair, I normally just use oil if I'm doing a pre-poo, and it still glides through, but obviously, I'm much more careful working root to tip. I feel like some of the people who are struggling with this brush maybe don't know how to be careful while brushing your hair root to tip and making sure to use product for extra slip." —Marisa
Get it from Amazon for $13.49+ (available in eight colors/patterns).
5.
A vegan rice water shampoo bar if you're looking for something that'll be kind to your curls *and* the planet. This sulfate- and paraben-free shampoo can also help prevent the splitting of dry and color-treated hair. 

Promising review: "I ditched my liquid shampoo and switched to this. In a few washings my hair is healthier and my natural curls returned. My hair is shiny and I lost the frizz." —Irma Gonzalez

Get it from Amazon for $11.17.
6.
A non-greasy 10-in-1 leave-in spray that conditions, detangles, and protects against heat. Basically it's a miracle in a bottle. If you're on the lookout for something to help prevent breakage that'll also leave you with a healthy-looking sheen, this is the hair treatment for you.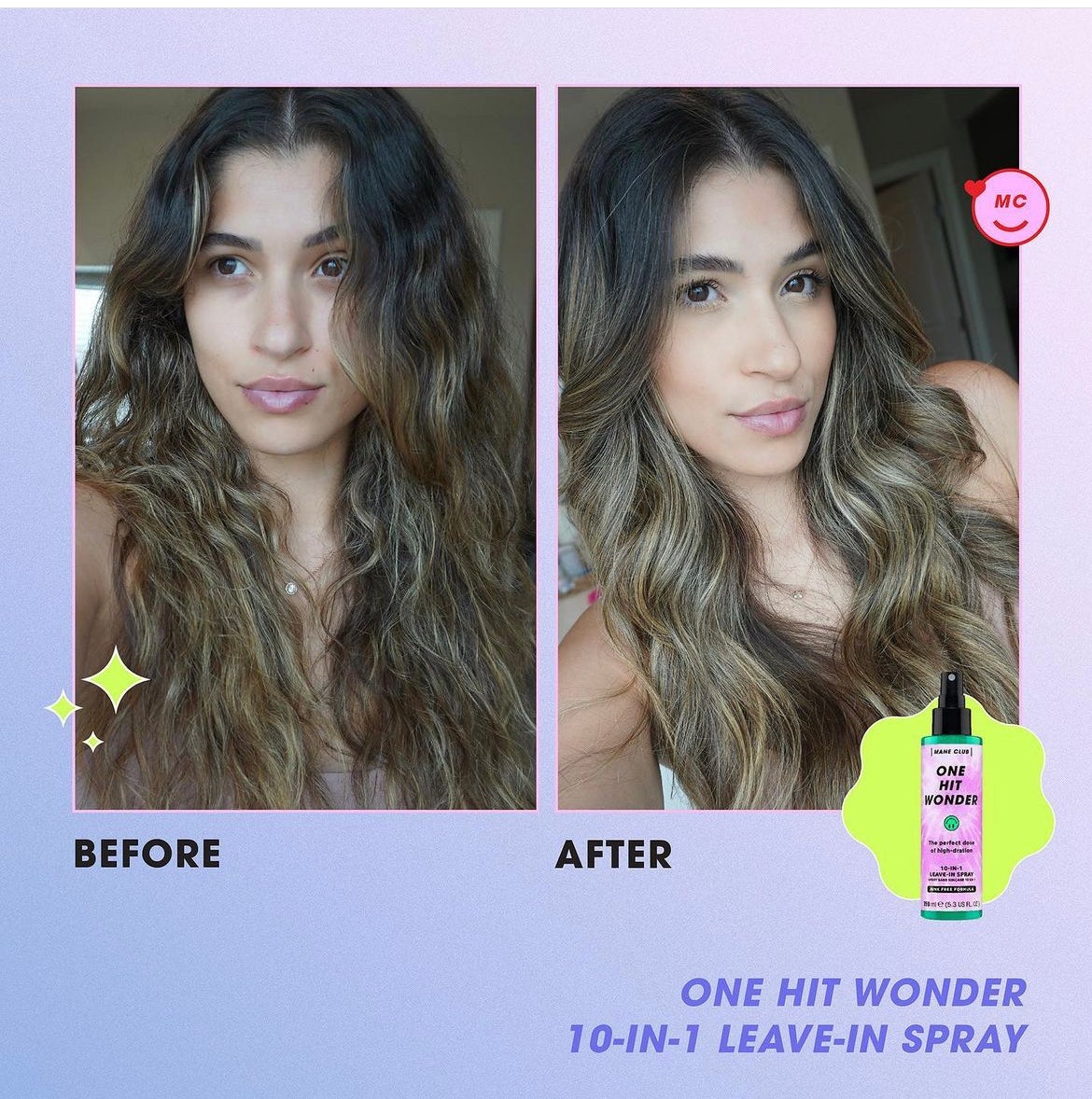 Mane Club is a small haircare business making cruelty-free and vegan products.

BuzzFeed editor Elizabeth Lilly loves this spray:
"I have a very thick head of naturally curly hair and have put it through just about everything, including all kinds of hot tools, at-home dye kits, the gamut of shampoo and conditioner types, basically every dry shampoo and hair oil in existence, and just about anything else to try for a story for you dear readers. Lots of products have either straight-up failed, been meh enough for me to not recommend, or fantastic but so costly that I feel guilty recommending them. Basically, a lot of stuff ends up in the trash or pawned off on my (grateful) friends when it isn't a fit for me. But THIS STUFF. This stuff has become my go-to for spraying on my wet hair and then blow-drying. Normally I'd apply a heat protector and an oil treatment or leave-in conditioner before blow drying. But this 10-in-1 treatment takes the cake! Most of the time when I use it, I don't even need to finish off my hair with hair oil (I've been doing that as an essential hair step for years now). It's really that good! Here, I have freshly blow-dried hair with just this post-shower using this Amika blow-dryer brush. This brush is fantastic on its own but this spray-on treatment has more or less doubled this brush's effectiveness. My hair comes out feeling softer, looking shinier and healthier, and stays looking good for days — which is especially great news because I wash my hair about every four days. 'Tis time for me to unload a bunch of hair products I now no longer need to my friends." 
7.
A hydrating leave-in conditioner spray formulated with spinach, chia seeds, and cocoa seed butter to help restore moisture to your hair. Its plant-powered UV-protection will also help make sure your hair continues to look vibrant.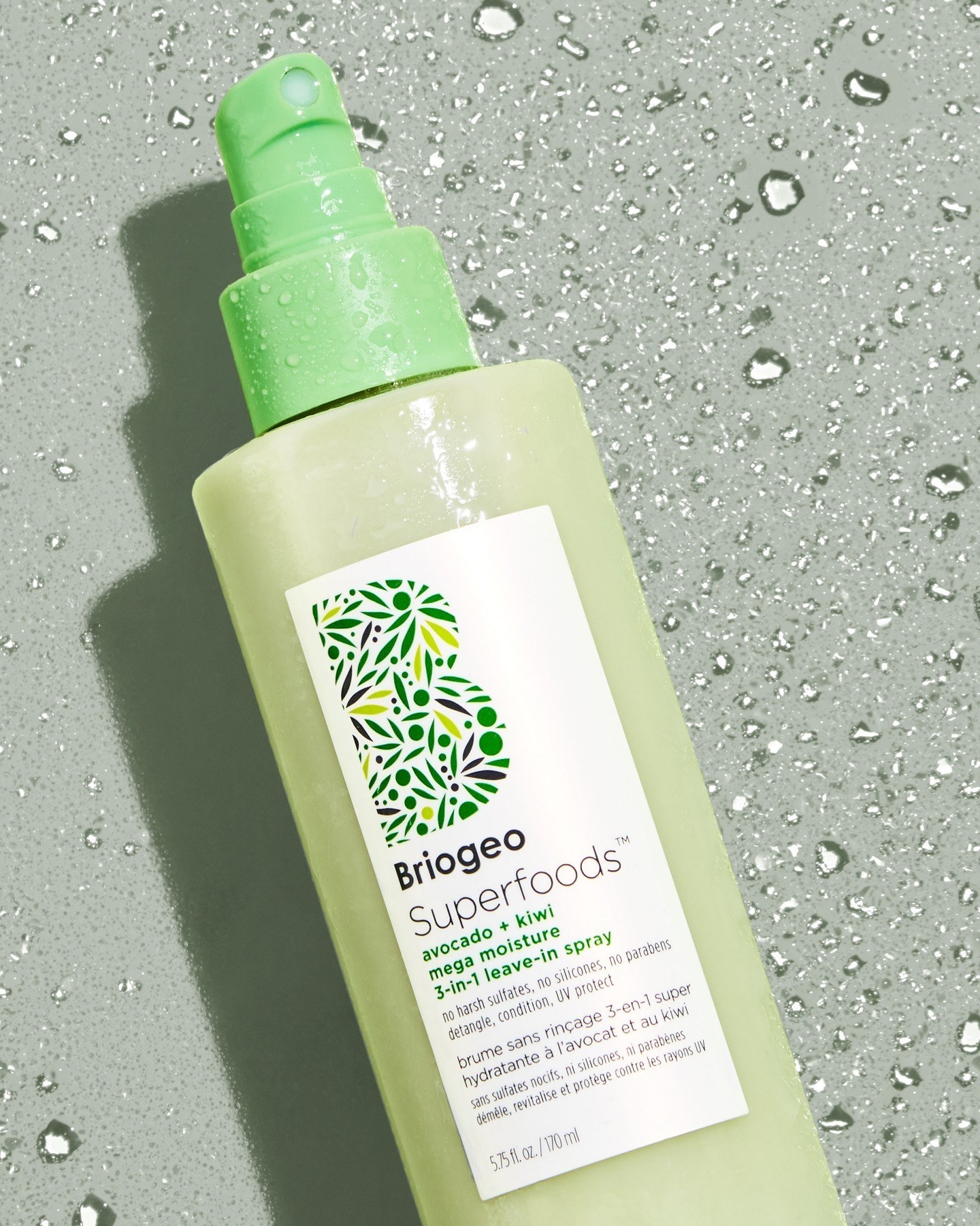 Promising review: "Holy grail! This literally made my hair so so glossy, and my hair looks so healthy! I always get compliments when using this product in my hair. It also helps define my curls, which is awesome!! if you're curious about this product, just give it a shot!" —Candence
8.
A curly hair children's leave-in detangling conditioner made with jojoba oil, vitamin B5, and plum seed oil so you wash day for your little one is waaaay easier.
Promising review: "This has been a lifesaver for thick, somewhat fine, curly hair that tangles and elicits the screams of a banshee when brushed with a wet brush and any other detangling product or oil. We've tried at least six different ones, including making our own with coconut oil/grapeseed oil/conditioner, which just resulted in oily tangles. This spray is now on our subscriptions and all our kids ask for me to use it." —happyshopper
Get it from Amazon for $9.57.
Use this two to three times per week after shampooing your hair, and remember not to use it on your scalp. This treatment is just for the length of your hair.
Promising review: "I don't usually do reviews on products, but for this one I absolutely have to. I have 3c-type hair and struggle with a lot a breakage, unmanageability, and moisture. When my mom mentioned this product to me I didn't take her seriously because of the simple fact that we have two completely different hair textures. I never would've thought this brand would work on my hair. I have always used ethnic hair products and stayed away from brands such as this one. I have never in my 22 years felt my hair like this. I feel like I have a completely different head of hair. This product is so amazing and I will FOREVER be using this product in my hair regimen. Thank you so much!! ♥️" —Theressa Hailey
Get it from Amazon for $9.87.
10.
A pair of bonnet-shaped microfiber hair towels since they're super soft and absorbent, and will help your hair dry faster. These are perfect if you're worried about sustaining any heat damage caused by blow drying.

Promising review: "I was looking for a product that I could 'plop' on my hair without twisting it, which disrupts my curl pattern. This does the job!" —Amazon Customer
Get a pack of two from Amazon for $8.99+ (available in three color combinations).
11.
A talc-free and vegan Amika dry shampoo because it'll absorb oil and buildup and revitalize your hair when you don't have the time (or energy) to wash your less-than-fresh locks.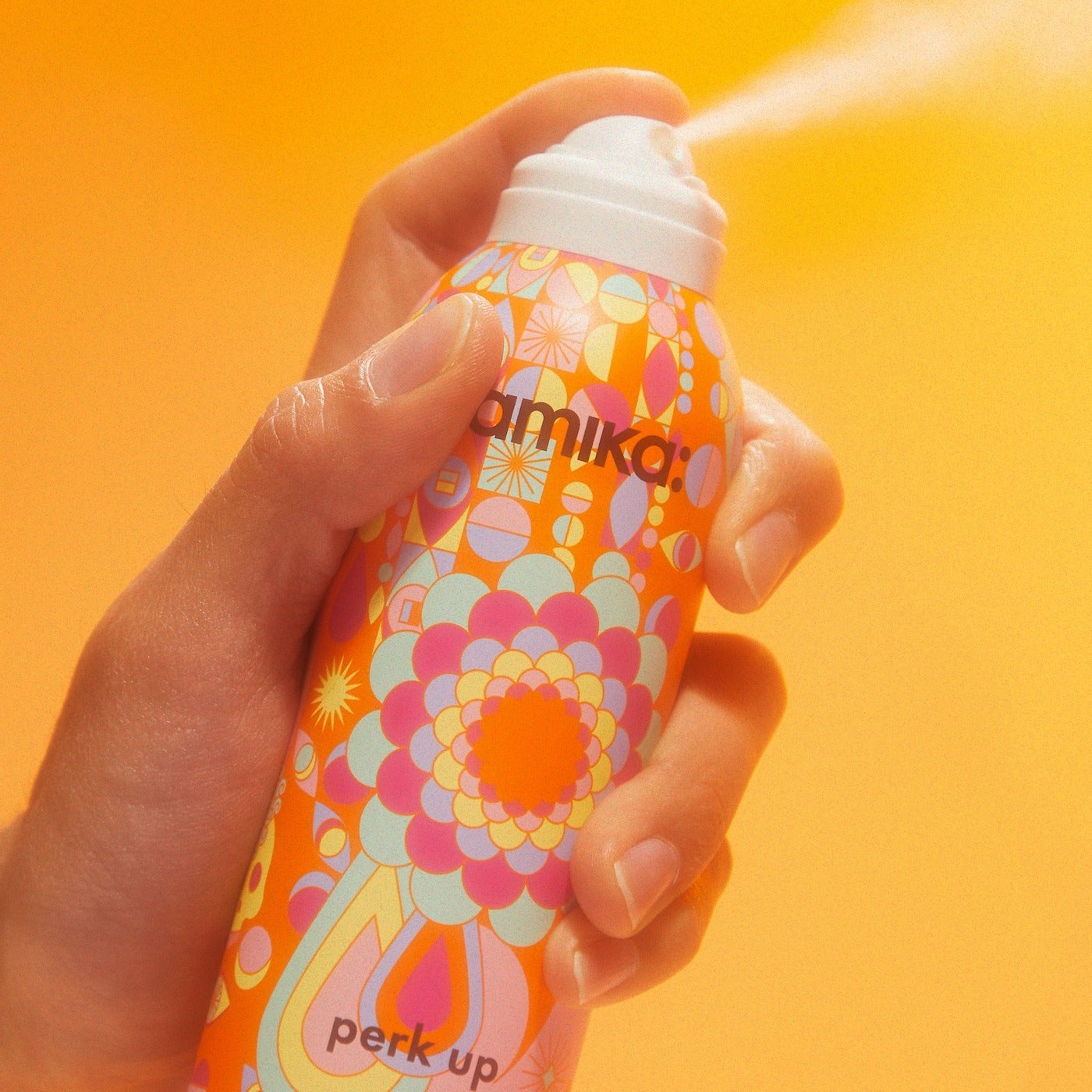 Promising review: "A dry shampoo that actually works. I have curly hair, but I like to wear it blown out with a loose wave. The next morning, I sprayed this and their texturizing spray and I am on day four of not washing. I can typically go at least three days but by day four it looks oily and this dry shampoo has really helped keep my hair looking great. My hair is not oily at all! I will be adding this to my must-haves." —Daizy914
Get it from Amazon and Sephora for $15+ (available in three sizes).
12.
A curly hair John Frieda air dry styling foam if you're afraid of introducing heat to your hair just to get the perfect ringlet. This smooth and non-sticky foam will help grant your wish while also creating a barrier around each curl so they stay in perfect shape.
Promising review: "This stuff is great. My hair is a mix of waves, curls, and straight pieces, which is why I typically blow-dry. I have tried a gajillion different kinds of 'air-dry' products and have yet to find something I like...until now. This gave me an overall look of nice, frizz-free waves without the crunchy feel that most products tend to leave behind once your hair dries." —Cheryl 
Get it from Amazon for $9.43.
13.
Or a Marc Anthony curl-enhancing styling foam enriched with vitamin E and silk amino acids that work to draw and lock moisture in. Get ready for luscious, shiny, and voluminous curls that last all day long!

Promising review: "I've always had a natural light curl in my hair, which many products that I have used have wiped out. This was my first time using this product and I'm very impressed. I have more of my natural curls back and a hold that lasts throughout the day (on top of a lot of compliments). The scent is a very light citrus that is pretty much unnoticeable, which is a big plus to me. Happy that I have found a product that actually works." —Ty

Get it from Amazon for $7.47.
14.
A revitalizing hair protein treatment to help condition and repair your dry, damaged, and over-processed hair. TBH I'm already obsessed with your hair evolution!
Promising reviews: "I have 4c hair and was looking for a protein treatment for my thin and fragile hair. I had recently used a product in my hair that had so much alcohol in it that it wreaked havoc on my hair, leaving it pretty damaged. I was very skeptical about this product because I have never seen anyone with my hair type use it. Boy was I wrong to doubt this product. It left my hair looking and feeling beautiful. I highly recommend it to anyone with natural or curly hair." —Therese-Claire

Get it from Amazon for $7.38.