1.
A bottle of Wet & Forget shower cleaner because no one wants to scrub their bathtub clean. With this, you'll just spray it on, wait 8–12 hours, then rinse it off. Super easy! Use consistently for best results.
Promising review: "I have well water. Something in my well water reacts with copper plumbing and turns my shower tiles blue. Since my bathroom color scheme isn't on the blue spectrum, this is problematic. The well water also causes the shower glass to film up quickly. I've tried dozens and dozens of cleaners and scrubbed till my arms ached trying to get ahead of the blue and scumminess. My ambition in life is NOT to be a full time bathroom scrubber! I saw this stuff on a professional house cleaner's TikTok (sorry, don't remember which one) and thought 'what the heck, might as well give it a try.' Oh my goodness, the first day after my shower I sprayed this stuff all over and walked away. The next morning there was a NOTICEABLE reduction in the blue and the glass looked clearer too. Day two, sprayed again and walked away. The next morning the blue was gone except for a few spots on the floor tile and the glass looked amazing. Day three I sprayed the remaining spots and the next morning the shower practically looked new. NO SCRUBBING AT ALL!!!! This is my new favorite shower cleaner. The ONLY con I have is that it makes me sneeze while I'm spraying from inside the shower, but I can live with that." —L. J. Petillo
Get it from Amazon for $20.98 (available in two scents).
2.
A Scrubbing Bubbles cleaning stamp for erasing the rings that have formed around the inside of your toilet. This will keep your toilet bowl fresh and clean with every flush. Just plop some gel inside the bowl and let it work so you don't have to.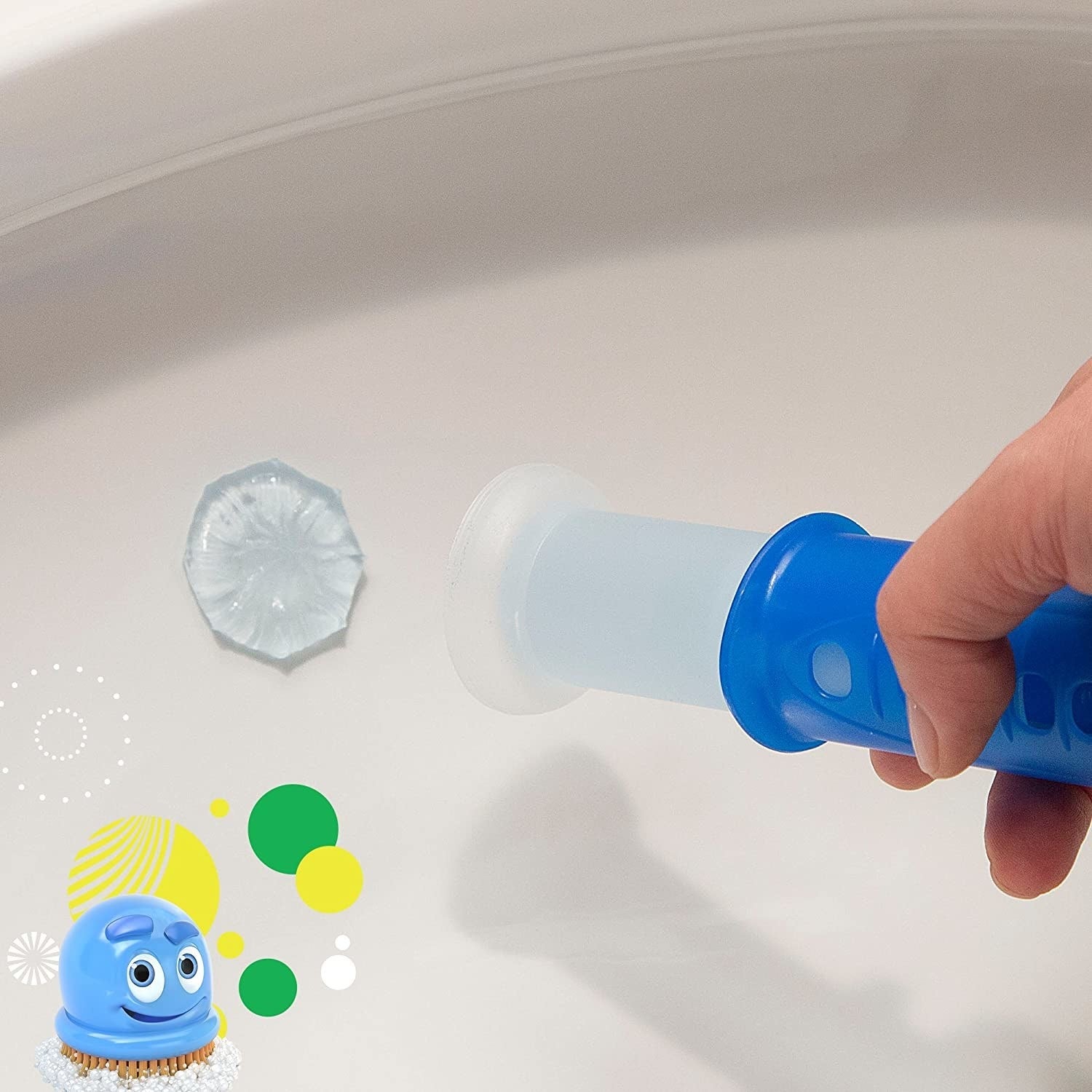 Promising review: "I applied it about two weeks ago and it is still going strong. Toilet is clean and smells fresh. I haven't had to scrub the unsightly toilet ring away since applying this product. I talked my sister into buying it and she texted me today raving about it. Highly recommend for a cheap toilet maintenance product." —Ashlee
Get six stamps from Amazon for $4.99.

3.
A pack of oil-proof paper air fryer liners — post-cooking cleanup just got a lot quicker and easier!

Prefer a reusable option? Check out these silicone air fryer liners!
Promising review: "How did I not know about these before???? I pop one of these in, put my food on top, air fry, and cleanup is SO FLIPPING EASY!!!! I cooked bacon-wrapped jalapeños on top of these and there was almost ZERO grease in my air fryer that needed to be cleaned out because these sheets absorbed it all. I will NEVER use an air fryer again without these!" —Holly
Get 125 liners from Amazon for $11.99+ (available in four sizes/shapes).
4.
And a pack of slow-cooker liners so you don't have to scrub your cooker clean after you just made a magnum opus meal.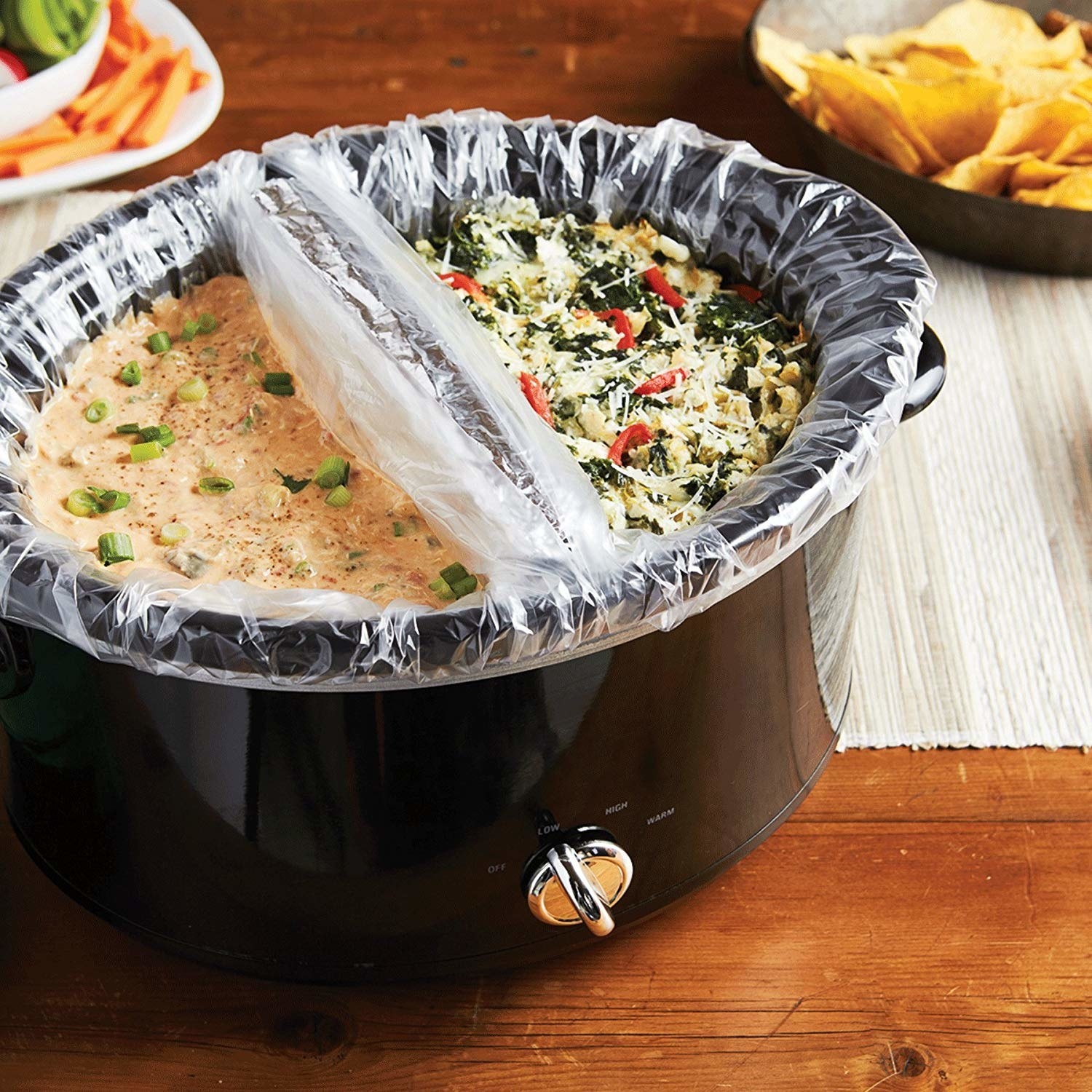 Promising review: "Why? Why would you want to scrub your giant slow cooker? Well, now you don't have to — these liners are the perfect solution for your slow cooker needs. Simply place it in your Crockpot like you would a trash bag, add all of your ingredients, cook, and then when you're all done...just trash the liner! I've been using these for years and I will never go back to scrubbing the tough cooked-on food from the day's cooking. I have never once had a liner with a leak and I really feel like Reynolds has helped make kitchen cleanup so much easier with this smart product." —Katie B.
Check out our full review for Reynolds Slow Cooker Liners!

Get six liners from Amazon for $3.48.
5.
A powerful dishwasher detergent that'll get rid of hard water stains and mineral buildup and leave behind a fresh, lemony scent. Now you won't have to scrub clean dishes that already went through a cleaning cycle. 

Promising review: "I've tried other ways to remove hard water (vinegar, lemon, etc...) and it was only mildly effective. All the glasses and dishes were still coarse and spotty. Glisten, however, and in a matter of only two loads of dishes, has not only completely cleaned the glasses and dishes, but the washer as well. Seriously, the inside of the tub looked new again. There was absolutely no buildup or limescale anymore inside the tub or drying element. The glasses are now absolutely spotless. I highly recommend this product as it worked very well for me when all other products or home remedies failed." —James
Get it from Amazon for $11.25.
6.
A grout and sealant stain remover because your tiles deserve to gleam against a clean background. Just apply it, wait, and rinse the stains away. You read that right, there's no scrubbing needed!
Promising review: "I was absolutely amazed by how well this product works! No scrubbing, no fumes, and no odor. I applied this before bed and woke in the morning to a completely clean tub!" —Ashley Altman
Get it from Amazon for $14.99.
7.
A microwave steam cleaner you just fill with water and vinegar to melt away all the food trapped on the walls and ceiling. Then, you can quickly and easily wipe all that yuck away!
Promising review: "Something I didn't believe until I tried it. So easy to follow directions written on Angry Mama. Was disappointed when I opened the microwave to see the filth still on it. Was wishing it would magically taken care of itself. But all it took was a quick swipe with a paper towel and GONE. Loosened everything, which is half the process. My microwave was sooooo white once cleaned!! Would buy as gifts." —JDesmond
Get it from Amazon for $8.99 (available in four colors).
8.
A fast-acting mold and mildew remover so all you have to do is spray and watch as stains melt away. No scrubbing required! And you can say goodbye to any musty, damp smells too. Cleaning your bathtub just got a whole lot easier.
This can also be used on mold and mildew stains outside of your home!
Promising review: "I had mold on my bathroom ceiling and decided to try this. I had used all kinds of home remedies for mold and nothing worked. This product does just as it says. I sprayed the ceiling and walked away. I went back after 15 minutes and it was gone. It does have a strong smell, so it's a good idea to open the window to air it out. But I can deal with the strong smell because it works. And no scrubbing!! Will definitely buy again. I'm going to use it on the outside of the window ledges next." —2bgrl
Get it from Amazon for $16.99+ (available in three sizes and in multi-packs).
9.
A pack of Bottle Bright cleaning tablets if regular ole soap and water hasn't gotten rid of the tough stains and odors in your travel mugs and water bottles. The best part is, there's no scrubbing involved. So you get super clean gear with minimal effort!
Promising review: "So let me start by saying I don't typically write reviews. Something has to be reeeaallly amazing or horrendously bad for me to write a review on it. That said, I've tried everything imaginable to get the coffee stains out of our 'stainless'-steel coffee pot. Nothing has ever worked, and after 5ish years of using this specific coffee pot, it looked particularly atrocious. I found these on a random BuzzFeed article and figured eh, why not. For 8 bucks, even if it doesn't work I'm not losing much. I ran plain water through my coffee maker, dropped in two tablets, and let it sit for two hours. I dumped it out expecting to have to scrub a little or even run it through another time, but nope. It took out EVERY. SINGLE. STAIN. Like it was nothing. It looks like a brand-new coffee pot, and now I'm annoyed that I've spent so much time and effort trying to get this stupid pot clean. It also leaves no smell behind whatsoever, so nothing to make your coffee taste weird. If you're on the fence, trust me, this will be your new best friend." —Kindle Customer
Get 12 tablets from Amazon for $8.
To learn more, check out our Bottle Bright tablets deep dive.
10.
A pack of washing machine cleaner tablets because you shouldn't be tossing dirty clothes into a dirty machine. These tablets dissolve to remove any residue that may have built up, so you can be sure your favorite blanket comes out smelling fresh!
Promising review: "I never knew how tough it would be to clean my high-efficiency washer. It is a never-ending battle. Life is a little easier now that I can toss in a tab and have it do most of the work for me." —Maggie Dennis
Get the pack of six tablets from Amazon for $11.95.
11.
A bacteria-killing denture cleaner to remove any odors and discoloration caused by buildup on retainers, mouth guards, and Invisalign. Reviewers even say it works better than the Invisalign cleaning crystals!
Promising review: "My husband and I both wear a retainer at night. They can get pretty gross! Popped a tablet in some warm water and in just a few hours, they were visibly cleaner!! No scrubbing involved. Just let them soak during the day and come nighttime they are sparkly clean! Highly recommend!" —J&K
Get 120 tablets from Amazon for $21.11 (also available in a 240-pack).
12.
A toilet tank cleaner with a citric acid formula that'll remove hard water deposits and other stains in your toilet tank without any elbow grease needed. Get rid of stubborn odors with this safe-on-pipes cleaner.

Promising review: "Wow! First of all, I was shocked when I noticed that my toilet tank was so filthy. I never look in there but there was a reason that my toilet bowl needed to be scrubbed every day. The tank was so nasty I couldn't even see the bottom. I really didn't want to drain the water and scrub the tank, then I saw this. I honestly didn't expect that it would actually work since my tank was so nasty. I dumped this little miracle product in the tank, left it overnight, and the next morning I saw a much cleaner tank. I can actually see in there now. No draining or scrubbing. Amazing stuff!" —Linda Baker

Get it from Amazon for $10.27.
13.
A Dawn Powerwash dish spray bundle if your ideal dishwashing experience consists of spraying, waiting, and wiping. This spray can easily cut through grease to clean heavily soiled dishes.

My mom swears by this spray! It can be used to clean more than just your dishes.
This bundle includes one spray bottle and three refills.
Promising review: "Everything is squeaky clean. No residue. Silverware shines. Minimal scrubbing everything lifts off 🥇" —margareth wlodarski
Get it from Amazon for $15.76.

14.
A pack of Affresh dishwasher cleaner tablets so you don't risk limescale and mineral buildup affecting your dishwasher's performance. If a dishwasher can't properly wash dishes...it's essentially just a wet cabinet.
Promising review: "I will always buy Affresh from now on because I have tried ALL the rest of the 'big name brands' and they were always lacking in getting our two dishwashers clean. This cut through the gunk and cleaned the whole washer when I ran it on heavy load. It surprised me because the other brands always left one type of residue after they were done. Affresh cleaned our entire dishwasher of everything including built-up detergent residue. I have a separate home licensed bakery addition on our home. Never can get the bakery dishwasher totally clean of grease gunk until now. Affresh cut through and flushed out the flour, vegetable oil, butter, frosting and detergent residue in our three month new dishwasher. To not have to get down on my knees to scrub, it really helps me out." —SweetMomNY
Get six tablets from Amazon for $8.99.