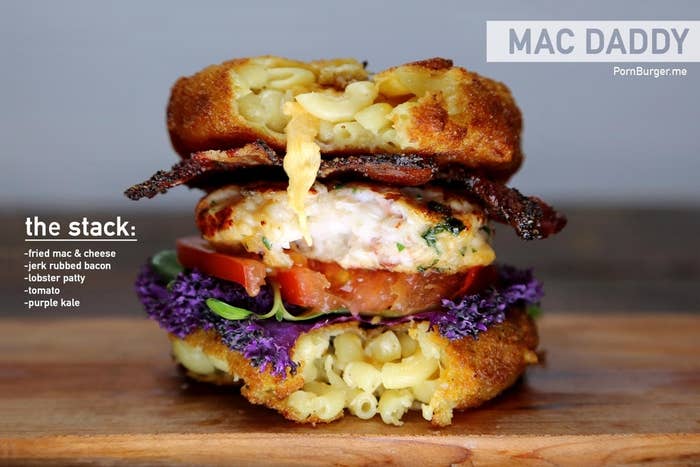 The first burger Mathew Ramsey posted on his new website pornburger.me in January was called "The Bambi." Between two buttery, toasted kaiser rolls, Ramsay stacked a seasoned venison patty (that's deer meat — get it?), melted taleggio cheese, creamy sauce chasseur ("hunter sauce"), pickled beets, and pan-fried Spam. Yes, SPAM. The D.C.-based photographer and video producer then posted a stunning high-res photo and promised to create a similarly extravagant burger once a week for the rest of this year.
"I started PornBurger.me as a year-long creative challenge," he says. A self-proclaimed "burger pervert" with "a propensity for dad jokes," Ramsey calls his newest burger out today "all kinds of smutty" because it's seductively smothered in poutine. Keep it up, burger perv. That's eight down and 44 to go.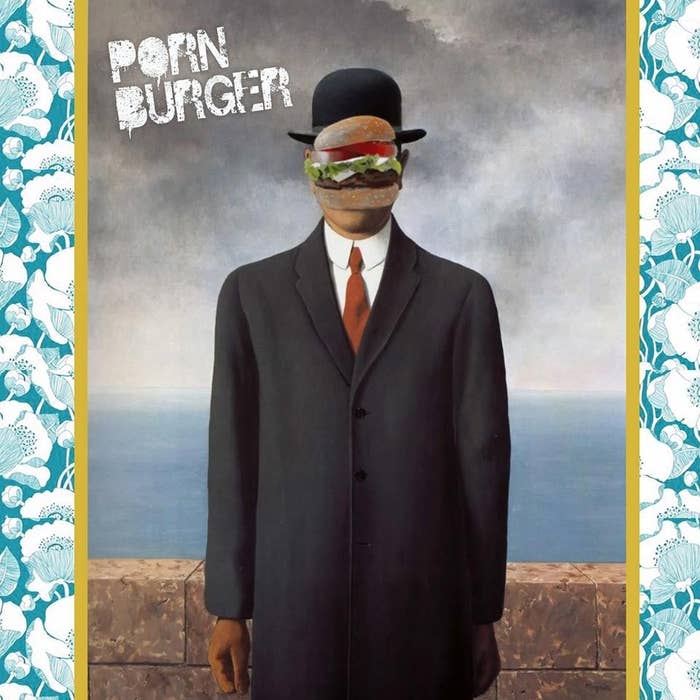 What's your goal here?
Mathew Ramsey: A world where burger perverts can feel free to be themselves, without all of the self-loathing. That said, I would "settle" for a burger and a beer with Bill Murray.
Tell us about your day job.
MR: By day I'm a lot less creepy. I shoot, direct, and edit videos for an array of clients as a co-founder of the D.C.-NYC production company, Grizzly+Scout.

What cooking experience do you have?
MR: 
So at age 27, I quit my day job as a producer for National Geographic to head west and fulfill my culinary aspirations. I attended California Culinary Academy, Le Cordon Bleu, and worked for a stint at the San Fransisco Chronicle's Food & Wine section, where I learned recipe testing and food styling.
How long does it take you to cook and set up these shots? For instance, did you actually makes those tiny beet chips for My Bloody Valentine (Week 3)?

MR: 
As much as possible, I like to try and make the different components from scratch, like beet chips. That's the fun part for me. So far, the Mac Daddy (Week 6) was probably the longest production, because there were a lot of steps behind each component. On the other hand, My Bloody Valentine was a breeze because most of the ingredients were raw-ish. 

And tweezers?

MR: That obvious, huh?

When Shake Shack tweeted a link to pornburger.me, was that the best thing that's happened to you since you started the project?
MR: 
I am a very big Shake Shack fan, so that was truly awesome. That said, I recently received a free jar of my favorite pickles from Gordy's... so life is pretty, pretty good. 

Who makes your favorite burger?

MR: There's a slider joint in the suburbs of Detroit called Hunter House. I blame them for a lot of my bad habits.
Any plans to share recipes?
MR: Is porn supposed to come with instructions? Just kidding — I don't take myself that seriously. If I ever compile my burger fantasies into some sort of hamburger porno mag, I expect recipes will be divulged. I mean, that's just good pillow talk.

Venison + Taleggio Cheese + Pickle Beets + Pan-fried Spam + "Hunter Sauce" + Sunflower Micro-Greens + Kaiser Bun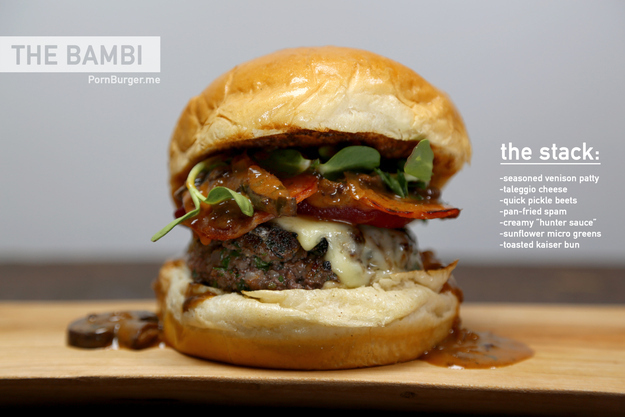 Grass-Fed Beef + Hashbrown + Fried Egg + Cheddar Buttermilk Biscuits + Country Sausage Gravy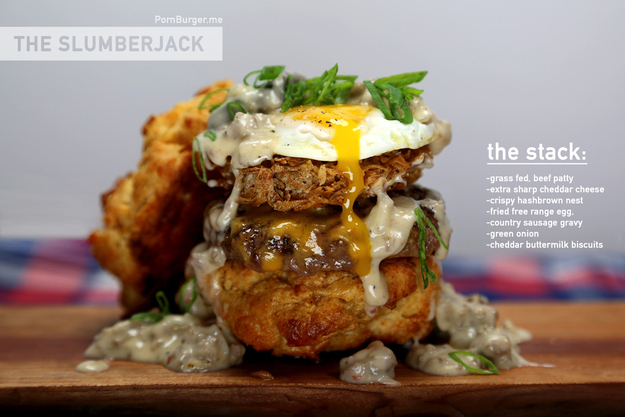 Lamb Heart Tartare + Quail Egg + Sardines Aioli + Trout Roe + Beet Chips + Capers + Avocado Oil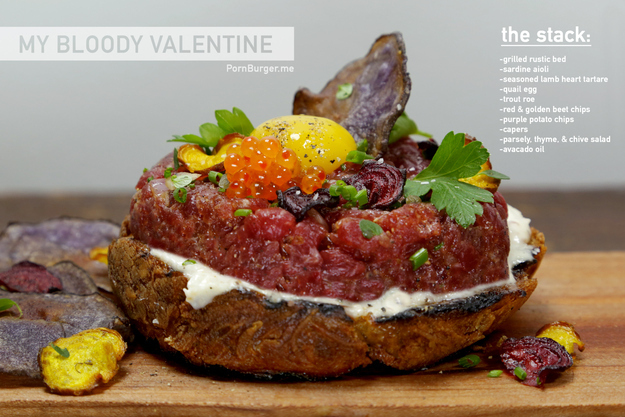 Milkshake + Cheese Puff + Beef + Cheddar + Shallots + Duck Fat Fry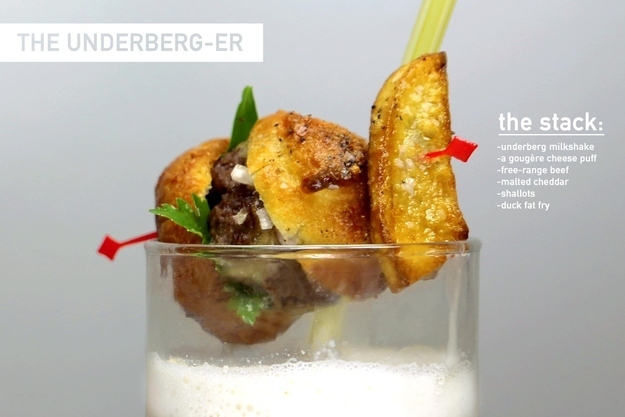 Shrimp Toast + Beef + Seaweed Salad + Uni Beurre Blanc + Pickled Fennel + Capers + Radish
Fried Mac 'N' Cheese + Lobster + Cabbage + Tomato + Jerk-Rubbed Bacon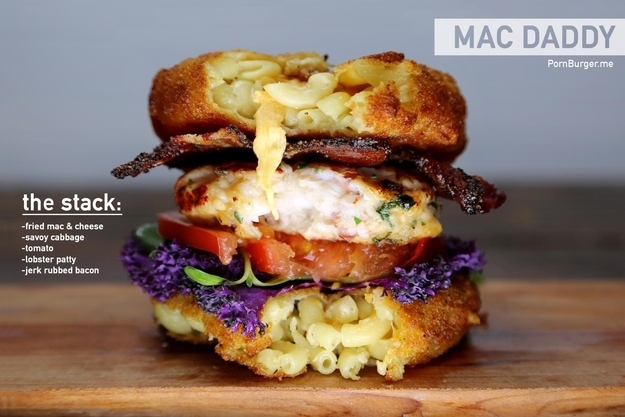 Duck Confit + Chicken Liver and Pork Paté + Fried Chicken Hearts and Shallots + Watercress + Fig Catsup + Sesame Twist Roll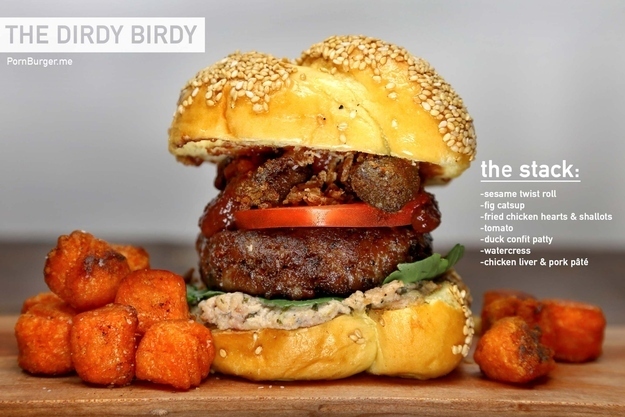 Ground Short Rib + Bone Marrow Poutine Sauce + Mustard Greens + Dill Pickles + Cheese Curds + Black Garlic Fries