The 2016 Academy Award nominations were announced Thursday morning, and none of the people nominated for Best Actor, Best Actress, Best Supporting Actor, or Best Supporting Actress were performers of color.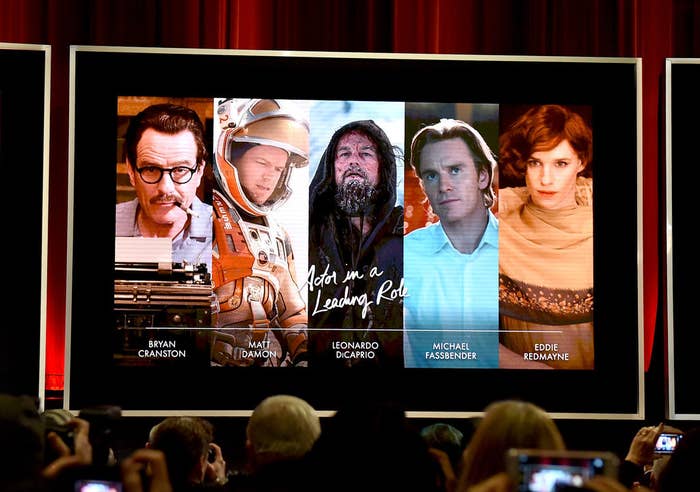 Lots of people were frustrated by the lack of diversity in the nominations, given the number of successful films put out this year featuring actors of color.
While What Happened, Miss Simone? was nominated for Best Documentary, and Straight Outta Compton was nominated for Best Original Screenplay, the latter was written by three white men.
People began tweeting the hashtag #OscarsSoWhite, created last year by magazine editor April Reign.
Reign told BuzzFeed News that she was disappointed, but not surprised, by this year's nominations. She also elaborated on the intended purpose of the hashtag.
"This campaign is two-fold," she said. "It's not just about the Academy. It's also about Hollywood in general. You can't even nominate films if they're not being made."
Reign added that the goal was not to highlight a "token nomination for every film," although she felt that Idris Elba's performance in Beasts of No Nation, Ryan Coogler's direction of Creed, and Tangerine were particularly notable this year.
"It's also about studio heads and their decisions, repeatedly, not to feature the stories of marginalized communities," she added.
👀 👀 👀
Some pointed out the irony that the Oscars will be hosted by black comedian Chris Rock.
The Academy appeared to be making changes after last year's backlash by inviting a very diverse group of new members to join: 8 of 25 actors invited (32%), 10 of 26 directors invited (38%), and 10 of 21 writers invited (48%) were people of color.
In November, Academy President Cheryl Boone Isaacs said, "When it comes to fair and equal representation in our industry, words are not enough. We also have a responsibility to take action. And we have a unique opportunity to do so now."
Clearly, this year's voters didn't take that opportunity.