Actor Bill Paxton Has Died At 61
The Emmy-nominated actor died due to complications from surgery.
Bill Paxton — star of Titanic, Aliens, Twister, and Big Love — died on Saturday at the age of 61 due to complications from surgery, People and TMZ have reported.
The Emmy-nominated actor is survived by his wife and two children.
"It is with heavy hearts we share the news that Bill Paxton has passed away due to complications from surgery," a family representative told People in a statement.

"A loving husband and father, Bill began his career in Hollywood working on films in the art department and went on to have an illustrious career spanning four decades as a beloved and prolific actor and filmmaker," the statement continued. "Bill's passion for the arts was felt by all who knew him, and his warmth and tireless energy were undeniable. We ask to please respect the family's wish for privacy as they mourn the loss of their adored husband and father."
Paxton stars in the CBS television show Training Day, which is currently airing and is based on the 2001 movie of the same name starring Denzel Washington and Ethan Hawke. He will also be appearing alongside Tom Hanks and Emma Watson in the upcoming film The Circle, based on the novel by Dave Eggers.
Paxton received early acclaim for The Terminator (1984) and Aliens (1986) before playing the lead role in the 1996 movie Twister. Other notable movies starring Paxton include Apollo 13, Tombstone, and Titanic. In 2012, he was nominated for the Outstanding Lead Actor in a Miniseries or Movie Emmy award for his role in the History Channel miniseries Hatfield & McCoys. Other TV credits include his leading role in the HBO series Big Love from 2006 to 2011.

"I've played a lot of different people. You see, I don't believe in heroes and villains ultimately. I believe people are capable of great villainy and great heroism — the same person," Paxton told The Guardian in a interview from 2002. "My biggest disappointment is not getting to do the romantic roles I always dreamed of," he said, adding, "But I've had a pretty good career. And you know what? We're grist for the mill out here, and if I quit doing this, there's 10 guys ready to take my place."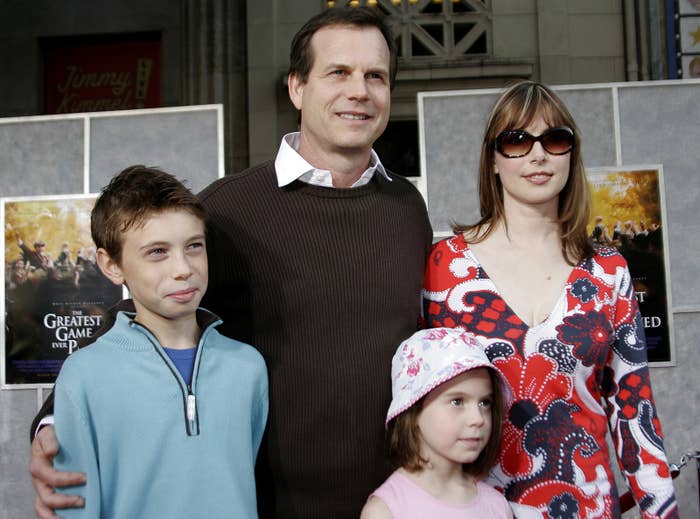 "We are extremely saddened to hear of the passing of Bill Paxton," read a statement released by HBO. "Big Love was a seminal series for HBO for many years due to Bill's extraordinary talent and grace. Off screen, he was as warm, smart and fun as one could be. A true friend to so many at HBO. He will be greatly missed."

An outpouring of grief and memories from Paxton's colleagues in the Hollywood community began on Sunday morning as news of the actor's death spread. Tom Hanks tweeted that Paxton "was, simply, a wonderful man. A wonderful man..."
Jamie Lee Curtis, who starred with Paxton in the 1994 film True Lies, tweeted, "Nooooo. Bill Paxton is gone. Such a funny, talented, loving human."