Yet another meme format has emerged from the depths of Twitter — and this time, it's all about *iconic* moments from TV and movies that deserve to be included in any and all film class syllabi.
It all started with this since-deleted tweet that fawned over this shot from Game of Thrones: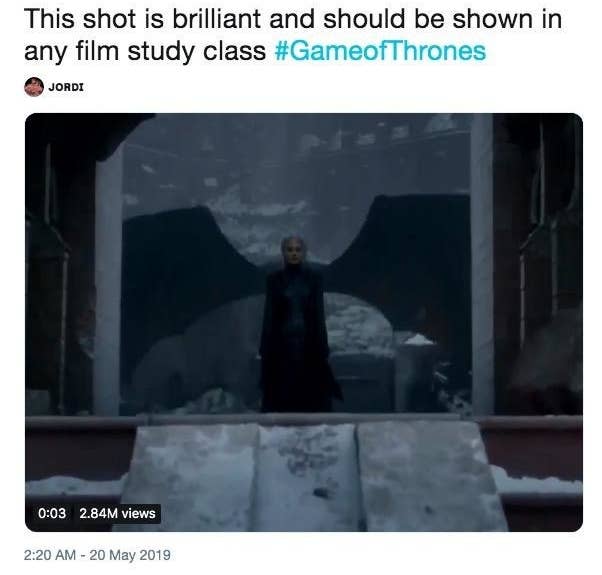 And naturally, Twitter saw this as a PNMF™ — potential new meme format — and, well...here's what happened:
1.
Billy Ray's limbo moment from Hannah Montana:
2.
This shimmery turquoise number from Mamma Mia!: Here We Go Again:
3.
That time Aviva Drescher shouted, "The only thing fake about me is THIS!!!" and threw her prosthetic leg on The Real Housewives of New York:
4.
This shot from RuPaul's Drag Race that honestly looks like a renaissance painting:
5.
This parking lot moment in Nathan for You:
6.
This entire scene from Twilight which — unbiasedly — deserves all of the Oscars:
7.
This shot of Shrek's plaid-clad bulge 'n booty from Shrek:
8.
When Juni talked to Fegan Floop in Spy Kids 2: Island of Lost Dreams:
9.
And when Chris Daughtry got voted off American Idol:
10.
When Denise looked "sh*tty" in Hot Rod:
11.
When Jim Carrey emerged from a rhino's b*tth*le in Ace Ventura:
12.
When Scoob disguised himself as a lil' lobster in Scooby Doo:
13.
This CGI duck-troll thing from Detective Pikachu:
14.
This immortalized still from It's Always Sunny in Philadelphia:
15.
And lastly, the *ICONIC* Halloween party scene from Angus, Thongs, and Perfect Snogging where Georgia goes dressed as a DIY olive:
What shots do you think are so brilliant that they should be taught in every film studies class? Tell us in the comments!!!!!