This Artist Makes Lifelike Balloon Animals And I, For One, Am Truly Astonished
I WANT TO BOOK HIM FOR MY BIRTHDAY PARTY!!!!!!!!
For most people, balloon animals are just a fun lil' party gag — you get one, use it as a sword, it pops, you get over it.
But for Tokyo-based balloon artist Masayoshi Matsumoto, balloons are a fun, new artistic medium!!!
'Cause what he does with balloons is preeeeeeetty wild, IMHO.
Like, if I was given this at a party, I wouldn't know what to do with it...?! IT BELONGS IN A MUSEUM, NOT AT SOME TODDLER'S BIRTHDAY PARTY!!!!!!!
"I started making balloon art 10 years ago, when I got involved in the juggling community," Matsumoto told BuzzFeed. "I taught myself."
As you can see, Matsumoto's balloon sculptures are much more realistic than the ~typical~ balloon dog.
"I've always had a fascination with wildlife photos, so I wanted to make less common animals, like angler fish, hornets, and capybaras."
As for his ~secret~, Matsumoto uses the same ol' technique that all balloon animal artists use: just blowing and twisting!
However, it took Matsumoto A LOT of practice to get to where he is now. He said this monkey is the first balloon sculpture he ever made, adding: "It took me 6 years to make something I was actually proud of!"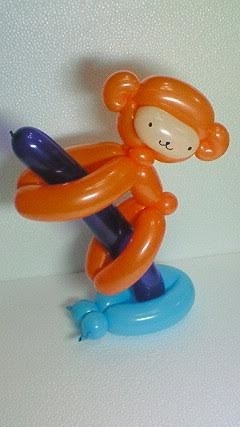 "The pieces I make now take about 5 hours to produce," he said. "Occasionally I'll pop one balloon in the process, but I've gotten pretty good!"