Hi guys. My name is Syd and my two favorite things in the whole entire big ol' world are Doug the Pug...
So imagine the amount of SHEER 👏 JOY 👏 I experienced back in May when I saw this pic of my two faves TOGETHER!!!!!
THEN imagine my surprise when I scrolled through Insta this morning and saw THIS!!!!!!

Being the ~nosey binch~ that I am, I HAD to verify that Jonathan ACTUALLY agreed to officiate the ceremony. Immediately, I scavenged the comments section and JVN's Insta, and THANK THE LORD, he posted a story giving us the Official™ CONFIRMATION!!!!!!!!!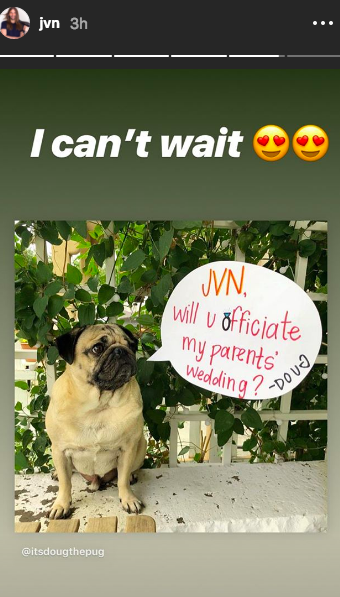 And let me tell ya, I damn near pulled a Charlotte York and Poughkeespie'd my pants.
Because you guys, I'm SOY EXCITED for Leslie and Rob, Doug's ADORABLE parents who I absolutely ship the H*CK out of!!!!!!
Like, they are literally so pure and good and truly mean everything to me and this wedding is going to THROW. DOWN.
Rob himself even commented on Doug's post and it's PRESH and I'm not crying!!!!!!!!!!

ANYWAY, I'm afraid that if I keep typing, I'm just gonna go off on an emotional tangent about how much I love all of this. So instead, I'm just gonna wrap it up...
...and leave you with this video that emulates what I hope will be the overall tone of this wedding.