The Year Without Esme
How the coolest girl in the world taught me, and an entire community, to cope with her death. And how to live.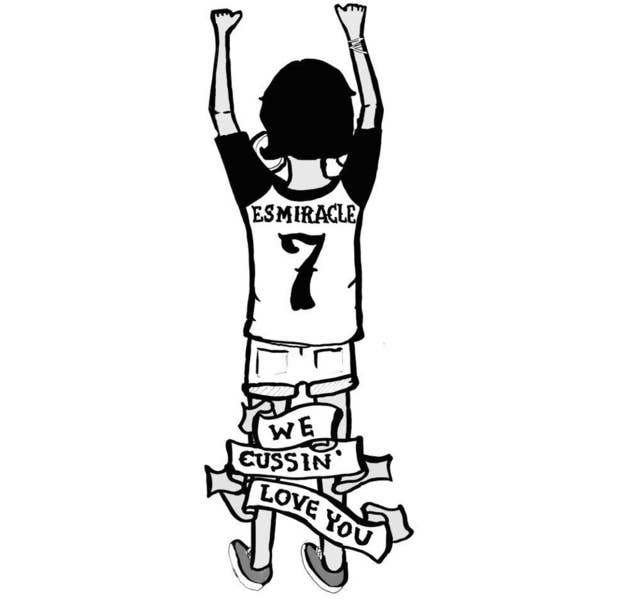 "Esme Barrera was" doesn't feel like the right beginning. Esme Barrera is the biggest heart in the tiniest body. She is the kindest and most generous person I've ever known. When people who didn't get the chance to know Esme started telling me they were sorry for my loss, I wanted to say, "I'm sorry for yours." Getting to know her at all is one of the best things that ever happened to me, even more so than losing her was the worst.
Esme was – is, always – 29 years old. She was born in El Paso, Texas to a tight-knit family that she spoke about often and always with love. She moved to Austin in 2004 and immediately became an integral part of the local music community. You could find Esme in the front row of every good show, her tiny body rocking with fists up. If she knew you, she'd yell "Duuuuude!" hug you tight, and point out all the cute boys in the room. If she didn't know you, she'd be more than happy to make your acquaintance and find out what your favorite songs were.
Esme worked part-time at the best record store in Texas, Waterloo Records, starting in 2006. She was the consummate record-store gal — perfect, personal, cool but with unaffected taste in music and was always super stoked to share her latest favorite album, band, or song with the closest person who would listen.
She also worked at Casis Elementary as a teaching aide and tutor for kids with special needs. Her job was undoubtedly difficult at times, but you wouldn't have known that. She talked about her kids with a giant smile on her face. In the summer, she volunteered at Girls Rock Camp, a non-profit organization that helps girls learn to play instruments and celebrate their own rad-ness. Esme was the best fan and cheerleader ever, a virtual encouragement machine when it came to those girls and, really, everything.
Esme was going to school to get her teaching certificate and in between working two jobs, she studied like crazy. That was actually when I got to see her the most, because she liked to study at the coffee shop across from Waterloo where I worked for a couple years. She had a drink – a large soy chai with a shot of espresso – and I usually gave it to her on the house in exchange for listening to me talk about all my crushes, and vice versa. Then she'd bury herself in her reading at the corner table, wearing her signature red headphones, until it was time for her to go out and see a band. She always invited me to come do whatever she was doing with her. She was the kind of person that always wanted everyone to come along and have a good time.
If Esme sounds too good to be true, then maybe I'm beginning to do her justice.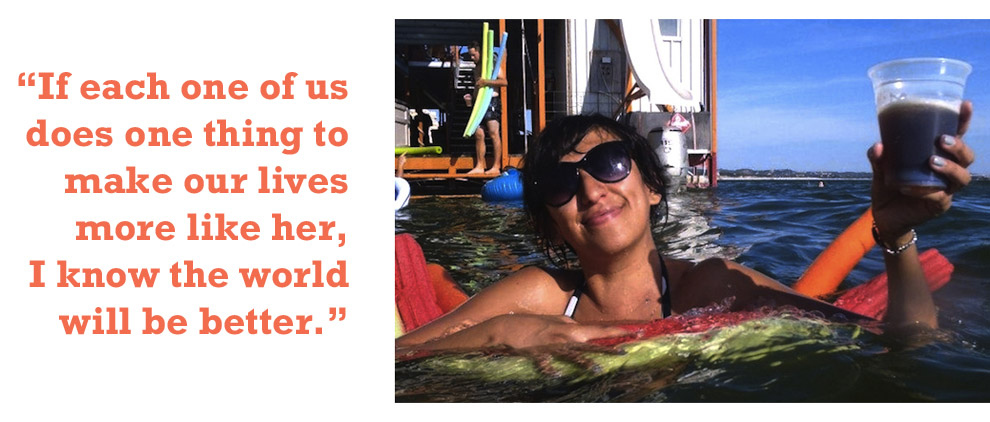 Esme was murdered within the first hours of the new year, one year ago today. She had been with friends at a New Year's Eve 1977-themed punk show at the 29th Street Ballroom. Her house was only a couple blocks from there, so she walked. Someone was inside and that person ended her life. There was no apparent motive. The Austin Police Department has recently closed the case, based on circumstantial evidence that linked a stranger (who killed himself a few weeks after Esme's murder) to the crime scene.
There's really only one thing that's clear about it all: A senseless act of violence prematurely ended the life of someone who was inexpressibly good for the world.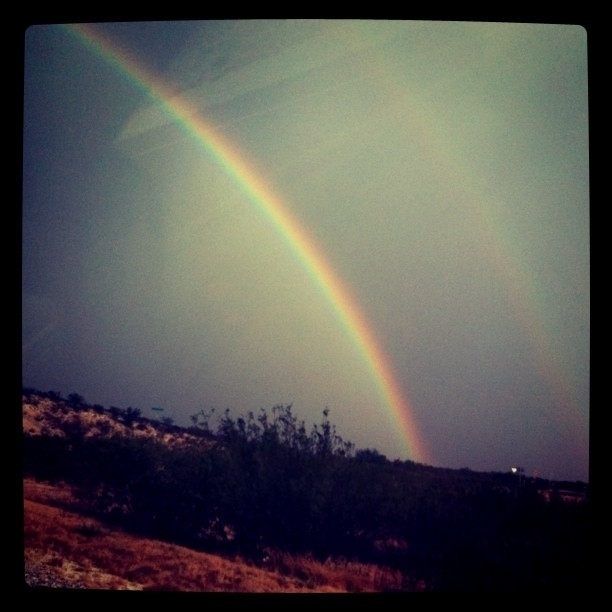 Esme would pop up in my chat window to ask me about a boy I knew who she was scoping out ("this is what I believe you call RIDIC!!!!") or I would take up a huge chunk of her studying time relating to her all of the facts relating to whatever relationship drama was knocking around my brain. Esme was the perfect person to talk to about dudes because she never really tried to give me advice, she just listened like she was actually interested, squealed at the appropriate intervals, and encouraged me to makeout as much as possible. That was all I (or anyone with a crush) ever wanted in a friend.
She also liked to recommend new songs to me, always with a multitude of exclamation points tagging behind. Her taste was so perfectly aligned with her personality that to know her music was to know her. She loved twee pop, classic rock, songs about girls, songs sung by girls, dance jams, and Tom Petty. She ran the gamut, but I do think everything she liked had a common denominator: It was earnest. She introduced me to Herman Dune and Jens Lekman, we bonded over Jonathan Richman and the Silver Jews. One of my favorite mixes from her is one of her trademark summertime compilations, and it starts with Justin Timberlake's "Summer Love" and ends with the Beach Boys' instrumental "Let's Go Away For Awhile."
Esme wrote about the song "Lust for Life" by the San Francisco band Girls on the tumblr she shared with a friend. To me, this paragraph is like the perfect microcosm of who she was:
"This song is holding me together since summer is gone and I'm falling back. It's my new anthem or maybe my plea. It has not left the record player since it made it's new home in my treehouse. It's been the jam amongst my lady friend circle. It's put on repeat while we drive around with the windows down to the next party, spy on dudes and then egg a car. And it's on the next morning in the car on the way to brunch, completely hungover where we retell the highlights. It's in my head when I am up past my bedtime, wandering around downtown, smooching at a house party or the middle of the street. Yep, that sums up my weekend and this was the soundtrack. Song of the weekend, song of the last 2 months, song of the season, the song for boys and girls who just want all those things too, especially the pizza and bottle of wine and perhaps a loving man in our life… maybe I'm just fucked in the head"
When I stopped working at the coffee shop Esme frequented, she wrote on my Facebook wall, "now who is going to provide the sunshine during my work/class get caffeine transition?!? banhhh!" It's such a surreal thing to read coming from her because she was the embodiment of sunshine every time I saw her. Her death left me and a couple hundred other people wondering who could provide that kind of light in our lives.
All we could do is turn to ourselves and to one another.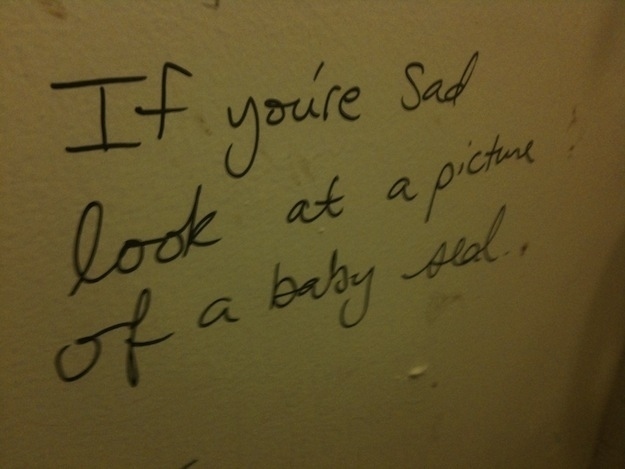 My friend Joe wrote something on Facebook on the day Esme was killed that has stuck with me throughout the last year. "When someone with a giant heart is taken from us, the only thing we can possibly do to honor them is to try our hardest to be the same way."
No one could ever be Esme, but the only way for the hole she had left in our lives not to seem to great to bear was for us to try and fill it as she would have – with as many songs, beers, compliments, hugs, and adventures as possible. When I would see an acquaintance who I knew had been touched by Esme, we would embrace instead of just nodding hello. There were tribute shows featuring her favorite local bands, screenprints, murals, an outpouring of love for her life coming from every direction I turned.
Kim Batiansila, a speech pathologist who worked with Esme at Casis, remembered Esme a "just about the most accepting and trusting person I knew." She continued, "I've been trying to be more like her in that respect. Life is too short to live with walls around your heart. Esme loved everyone unconditionally. This is what I take most from her. This is her gift to me."
Esme, in the way she lived, gave everyone who loved her the blueprint for dealing with her death. When I page through my texts from her or her instagram photos or her old blogs, it's hard not to read divinity into the things she chose to share and say.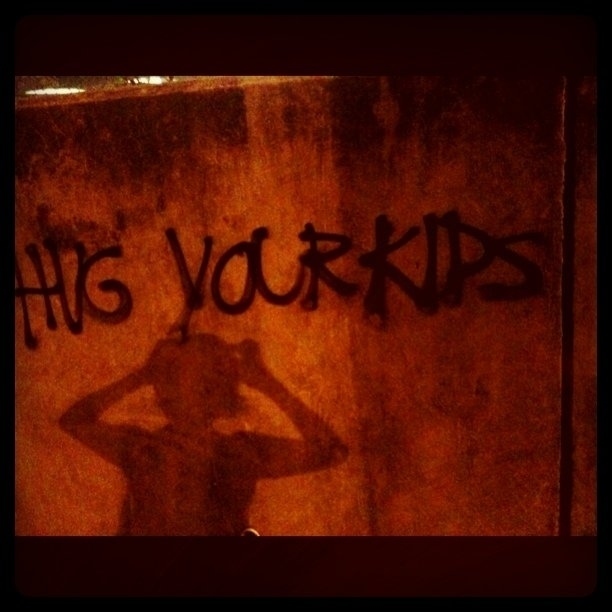 Zoe Cordes Selbin, a student and a fixture around the Austin music scene, was one of Esme's students at Girls Rock Camp. She told me that "the thing that everyone says about Esme is how she radiated light. She always encouraged girls to rock out and do what makes them happy. This year I have really tried to take that to heart in her honor. I have tried to be more adventurous in her honor. I tried to go out more, hug my friends more, read more, flirt with silly boys more, go to more local shows, and buy more records."
Zoe recently transferred to the small liberal arts school Southwestern University, where she plans to "put more value on my education, something that I know Esme believed in."
One of Esme's best friends, Haylee Roulain, wrote to me about how she had dealt with Esme's death. "I'm not really sure how I've been doing it. I've just kind of forced myself too because I know Esme would kick my ass if she thought for a second I was laying around moping. Every time I get sad, or think its unfair that she was taken from us, I remind myself that I am unbelievably lucky to have spent even a second with her."
"I know she would hate to think of all of us sad, so I'm just trying to do my best at living without her. I know every time I go see the Golden Boys, go record shopping, stay out too late on a work night, watch basketball, or pour over all things Beyonce and Jay, she is right there with me."
"I'm telling you she is a real rock n' roll angel."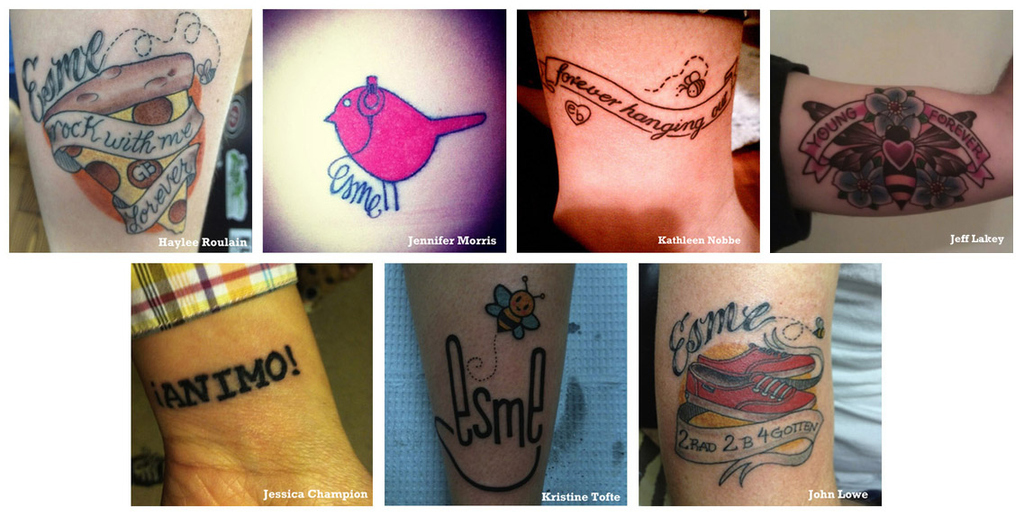 Within a few hours of Esme's death, a PayPal account had been set up to help her family with expenses and money poured in. Benefits, tribute shows, and memorials were planned in Austin, El Paso, Brooklyn, and Los Angeles. Several of her favorite musicians tweeted and blogged their remembrances of her.
The night of the January 1st, just a few hours after I heard the news, I got word that people were congregating at the 29th Street Ballroom, which was one of Esme's favorite places. At first it seemed morbid for that to be the place where we gathered, but once I got there, it seemed to make perfect sense. Esme had been alive at this place and you could feel her presence there, darting between all these groups of friends and acquaintances who were holding one another and crying. No one forgot to say "I love you" that night.
The next night, another gathering formed at Liberty Bar, a favorite spot of Esme's where a memorial painting now hangs next to the jukebox. A hundred of us sat outside in the cold and we took turns speaking and remembering her. People told the stories of how they'd met Esme ('she walked right into the record store where I worked and invited me to a party'), the last time they'd seen her ('walking down Guadalupe St. wearing those red headphones with the biggest smile'), what she had taught them, and how much they would miss her. The group ranged from friends who had known Esme since she was a kid in El Paso and had watched her grow up, to people that had met her a few weeks before and were feeling sting of a friendship that could have and should have been. In addition to all the friends that were reconnecting, it was amazing to see how many people who were strangers to each other but who each had these incredibly personal stories of their connection to Esme. In her wake, Esme's heart looked like Mary Poppins' bag. It became clear that she had inspired and supported more people than most of us have in our address books.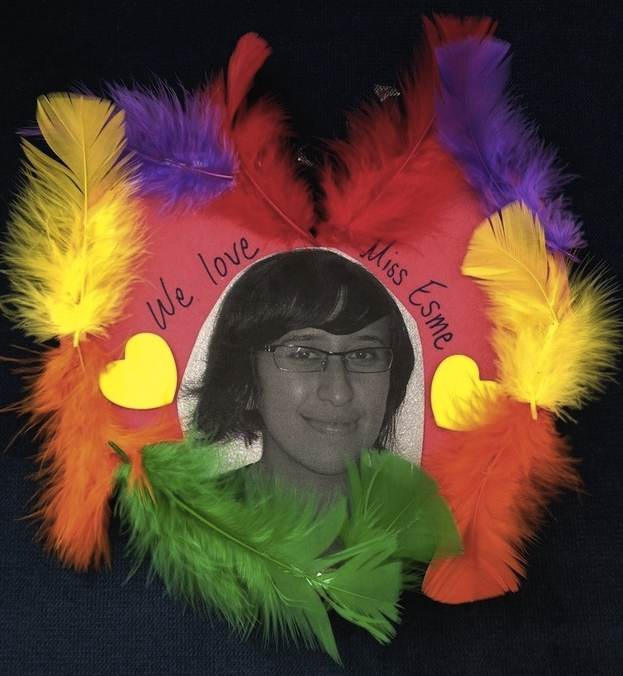 Esme spent so much of her time and energy making sure that people felt loved and appreciated that I was overcome after her death with the fear that I hadn't done the same for her. I never told Esme most of the things I find myself saying about her now. It pains me to look back on our emails and text message exchanges and see that a few of the wonderful things she said to me went unanswered. She deserved people who gave her as much devoted attention as she managed to give to so many. I don't think I did enough to deserve her friendship but she gave it to me anyway. That was just her way.
Anytime someone dies, there's a fresh and pressing reminder to tell people you love how much you love them. In my experience, that's never been more true than it was when Esme was killed. Not just because of the regrets I felt, but also because making people feel loved was something she was so extraordinarily good at, and it seemed like we all had a responsibility to one another to try and fill that void she had left behind.
Gerard Cosloy, co-owner of Matador Records, wrote about Esme on his blog after her death. "Esme was unfailingly genuine…and (I mean this in the best possible way) never afraid to risk looking dopey, but more importantly, never reluctant to let someone know she gave a hoot. If you're reading this, didn't know this woman, and you're saying to yourself, 'big deal, I know someone just like that,' tell them. Today. We can't bring Esme back, but any moment going forward not spent trying to match the very high bar she set… is time wasted."
Patrick Floyd, who emceed Esme's Austin memorial service, told me that the memorial was the most that he'd ever felt part of a community. "At the memorial I felt that we all needed each other," he says. "It was beyond comfort or connection, it was need. Necessity."
"Everyone was leaning on everyone to hold ourselves up."

That memorial in Austin wasn't like any other funeral or wake I've been to. Organized by her friends Mark Fagan and Linda, it was at an outdoor space filled with colorful balloons, bright flowers, pictures projected against a wall and hanging everywhere of a tiny girl having the most fun anyone ever had, over and over again. There were kids from Casis running around in the grass, friends who hadn't seen one another in years reconnecting, teenage girls wearing rainbow socks. The palpable feeling in the space was an overwhelming gratitude people were feeling towards everyone around them. The service included remembrances from her colleagues at Casis Elementary and Girls Rock Camp, from friends, an original song from one of her favorite Austin musicians, John Wesley Coleman, and a beautiful song written for her by one of her former Girls Rock Camp students. At the end of the ceremony, women from Girls Rock Camp flooded the stage, all wearing a spectrum of bright colors and carrying a variety of instruments. Together, they sang "She's a Rainbow" by the Rolling Stones. The catharsis and joy and beauty in that moment is impossible to articulate.
Patrick wrote to me that he's never felt like anything like it. "And Esme's students and rockers were so critical to that. Girls who seemed like they had a headstart to understanding themselves better and sooner than they would have without her. And for all the progress we can find and celebrate about how we help girls find identity, develop strength, feel belonging, and love themselves, there's so much ugly, nasty, scary, regressive shit growing around us. And they were singing, playing music, not apologizing, making her positivity so real, immediate, present, and perfect."
There were multiple benefit shows for Esme in January featuring the local bands she had always shown up for, as well as silent auctions, t-shirts screen-printed on site, and an excuse for people that had been touched by Esme to love on one another.
At the end of the month, Esme's "S.S. Dreamboat" Ted Leo came to town to do another benefit at Beerland, headlined by her friend Ray's band the Crack Pipes. Demand was so great for such a tiny venue that Ted played two sets, one in the early evening that was peppered with kids from Girls Rock Camp and Casis, and another that night peppered with drunk friends of Esme wearing sailor hats and holding on to each other. He hung out with Esme's friends at Liberty in between the shows and listened to stories about her. Ted had met Esme briefly, and spoke of her enthusiasm and the love that was left behind for her with so much caring in his voice that it makes me cry to remember it. She would have been so stoked.
Everyone seemed to have a different Ted song that they associated closely with Esme and it seems like he played all of them that night. Mine was always "Timorous Me", which sounded like it could have easily been written with our girl in mind.
"But I know she's like me, so I let it ride, she's dwelling in that quiet space left behind, where only peace can answer why, and you abide. The birds must fly."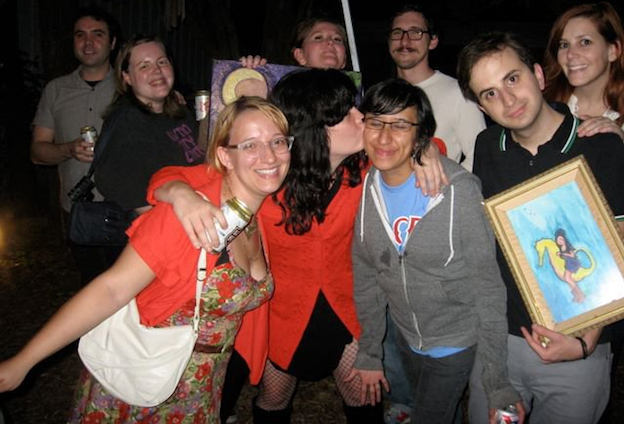 There was also an art raffle held to benefit Esme. Organizer (and Esme's next-door-neighbor), Jennifer Morris had held these art parties on a regular basis over the last few years, and Esme had been a joy at the last one, where she had put all of her tickets in for the only piece in the show by a child, of course. She won the piece and acted like she had been given a million dollar lottery prize.
Students from Casis contributed decorated bags that held the raffle tickets and were beautiful works of art of their own, and many of the students Esme had worked with were at the party. We played some of Esme's favorite jams and long after the varied works of art had been given away and the families had disappeared, a small group of friends stayed behind for a late-night dance party until the wee small hours. I remember being totally exhausted but continuing to insist that we had time for one more song.
Since Esme died, days and nights spent with the people I love have been imbued with a new feeling of importance. The impermanence of our time together was suddenly more than just a vague notion. Not to mention that living more like Esme did meant that we had to show up, squeeze as much fun as we could out of everything, and not go home until it was much later than was reasonable.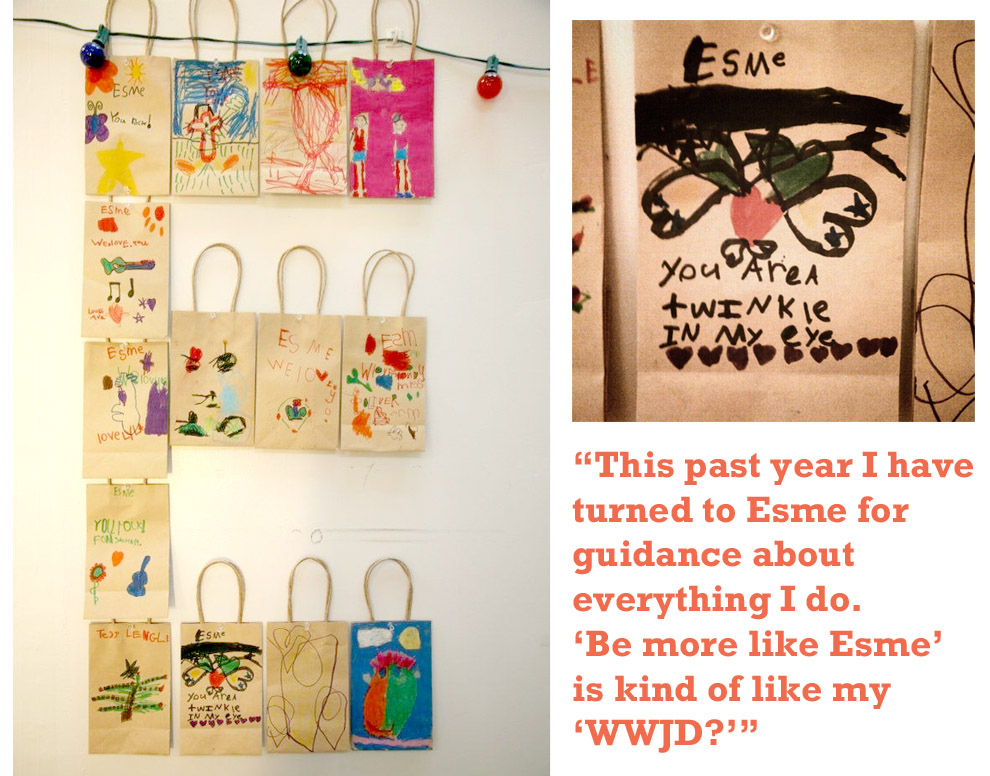 Esme was into sports in the same way she was into music, which is to say she really liked to talk about the things she liked, and didn't have much time to worry about the stuff she didn't. In the case of sports she was mostly concerned with the Boston Celtics. She also liked Leo Messi, going to AAA baseball games, wearing a sweet Houston Astros shirt she scored at a thrift store, getting up ridiculously early to watch the World Cup, and cheering on the Waterloo Records beer league softball team.
There was one game I particularly remember where BookPeople's fans were leading a raucous cheer, and Esme responded from the Waterloo bleachers with a hearty non-sequitur "U! S! A! U! S! A!" Bobby Muñoz, another Waterloo Records bleacher babe, remembered Esme's presence at softball games in a blog entry. "Usually holding a tall-boy that seemed just as big as she was. Volunteering to run the stereo that played out each batters' intro music. Yelling out her opinion on why a certain song was all wrong for a batter and offering to bring a better selection the next time."
In memory of Esme's enthusiasm, the Alternative Softball League held a special game for her this past summer and opened it up to the general public along with a raffle that benefitted a memorial planned for Casis elementary. We had kegs, play-by-play announcers, awesome prizes, a t-shirt cannon, dizzy bat races, and a kids' race around the bases.
So many cool things happened because we were all inspired by her and wanted to honor her memory. I just wish she could have been there.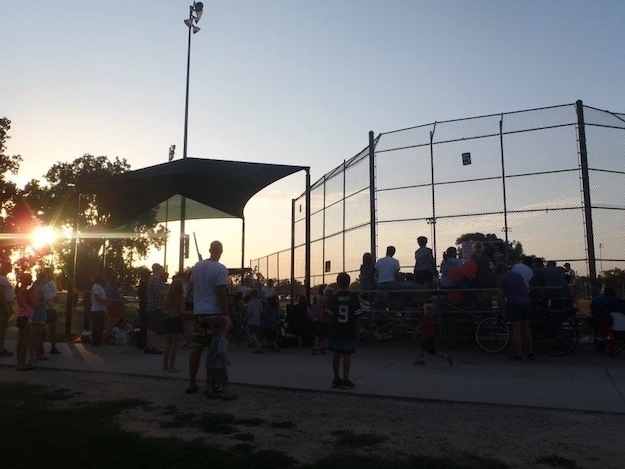 My dad wrote me recently and told me how glad he was that I wasn't living in Austin right now, as the recently released report from Esme's autopsy report are plastered all over the local news channels and newspapers. Julie Maxwell, a mutual friend of mine and Esme's, told me that the reports all "seem colder, more scientific, than ever before." Julie had actively avoided learning the circumstances of Esme's death until the other day when she opened a website to a headline "Barrera died from ________".
"I couldn't un-see this and my heart broke," Julie wrote. "I was so angry they put that information so candidly in a headline that was unavoidable on the front page. Also, why now were they reporting these details? What good does it do almost a year later? Those who wanted to know already know. But others, like me, naively tried to hold onto the bliss of not knowing so that we didn't have to grieve the violence done to beautiful Esme as well. So I feel like the media has completely left out memorializing Esme and it's only sensationalizing the event instead. I guess this practice hasn't affected me as much until now. I sometimes think the world is telling me that enough time has passed and that Esme is only yesterday's news."
"That will never be true."
Everything I'm remembering is so warm in contrast to what actually happened to this amazing person. However, I'm acutely aware that my own way of coping has been to try to ignore and forget the horrifying details of Esme's death.
I have lost people before, but never like this. Never when there was a person to blame, and a decision made to end such a beautiful life. We all know that these violent things happen in the universe but before January 1st, 2012, that all still felt like a different world. In the same way that parents often say that you experience violence differently once you've had kids, I have experienced violence in a tremendously different and more personal way in the past year. I used to be able to browse the news as though I was perusing a novel. Now, it pains me physically to read about murders and massacres.
I don't want that to be the lasting impact that Esme has on me.
There were people in Austin who fought to bring Esme's killer to justice and who spoke angrily about what he deserved, and I respect them. Others worked hard to protect women who felt vulnerable to attacks, which was admirable. I just couldn't allow myself to be consumed with my own feelings of fear and anger.
It doesn't feel like doing Esme's memory justice to reduce her vibrant and full life down to the tragedy of her murder. She had spent her 29 years sharing her love and enthusiasm with others – the man who killed her cut that short but I can't allow him to erase all of that living she had already done.
Esme's death didn't teach me anything about senseless violence. Esme's death is something that I'm no closer to understanding than I was a year ago and I doubt I'll ever be able to really comprehend the "why."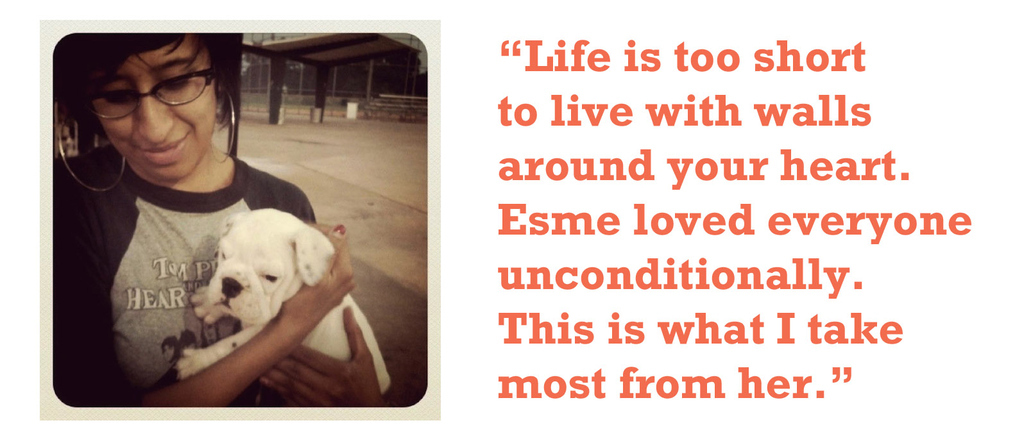 But Esme's life is another story. I related so much to what Julie told me: "'Be more like Esme' is kind of like my 'WWJD?' I even wear the Love Esme button everyday as a sort of milagro. I've made more friends this year than I have in the past ten years. I've tried new things and let go of the fear of what others may think. I love myself more because of Esme."
Patrick, the friend who emceed Esme's Austin memorial, got some good news this year. "My girlfriend Shannon and I are expecting a little girl. Our due date is March 20, the first day of spring. And as true as any hope, goal, or wish for her is that she'll find role models and friends like Esme."
At Esme's memorial in El Paso, her little sister Marlene spoke about how much she missed her best friend, but also how about how fortunate we were to know her. Despite the varied ways in which we had each gotten to know Esme, some version of that feeling is the one common denominator among all the people I've spoken to about it: We were so lucky, so blessed.
Despite a grief so much greater than I can claim to understand, Marlene managed to say it perfectly. "If each one of us does one thing to make our lives more like her, then I know the world will be better."
Last year, my New Year's resolution was to "live more Esmefully." I've realized, with another new year here, that it's the only resolution I need for the rest of my life.