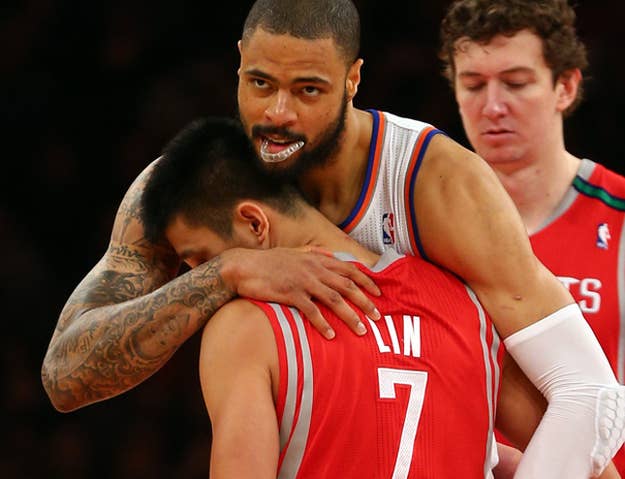 In 2002, I went with my dad to Game 3 of the NBA Finals, Nets and Lakers, at the Meadowlands. Pretty sure we bought tickets at face value that day, which still doesn't seem right. Upon entry into the arena, we were handed a pair of Thundersticks.
You know Thundersticks, right? Those narrow, oblong balloons people wave or smack together, ostensibly to distract professional basketball players from making free throws? You've seen them on TV and probably not thought twice. But did you know that, when several thousand people smack them together at once, the cumulative effect is to make one pray for the relative serenity of a riot inside a vuvuzela factory? And that this cumulative sound bears no resemblance to the roar of a happy or angry crowd, nor does it ebb and flow in response to things actually happening during the game, even a really, really important game? More galling, there were children all over the place. Family time! At the Finals!
The one thing I remember thinking was, This would never happen at a Knicks game. If by some miracle the Knicks could ever see their way back to this competitive level — no sure thing in the Shandon Anderson/Othella Harrington/Howard Eisley era — fans would be too busy screaming to wave balloons. They'd be selling their children for tickets, not bringing them along.
Indeed, Knicks fans have always enjoyed a "smartest fans in the league" reputation. The franchise's recent history is one of near-misses followed by a sharp decline under the ownership of James Dolan, but the Garden has stayed loud and enthused and, when appropriate, hostile; NBA pundits and fans of opposing teams have often praised the attentiveness with which Knicks crowds follow the game. Which is why last night's display during Jeremy Lin's return to Madison Square Garden was far more depressing even than the game itself. (Rockets 109–Knicks 96, and it didn't even feel as close as that.) Lin got a nice ovation during introductions, but was subsequently booed every time he touched the ball, like he was LeBron James or Reggie Miller or someone else who wasn't singlehandedly responsible for the most thrilling six weeks of New York sports in two decades.
Aside from this being personally mortifying, it just didn't make any sense: How could someone whose signing with Houston was so publicly and overtly a result of vintage James Dolan pettiness be vilified so quickly? How could someone who has since said emphatically that he had wanted to remain a Knick, be seen as an enemy of the Knicks? Had some nefarious alternate history taken hold? Or had the Knicks fanbase become one like any other, that just boos any former player in an opposing uniform because they don't know any better? I would have finished the thought, but Lin was at the line after nearly being decapitated by Tyson Chandler, and the Thundersticks were out.
I tried to remember if Patrick Ewing had ever been booed when he returned to the Garden with the Sonics — he can't have been, right? I was at Jeff Van Gundy's first game at MSG as the Rockets' coach, and if there was anything other than love thrown his way, I've effectively blocked it from my memory. Even Mike D'Antoni's rough reception last week when the Lakers played the Knicks was a little surprising — yes, he left the team suddenly and under still-shady circumstances, but he also stewarded the team during an institutionally hopeless teardown period and ran the system that made the six weeks of Linsanity such a singular joy. He's now leading the dreaded Lakers, but some degree of nuanced appreciation, the kind that Knicks fans would traditionally pride themselves on, seemed called for. It just seems petty and lazy to boo, especially now that the Knicks are actually good again, with a real chance to reward their fans for all the years in the desert. Although, if we're being honest, "Mike D'Antoni" is fun to chant derisively.
I was lucky enough to be at that first game against the Nets last February, when Jeremy Lin came off the bench and accidentally started a phenomenon in a basketball city that was positively parched for one. It's rare to experience electricity like that, and it was a much-needed reminder why we all put up with this in the first place. That motherfucker deserved nothing less than a parade last night, and what he got instead, playful though it may have been, wouldn't have felt more shameful if the boos were led by Dolan himself.
The only honorable thing may be to abdicate — hopefully temporarily — the "best fans in basketball" crown. Spend a little time looking in the mirror, put on a tape of some '90s playoff games, shave "In God's Hands" into our hair. There's an increasingly real possibility that the Garden will see an NBA Finals game this season, and if that happens, this city will explode in a way that would make Linsanity look like a momentary dizzy spell. And it may take nothing less than that for Knicks fans to redeem themselves, to restore the other-ness they so crave. To set themselves apart from the thing they'd hate the most: Nets fans.