Chrissy Teigen has spoken out recently about bullying and harassment on Twitter — but some of her own past tweets and alleged DMs to a teenaged Courtney Stodden are now coming back to haunt her.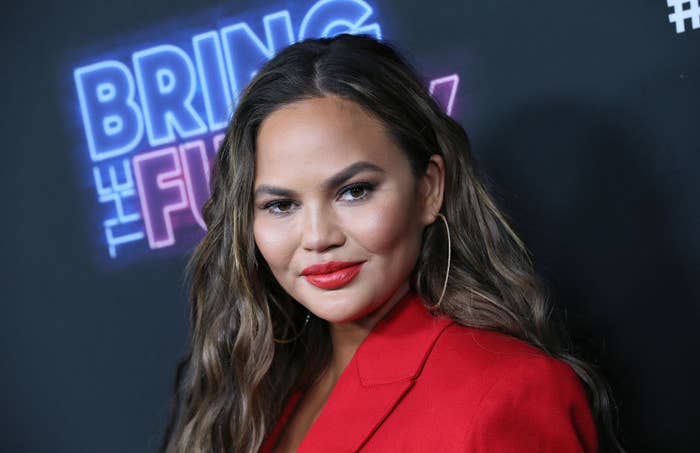 Courtney, as you may recall, became famous 10 years ago at age 16, after marrying 50-year-old actor Doug Hutchison. The media and the world at large responded horribly. Instead of helping a child escape a relationship that was clearly not right, people mocked, slut-shamed, and blamed Courtney for the situation. The couple divorced last year, and Courtney has since opened up about the harrowing experience, writing on Instagram: "I look back at this picture and feel absolutely taken advantage of."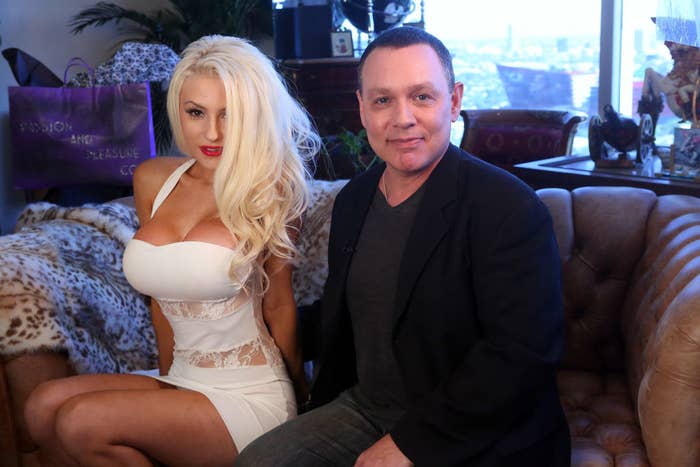 Well, in a new interview with the Daily Beast, Courtney called out some celebrities who sent bullying messages during that time — including Chrissy Teigen.
"[Chrissy] wouldn't just publicly tweet about wanting me to take 'a dirt nap' but would privately DM me and tell me to kill myself. Things like, 'I can't wait for you to die,'" they alleged.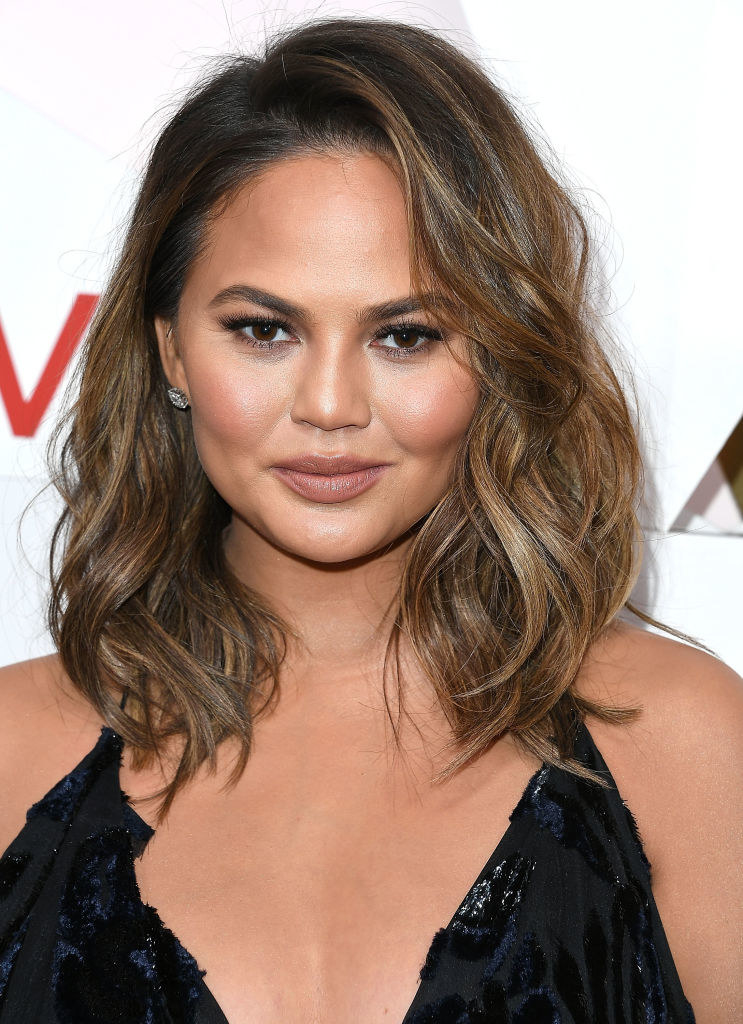 This isn't the first time Courtney has spoken out about this. Two months ago, after Chrissy briefly left Twitter because she was being bullied, Courtney posted a video calling her a hypocrite.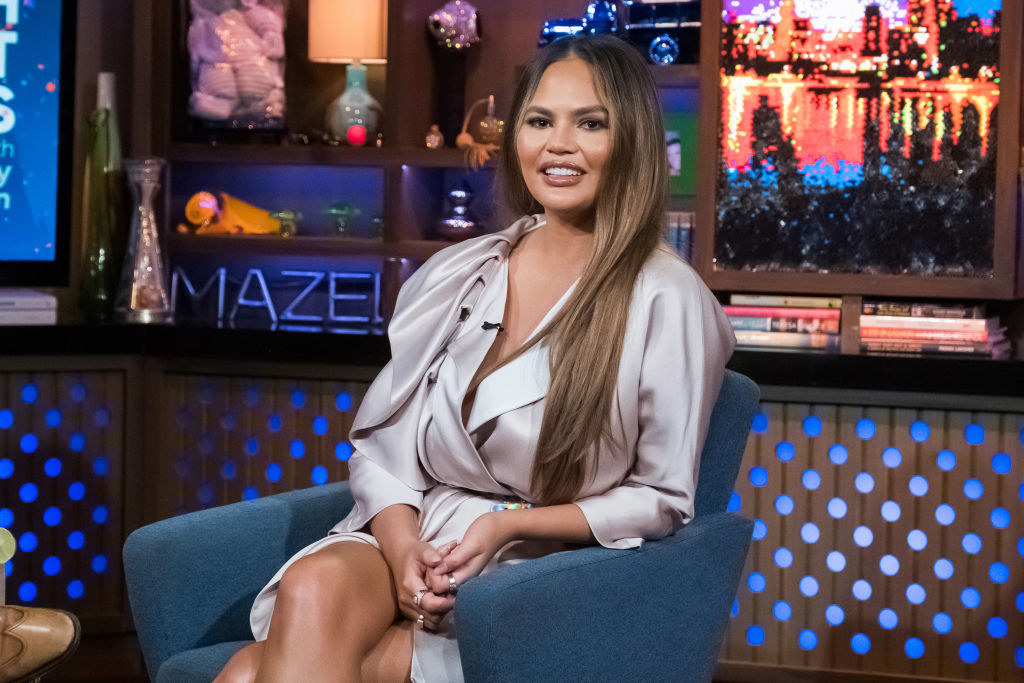 "It was just so hypocritical of her," they said. "I think, for me, because I experienced so much harassment and bullying from her when I was just 16 years old, just 17 years old, just 18 years old, at a time when I needed help. Like, I was being abused."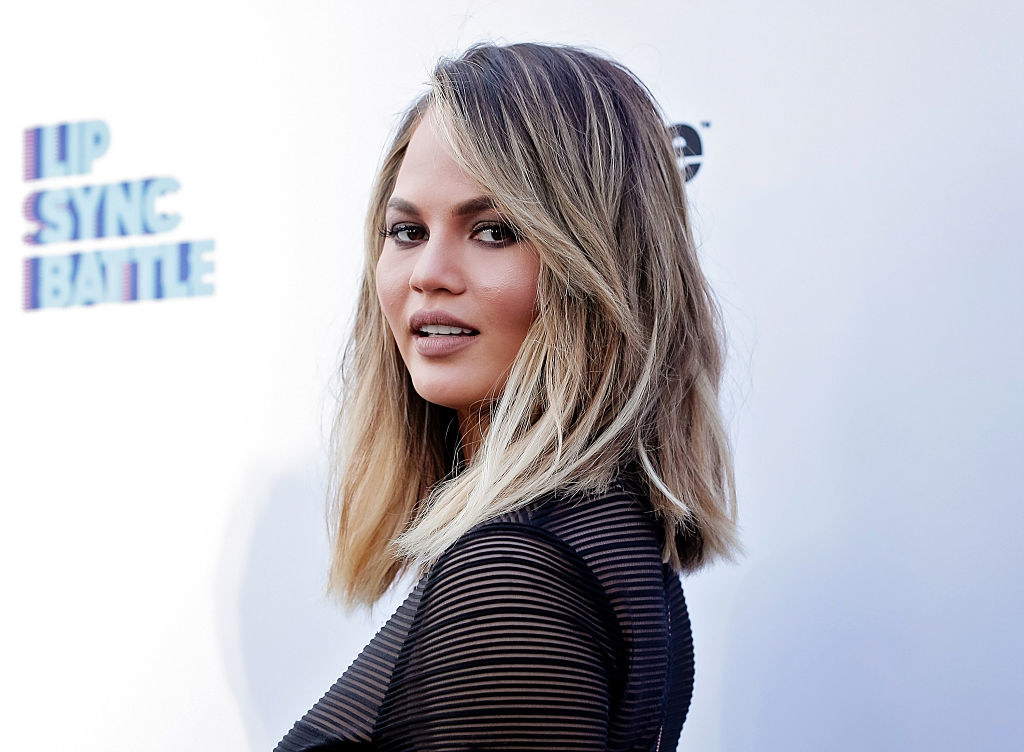 "She has sent me so many different tweets. Private DMs, up 'til a couple years ago," they continued. "It's so damaging when you have someone like Chrissy Teigen bullying children."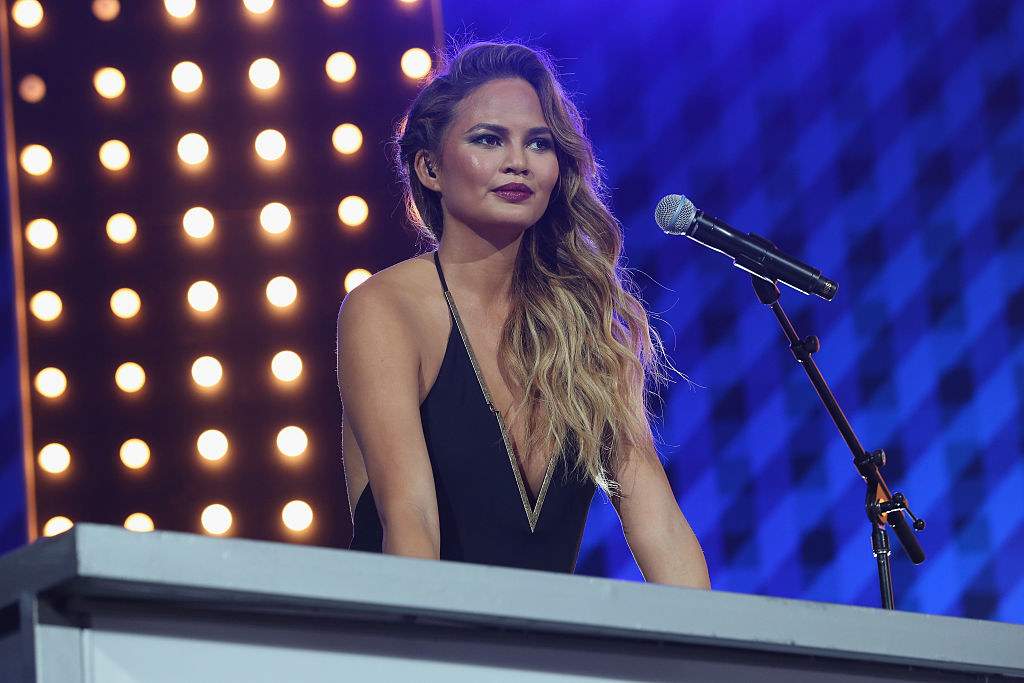 Although the alleged DMs encouraging Courtney to commit suicide have yet to be substantiated, people are now looking through Chrissy's tweet history to see what she's sent publicly. And indeed, there appear to be several deleted tweets where Chrissy says that she wants the teen dead:
Plenty of other apparent tweets show Chrissy bullying Courtney, asking about their drug use, and taunting them about their family: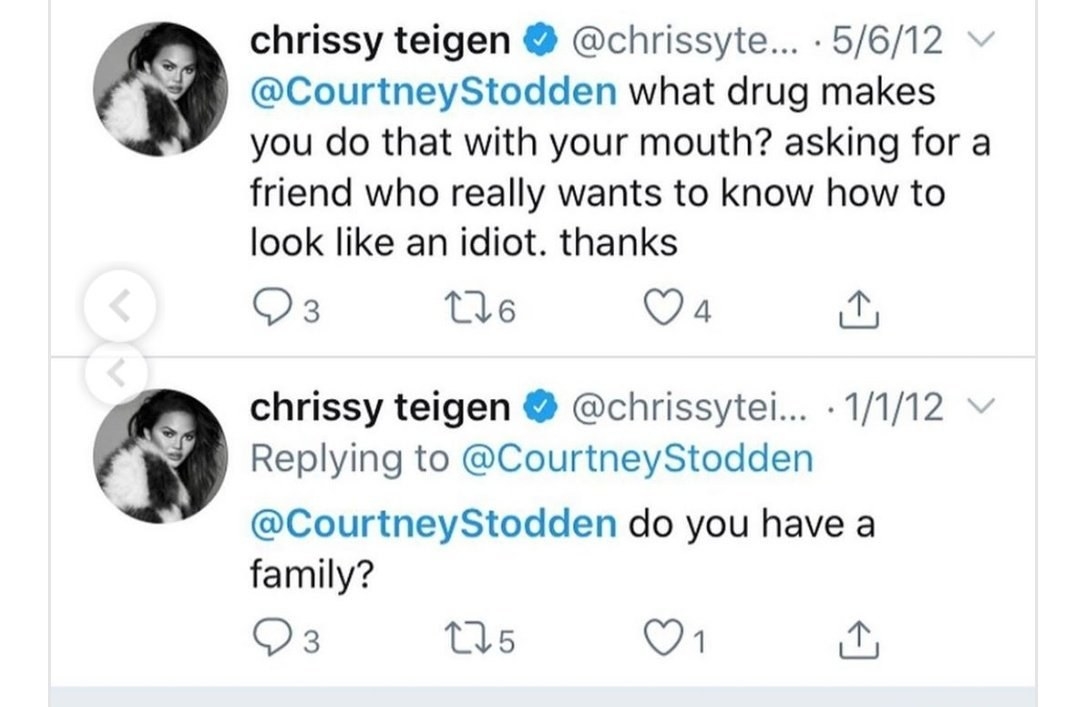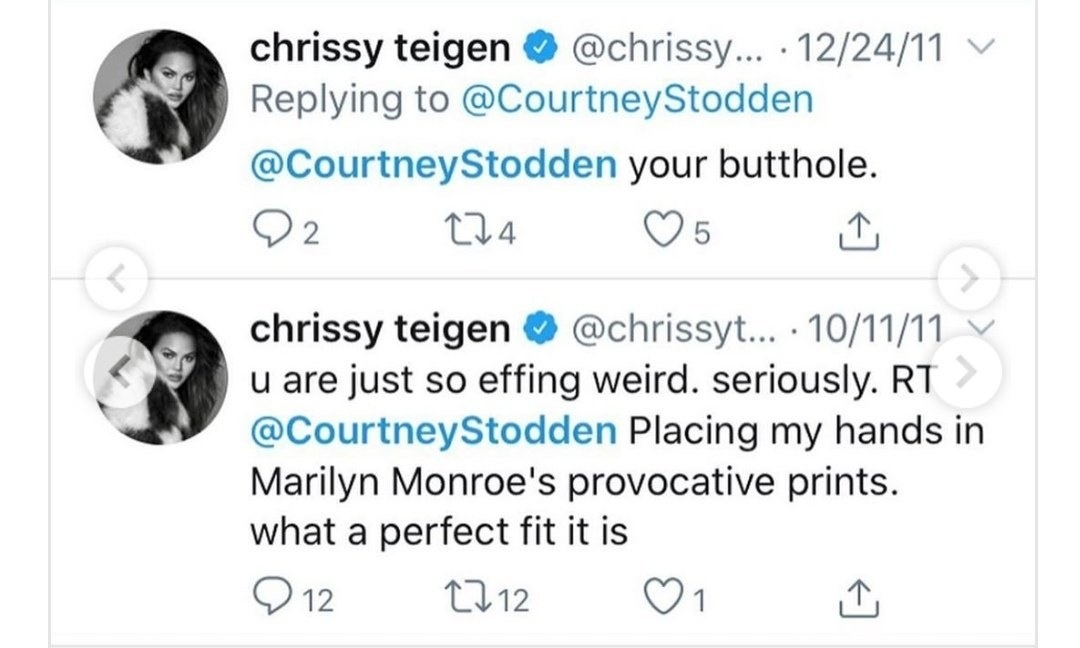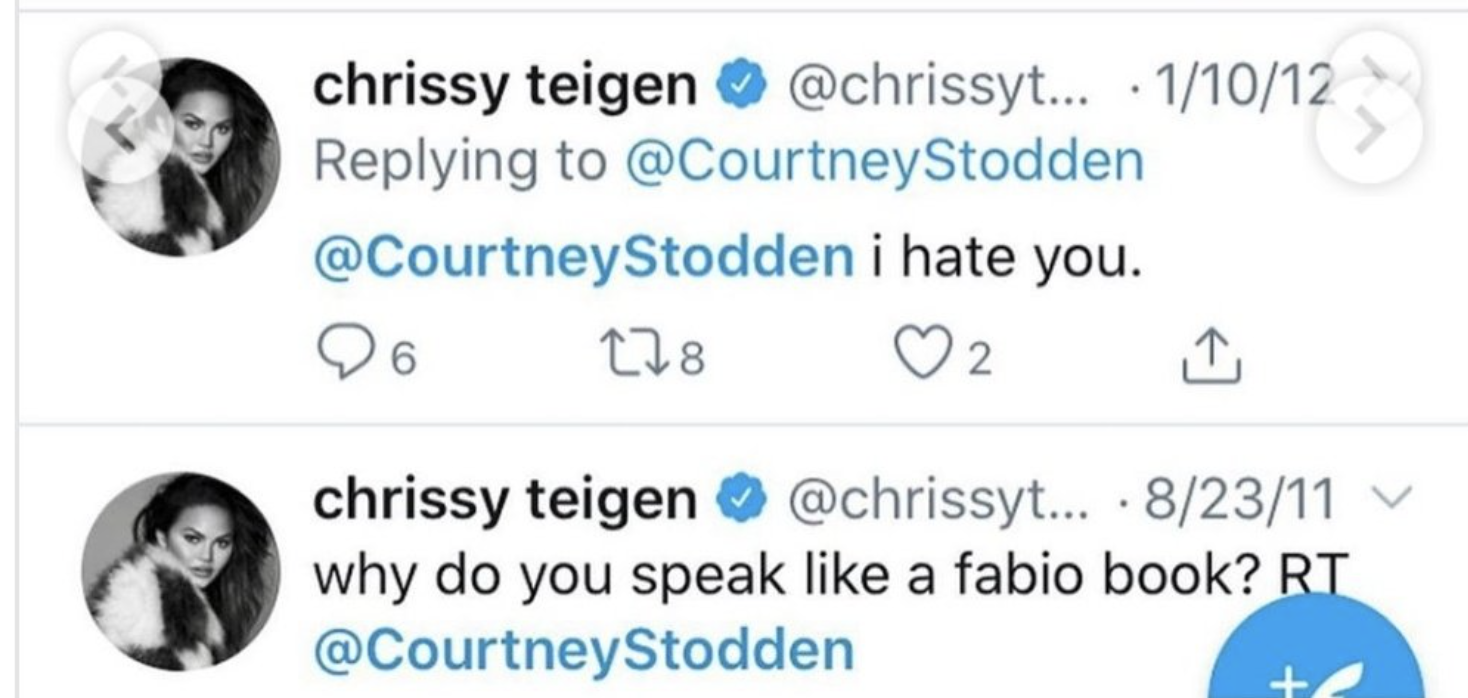 In their interview with the Daily Beast, Courtney said that of all the celebrities who taunted them during their teen years — including Joy Behar and Courtney Love — the only one to apologize was Perez Hilton:
You know, one of the biggest surprises is that all of the celebrities who shamed me — other than Perez Hilton, who stood up and was kind — they have not sought to apologize or sent any kind of love my way. The majority of love and apologies have come from reporters and also people online who tell me that they appreciate me and love me, and that I'm a source of strength for them. And that means everything to me.