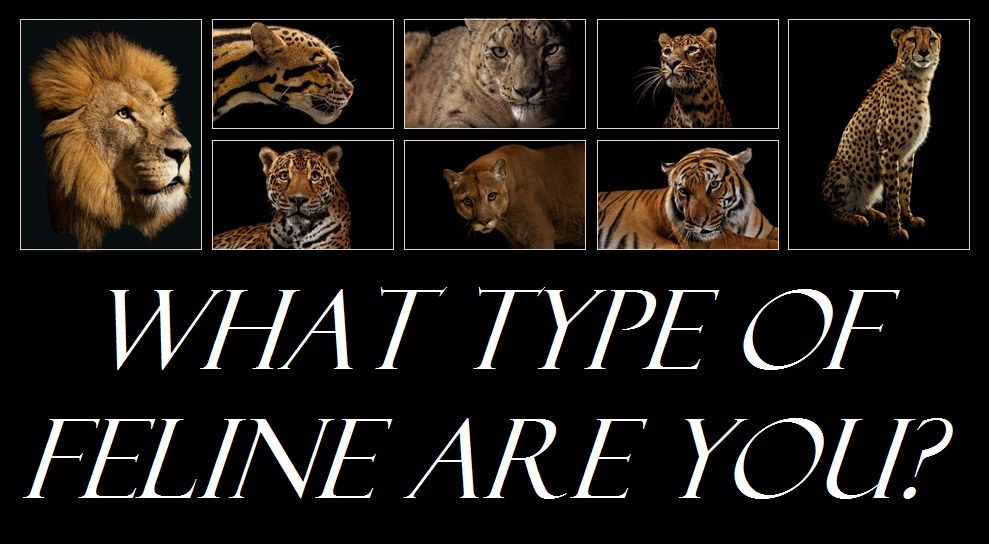 Which of these is most appealing?

Via freewallsource.com

Via travelpod.com

Via goista.com

Via viator.com

Via hdwalking.com

Via wwf.org.uk

You encounter a dog. What do you do?

Hmmm... looks like dinner.

Toy with it. Then eat it.

Via en.wikipedia.org

Via pixgood.com

Via roufe.com.br

Via sodahead.com

Via 7-themes.com

You're at a party. Where are you standing?

In the center of the room, surrounded by people.

With a small group of your friends, off to the side of the main crowd.

In the main crowd, trying to be near the coolest person there.

Off in one corner, with a couple of your closest friends.

Alone in a corner, trying to blend in with the wallpaper.

On the sofa, silently judging those around you.

By the drinks, making small talk with everyone who comes near you.

Running around everywhere, trying to be involved in as much as possible.

Somewhere with a height advantage so you can survey the room.

Which country would you most like to visit?

Via vuelefacil.com.sv

Via ed101.bu.edu

Via dreamstime.com

Via youtube.com

Via aiafricatravel.co.za

Via euromedyouth.net

Via telegraph.co.uk

Via overstock.com

I'm fine on my couch, thanks.

Someone insults you. How do you respond?

Gather your dignity and brush them off.

Why would anyone do that? They all love me.

Talk over them so they can't say anything else until they leave.

Shoot a sarcastic barb at them.

Start plotting your revenge.

Pretend you didn't hear anything.

Challenge them to a duel.

Choose an animal best friend:

Via animalia-life.com

Via shanalogic.com

Via pixoto.com

Via wisegeek.com

Via spirit-animals.com

Via karpilo.com

Via disney.wikia.com

Via moviepilot.com

Via en.wikipedia.org

Via examiner.com

Via allmusic.com

Via amazon.com

Via babble.com

How would your friends describe you?

Via nekojam.com

Via redorbit.com

Via cutestcatpics.com

Via dailymail.co.uk

Via linearlinks.com
This post was created by a member of BuzzFeed Community, where anyone can post awesome lists and creations.
Learn more
or
post your buzz!