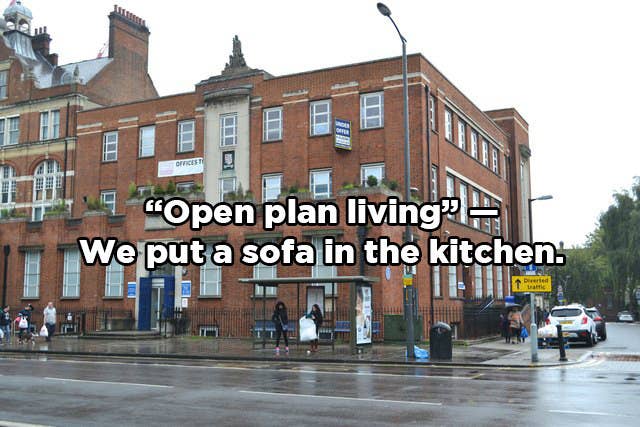 1. "Up and coming area" – Everyone who was born here will be gone within 5-10 years.
2. "Vibrant" – For god's sake don't google the crime rates for this postcode.
3. "Thriving nightlife" – There are several 24-hour chicken shops nearby.
4. "Cosy" – You will be able to touch both walls with your arms outstretched.
5. "Extra single bedroom/study space" – Large storage cupboard.
6. "Period features" – Single-glazed windows.
7. "In need of modernisation" – Hasn't been redecorated since the '70s.
8. "Open plan living" – We put a sofa in the kitchen.
9. "Access to a shared garden" – You can have a BBQ while your neighbours watch.
10. "Bike storage" – Terrifying 50-year-old shed full of spiders.
11. "Balcony" – Your bike will still get stolen from here.
12. "Recently updated" – We replaced the oven because the gas safety inspector told us it was hazardous.
13. "New-build" – You will accidentally punch through one of the walls when you're drunk.
14. "Modern interior" – Literally everything in this flat is painted white or made of chrome.
15. "Bathroom suite" – For some reason we're acting like having a toilet is a perk.
16. "Central location" – Just outside the Zone 2 border.
17. "Community feel" – People will shout at you at the bus stop.
18. "Urban" – Lots of graffiti for you to Instagram.
19. "Well presented" – This flat has all four walls AND a roof.
20. "Near to local amenities" – There is a Nisa 20 minutes' walk away.
21. "Great transport links" – There is a bus stop right outside your house. The buses will keep you awake at night, forever.
22. "10 minutes from the tube station" – By bike, maybe.
23. "Close to great shopping" – There's a big Asda a bus ride away.
24. "Cafe culture" – There's a Pret quite nearby.
25. "Near Shoreditch" – Essex.
26. "Suitable for a professional couple" – Obviously we're saying this because nobody could afford this on their own.
27. "Exclusive opportunity" – The people who buy these properties will live there for one week of the year.
28. "Studio" – Good luck getting the smell of bacon and onions out of your duvet.
29. "Young professionals" – Actual adults still living together like students because the housing market is so fucked.
30. "Basement flat" – Constant damp.
31. "Lots of character" – This property was once an appalling slum and/or brothel.
32. "Warehouse conversion" – This building was never meant for human occupation.
33. "Homely" – One of the previous tenants put up some fairy lights.
34. "Large living room" – There is a living room.
35. "Furnished" – We bought everything from the cheapest Ikea range.
36. "Luxuriously furnished" – We bought everything from the second-cheapest Ikea range.