Single In Bombay: How Fucked Up Rishtas And Difficult Dates Push Disabled Singles Online
Finding love is hard. It's even harder when you've got a limp, a cane, and – according to arranged marriage labels – a "defect".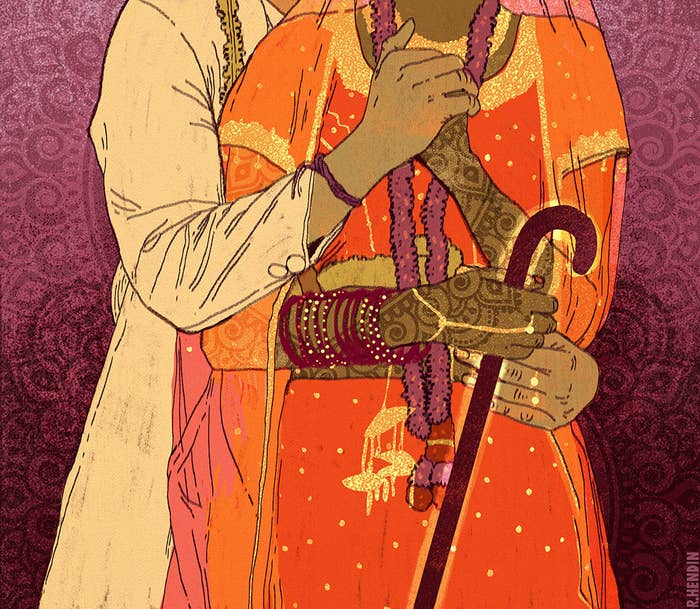 My date and I met at a wine bar of my choosing. We swapped childhood stories, laughed over their similarities, and revelled in our mutual love of early-2000s rap. Three hours flew by, a great sign for a first date. The bartender watched as we planned a second.
When we were done paying, I got nervous.
I'd arrived 15 minutes early at the bar to find a corner seat that was easy for me to sit and stand from. I'd offered to pick our meeting spot to be sure I knew the terrain of the entrance and the bathroom. I'd made an effort to disguise myself as best I could as a girl with no cares in the world.
I made an effort to disguise myself as a girl with no cares in the world.
This is it, I thought.
I reached for the cane I'd left against a wall.
Be cool. If you don't make it a big deal, neither will he.
I anticipated a pause, some confusion, sure. But I was certain the obvious spark between us would banish any real hesitations.
"What's that for?" he asked.
"Oh nothing, just something I carry around when I feel like I need it."
He obviously wanted to know more. I changed the subject quickly as we stepped outside into a New York City hailstorm.
"This winter has been ridiculous, no?"
The weather was, after all, the reason I'd decided to bring the cane at all. There was ice on the ground and I couldn't risk a fall.
I wanted to pretend the cane didn't exist. We were two people interested in one another. Simple as that.
As we said goodbye, I didn't bring up limb-girdle muscular dystrophy, the degenerative neuromuscular disease I was diagnosed with three years earlier. Details of my condition were reserved for people I'd known for longer than a single meal. He offered to drop me home in his car, where we said goodbye.
I'd never hear from him again.

This past winter, I made a permanent move to Mumbai. For the last four years, I've spent several months at a time here, traveling back and forth from New Jersey for India's comparably affordable treatment options. A combination of manual physiotherapy, holistic medicines, and home aides help me live an independent life here.

Would marriage remain a fantasy, flung out of reach by disability?
My love life in the U.S. was an assortment of dates – great, bad, weird as hell – and a whole lot of singlehood. In other words: totally normal for a city-dwelling twentysomething woman.
With the move, I wondered how all that would change. Would I meet someone incredible in India? Fall in love? Get married? Or would that remain a fantasy, flung far out of reach by my disability?
I wondered how other Indian persons with disabilities (PwDs) navigated their love lives in a country with such rigid requirements of "marriageability". Did they date? How many found partners? If they did, how?
According to Census 2011 Data, there are over 27 million people with disabilities in India, of the billion worldwide. Members of disabled communities, especially women and children, are severely marginalized, but UN statistics show nearly half of India's PwDs are married.
Matchmaking can happen anywhere. Polio patients Kamlesh and Geeta, for instance, fell in love at a hospital in Udaipur, a city of Bollywood-esque romantic backdrops.
"She had been admitted to the ward for a week," Kamlesh told the Indian Express. "Even in hospital clothes, she looked so beautiful."
Unfortunately, meet cutes like that one are rare.
India's inaccessible infrastructure makes socialising freely – or, for too many people, just living independently – totally impossible. Ramps are used sparingly (even in government buildings), there's little to no braille signage anywhere, and even in the few malls and restaurants with reserved parking spots, there isn't any respect for them.
Efforts are being made to promote disability awareness. Prime Minister Modi suggested the Hindi word "divyaang" (divine body) replace "viklang" (disabled body) to describe PwDs. It could be tokenism; at least it's something.
It's difficult enough for young Indian PwDs to go to McDonald's, let alone develop breezy and bustling dating lives.
But still, despite our transition from viklang to divyaang, last year, 35-year-old table tennis player Suvarana Raj was denied entry into New Delhi's Indira Gandhi Indoor Stadium after her wheelchair was deemed a security hazard.

And Raj's morning commutes are no easier.
"The sidewalks are either broken or blocked by vendors and other hurdles like open manholes," she told The Washington Post in March. "On most days, I am forced to move my wheelchair on the road, competing with fast-moving traffic for space. I literally carry my life in my palm every time I leave home."
This is all to say: it's difficult enough for young Indian PwDs to go to McDonald's, participate in annual days, and go on class trips, let alone develop breezy and bustling dating lives.
All things considered, if you're a young Indian with a disability and a simultaneous need for companionship and/or sex, arranged marriage starts to feel like a tempting option.
But it isn't an option without flaws.
In the label-heavy rishta universe, "disability" encompasses a confusing and broad spectrum.
Arranged marriage pre-screening processes pay close attention to labels, both online and offline, for people with disabilities and without.
Wheatish. Religious. Non-drinker. Homely. The list is long.
(This was exemplified in the irony of India's first ever gay matrimonial ad; the ad is progressive by so many measures, it's easy to almost miss its "IYER preferred" stipulation.)
In the label-heavy rishta universe, "disability" can encompass a confusing and broad spectrum of ailments, including alcoholism and addiction. All of them – regardless of how much they affect day-to-day life – relegate a suitor or potential bride to a separate "flawed" pile. A quick Google search shows obesity, infertility, dark skin and diseases like diabetes and hepatitis are considered "disabilities" in one way or another in India's arranged marriage market.
"I'm unmarried because I'm diabetic," a friend in her late thirties told me recently. "My issue is an issue no man wants to take on."
Knowing that this kind of thing happens, families pull out all the stops to neutralise the effects of disability on the matrimony process, even if it means obscuring the truth.
In a blog post, a Malayali doctor describes meeting a prospective groom of his diabetic patient.
"I thought this guy is nice and dependable," he wrote. "I wanted my patient to get a good partner. So the picture of her health status that I presented to him was very positive."
Putting yourself on display to have your eligibility assessed by strangers is a tall, frightening order for anyone, let alone someone doing it with a limp or a cane.

Arranged marriage can feel easier than trying to date with a disability in India. But that doesn't mean it isn't fucked up.
Noting this to be a problem, Madhya Pradesh employs a Disabled Person's Marriage scheme, "awarding" ₹50,000 to people who marry PwDs and a 6% reservation in government jobs to the couple. Maharashtra, Goa, and Karnataka's governments offer similar "rewards packages".
But where state-sanctioned offers don't solve the problem, obscuring the full truth of a physical condition isn't the most severe of compromises that families make to get their children with disabilities married. More often, they're taken advantage of.
Anisha Multani, a former Miss Wheelchair India, told Bangalore Mirror that her family was asked for up to 3 lakh and possession of two rooms in the family home in return for marriage to a "normal" suitor.

"I refused them," she said. "If their attitude towards me was like this before marriage, I can't imagine what would be in store for me afterwards."
Unlike Multani's, many families succumb to the pressure to participate in barters for their child's marriages, subscribing to a skewed and troubling hierarchy of marriageability for PwDs: women with disabilities from wealthy families may be able to find partners more easily than men. A fat inheritance or high social standing could compensate for your "defect". A disabled rich girl might marry a non-disabled boy with a bad Vastu chart but the reverse wouldn't be nearly as common.
Arranged marriage can feel easier than trying to date with a disability in India. But that doesn't mean it isn't fucked up.

Thankfully, there is the internet.

Sites like Jeevan Sathi, Ability Matrimony, and Viklang Shaadi present an opportunity for PwDs to meet others who understand their label, or people willing to look past it.

Some sites group disabilities together for ease of intermingling — or segregation, depending how you look at it. Deaf-rishtey.com introduces hearing impaired singles to one another and lets users choose American sign language, British sign language or "home gestures" to communicate online.
Shaadi.com teamed up with the Delhi Foundation of Deaf Women in 2012 to help host Pranay Milan Sammelan, a matrimonial meeting ground for the hearing impaired.
For PwDs, such initiatives and websites offer the privilege of nurturing romantic connections without worrying about what a disclosure of disability will eventually do to them.
Disabled or not, finding love and getting married is complicated.
This kind of inclusivity gives us singletons more chances to choose our own fate. It's the world of difference between "I want to be with someone who is disabled" and "I have to be with someone who is disabled because I am disabled".
For some couples, facing a similar medical fate serves as an easy icebreaker by creating an unspoken bond: a likeness exists that needs little explanation.
And more such platforms come into existence each year.
This January, Kalyani Khona launched Inclov, a crowd-funded matchmaking app focused on helping Indian PwDs find love. "We don't restrict our members to PwDs or people with health disorders, although that's our focus," co-founder Shankar Srinivasan told me. People without disabilities can also sign up if they are open to matching with PwDs.

Anisha Multani and Imran Garana matched on Inclov 10 days after the site launched.
"The thought of getting married to each other had never crossed our minds before," Multani said. "But through the app, we both knew why we were there."

Today, the two are getting married in Surat.

Disabled or not, finding love and getting married is complicated. And messy. And really, really hard.

For me, getting past the hump of full disclosure is the hardest part – that moment at the end of a great first date when, nervously, I reach for the cane.
But as a roommate of mine used to say, "every clown has their thing." We all have something we would hide or wish away during a first encounter. I'm divorced. I have a three-month-old. I'm a recovering addict. I'm in debt. I suffer from depression. I'm scared of commitment.
I'm better at dating now than I was when I lived in New York (though at times I still have no clue what I'm doing). Maybe things would have panned out differently on my great date if I was up front about my disability. He may not have been as bothered by muscular dystrophy as I was.
I mean, maybe the cane wasn't even the reason he didn't call.
The more I disclose my disability to men, the more empowered I feel.
Either way, I've gotten better at sharing about my disability in the years since. I don't arrive early to strategise my bathroom visits. When my dates have questions, I answer them instead of bringing up the weather.
The more I disclose my disability to men, the more empowered I feel. When they hear I moved to India for treatment, they say they admire my commitment to my health. They commend me for living independently.
I was recently on a date with an accountant, and I told him about my condition. In return, he told me about a recent sports injury. He could relate to the difficulty of getting around Bombay with limited mobility.
Another called me "bold" and "graceful" after I opened up.
"What?" a third guy coolly replied. "That's all you got?"