Like all supermarkets, Tesco offers special deals for Muslims during Ramadan. There's only one problem: Someone thought it would be a good idea to promote Ramadan deals using bacon-flavoured Pringles.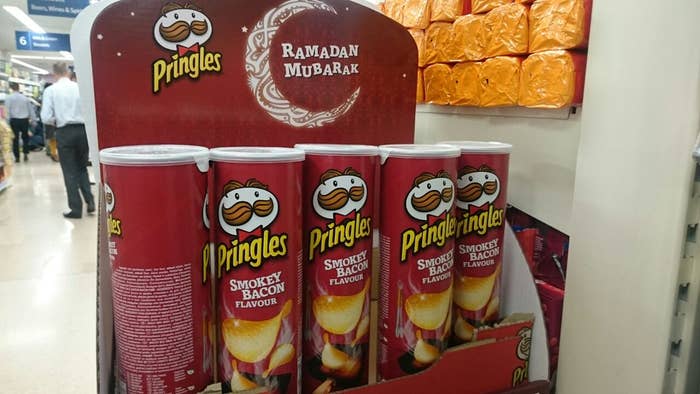 Although Muslims don't eat or drink anything from sunrise to sunset during Ramadan, many tend to have lavish meals when they break their fast. Many also choose to break their fast with friends and family.
Raza Hassan, 25, spotted the deal at a Tesco store in Liverpool Street, London, and told BuzzFeed News he found the deal "hilarious".
Many Muslims believe it is forbidden to eat pork and would therefore be surprised to see a Ramadan deal being promoted with bacon, Hassan said.
"They had other flavours as well, it just seemed someone had stacked them in to the Ramadan promotional one by mistake!" he told BuzzFeed News. "It didn't offend me at all – but the irony of it was hilarious."
A spokesperson for Tesco told BuzzFeed News: "We are proud to offer a wide range of meals and products to meet the needs of our customers during Ramadan. We recognise these Pringles weren't in the most suitable place and our store colleagues have now moved them."
The smokey-bacon-flavoured Pringles are suitable for both vegans and vegetarians – they have bacon-flavoured seasoning to achieve the taste.
Each of the large British supermarkets have special Ramadan deals to tempt Muslims into the store.
That's because they expect Muslims to spend an extra £100 million in grocery shopping in the next month, according to The Times.
Better luck next time, Tesco.