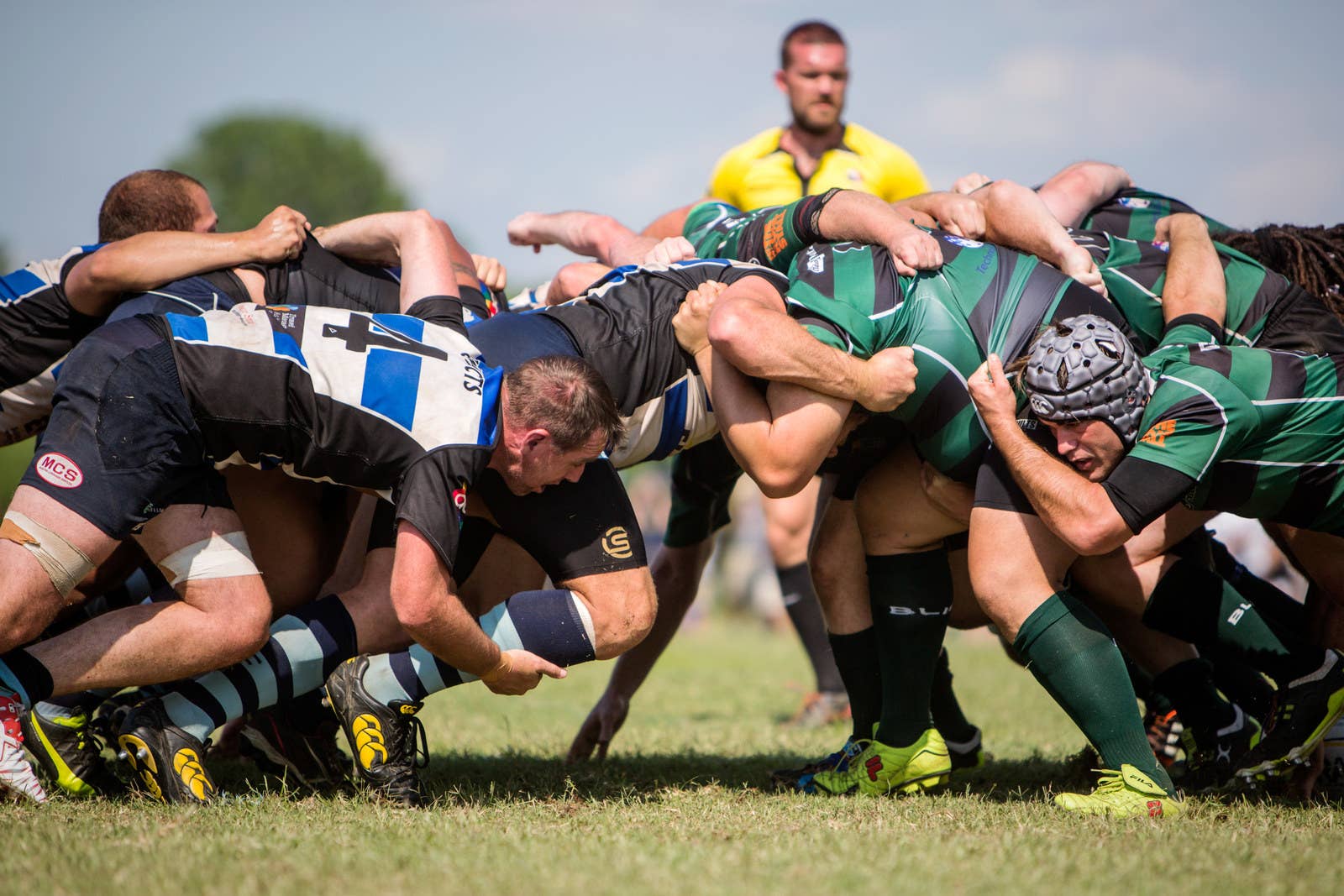 Early on a Friday morning in May, in the middle of a rugby match in Nashville, Tennessee, something strange was happening: stillness. You don't expect much stillness from rugby, a game that's easiest to explain to non-ruggers as a sort of cross between soccer and American football with nonstop play (and no pads). Things like scoring and rule-breaking will bring a game to a quick halt, but otherwise play surges on fiercely, unforgivingly — unless somebody's bleeding.
And right now, Kazu Hishida was bleeding.
The Nashville Grizzlies and the Montreal Armada were bunched on a makeshift pitch at Ted Rhodes Park, standing together in small groups or taking a knee, calmly and quietly waiting while 41-year-old Kazu — Kaz, for short — was escorted to the sidelines, blood streaming freely from his eye socket. His coach, 47-year-old John Purdom, tended to him. Kaz looked annoyed at having been pulled from the game. Dark-haired and handsome, he stood a little taller than Purdom, who wore a Grizzlies jersey over a kilt and scratched his white beard with concern.
"Are you ready?" John asked him, after the worst of the bleeding had stopped.
"Fuck it," Kaz said, flecks of red mixed with dried mud still staining his cheek. He ran back in.
This is rugby, a sport that is now played in more places around the world than ever before: According to World Rugby's 2015 report, there are 7.73 million players in 120 countries. Men's and women's seven-player rugby are debuting at the Rio Olympics this summer, in a testament to the sport's booming international popularity. But something was different today than what the world will soon see in Rio. In the bleachers at Ted Rhodes, a guy in his twenties wore a pink crop top jersey with his boyfriend's name and number on the back amid a backdrop of rainbow umbrellas, tutus, and tank tops. Among the standard screams of "Hit him! Hit him!" and "Look where we are, boys!" were the additional cheers of "Move those cha cha heels!" and "Yaaass, honey!"
The Nashville Grizzlies celebrated their club's 10-year anniversary this year by hosting the Bingham Cup, the world championship for international gay rugby, and the second largest rugby tournament for 15-player teams in the world. The Cup brings together amateur teams whose players rely on flexible work schedules, forgiving bosses, supportive partners, and high pain tolerances to make rugby a large part of their lives. For Bingham 2016, players on 42 teams from 21 countries poured into Nashville to duke it out for the championship — as well as to reconnect with old friends, get to know a new city, and pound the requisite gallons of beer. Since 2002, gay-inclusive teams have gathered every other year at a different spot on the globe to compete, celebrate gay inclusion in sports, and honor the memory of Mark Bingham, for whom the Cup is named; he was a founding member of two of the first gay rugby clubs in the United States before he died on United Airlines Flight 93 during the attacks on September 11.
When, in 2015, Grizzlies veteran Jon Glassmeyer spearheaded the proposal to bring Bingham to the American South for the first time, he wasn't expecting that a rash of anti-LGBT bills were poised to spread across the country, particularly below the Mason-Dixon line. In April, the month before Bingham was held, Tennessee's governor signed a bill allowing counselors to refuse service based on their beliefs; critics believe the measure targets LGBT therapy-seekers. And in the neighboring state of North Carolina, House Bill 2, signed in March, has inspired widespread ire, celebrity condemnations, and mass boycotts — most recently, the NBA announced it would no longer host its 2017 All-Star game in Charlotte in protest of the law.
Amid a tangible swell of anti-LGBT sentiment, hundreds of unapologetically gay ruggers, along with their friends and families, poured into Nashville to play in an unapologetically gay rugby tournament — regardless of the political turmoil unfurling around them.
Jeff Wilson, the 2012–2016 chairman of International Gay Rugby, told me over the phone that when he spoke to the European Parliament about bringing Bingham to Nashville, the biggest thing its members were concerned about was social impact, and the protection of the players in the American South. It was the kind of concern that carried all the more weight after the tournament had ended — just two weeks later, a shooter opened fire at Pulse, a gay nightclub in Orlando, Florida, killing 49 people and injuring dozens of others. "Someone could have shot up our opening ceremony," Wilson reflected.
Pulse reminded a country of LGBT people — especially those of relative privilege who have fallen into a kind of complacency around queer struggle — that the war has not yet been won.
"Having events in places that aren't traditionally accepting and safe is still important," said Wilson. "You can't look away from the social justice piece of gay-inclusive sports — from Nashville to Columbus, Ohio, to Nairobi, Kenya."
"We're still fighting for rights," he added. "Sometimes the best way to do it is to invite people to play a rugby game."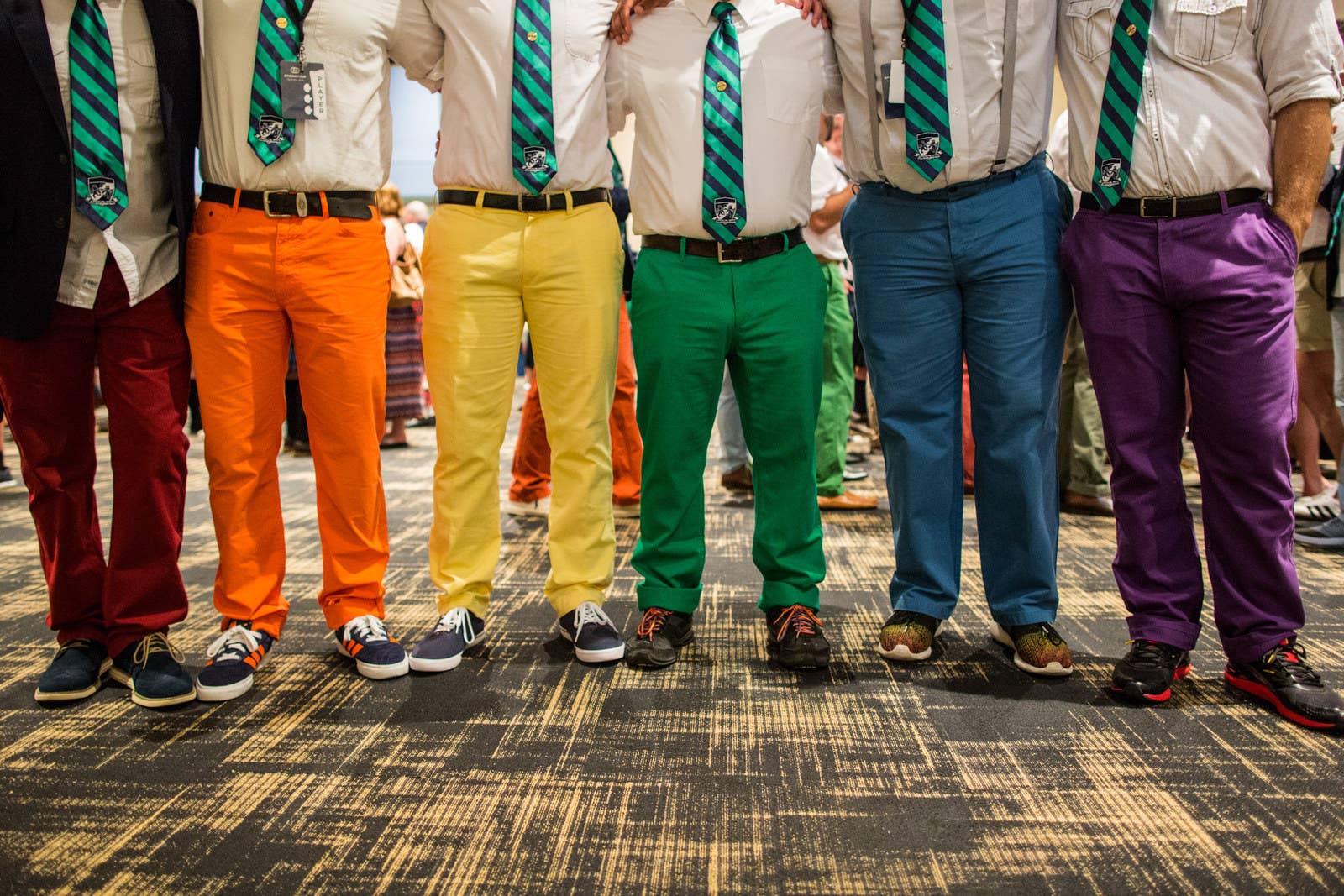 An old saying goes that rugby is a hooligan's game played by gentlemen. After tearing each other apart on the field, ruggers tend to their wounds and transition almost seemingly into their "third half" — drinking and singing and shooting the shit together, as brothers.
I joined women's rugby my sophomore year of college partly to get exercise, but mostly to meet girls. I didn't do this consciously — I was still half-closeted at the time — but women's rugby is stereotypically packed with lesbians. Maybe it's because the power and strength rugby demands of its players connotes butchness. Maybe it's because all the touching and hitting and lifting can "look gay" to spectators who don't know any better. Maybe it's because (in the US, at least) rugby isn't widely played, understood, or appreciated — it's an underdog sport that attracts people who are used to living outside of the norm.
Most of the men I spoke with at Bingham had found rugby the same way I did: They were looking for community, for connection, and maybe they'd find it in a sport where you knock the shit out of other people without wearing so much as some light protective padding. Many of the 62 Grizzlies players have only started playing within the last year or two. It's a complicated and barbarous sport to leap headfirst into for men who, in some cases, haven't played contact sports before — or any sports at all. When I asked one Grizzly if he'd ever participated in organized sports, he asked me if marching band counted.
Stan Schklar, a fit, stocky 55-year-old with a short white beard, clear blue eyes, and a soft Southern accent, was a founding member of the Grizzlies 10 years ago and now is the team's oldest player. "It's like a family reunion," he told me on the sidelines of a pre-tournament Grizzlies practice, between kisses and hugs from old friends passing by. "All my rugby friends I don't get to see, and they're all here in my hometown! Unbelievable, unbelievable." He laughed and waved at another friend. "Good to see you too, sweetie!"
Stan didn't play sports growing up, but when a friend asked him to help start up a rugby team, he knew nothing about it — "I didn't know what a rugby ball looked like, for that matter," he said. It was a way to get up and moving, for a small group of gay friends to do something new, something different. At first, Stan thought it would just be a casual hangout sort of thing. A lot of other guys, later on, would join for similar reasons: to meet new people and to get to know the gay community of Nashville. Many had no idea it would eventually become something that felt essential to their sense of self. "At first, I don't think we realized how profound it would be," Stan said. "A lot of people, a lot of the guys here, grew up thinking they couldn't play sports, that they wouldn't be good enough," he added. "Now I've seen so many guys excel at this."
"A lot of the guys here grew up thinking they couldn't play sports, that they wouldn't be good enough. Now I've seen so many guys excel at this."
Mark Pilkington, a 27-year-old blonde, bearded scrum half and soon-to-be-elected Grizzlies president, joined the team nearly five years ago. He had friends on the Royals (based in Charlotte, North Carolina), who were playing a game against the Grizzlies soon after Mark moved to Nashville. He came to a practice, just to check it out, and got hooked. He had previously been a college cheerleader for four years at the University of North Carolina at Chapel Hill. He told me that in terms of athleticism and stamina-building, he was well-prepared for the transition to rugby. "Cheering for a four-hour football game and hoisting young ladies above your head in the heat is a real thing out here," he said. "But I don't know how you can prepare yourself for getting run over by men twice your size."
Both of the Grizzlies' captains, however, are rugby veterans. Co-captain Michael "Scurvy" McKervey, a 33-year-old ball of spritely energy with wispy light brown hair and the features of a particularly fit elf, leads the forwards: the guys responsible for tackling, scrum downs (where eight guys from each team bind together and push the opposite team's scrum over the ball, which kinda looks like a giant group hug but with a lot of grunting), and rucking (a bit like mini-scrums, a few guys pushing over the ball to clear it for play). He's been playing rugby since he went to college in Michigan. As a straight guy, he hadn't been actively seeking out a gay-friendly team but liked that the Grizzlies "had this great family feel," he told me.
Though LGBT people are very visible in gay rugby leadership roles, many of the team captains at Bingham were straight — oftentimes since they'd been encouraged in sports their whole lives. According to Out on the Fields, an international study on homophobia in sports commissioned in part by the Bingham committee, a majority of lesbian and gay youths participate in organized sports, but 7 out of 10 of them believe sports don't offer them a safe environment. An equal percentage are closeted while playing youth sports, fearing discrimination from other players and officials. Lesbian, gay, and bisexual youths are also more likely than their straight peers to quit at earlier ages and move into more singular activities. Leaders on gay-inclusive teams may include more straight people than one may expect simply because straight players tend to have been playing team sports longer.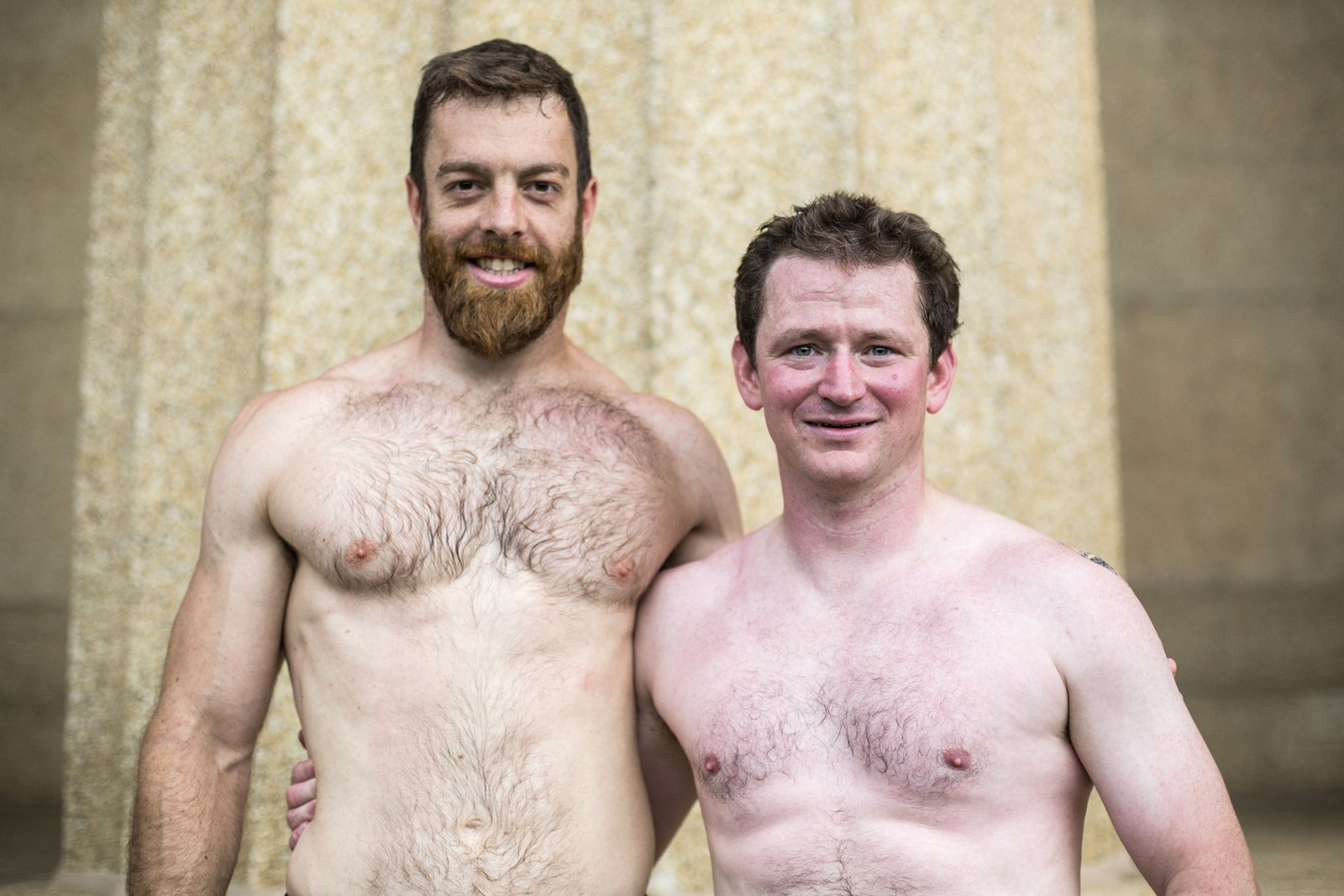 Scurvy's 35-year-old co-captain, Josh Buchanan, is also straight. Tall and reddish-brown-bearded, Josh wrangles the backs: These are the players responsible for running the ball, or, as Scurvy calls them, "the fast guys with good hair." Josh and Scurvy complement each other well in terms of leadership styles. Scurvy is a self-described "naturally very loud person," whereas Josh has a deep, soothing voice and and a slow, easy-does-it smile. In rugby, sometimes you need someone to scream bloody hell at you because you've gotta get in that ruck, goddamnit, and sometimes, when the ref fails to call an obscenely high tackle and your endorphins are encouraging you to retaliate, you need someone to calmly talk you off the ledge.
On Thursday evening, in front of the Parthenon — Nashville's somewhat garish full-scale replica of the original, built in the late 19th century inside Centennial Park — the Grizzlies warmed up with a few basic passing drills under some ominous-looking clouds. One of the things rugby newcomers tend to struggle with is that you can only pass the ball backward, not forward.
Scurvy is unfazed at the prospect of teaching newbies. "It's a challenge in every rugby team," he told me from the sidelines at practice. "Everyone's accepted, regardless of athletic ability," Josh added.
All weekend, players kept telling me how accepting rugby is, even though it might look brutally unapproachable from the outside. Perhaps, at this point, it's a self-fulfilling prophecy. According to the Out on the Fields study, gay men are more likely to play rugby in either amateur or professional leagues than any other sport. Last year, International Gay Rugby coordinated the signing of agreements with both World Rugby and USA Rugby with the aims of promoting inclusion and eliminating homophobia from the game across all levels and teams, setting an international standard for what gay-inclusive sports can look like.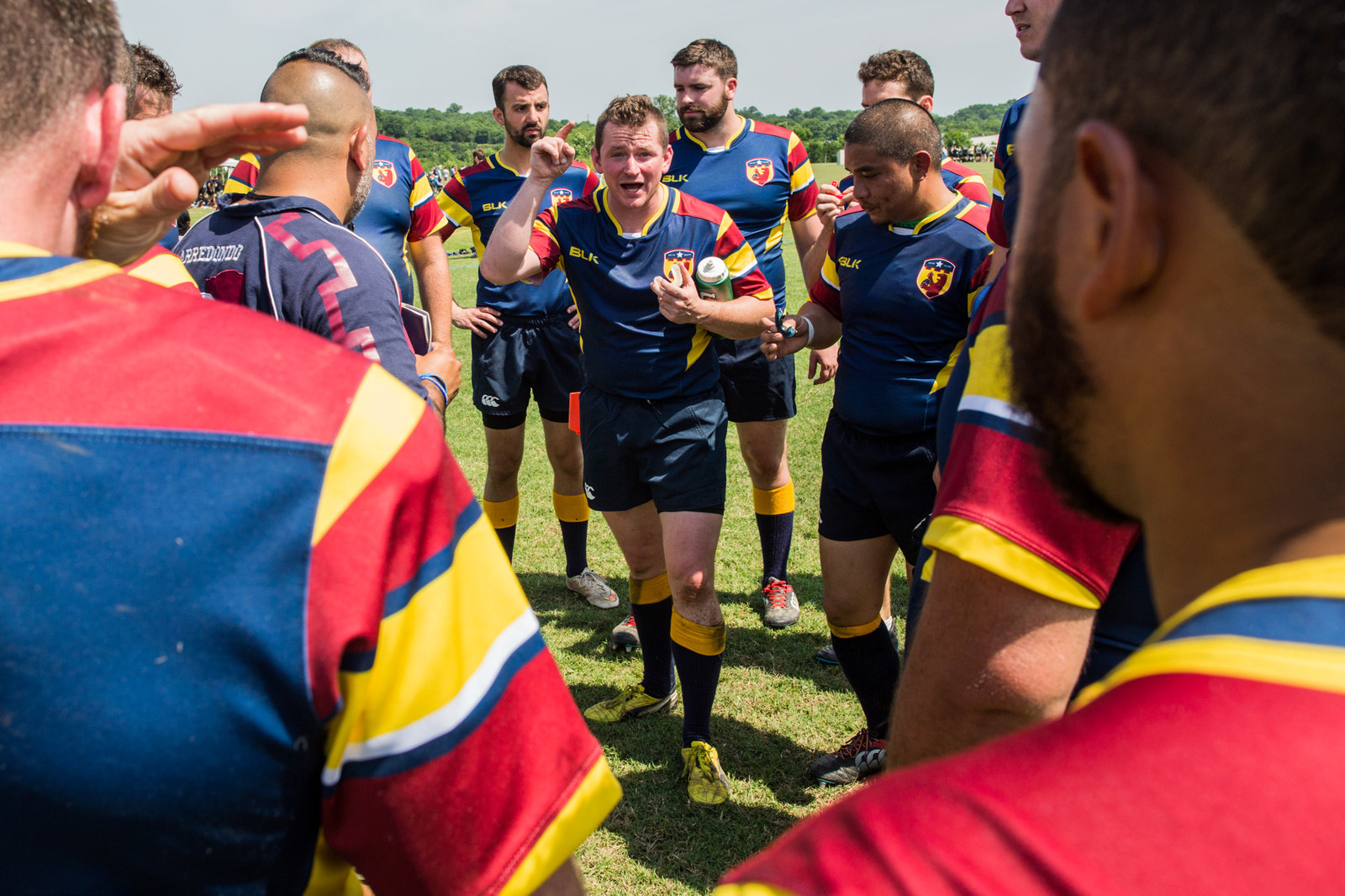 The opening ceremonies were supposed to be held on Thursday evening outside on one of Vanderbilt's beautiful lawns, but as the first cracks of thunder boomed out over Nashville, dozens of teams in carefully coordinated outfits ("Make America Gay Again" hats; lots of rainbow ties, kilts, and booty jorts) trooped inside a Vanderbilt auditorium.

The night's host, scrum half and ex-cheerleader Mark Pilkington, took the stage in a glittery gold blazer to introduce the night's speakers. One of them was Mayor Megan Barry, who wore an honorary Grizzlies jersey and spoke to a cheering crowd during the opening ceremonies about state pride — and sometimes, lack thereof. "When we say we're from Nashville, we don't always add Tennessee," she said. Nashville is, much like Austin, Texas, a dot of blue in an ocean of red — Nashville, Knoxville, and Memphis are the only cities in the state to offer ordinances prohibiting discrimination on the basis of sexual orientation or gender identity.
Scott Ridgway, the executive director of the Tennessee Suicide Prevention Network, thought hosting Bingham here was sending a clear message that there are members of the Nashville community committed to breaking down barriers. "We are in the Bible Belt — it's much more difficult for some folks to have acceptance for sexuality than in other areas," he said via phone. He'd been involved with the Grizzlies since his partner, Jon Glassmeyer, joined about eight years ago. (The pair were integral to making Bingham happen in Nashville — Scott had chaired a host committee, raising tens of thousands of dollars through small individual donations alone.)
Other speakers that night included Tennessee Rep. John Ray Clemmons, IGR Chairman Jeff Wilson, and a video call from country stars Garth Brooks, Trisha Yearwood, and Ty Herndon. While Mayor Barry was especially cheered for her warm Southern welcome, there was perhaps no one more eagerly anticipated by the growing-antsy crowd than Alice Hoagland.
"This is the culmination of a magnificent life of rugby, and I just wish Mark were here to see it in person."
Alice is the mother of Mark Bingham, whom the tournament honors, and is nothing short of beloved in the Bingham community. She's got shoulder-length white hair and one of the biggest smiles you've ever seen, enclosed with a few parentheses of laugh lines. Players shake her hand, hug her, take pictures with her, tell her how Mark inspired them to play rugby after years of thinking there was no place in sports for them, and chant "AL-ICE! AL-ICE!" whenever she takes a podium. She has seen the tournament grow from its humble beginnings 14 years ago to one of the largest rugby tournaments in the world.
She looked absolutely delighted to be up at the podium tonight. She thanked Nashville for being so welcoming, and she spoke about courage. Being gay, she said, doesn't mean you can't be tough and strong. Mark taught her that.
"This is the culmination of a magnificent life of rugby, and I just wish Mark were here to see it in person," she said. "I look out here and see these faces, and I see my son's face looking back at me."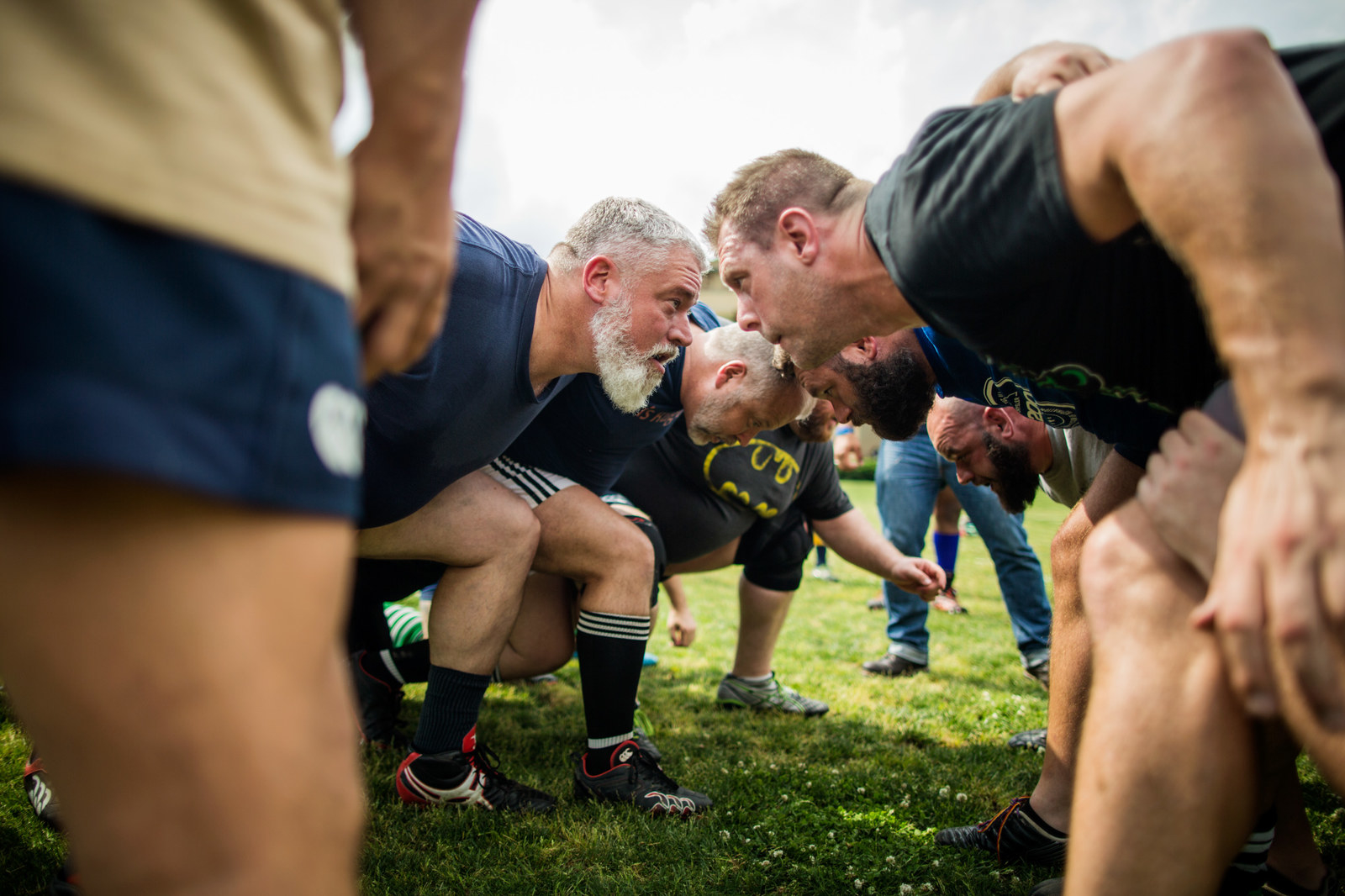 For so long, planning Bingham had been about the logistics — raising money, prepping the fields, working with vendors — but now it was really dawning on the Grizzlies that three days of fierce competition lay ahead of them. And they wanted to win.
Bright and early on Friday morning, the Grizzlies arrived at Ted Rhodes Park. The Grizzlies have two different sides: The B team would play in Division 3, while the A's simultaneously competed in Division 2. Games would be played across seven different fields from early in the morning 'til late in the afternoon for three straight days — it was rugby everywhere you looked, teams doing dynamic stretches and passing drills to prep for impending kickoffs. The teams were competing across three different divisions for a host of different awards, the most coveted being, of course, the top prize: the Bingham Cup. Tucked in the middle of the fields was the player's village, featuring a canopy tent for each team, in which players would seek respite from the sun between games.
The Grizzlies B team was about to face off against the Montreal Armada. I sat on drooping bleachers next to an older woman with short white hair and a rainbow visor, who, after kickoff, asked me if I knew what was happening.
"Have you seen a rugby game before?" I asked her.
"I've watched Invictus," she answered.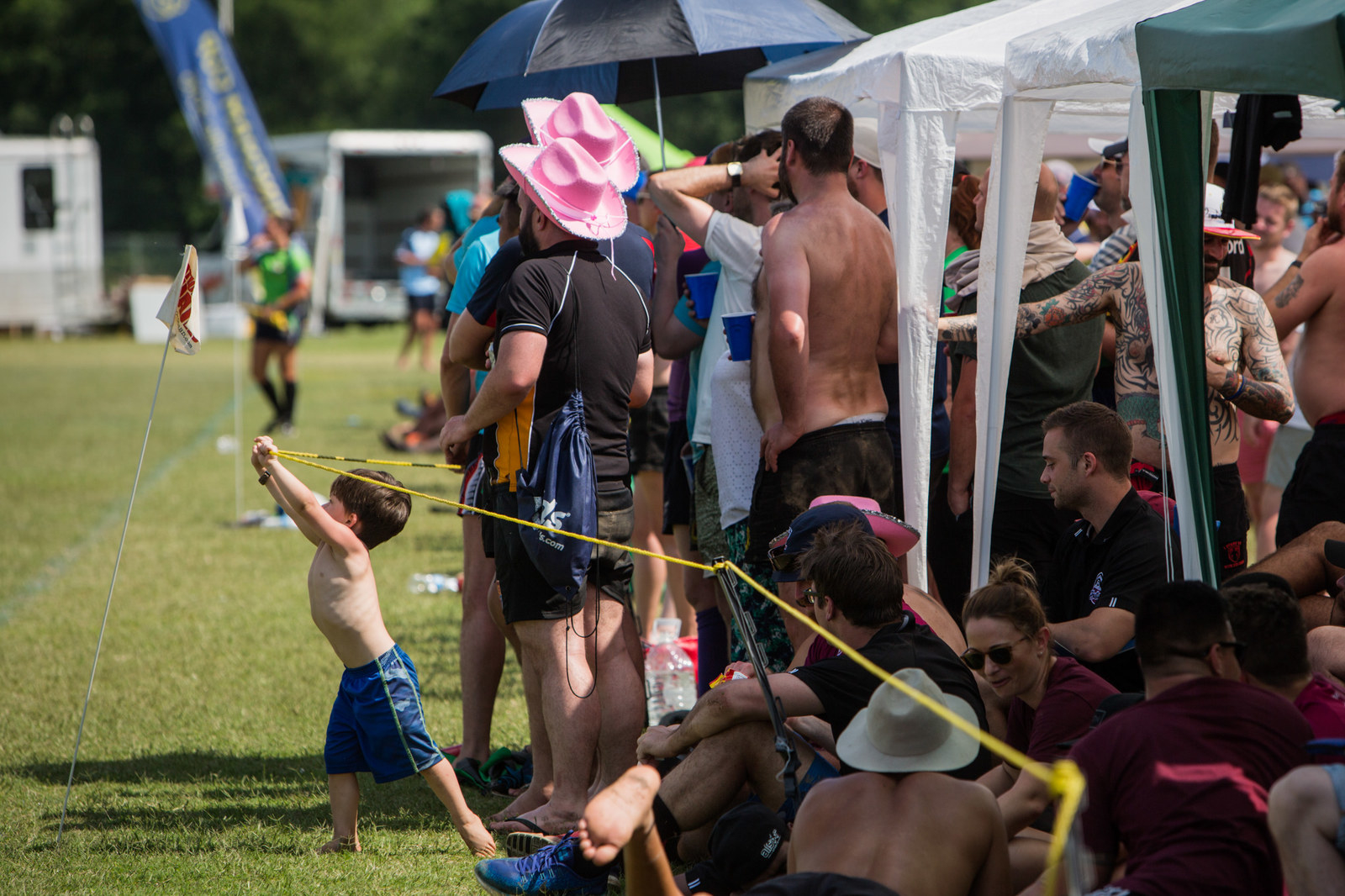 Many of the spectators I chatted with over the weekend shared similar sentiments. Unless you've played it, watched Matt Damon do it, or found clips on YouTube, you may well never have seen rugby played before. Even I struggle to figure out what the hell is going on sometimes, when all you can see is a pileup of players 50 yards away, their limbs flying in a violent blur. But this is also one of the beautiful things about US rugby: It tends to foster a culture of openness in which learning is encouraged and celebrated. A die-hard football fan might sneer at you for not knowing what's going on in a game, but an American rugger would usually delight in being able to share with you this crazy, imported sport they love so dearly.
At practice the day before, I chatted with Nathan Jones, the warm, buoyant partner of Grizzlies player Jamie Roberts, who told me that this community is just as strong for players' significant others. There are certain universal truths understood by everyone who shares a life with a rugby player: "Saturday is a total waste, because Saturday is rugby day. And you have to be immune to mud," he added.
"In terms of the gay rugby wives, brunch is legendary."
From traveling with Jamie to away games, Nathan has gotten to know the partners of rugby players all over the country. "In terms of the gay rugby wives, brunch is legendary," he said. "In any city, we know where the bottomless mimosas are. It's such a close-knit family. Any city we show up in, it's ready-made community the minute you're there."
He added that the Grizzlies, in their regular season, faced all straight teams this year. "Down in Chattanooga, one of the player's wives walked up to me like, 'Is it okay if I sit with you, honey?' And I said, 'Of course!' And an hour later I had no idea people were tagging me in a photo — it's me and 11 other women. It's like your best girlfriends ever wherever you go."
When Nathan and Jamie moved to Nashville a couple years ago, rugby helped them find their people. "With Bingham you see how that extends internationally, no matter where you are," he said.
Now, I walked the lady in the rainbow visor through a few of the plays: During scrum down, after the ref yells out CROUCH, BIND, SET, the teams' hookers are battling for the ball, kicking it back through their second line, past the eight man, so the scrum half can pluck it up and toss it to the backline. After a few strong runs in a solid but relatively uneventful game (discounting Kaz bleeding from the eye for a hot second), the Grizzlies B team beat Montreal 15–5 for their its game of the tournament. Whooping and grinning, they ran through a tunnel the Grizzlies A team made by standing in two lines and extending hands for slapping, to congratulate their fellow brothers.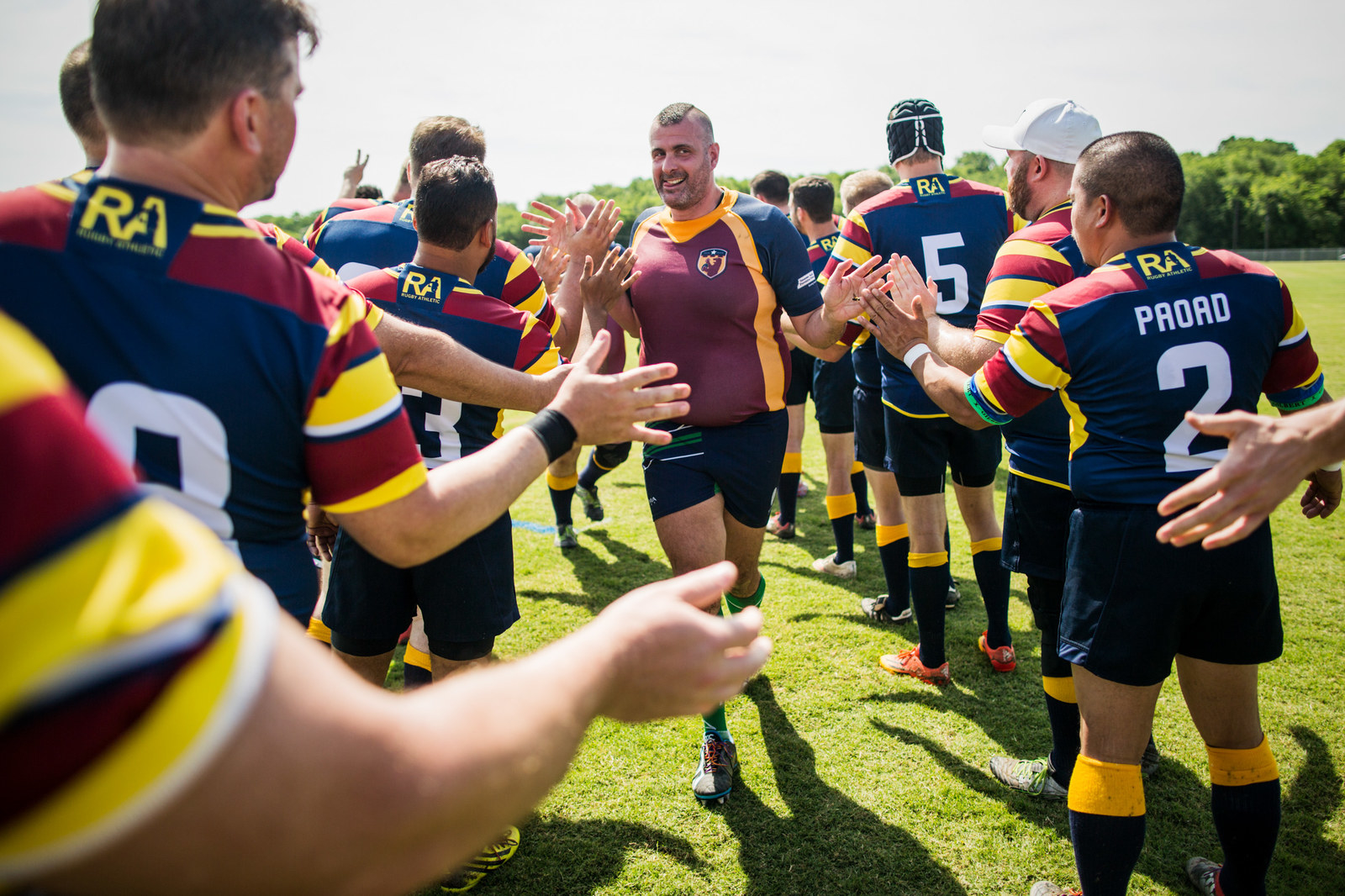 "Hey, girl!"
Off the pitch, this was the casual greeting of choice. It was refreshing to hear male athletes call each other "girl" as a means of insider welcome, rather than a means of debasement and belittlement. When my women's rugby team in college would practice across the field from our men's team, their coach and captains would often scream at the guys to "pick it up, girls" — pussies, sissies, wimps, weaklings — as if we weren't putting in the same amount of backbreaking work 10 meters away from them.
In men's rugby — particularly in the US, where people aren't as familiar with the sport — some straight players feel the need to over-emphasize their straightness and masculinity because they're playing something that allegedly "looks" gay. "The activities you do in rugby, taken outside of the context of rugby, would seem…very homoerotic," Scurvy told me. "You're gonna grab a dick once in a while. Tackling, locking, just accidentally. It happens!"
One of the ways casual misogyny has infected rugby culture is in the dissemination of rugby songs from generation to generation, rugger to rugger. They're an enormous part of rugby culture for university-level ruggers — a kind of shared language between teams, raunchy nonsense to sing over beers and "shooting the boot," a cringeworthy event in which a rugger who's just scored their first try gets to drink beer out of their cleat from the day's game. The men's team at my school would gather on the central green at night and scream songs between chugs of Natty Light, including one that included a lyric about burying a woman alive and digging her back up to have sex with her.
"We'll host straight-player appreciation nights where we'll go bowling, or something we wouldn't normally do."
Alistair Kitchen, the 24-year-old co–club captain for the Sydney Convicts — reigning Bingham champs and, according to some of the American players I spoke with, the "It girls" of the tournament — joined Australia's first gay-inclusive team, even though he was straight. He told me he was looking for a group without "the macho, over-masculine environment that ... has poisoned a lot of sports." At his residential college in Australia, the rugby songs were a big turnoff for him. "It's like they didn't even think they can be funny in a song without being misogynistic."
My college team skipped songs about violence against women, but we did sing a hell of a lot of traditional rugby songs with explicit sexual references — we'd often just swap genders or change pronouns to make them gayer, or we'd add in new gay verses.
The Grizzlies make similar edits, in the spirit of inclusivity. Josh McCluey, a 29-year-old wing, said that they tend to stick to the typical scripts, but "maybe with a gay flair to them."
"We'll make a lot of them gayer," Thomas Hormby, the Grizzlies secretary, told me. "Unfortunately, they're still often just as explicit, but not misogynistic, racist, or anti-Semitic."
Scurvy was more blunt: "We expand songs so they're horrible across all genders."
Making pointed changes to rugby songs is one of the small ways in which gay-inclusive teams are rewriting the scripts for what rugby culture is supposed to look like. Straight players will sing gay songs, go to gay clubs for socials, and don drag for team benefits. For Bingham's opening last week, one straight player dressed as a silver fairy and performed "Superstition" by Stevie Wonder.
John Purdom, the Grizzlies' assistant coach and a retired player, told me the accommodations go both ways. While a lot of socials involve viewings of RuPaul's Drag Race or a trip to the gay bar, "we'll host straight-player appreciation nights where we'll go bowling, or something we wouldn't normally do," he said. "We're learning about each other in that respect — how traditional masculinity in our world has transformed for our straight players, and how we transform for them."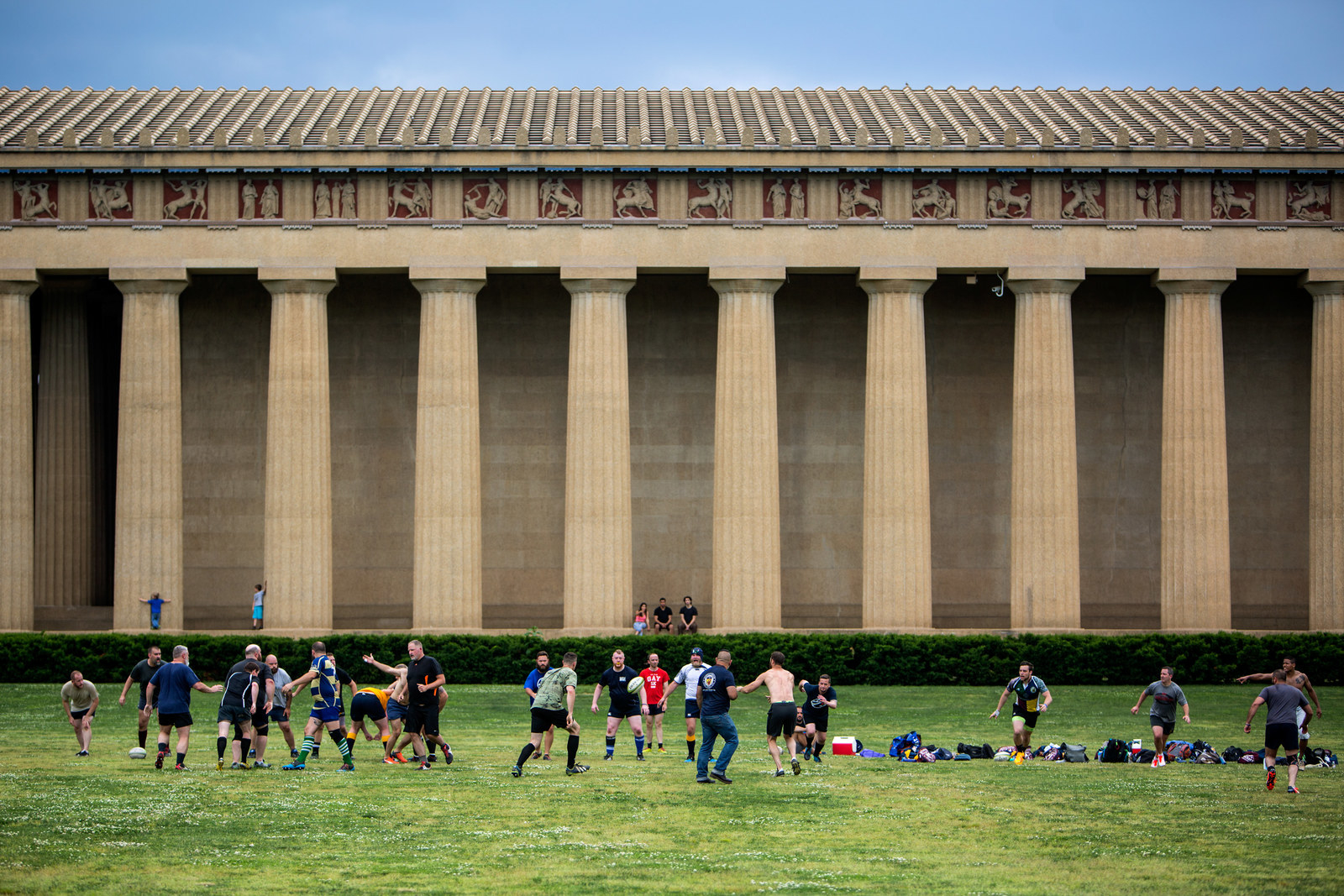 Friday had been a day of buildup, of acclimation — the first few games of pool play, the competition not yet life or death. By Saturday, the mood had shifted. The DJ was blasting Bieber. Contributions from the Nashville community were visible everywhere: a local BBQ tent for the lunch crowd, a stand for free HIV testing, and custom-made field goals designed and constructed by Grizzlies secretary Thomas Hormby's elderly father, Dave, who watched every one of his son's games sitting atop an orange ladder he toted from field to field.
When I'd been watching the Grizzlies B team on Friday, Jason Crowley of the A's had fractured his scapula; everyone prayed today that they'd paid their dues to the injury gods. There were ambulances hovering expectantly in the far parking lot, just in case. A girl in army print cargo pants and big sunglasses, standing on the sidelines of the Grizzlies A team's first game of the day, was telling a friend about how she has to carry tampons for her boyfriend so he can shove them up his bloody nose, should such a situation arise.
Today, the stakes were high — playoff qualifications loomed. The Grizzlies goofed around a bit less before taking the pitch, looking serious and ready for a fight. They were facing off against the C team from London's Kings Cross Steelers, which started the first ever gay-inclusive team in 1995. One of the Steelers later told me their team took up an entire dorm in Vanderbilt, since so many of their players (who total over 200, from over a dozen different nationalities) had come to compete. They'd brought along dozens of their family and friends, too, which meant the Steelers had the biggest fanbase of any team present at Bingham, aside from the Grizzlies. You couldn't walk around the fields without hearing "STEEEE-LLUUuuuUURS" being screamed by an extremely enthusiastic Brit (or 20 of them).
"You're gonna grab a dick once in a while. Tackling, locking, just accidentally. It happens!"
But the Grizzlies fought their way to an early lead; even when they were ahead, Josh kept them in check. "What's the score, boys?" he yelled after their first try. "Zero–zero!" they yelled back.
After playing the first half, Stan Schklar spent the second hollering at his team from the sidelines, when he wasn't being approached by a friend to take a selfie. The Steelers game came to an end, Grizzlies ahead 17–7. But the A team's good spirits were short-lived. Later that day, in an absolutely bitter match against Colorado Rush, they lost an early lead in the last few seconds of the game to finish in an agonizing 14–12 defeat.
Scurvy ran up to me afterward, blood streaming from a gash above his eyebrow. "Stitches, do you think?" he asked me grimly. He was seething from the loss. "At least I made my fucking tackle."
I told him yeah, that seriously looked like stitches. And maybe even a concussion?
"I don't get concussions," he said.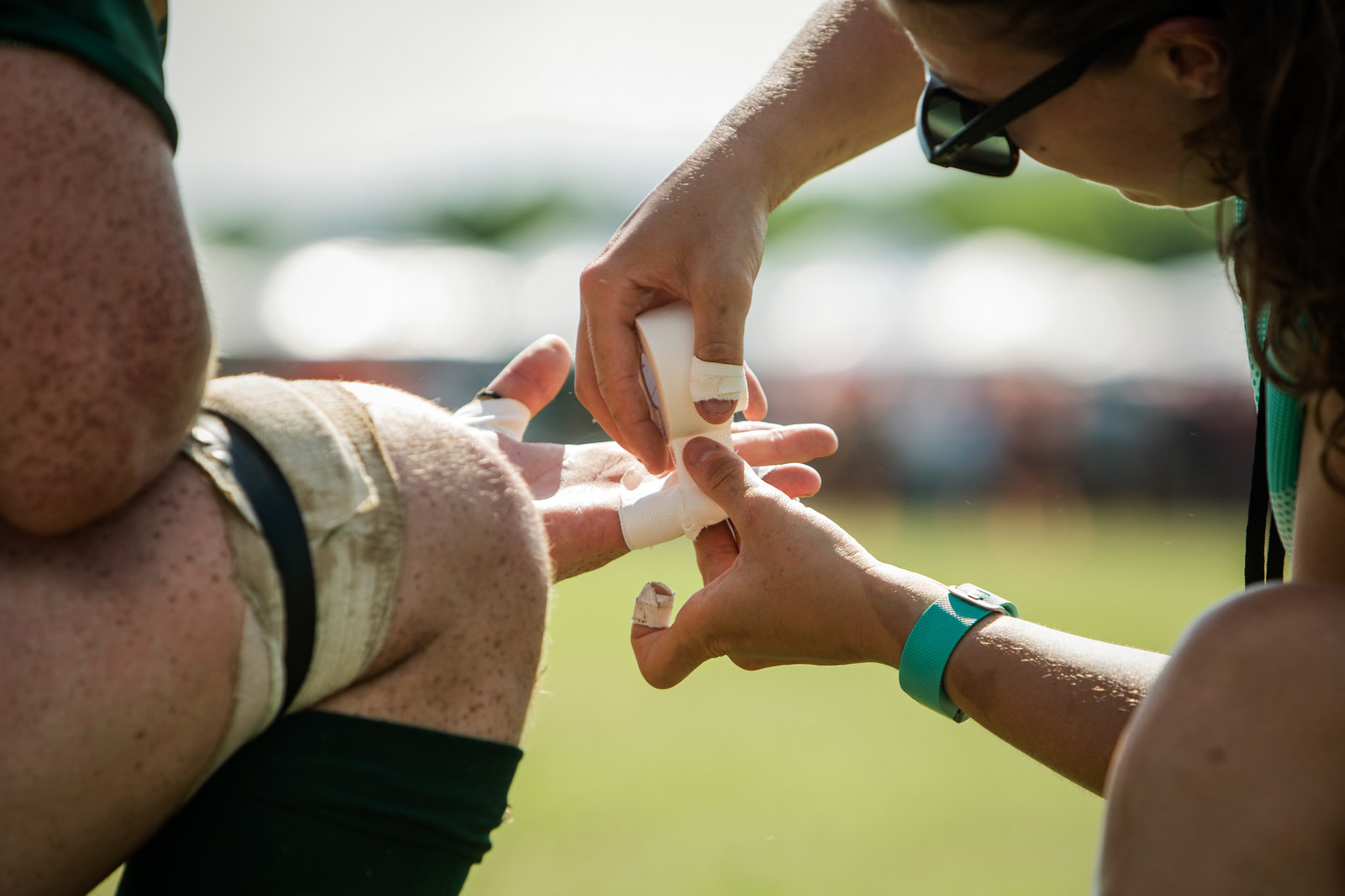 Scurvy showed up for the A's game against Toronto Muddy York Sunday morning, shirtless and wearing a pair of khaki shorts and bright orange glasses; he wouldn't be booting up today. He had 17 stitches. He'd tried to convince his doctor to let him play, but his skull had been visible. He stood dutifully on the sidelines, sporting the edgily shaved-sides haircut he'd gotten for the tournament, unfailingly cheerful.

It was the hottest day yet, not a single cloud in the scorching sky. An exhausted player lay on the ground beneath the bleachers, getting an IV for dehydration. Guys were freely peeing in the bushes around the fields, not daring to go into porta-potties that had been stewing for three days in the unforgiving sun.
A breezy 15-nothing win against Muddy York put the Grizzlies in the running for the Hoagland Shield, named after Alice, who was swiftly on the scene to take a group picture.
The Grizzlies' final game drew their biggest crowd yet. The entire B team, which had ended its tournament run after a 19–17 loss to Dallas Lost Souls, was there for support. A lot of the guys stripped to their bare chests, some revealing farmers' tans that had evolved into full-out blistering sunburns. A young woman named Ella, who played rugby at Alabama before becoming a pastry chef, heard a rugby tournament was coming to Nashville; the Grizzlies have now gained a new fan.
And there was a guy in futuristic-looking blue sunglasses and gingham shorts, who had come up from Memphis to support some of his friends on the team. He looked admiringly out over the field as the Grizzlies and the Dallas Diablos warmed up. "Kind of cool you don't just see the Fire Island kinds of sculpted bodies, huh?" he mused. He was right: While the players tended to be bigger guys, there were all kinds of bodies out there, the speedy little backs and the hulking forwards, all exhibiting different sorts of strength.
Roy Wayne McCoy II, a hooker for the B team in his mid-twenties whose baby-round face is half hidden by an enormously bushy beard, had told me earlier that when he took his straight girlfriends to beer busts, they whispered to him, confused. "They'll be like, 'So how do you know which ones are gay?'" he said. "And I'm like, 'All of them that are here are gay. Because we're at the gay bar.' It's kind of strange when you go to the events, and you explain, yeah, the majority of these people are gay, and they're like, 'But they look like they can beat up anybody!'"
For so many of the men I spoke with, playing rugby was in part about proving to the world that there is no such thing, really, as "looking gay." Gay rugby is rugby. There are as many different kinds of people playing and excelling at this sport as there are different kinds of queer people in the world.
Right now, excelling at rugby was the only thing that mattered.
"Who are we?" yelled coach Jimmy Arredondo.
"It's kind of strange when you explain, 'Yeah, the majority of these people are gay,' and they're like, 'But they look like they can beat up anybody!'"
"GRIZZLIES." There was also a less classy cheer, which they'd picked up as a slogan for the weekend: "EXPLOIT THEIR HOLES."
Off the kick, the Grizzlies were losing their rucks, getting pushed back, back, back. After someone got pushed out of bounds, there was a lineout to Dallas, which promptly won it. The Dallas defense was showing up right out the gate: They won a scrum, won ruck after ruck. Then, Chris Ursery, the Grizzlies' star back, stole a glorious breakaway for a try, shifting the tone of the game.
"Go sports!" yelled a group of Grizzlies fans in the bleachers. "Great job sportsing!"
"A try means a goal, right?" Futuristic Glasses asked, jumping up and down as he cheered.
The game surged with moments of preciseness and control that kept collapsing into a brutal, wild messiness, back 10, back 10, everyone's adrenaline spiking, the coaches screaming, the scrums groaning under the weight of so many sweaty men, the hits so hard we in the stands could feel them in our bones.
The Grizzlies were up by 8 when the whistle blew: 32–24, that's it, done. They'd won.
"Come on, Nashville!" shouted someone from the bleachers. The pitch swelled, fit to burst with people: ruggers and fans, Nashvillians and Europeans, winners and losers, queer guys and straight girls and straight guys and queer girls, lovers and mentors and friends.
The Grizzlies were in a tangle in the center of it all, hugging each other so tightly it looked as though they were afraid they'd never be able to hug each other again. The tears were abundant. Stan was grabbing every guy he could see, his face bathed in sweat and tears.
There is something raw, something deeply and agelessly primal, about playing rugby — particularly with people you care about. People you love. You're lifting them into the air, pushing them forward, slamming guys out of their path, linking together into a giant mass and moving together as one. It feels, in so many ways, like life or death, like you've gone into battle, like you're smashing and clawing and hitting your way to a breathless victory that exists, somehow, outside of time and space. Your body's ravaged but you keep peeling yourself off the ground, getting up and getting up and getting up, rejoining the fight even though you feel like you're about to be split in half. Because the people beside you, covered in blood and sweat and mud — they need you. And you need them, too.
Jon Glassmeyer, the Grizzlies vet who spearheaded the proposal to bring Bingham to Nashville, presented the Grizzlies with their shield. Josh and a few other players held it high overhead.
"It's not fair!" Scurvy yelled, jumping to reach it. "I'm not as tall!" But he was laughing, smiling, sad he hadn't gotten to play but thrilled nonetheless that his team went in there and did the goddamn thing.
There was still plenty of rugby left in the day: The finals would see a whole bunch of Australians duke it out for the Bingham Cup. The Melbourne Chargers, in a 20–7 win, would unseat the Sydney Convicts, the four-time Bingham winners, and add their name to the trophy for the first time. The bustling players village would slowly but surely empty out, players piling onto school buses to take them back to Vanderbilt while they sang and drank beer like overgrown camp kids. But for now, the Grizzlies had only celebrating to do — and a responsibility to fulfill.
Josh McCluey, one of the wings, had scored his first try, and rules are rules: He'd have to strip down naked and run around the goalposts while his teammates poured water all over him. (My team's tradition was just making girls chug foot-cocktail beers from cleats after losing their try virginity, but the Grizzlies only employ shooting the boot for flubbing a rugby lyric at socials — scoring a try called for far more serious measures.) So, after making sure there weren't any kids around, that's precisely what Josh did.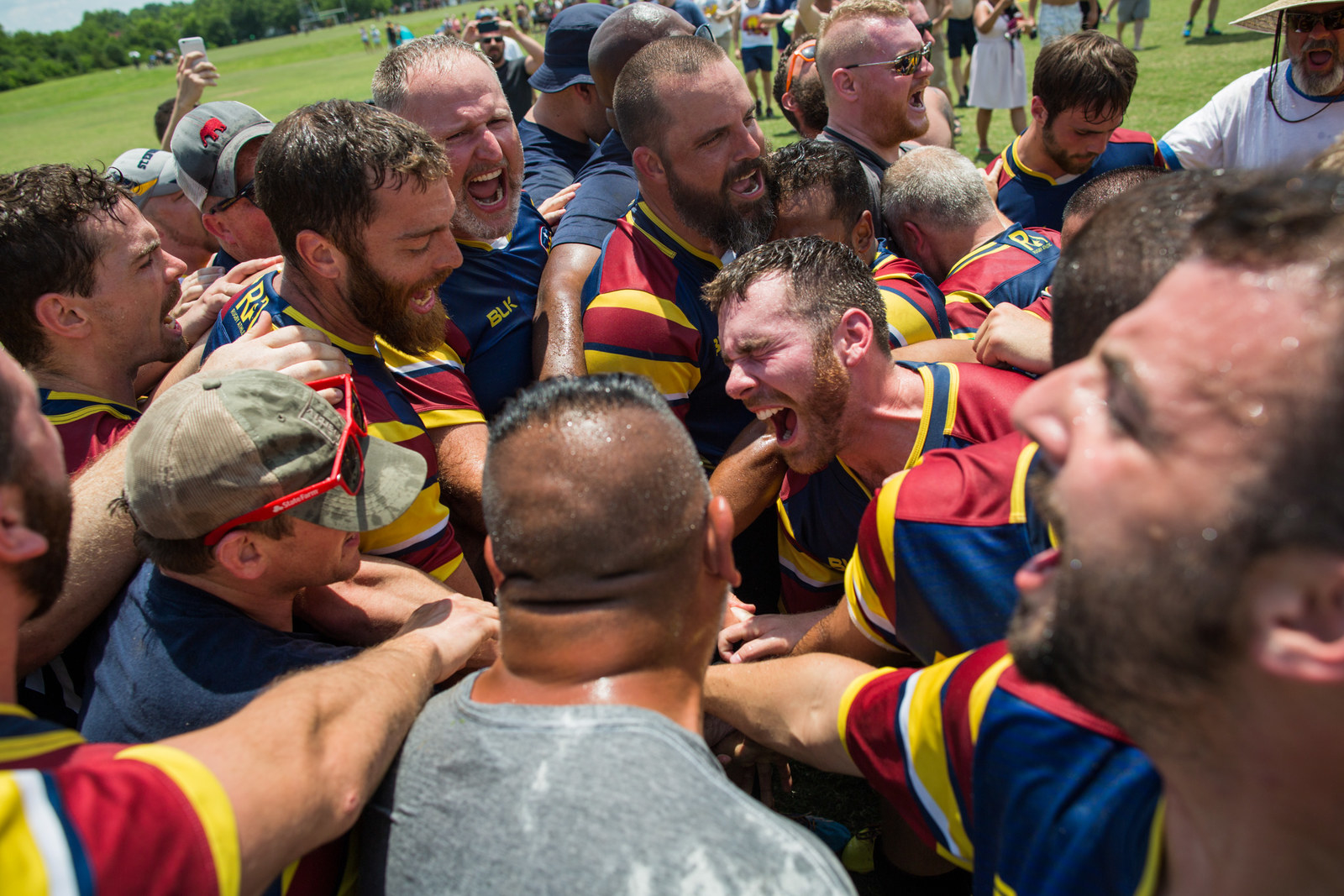 Later that night, at Marathon Music Works for the closing ceremonies, all the teams were dressed to the nines: the Grizzlies in Hawaiian shirts, Irish guys in head-to-toe green, some guys in suits, some guys in shorts, and both a Left and a Right Shark.
While everyone loaded their plates, I chatted with two of the green-bedecked Irishmen, who were both retired from playing and looked to be in their mid-forties. One of them, with a salt-and-pepper beard and braces on his lower teeth, told me that his gay-inclusive team is struggling to hold onto its star players. "Some of the best players on the gay Irish teams are being poached by the 'straight' teams!" There's a lot of competition in Ireland, he said, which means there are plenty of teams competing for greatness. "The only thing that's different about us is we like guys," he added, shrugging.
The DJ played "Hello" and hundreds of ruggers began to sing along: It was the most rousing Adele rendition I'd ever heard, their voices rumbling in the huge room.
Then there were the speeches preceding the awards. Mark's mom took the stage again. "Being gay and being strong are powerful forces the world needs," she said. "AL-ICE! AL-ICE!" everyone chanted, their love for her clear and strong as ever.
"My grandmother was born in Tennessee in 1924, and she'd shit her pants if she knew Mayor Barry lit up the bridge for a gay rugby tournament."
Jeff Wilson, the 2012–2016 chairman of International Gay Rugby, gave a shout-out to the mayor and her work in progressing LGBT acceptance — particularly for rainbow-ifying the Korean Veterans Bridge, a large focal point of downtown Nashville, to welcome the ruggers that weekend. "My grandmother was born in Tennessee in 1924," he said, "and she'd shit her pants if she knew Mayor Barry lit up the bridge for a gay rugby tournament."
He later told me by phone that he hopes the next Bingham will have a women's component. "6 of our clubs has women's sides in multiple countries," he said. "They've been around for awhile. It's just question of commitment and marketing resources."
As both men and women's rugby continue to grow in international popularity, it's hard not to look at a tournament like this and want back in on the action. As I spoke with players throughout the weekend, they all encouraged me to take up rugby again, which I've only avoided because of how high your commitment to the sport needs to be. It's one thing to drag your beaten-up body to a couple college classes a day, but quite another to accommodate rugby around the annoying trappings of adulthood, like responsibilities and jobs. But they all told me it was worth it.
Scurvy explained why: "Two weeks ago, I was in a really bad car wreck in Kentucky. I rolled my car four times." After the crash, he texted the Grizzlies' group thread. "They sent someone up for me. I knew that would happen because we're a family. That's worth everything. It really is. To know that a guy can get out of work early and drive 2 and a half hours to pick you up because they're concerned about you. Because they care about you."
The family feel had always been reward enough. The Grizzlies aren't used to more tangible awards. They've won a couple prizes in past Binghams, but only when their teams were supplemented with "whores" (foreign players who step in when a team could use stronger numbers). But tonight, Scurvy accepted the Hoagland Shield — the fourth out of six awards in Bingham's middle tier, the kind of placement the Grizzlies had worked so long and so tirelessly for. And this was their first time winning a tournament with 100% Grizzly manpower. It was a victory worth celebrating.
After the closing ceremonies, Play, one of Nashville's gay bars, hosted all the players for one last hurrah. There was the usual mix of superb drag queen performances and exceedingly subpar ones. It could have been any gay bar on any weekend night in the country, except perhaps the clientele this time skewed a bit buffer than average. The tragedy at Pulse was still a couple weeks away — here, tonight, there was no fear. There was only exuberance, and joyous abandonment, and enough pride to fill a thousand gay bars: pride in being rugby players, being gay, being here, being present, being a part of something bigger than any one man. After a weekend of putting their bodies and hearts through the wringer, ruggers danced to Rihanna under the spinning rainbow lights. •