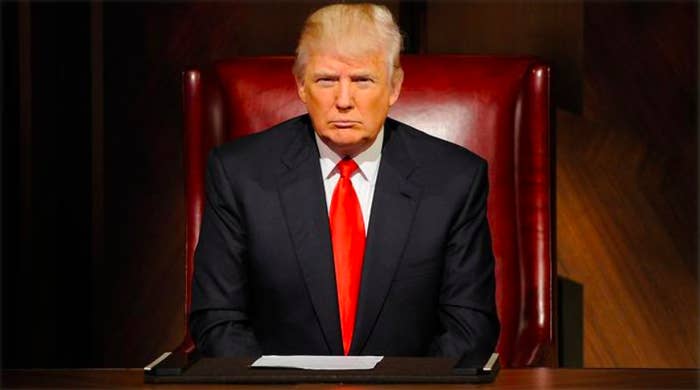 The BBC intends to go ahead with a series of The Celebrity Apprentice hosted by Donald Trump, even though it has delayed the broadcast since he became US President, BuzzFeed News understands.

The BBC has been showing the US series of The Apprentice annually on BBC One since at least 2009, and usually broadcasts episodes a few years after they were first shown by US network NBC. Celebrity Apprentice 7, which was originally broadcast in 2015, was due to air in January or February this year.
But the delay in broadcasting Season 7 has now resulted in a weird situation where the BBC will be broadcasting a reality show hosted by a hugely controversial world leader more than three years after he left the show. And some of the dialogue is particularly odd in this new context.
A few months after this season was originally broadcast, NBC publicly announced that it was cutting ties with Trump after his campaign speech launch where he said Mexican immigrants are "bringing drugs, they're bringing crime, they're rapists and some...I assume are good people." He was replaced by Arnold Schwarzenegger, who then quit after one season.
A representative for the BBC confirmed to BuzzFeed News that episodes from Celebrity Apprentice 7 will be shown later this year, but have not yet been scheduled. When asked why The Apprentice USA will be broadcast, a BBC publicist responded: "We've always shown it, so it's a case of carrying on with that tradition."
The show is a baffling watch in the present day. In the opening episode of this season, comedian Gilbert Gottfried asks why the contestants are waiting outside, and Trump responds by denouncing global warming.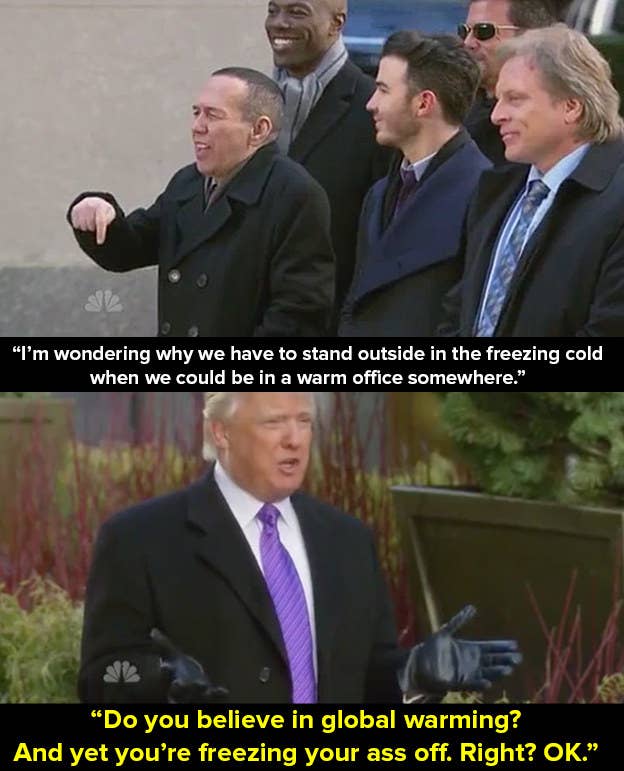 Then during the fundraising challenge, former Fox News host Bill O'Reilly gets praised for donating $10,000.
Bill O'Reilly was axed from Fox News in 2017 after allegations that he sexually assaulted several women.

Then later in the boardroom, one of the celebrity contestants, Keshia Knight Pulliam, is blamed by Trump and the other contestants for not calling Bill Cosby for a donation for that week's challenge.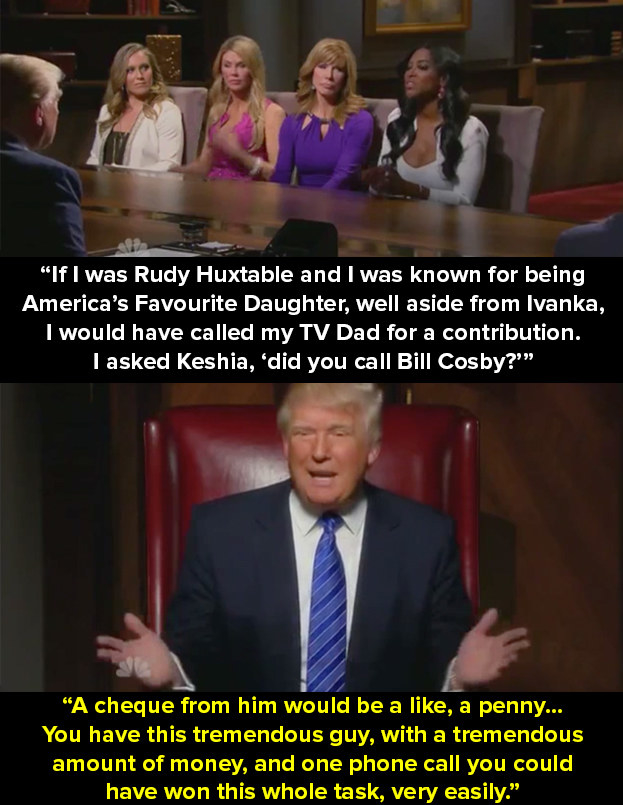 Since the episode was first broadcast, sexual assault allegations against Cosby were made public and last week Cosby was found guilty of drugging and raping a woman in 2004. The BBC, asked by BuzzFeed News whether it will show this sequence of events, said it has not yet made a decision as a slot has not yet been confirmed.

The BBC said in a statement: "The series has not yet been confirmed in the schedule. Closer to transmission we check acquired programming for editorial compliance then take a view as to whether or not we would edit any sections of the programme. Decisions regarding versioning are made when the planned transmission slot has been confirmed."