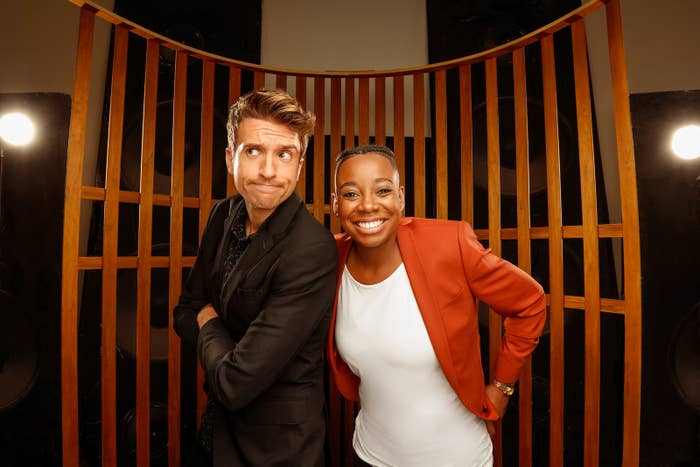 This Friday night there's going to be a music programme at 7:30pm on BBC One – a show that's half an hour long, from Television Centre, broadcasting live music, presented by famous BBC names you hear on the radio.
No, we aren't in 1995. And no, this isn't Top of the Pops, a chart show that was known by generations but in its later years shed viewers, moved channels, and, apart from a couple of specials that you can watch at Christmas, was axed after 42 years.
Those involved in the new show, Sounds Like Friday Night, which is presented by Radio 1 presenter Greg James and 1Xtra's breakfast host, Dotty, are clear that it isn't a TOTP revival.
This might be a disappointment for some, as there's been speculation about TOTP returning for years. I don't need to tell you that nostalgia is all the rage and television is reflecting it, from The Crystal Maze to Twin Peaks. And then there's the popularity of archive episodes of TOTP on BBC Four. Surely they could have just saved themselves the hassle of thinking up something new and brought it back?
"We thought for some time about how to put a live music show back on BBC One," Jan Younghusband, the commissioning editor of BBC Music and Events, tells BuzzFeed News. "I think everyone is being very nostalgic for Top of the Pops, but Top of the Pops was in its heyday in a world before the internet, and we consume music differently now."
The new show has some radical differences. Firstly, it will not feature a chart countdown at the end. It will not even be based around the chart. Instead, three artists will perform each week, a mixture of well-known acts and newer ones in the hope of curating music you'll like. Jason Derulo, Charlie Puth, and Jessie Ware are lined up for the first show.
"It's not just going to be us saying, 'Here's a load of performances,'" says Dotty. "I think in this day and age people need a few other things to keep their attention. I think that as soon as you see the first episode you will quite quickly realise this is not a new Top of the Pops."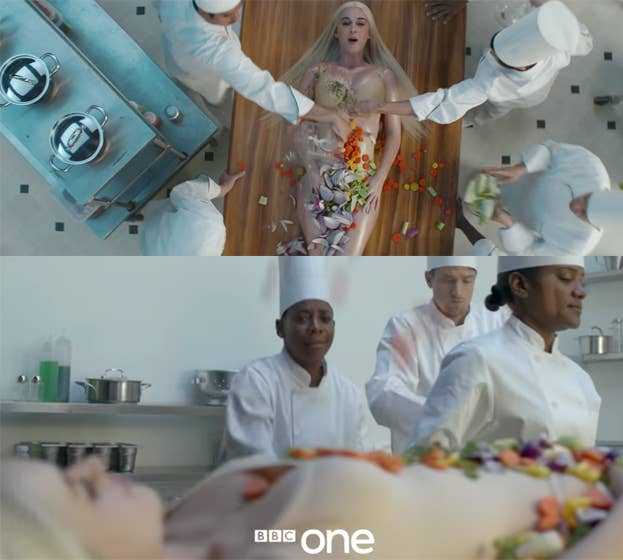 In addition, there's the fact that the main act, such as Liam Payne in the second episode, will cohost the rest of the episode with James and Dotty. And as the show is live, this creates a bit of a risk.
James says: "It is funny that when we get artists on to the show and we get them to introduce the news or whatever on Radio 1, it's always quite funny because they go 'nowww errr' or we go 'talk for 10 seconds up to the vocal' and they go 'ummmm' and 'errr here comes another song... isn't the weather nice today? It's Rihanna, she's starting to sing...'

"I think that can be quite sweet and also, that's what you have to do with these sort of shows now; people love to see the human side of a pop star or an artist."
Interestingly, Sounds Like will be one of the first shows to be broadcast from BBC Television Centre since most of the site was turned into flats in 2014. "There's a couple of studios, but they're mainly penthouses for rich bastards," says James, "which is sort of horrible, but at least there is a studio there."

James thinks the show will be an antidote to the overwhelming choice of media and music in the digital age. "There's so much stuff everywhere that when you turn Netflix on it just goes 'Heeeerrre's everything... pow! Pick one!'" he says. "People quite like curated stuff."

He notes that many of us still listen to radio, despite the fact that you can play music from pretty much anywhere. "We definitely find that with the radio show, people still come back to it and want someone to go 'don't worry, I know it's fucking noisy out there, but here's some funny things and here's some music'. That's hopefully what the void that it will fill on telly. That's what our hope is."
Audiences want to see a human side to music acts, says Younghusband, something that the people behind Sounds Like believe TOTP didn't show enough of. "The audience come for the artist they love and the music they love, and they want to hear from those artists," she says.
She points to the success of ...at the BBC, the 60-minute BBC One primetime music specials. Adele's show has done well (there are ones with Harry Styles and Sam Smith on the way too) and the programme shows singers taking part in skits and being interviewed, as well as performing. Suzi Aplin, the executive producer of Sounds Like, says that each episode be tailored to the star cohosting with James and Dotty: "Every week there will be a slightly different story."

Sounds Like will feature skits too, and will share clips online afterwards to get people to talk about the show when it isn't on, and to keep it on people's radars if they didn't watch it. During Adele at the BBC, the singer pretended to be an Adele impersonator and fooled a room full of her fans. A clip of the prank was watched by 62 million people on YouTube. "I think what we're hoping for is that the show can create moments, moments that live outside of the show," says Dotty.
"Like everything we do on the radio, it needs to live on someone's phone as well, so you've got to be on people's Instagram feeds. You're an idiot if you're not trying to do content that's on both," adds James.
"We did a bit with Dave Grohl a couple of weeks ago ... for the first show, which we are really pleased about. But I think you're setting yourself up for a massive fall by going 'We've created Carpool Karaoke 2!'"
Interestingly, though, the production company behind Sounds Like is Fulwell73, co-producer of The Late Late Show with James Corden on CBS in the United States, which is home to Carpool Karaoke.

Toby Brack, the series producer, said the Sounds Like team has talked to The Late Late Show team. "We spoke to their social guy, who obviously knows a thing or two."
So, given the new show will have a modern and fairly uncontroversial format, it makes you wonder why music shows like this haven't come about sooner.

"TV commissioners are very frightened about music per se on television," Aplin says. "They think it turns people off, hence you often see a band at the end of a show with the credits rolled under them, as a kind of 'oh, it's time to switch over now.'
"Jools [Holland] has an amazing kind of eclectic plate of artists on every week but he's on very late – he has a half-hour show but he's often quite late, and that show should be championed more."
When Fulwell73 originally pitched Sounds Like to the BBC, it still involved the idea of sketches and live performances, but with much more of a late-night feel, apparently due to the assumption that a late-night slot like Holland's would be the one they would end up with. Aplin is delighted that they ended up in the 7:30pm primetime placement, just after The One Show.
Most importantly, James promises that Sounds Like will be the opposite of programmes like the X Factor results show, which frequently have world-class stars who drop in but disappear not long after they have performed.
He imagines a scenario with Bruno Mars. "We're going to [get] time to interview him or whoever it might be, because it tends to be 'Cheers, Bruno – album is out, is it? Oh yeah, OK! It's the results! It's deadlock!'"
(Here James imitates The X Factor's Dermot O'Leary, while Dotty pretends to be Bruno Mars, shouting about the album: "It's out on Monday!")
James explains that he wants to see less of "all these muppets" – the contestants – in such shows, and more of the established acts.
"Get Bruno Mars on! We don't want to see the idiots, we want to see Bruno Mars, so that's what this show is going to be."
Sounds Like Friday Night starts this Friday on BBC One at 7:30pm.