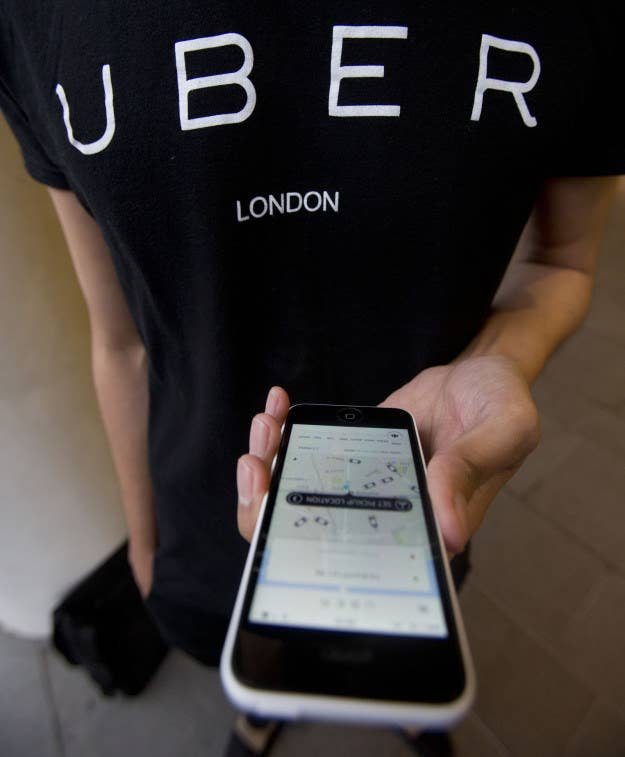 Workers for companies including Uber and Deliveroo and agency workers for firms like Asos are united by a "lack of rights", a report by the Trades Union Congress has claimed.
The report said there has been a rise in the prevalence of "insecure" work in the last decade, and that workers in the UK are increasingly united by "the lack of rights, protection and power they experience at work".

It found that 1 in 10 workers, 3.2 million people, could now be described as in insecure work, with 1 million of those categorised as self-employed and working for companies like Uber and Deliveroo. Many workers were "at risk of missing out on key employment protections" as a result.
It also calculated that 810,000 people were on zero-hours contracts in 2016, up from 70,000 in 2006. Insecure contracts had fast become "what now looks like an established feature of the labour market", particularly in construction, admin, transport, wholesale, and retail jobs, it said.
While many workers find flexible working suitable, "an increasing proportion of those working on temporary contracts are doing so on an involuntary basis", the report claimed, and 30% do so because they are unable to find permanent work.

"While some of today's insecure workers may work for 'platform' companies like Uber or Deliveroo, many of them work in areas using little technology; what unites the agency worker at Asos, the care worker missing out on the Minimum Wage, and the lecturer employed on a zero hours contract is not an app, but the lack of rights, protection and power they experience at work," the report said.
Speaking to BuzzFeed News, TUC general secretary Frances O'Grady said that while flexible working did genuinely suit some workers, for others it was symptomatic of companies not putting workers at the heart of their operations and instead using flexible arrangements to lessen business costs.

"I think most people agree the balance has gone too far against ordinary workers and something has to change, it's just not a way to treat human beings," she said.
"You've got to be at the beck and call of your boss at the end of the phone. The big change is bogus self-employment. There's always been a problem but this has got much bigger.
"We know some people want to be their own bosses – and that's great, but don't tell me that all of those workers are happy to be on self-employment contracts. The majority would prefer a steady job."
People were struggling to "make ends meet and put food on the table", even working multiple jobs, she said, and "without a doubt that's got worse", she added.
"There is no excuse for treating workers unfairly and it's also not clever," O'Grady said. "If you treat workers better you get higher productivity, and workers give back more. People will go that extra mile."
The TUC report, the first in a series, comes at a time of increased scrutiny on modern employment practices.
The government has commissioned a review into the gig economy, led by Matthew Taylor.
The business, energy, and industrial strategy committee is also launching an inquiry into the future world of work in the new year following a series of media exposes about companies including Asos, Sports Direct, Deliveroo, and Hermes.
The TUC said the law hadn't "kept pace with how work has changed" and called on the government to "drag the rules that protect working people into the 21st century".

BuzzFeed News asked Deliveroo, Asos, and Uber to respond to the allegation in the report that their workers were united by a "lack of rights". Asos did not respond.
Uber said in a statement: "Tens of thousands of people in London drive with Uber precisely because they want to be self-employed and their own boss.
"The overwhelming majority of drivers who use the Uber app want to keep the freedom and flexibility of being able to drive when and where they want."
A Deliveroo spokesperson said: "Over 10,000 people apply to ride with us each week, which shows that working with Deliveroo is popular and valued by riders right across the country.
"The flexible nature of riders' self-employed status means they have the power to choose when and how often they work with us. On average UK riders work with us for around 15 hours per week, with many choosing to do so because the flexibility means they can fit it around personal commitments, study, or other work.
"As the on-demand economy continues to grow, it is important that modern working practices evolve with that growth. That is why we welcome the Matthew Taylor review and look forward to working with the government to put in place a modern legal and legislative framework fit for Britain's growing on-demand economy."