A team of people will tour the country over the next six months to gather "evidence" about modern employment practices as part of a government review.

The tour will form part of the independent Matthew Taylor review, commissioned by prime minister Theresa May in October in a bid to, the government said, "create an economy that works for all, not just the privileged few".

It is tasked with exploring the modern labour market and the impact of increasingly popular new working arrangements, such as those working in the "gig economy" for companies like Uber and Deliveroo.

The review will seek to determine whether employment practices need to change to keep pace with modern business models created by internet- and app-based shopping and services. It will also consider the impact of new business models on workers' rights and employer obligations.

The tour, which will stretch across the UK, will begin in Maidstone, Coventry, and Glasgow. The panel will interview workers and employers from a range of sectors, including manufacturing.
It is expected to report on the findings after the review concludes in six months.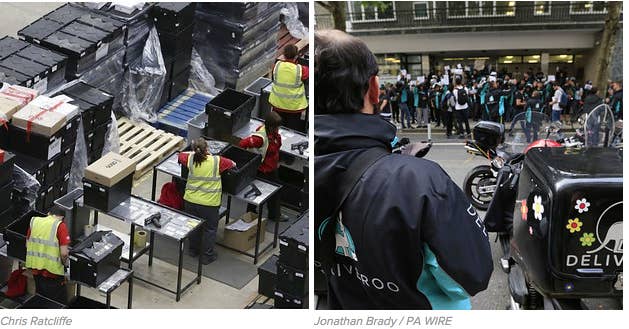 "As well as making specific recommendations I hope the review will promote a national conversation and explore how we can all contribute to work that provides opportunity, fairness, and dignity," said Taylor, CEO of the Royal Society of Arts.

Taylor, who will lead the review, has appointed Gangmasters Licensing Authority CEO Paul Broadbent, entrepreneur Greg Marsh, and employment lawyer Diane Nicol to the panel.

Business minister Margot James said: "We recognise the importance of being open to new and innovative ways of working, but is also crucial that people working in all sorts of jobs are able to benefit from the right balance of flexibility, rights, and protections."

In 2017, the House of Commons business select committee will also begin an inquiry into the modern world of work. It will explore the status and rights of workers ahead of a report entitled The Future World of Work – the Status and Rights of Workers.

The committee announced the inquiry following a series of media exposés about companies, including a three-month investigation by BuzzFeed News into allegations of exploitative contracts at Asos and investigations into working practices at the delivery company Hermes and the courier company Deliveroo.

The committee has not revealed the witnesses it will call to answer MPs when evidence sessions begin in the New Year, but, responding to the BuzzFeed News investigation into Asos in October, Iain Wright MP, the committee chair, said the fashion retailer should be "looked at as part of our forthcoming inquiry".

Delivery firm Hermes has faced strong criticism for its treatment of drivers – who are deemed self-employed – after The Guardian reported on allegations of low pay and BuzzFeed News revealed a catalogue of further complaints by workers in an investigation in August.