Disney has been urged to get rid of a children's T-shirt that reads "shoes speak louder than words", by a mother who said she found the message "archaic".

Emma Palmer, a 36-year-old interior designer from London, told BuzzFeed News she was shocked to discover the slogan on the T-shirt at a Disney Store in the Westfield London shopping centre on Wednesday. She said it represents outdated views about girls and should be withdrawn.

Palmer, who has a 6-year-old daughter and a 3-year-old son, criticised the brand in a post on Facebook after spotting the design. She said it was "everything that is wrong with messaging to girls in a nutshell".

"Surely it is widely recognised that the content of your mind and words you speak are WAAAAAY more important than your fucking shoes!" she said in the post. Other people agreed:


Speaking to BuzzFeed News, Palmer said some people had disagreed with her and said "it's just a T-shirt" but they were "entirely missing the point".
"The messages you give to a girl should be about what they're thinking, their intelligence, and what they have to say – not what they look like," she said.

"I understand it is fun to dress up, to wear makeup, and to have nice things – but the point is at no point do I chose that as a substitute for a brain, or for what I have to say."

She told BuzzFeed News that as a parent she found she had to battle against this type of gendered marketing to children.
"You start with an advert, a T-shirt, or going into a toy shop when everything is pink and it's drip, drip, drip," she said.

For example, she said, her daughter recently told her that she could not be smart because she is a girl, and her son told her he wanted to try ballet but could not because he is a boy.

"I said 'That is not true! What about all those male ballet dancers? Who's holding up the female ballet dancers?'

"I don't want to make my girl into a boy and I don't want to make my boy into a girl. I just want them to know that whatever they want to do and whatever they are interested in is OK."
She said she felt the need to speak out "when a global children's brand like Disney is putting out archaic, outdated, and frankly embarrassing messages on their T-shirts."
"When I saw this T-shirt, I thought, Hang on a minute – this isn't a tiny shop – this is Disney, the hugest voice and brand for children in the world."

Disney did not return requests for comment, but Palmer said the company had responded to her on Facebook and said it would investigate the complaint.
Her criticism of Disney followed a separate complaint made earlier this week, by a grandmother who accused the brand of "sexualising" children by selling false eyelashes with Cinderella on the packaging.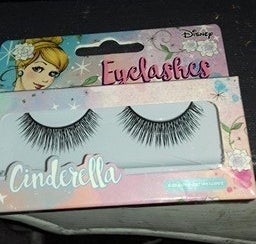 The company told the Sun the lashes were designed for teens and adults, and were normally found in the beauty section only, but did not return requests for comment from BuzzFeed News.

Parents are becoming increasingly frustrated at the lack of gender-neutral clothing for children.
In August, Jem Moonie-Dalton, a 38-year-old from London, claimed Clarks was reinforcing gender stereotypes in a viral Facebook post that has been shared more than 17,000 times, and has had over 44,000 reactions.

She accused the footwear chain of engaging in gender "discrimination" after she said she was unable to find her 7-year-old daughter sturdy shoes suitable for outdoor play, in contrast to the section in the store "aggressively marketed at boys and clearly not intended for her". Clarks insisted it did have a selection of sturdy, unisex shoes.

Moonie-Dalton said the issue was not specific to Clarks but extended to supermarkets and other similar brands, too, which she called on to be inclusive.

In 2016, Gap also faced a backlash over a range of shirts that customers said suggested that boys should be "scholars" while girls should be "social butterflies".