53 Ways "Mean Girls" Would Be Different If It Were Set In 2017
"On Wednesdays, we wear millennial pink!"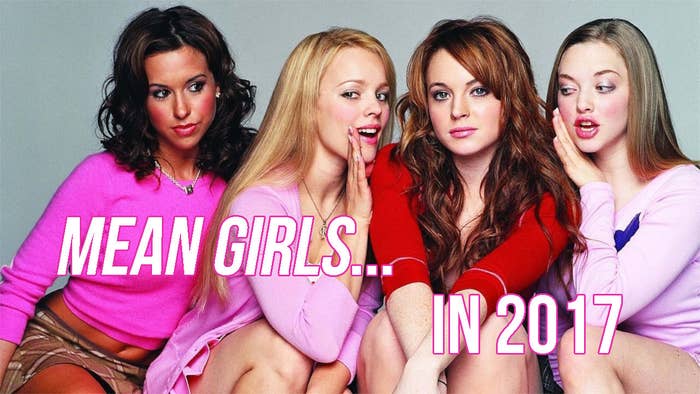 1. Maisie Williams would play Cady Heron.
2. Zendaya would play Regina George, Hailee Steinfeld would play Gretchen Weiners, and Chloe Grace Moretz would play Karen Smith.
3. Noah Galvin would play Damian Leigh and Christine Sydelko would play Janis Ian.
4. Diego Boneta would play Aaron Samuels.
5. Tina Fey would play Principal Sachs and Amy Poehler would play Ms. Norbury.
6. Tracee Ellis Ross would play Mrs. George.
7. The homeschooled kids who talk about Remington bolt-action rifles would be wearing MAGA hats.
8. Ms. Norbury would accidentally get a Venti Cold Brew spilled on her shirt at the beginning of the movie.
9. New lunch table cliques would include Instagram Gays, Aspiring K-Pop Stars, Kids Who Are Cool On Snapchat, and Aspiring Fashion Instagrammers.
10. The Plastics would be called the Kylies behind their back.
11. "On Wednesdays, we wear millennial pink!"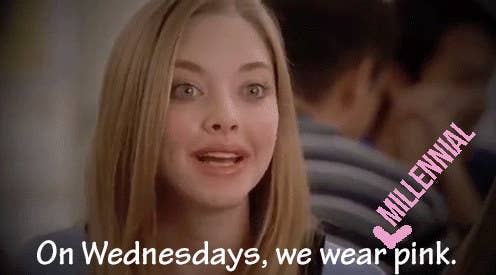 12. "One time Kim Kardashian asked her how she did her contour!"
13. "She already has the iPhone 11!"
14. "I heard she does Fit Tea #SponCon on Instagram!"
15. Regina George would drive a Tesla.
16. "That's why her eyebrows are so big...they're full of secrets!"
17. "Ex-boyfriends AND ex-girlfriends are off-limits to friends. I mean, that's just like, the rules of feminism!"
18. "Get in loser, we're going shopping! And we can park in one of the eco-friendly spots."
19. Regina wouldn't call Taylor's mom to tell her the "pregnancy results," she'd just post them on her Finsta.
20. Janis would work at Lush.
21. When the Plastics drove up to Regina's house (in her Tesla, duh) "Bodak Yellow" would be playing instead of "Milkshake."
22. "I'm not a regular mom. I'm a cool mom. Like Kris Jenner."
23. "Do these brownies have pot in them?" "Oh God, honey no! What kind of mother do you think I am? Why, do you want a little bit? Because if you smoke, I'd rather you do it in the house."
24. Karen on Halloween: "I'm Fiona the Hippo, DUH!"
25. Regina would be a Sexy Wonder Woman for Halloween.
26. Cady would be Eleven from Stranger Things.
27. When the Plastics walk down the hallway and Cady falls into the trash bin, "Swish Swish" would be playing instead of "Pass That Dutch."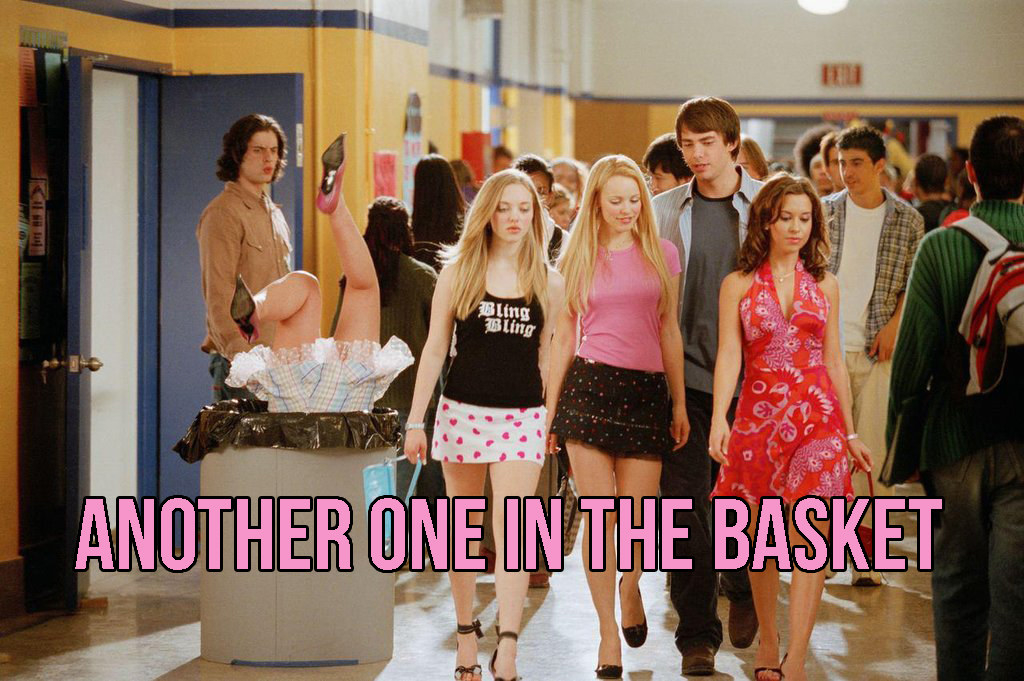 28. The Plastics' dance routine at the Winter Talent Show would be set to Mariah Carey's "All I Want For Christmas Is You."
29. "Stop trying to make 'basic' happen. It's not going to happen!"
30. Instead of Karen messing up the group call, she would mess up group texts — there would be one main group text for all the Plastics, and then side group texts where they'd intentionally leave out a member.
31. And in the end, she'd text Regina, "I checked WebMD — I can't go out, I'm sick."
32. "I love your Adidas Superstars! Where'd you get them?" "They were my mom's in the '90s." "Vintage, love it! So adorable."
33. "We only carry sizes 1, 3, and 5. You can try Kohl's!"
34. "Hey Regina, let's do something fun! Let's go on a fro-yo run!"
35. "I can't get fro-yo! I'm on the Whole30 diet. God Karen, you are so stupid!"
36. Instead of a cranberry juice cocktail cleanse, Regina would just drink a shit-ton of Pamplemousse LaCroix.
37. "I have this theory that if you cut off all her hair she'd look like Harry Styles."
38. "Two months ago she told me that wearing Fenty Beauty was *her* thing and I wasn't allowed to wear it anymore."
39. Damian would dress in a non-denominational holiday costume when he passed out candy canes, like Olaf the Snowman from Frozen.
40. "Is an RXBar a carb?"
41. The Plastics wouldn't just let Regina not sit with them anymore — they'd also unfollow her on all social media accounts too.
42. "These Lululemon leggings are all that fits me right now!"
43. "I saw Cady Heron wearing a Supreme shirt and flip flops, so I bought a Supreme shirt and flip flops."
44. Instead of an actual physical book, the Burn Book would actually be an anonymous Twitter account — @BurnBook.
45. So Regina would just go on a tweetstorm — #BurnBook2017 — instead of throwing pages of the book in the hallway.
46. "I don't think my dad, the inventor of Postmates, would be happy to hear about this!"
47. Instead of actually giving a speech, Ms. Norbury would just put on a TEDTalk in the assembly at the gymnasium.
48. "Gretchen, I'm sorry I laughed at you that time you got diarrhea at Forever 21. And I'm sorry for tweeting about it. And I'm sorry for repeating it now."
49. "I'm sorry that people are so jealous of me, but I can't help it that so many people watch my Instagram Story!"
50. Instead of joining the lacrosse team, Regina would become a SoulCycle instructor to channel her energy.
51. Gretchen would join the Instagram Gays and take all of their shirtless selfies.
52. And Karen would become an aspiring YouTuber. "There's a 30% chance that it's story time!"
53. Finally, Millie Bobby Brown would cameo as the leader of the Junior Plastics at the end of the movie.