We hope you love the products we recommend! All of them were independently selected by our editors. Just so you know, BuzzFeed may collect a share of sales or other compensation from the links on this page if you decide to shop from them. Oh, and FYI — prices are accurate and items in stock as of time of publication.
I admit that I'm an overly concerned dog mom; my little pup has me whipped from her pedestal. So you can only imagine how I felt when I saw my furry little baby's paw pads bleeding after a long run outside.
Frantically texting "SOS" to my friend who's a vet while I browsed the web for remedies to treat torn paw pads, I stumbled upon Musher's Secret Paw Protection Wax. It has truly been a blessing and a game-changer — simply too great of a product to keep it a secret!
Snow, ice, and salt on the ground in the winter can lead to discomfort and ice forming on the fur in between your pet's paw pads. The cold, dry air can also cause their paws to crack and bleed. Applying a thin coat of Musher's can help your pup *break the ice*. If your pets have webbed feet, make sure to get in between their toesies as well!
Hot pavements can be just as damaging to their paws as cold winter days. Imagine walking on scorching sand on the beach without shoes!
You might also want to apply Musher's before long walks, hikes, or any other outdoor activities to reduce the chance of your pup's paws getting cut, chaffed, or blistered.
Peep this before-and-after paw:
In addition to being a protectant, Musher's can be used regularly to condition your pet's paws and dry nose for a soft *boop*.
With the help of vitamin E, Musher's can promote faster healing and protect damaged paw pads from further exposure to irritants:
Ouch! Blisters, be gone!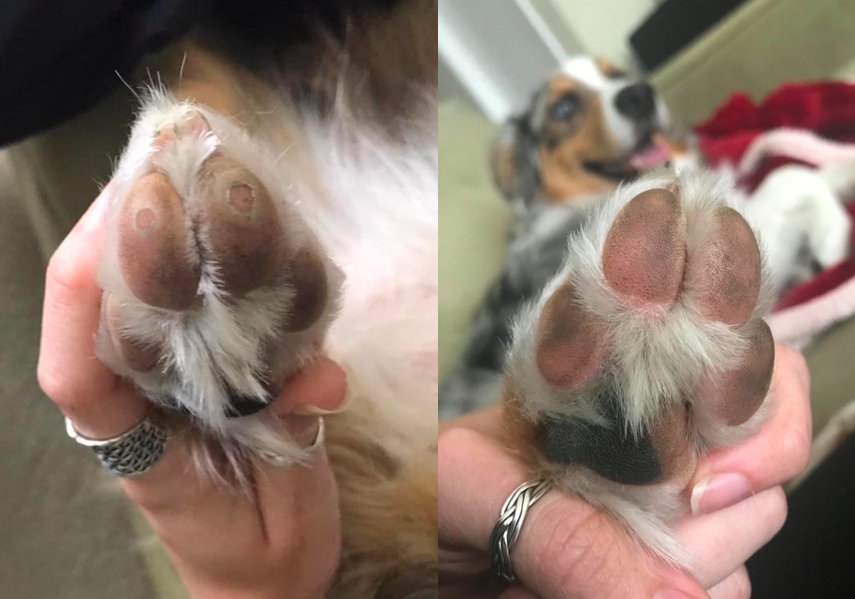 Thanks to Musher's, there are some really happy puppers out there, like this one whose journey to recovery is documented below: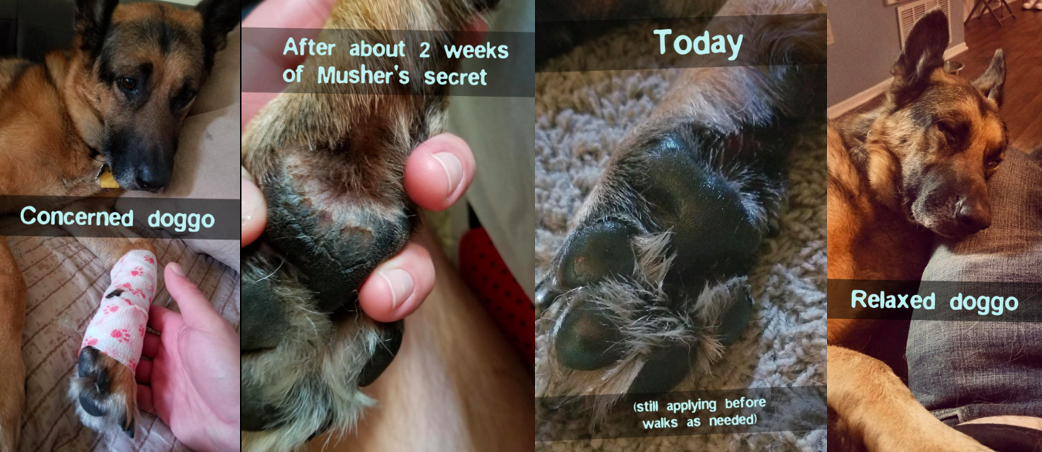 Get it from Amazon for $12.75+ (available in three sizes). This is your dog telling you, "Gimme, gimme!"
And check out more ways to keep spoiling your fur babies: