EVERYBODYYYYYYY! I'm just gonna come right out and tell you that over the weekend Lance Bass of NSYNC was serenaded by his old rival band, The Backstreet Boys. That's right, SERENADED.
Yep, the BSB sang "Shape of My Heart" to this stud muffin at one of their Las Vegas residency shows on Saturday night.
The bromance-filled video starts with none other than A.J. McLean sporting a really cute fedora and holding A ROSE.
Then, Howie Dorough realized he needed to get in on this love-fest with Mr. Bass, so they shared what will definitely go down as the most magical high-five in the history of high-fives.
😭😭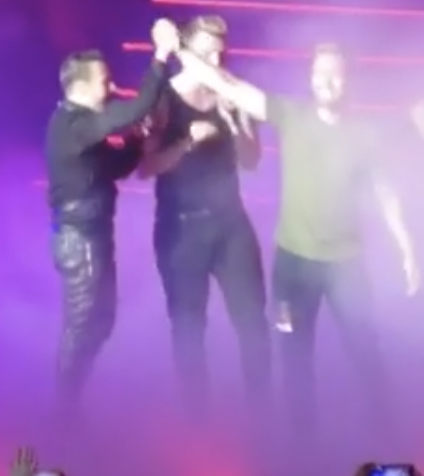 And of course, Kevin Richardson and Brian Littrell had to join in, too. They were definitely waving the fog away from their faces, but let's just pretend they were doing it to protect Lance's beautiful face.
Of course, we can't forget about Nick Carter. Sweet, sweet Nick Carter who looks like he's just won the lottery by standing next to Lance Bass.
Fog-whisker Kevin managed to get this sorry excuse of a half-hug.
But in the end, it all came back to contestant number one, A.J., who was the winner of this loving embrace.
Proving that small little romantic gestures is all you really need to win over your former rival.
Thumbnail credit: Getty Images / Vince Bucci / Stringer / Frederick M. Brown / Stringer / Kevin Winter / Chris Weeks