Indians Are Pissed Off At This Facebook Director's Tweets About Free Basics Being Rejected
"Anti-colonialism has been economically catastrophic for the Indian people for decades. Why stop now?"
During a conversation about the TRAI rejecting Free Basics, venture capitalist and member of Facebook's board of directors Marc Andreessen tweeted that anti-colonialism had been "catastrophic" for India.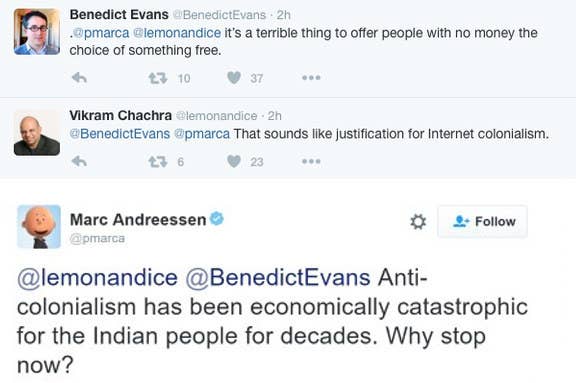 Andreessen deleted the tweet soon after, saying it was being misconstrued, but a lot of people were still angry about it.
Andreessen later withdrew from the discussion and clarified that he was opposed to colonialism.
Bye, Marc.
(Andreessen is the cofounder of venture capital firm Andreessen Horowitz, which invested $50 million in BuzzFeed in 2014.)
UPDATE: Andreessen tweeted an apology for his tweet.
The tweet read, "I apologize for any offense caused by my earlier tweet about Indian history and politics. I admire India and the Indian people enormously. 😀"