Here Are All The Scenes That The Censor Board Wants Deleted From "Udta Punjab"
This is what the fight has all been about.
The tussle between the makers of Udta Punjab and the Censor Board has sparked a national conversation about freedom of expression and the role of the board itself.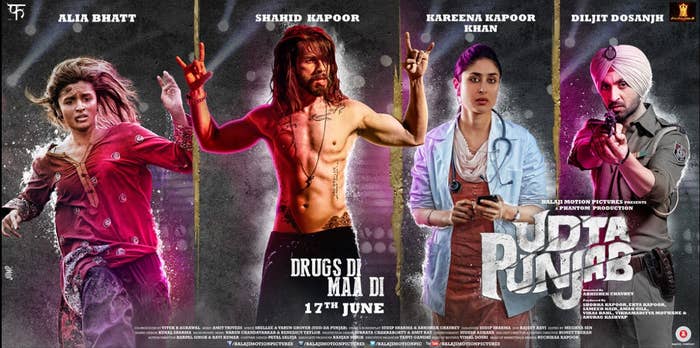 Almost a week after the controversy erupted, the cuts demanded by the board have finally been made public.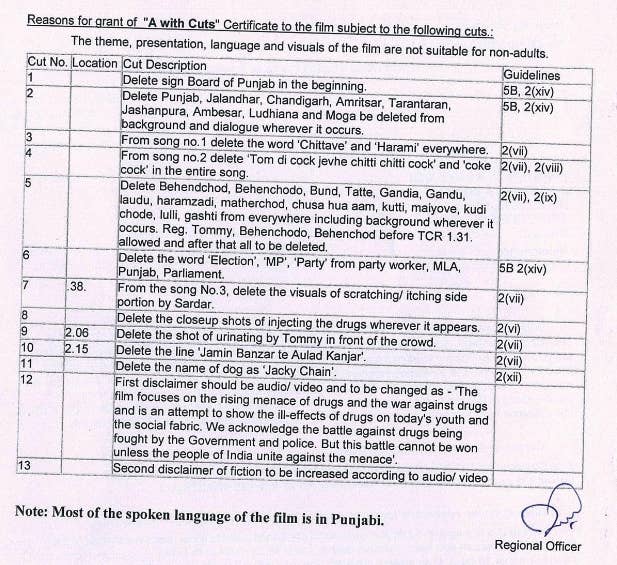 The edits include the removal of almost all expletives, references to the state of Punjab, and mentions of elections or politics.
1. Delete sign board of Punjab in the beginning.

2. Delete Punjab, Jalandhar, Chandigarh, Amritsar, Tarn Taran, Jashanpura, Ambesar, Ludhiana, and Moga to be deleted from background and dialogues wherever it occurs.
3. From song no. 1 delete the word 'Chittave' and 'Harami' everywhere.
4. From song no. 2 delete 'Tom di cock jevhe chitti chitti cock' and 'coke cock' in the entire song.
5. Delete Behenchod, Behenchodo, Bund, Tatte, Gandia, Gandu, Laudu, Haramzadi, Matherchod, chusa hua aam, kutti, maiyove, kudi chode, lulli, gashti from everywhere including background wherever it occurs. Reg. Tommy, Behenchodo, Behenchod before TCR 1.31 allowed and after that all to be deleted.
6. Delete the word 'election', 'MP', 'party', 'MLA', 'Punjab', 'Parliament'.
7. From song no 3, delete the visuals of scratching/itching side portion of Sardar.
8. Delete the close-up shots of injecting the drugs wherever it appears.
9. Delete the shot of urinating by Tommy in front of the crowd.
10. Delete the line 'Jamin Banzar te Aulad Kanjar'.
11. Delete the name of the dog as 'Jackie Chain'.
12. First disclaimer should be audio/video and to be changed to - "The film focuses on the rising menace of drugs and war against drugs and is an attempt to show ill-effects of drugs on today's youth and the social fabric. We acknowledge the battle against drugs being fought by the government and the police. But this battle cannot be won unless the people of India unite against the menace."
13. Second disclaimer of fiction to be increased according to audio/video.
Point no. 12 in the edits literally demands a disclaimer that essentially asks the filmmakers to absolve the Punjab government and police from any responsibility for the state's drug crisis.