Meet The Alia Bhatt Superfan Who's Going To Hilarious Lengths Just For A Reply From Her On Twitter
B.P. Chaube is a simple man with simple tastes, and all he wants is for his favourite actress to acknowledge him.
This is Brahma Prakash Chaube who, among other things, is Alia Bhatt's biggest fan in the entire universe.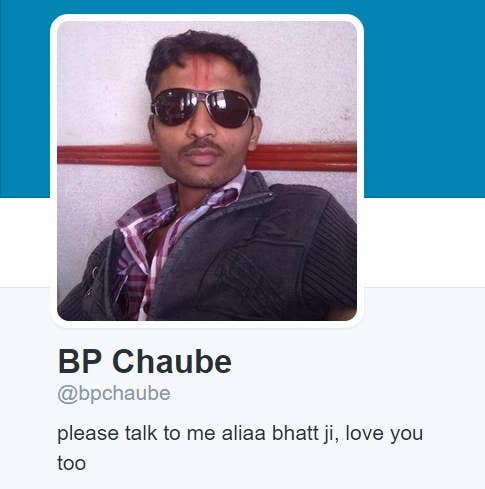 (Seriously. He's been to space to verify this claim.)
He tries to show her that they make a better couple than any pretty boy actor she can pair up with.
I mean, Shahid who, amirite?
He wants her to know what a fun time they'll have IRL.
And he's ready to spend money on her.
Like, insane amounts.
All this, and she won't have to change for him at all. No, sir.
Although, his mom might have a word or two to say about her wardrobe.
Yea, that bikini look will seriously not fly.
And even though Alia hasn't replied to him yet, he's a patient man.
He's ready to "wet" for her forever.
Heck, he's even tried to get Twitter to verify his profile in the meantime, just so Alia knows he's not some creep.
Follow BuzzFeed India on Facebook.