Let's start off easy: Whose lips are shown during the opening number, "Science Fiction/Double Feature"?

20th Century Fox

Via 20th Century Fox

Who is the only remaining living actor identified in "Science Fiction/Double Feature"?

Via MGM

Via MGM

Via 20th Century Fox

Via 20th Century Fox

Via Universal Pictures

Via Universal Pictures

Via United Artists

Via United Artists

The film's makeup artist was also a former personal stylist for which musician?

20th Century Fox

Pierre La Roche, a former personal stylist for David Bowie, created the film's makeup styles.

Via RCA Records

Which president's speech is playing on the radio while Brad and Janet are driving?

20th Century Fox

As Brad and Janet drive in the rain before reaching the castle, the radio is playing Richard Nixon's resignation speech.

Via 20th Century Fox

Actress Susan Sarandon (Janet) caught what illness while filming?

20th Century Fox

Via 20th Century Fox

What country is actress "Little Nell" Campbell (Columbia) originally from?

20th Century Fox

Via 20th Century Fox

What side of Frank's lab coat is the triangle on?

Via 20th Century Fox

Via 20th Century Fox

The green surgical gown that Dr. Frank N. Furter wears has a pink triangle over his heart. The pink triangle pointing upward is often used as a symbol of gay pride.

Via 20th Century Fox

What body part is Rocky missing when he is "born"?

20th Century Fox

The makeup department created a plug that fit over Rocky's belly button to hide it from view during filming. Since Rocky was created by Frank from scratch, that means he didn't have an umbilical cord and therefore shouldn't have a belly button.

Via 20th Century Fox

Where was the lyric "Don't dream it, be it" taken from?

20th Century Fox

Writer Richard O'Brien took the line "Don't dream it, be it" from the back of a magazine.

Via 20th Century Fox

And finally, how long did it take to film The Rocky Horror Picture Show?

20th Century Fox

The Rocky Horror Picture Show was filmed over six weeks.

Via 20th Century Fox
The Hardest "Rocky Horror Picture Show" Quiz You'll Ever Take
Have you even seen the movie? It might be time for a refresher.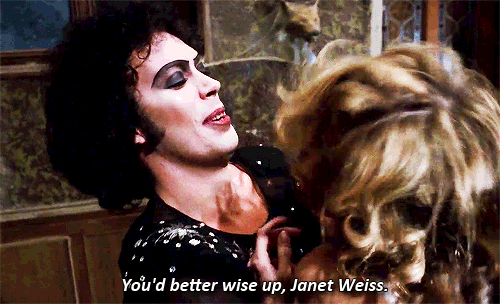 You've seen the movie a few times, but not enough to call yourself a mega-fan just yet!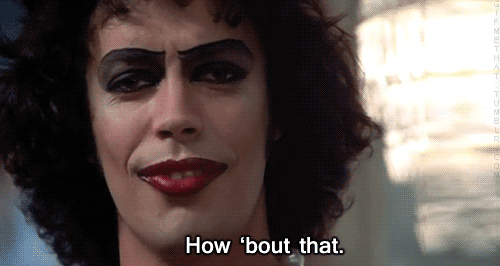 Wow, you truly know Rocky inside and out! You're practically an honorary Transylvanian!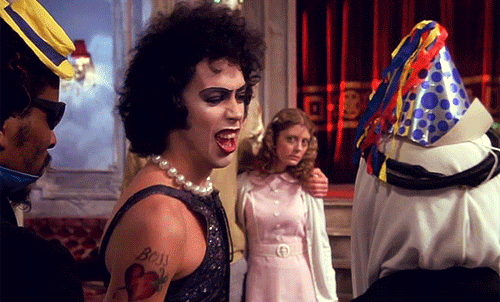 This post was created by a member of BuzzFeed Community, where anyone can post awesome lists and creations.
Learn more
or
post your buzz!