This post has not been vetted or endorsed by BuzzFeed's editorial staff. BuzzFeed Community is a place where anyone can create a post or quiz.
Try making your own!
FKA Twigs Speaks Out After Receiving Some Seriously Racist Tweets
All because #TeamRobsten "Stan" Fans can't let it go!
Goodness Gracious! Indie-R&B sensation FKA Twigs is being belittled to merely her race over social media. The British singer has been a target of incredibly nasty tweets in the past week due to her unconfirmed relationship (and reportedly possible engagement) with Twilight hearthrob Robert Pattinson. Today, she took to her twitter to address those hateful messages.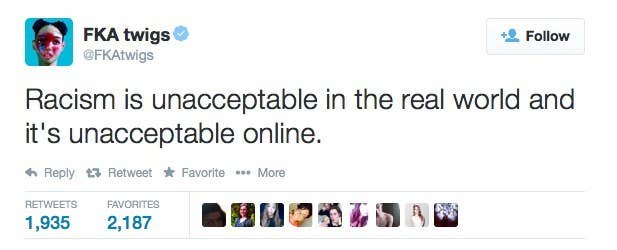 In August, FKA Twigs and Pattinson were photographed strolling through New York City together and just recently, photos surfaced of the two hand-in-hand on Venice Beach in California. It appears that Twihards can't handle the thought of Pattinson with anyone other than his former girlfriend and leading lady of the Twilight Saga, Kristen Stewart. Take a look at some of the milder-but-still-offensive tweets FKA Twigs has had to endure.


Not all of Pattinson's fans are against his new found happiness with the "Two Weeks" singer, as they've created the hashtag #RespectRobertPattinson and #RespectFKATwigs.
Earlier this year FKA Twigs told Emilie Friedlander of The Fader "within my privacy is where I find my creativity, so if too much of that goes, I'm done." Let's hope we don't lose a beautiful talent to those who would attack her essence from behind a computer screen because of their obsession with who she is "rumored" to be dating.
Robert Pattinson and Kristen Stewart have yet to comment on the issue.