People Who Are Having A Boring Summer Can Relate To These 19 Tweets
"What did you do this summer?" *awkward silence*
1.
When you've been dreading s*mmer and then it finally comes.
2.
You're not ready for it — at all.
3.
"Can it be fall again?" —you probably.
4.
Your friends want to hang out, but no one ever follows through.
5.
Luckily, you do have some getaway plans.
6.
Part way through June, you start to miss school.
7.
You try to fill your schedule with ~cool~ things to do...
8.
...and even consult Google for help.
9.
But because social media exists, you end up with a major case of FOMO.
10.
You think you're ready for the lonely life.
11.
And puppers can't detect dullness, so you you have at least one friend.
12.
So you try to be positive...
13.
..but halfway through July, you realize you've done nothing.
14.
You consult your good friend television for help...
15.
...and maybe even reconnect with an old friend.
16.
Despite all of your "plans," summer just isn't your ~season~.
17.
Then school comes up...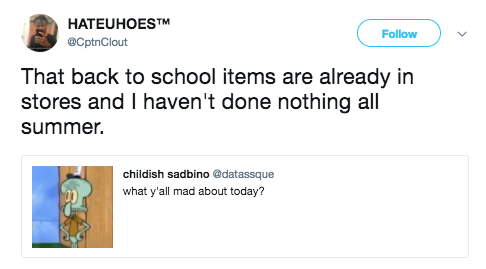 18.
...and even though it sucks to say you had a bad summer, you get through it!
19.
So when the first day rolls by, you'll walk into class with pride, ready to embrace your blandness like the icon you are.