We hope you love the products we recommend! All of them were independently selected by our editors. Some may have been sent as samples, but all opinions and reviews are our own. Just so you know, BuzzFeed may collect a share of sales or other compensation from the links on this page if you decide to shop from them. Oh, and FYI — prices are accurate and items in stock as of time of publication.
1.
A rechargeable portable turntable with up to 12 hours of battery life AND a handy carrying strap so you can easily transport it with you to your friend's house...now, just to pick which records get to go with you.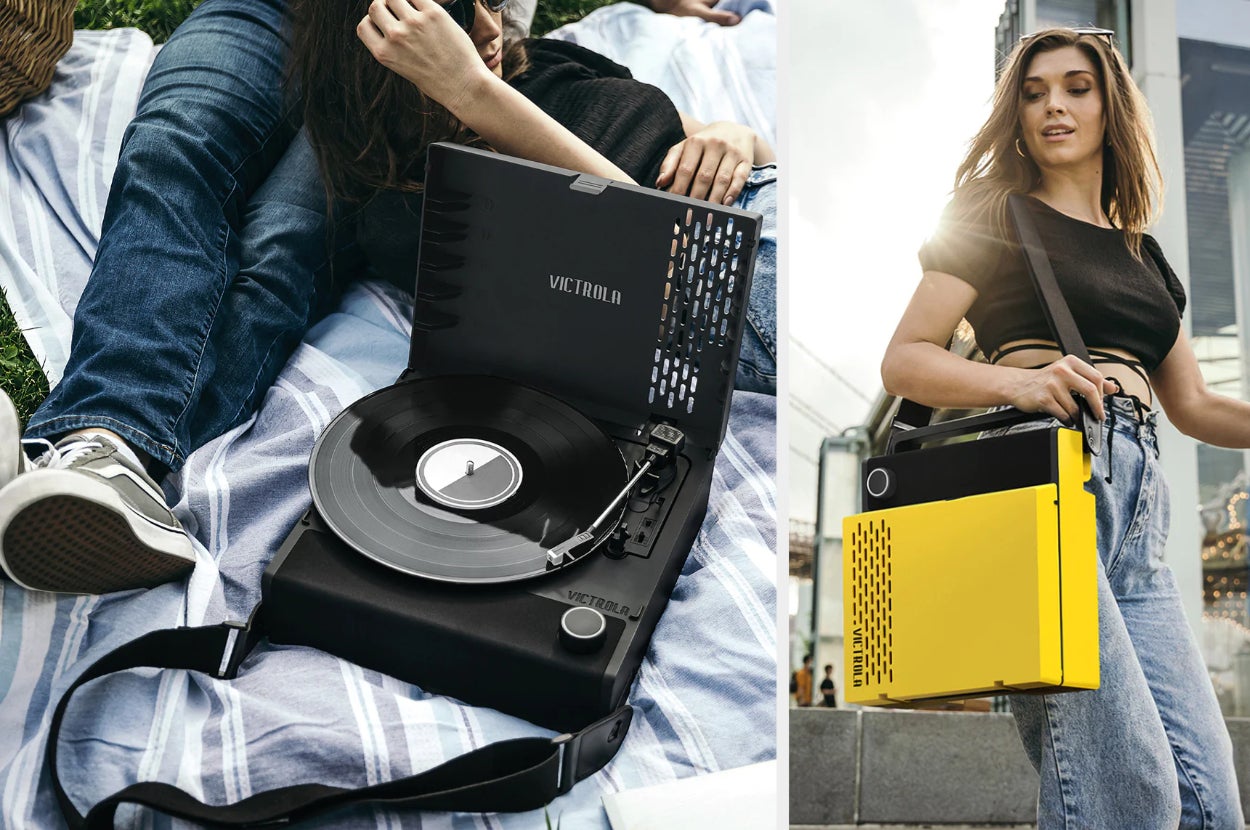 Promising review: "My Revolution Go is the best record player I have! The sound is amazing, and it looks amazing! I love how the lid detaches, and you can showcase your record on it. I have used it at dinner parties in my backyard, a tailgate at a concert, and have moved it around my house. Every time I use it in public or at a dinner party, people come up to me and ask about it because it is so unique, and the sound is such high quality. I would recommend this to anyone I know because it truly brings happiness to my life!" —Mike

Get it from Amazon for $149 (available in five colors) or from Victrola for $149.99 (originally $199.99; available in five colors).
Consider placing it on an accent table for a decor refresh.
2.
A handmade suitcase portable turntable — it may look like it's from another decade, but it's actually packed with tech that can convert your records into MP3 files and compatible with 33, 45, and 78 RPM records. Literally the definition of mixing the old with the new!

Promising review: "Amazing sound! I didn't expect the Bluetooth speaker to have such good quality sound. This is a great purchase overall. I'm very pleased with the vintage look, the sound, as well as the fact that it's a turntable. I'd definitely purchase again!" —D Danielle

Get it from Amazon for $119.95.
It would also look good as a piece of decor on a corner cabinet!
3.
An automatic stop switch portable turntable, which will stop spinning once the record ends so your vinyl can stay in ~pristine~ shape and avoid any unwanted scratches.

Promising review: "I love this record player! It's awesome for the price, sounds great, is portable, and has a cute look. I don't have space to just have a record player sitting out, so I love that I can fold it up in its little case and store it away. I can bring it places easily, too." —Clara Merriman

Get it from Amazon for $52.99 (available in three colors).
Psst — consider pairing it with some bookshelf speakers.
4.
A portable turntable with adjustable pitch control giving you the power to adjust your tunes to your liking, whether it's with your 33, 45, or 78 RPM records. Say goodbye to thinking, "That sounds pitchy."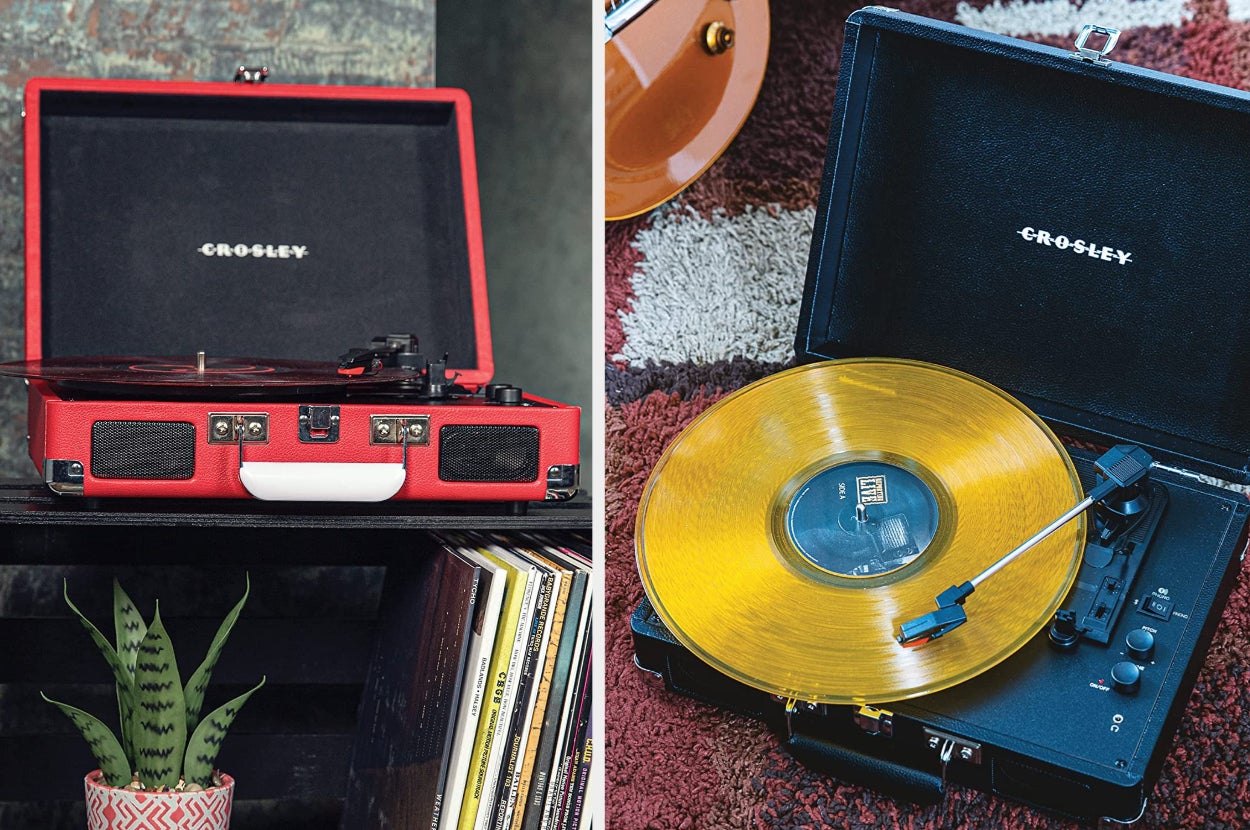 This turntable has Bluetooth connectivity as well as an aux input for connecting devices.

Promising review: "Love the portability and the vintage look. I especially like the ability to connect in and out via Bluetooth — not many units offer that option. Great for the price point!" —Mehrdad Moini
Get it from Amazon for $48+ (available in 30 colors and two styles).
Have a tech lover in your life? Consider these cool and useful gadget gifts, too.
5.
A compact portable turntable featuring a slim square design that screams anything *but* bulky. Plus, since it's battery-powered, you won't be tied down to an outlet, making this perfect for camping trips OR that long roadtrip to visit family.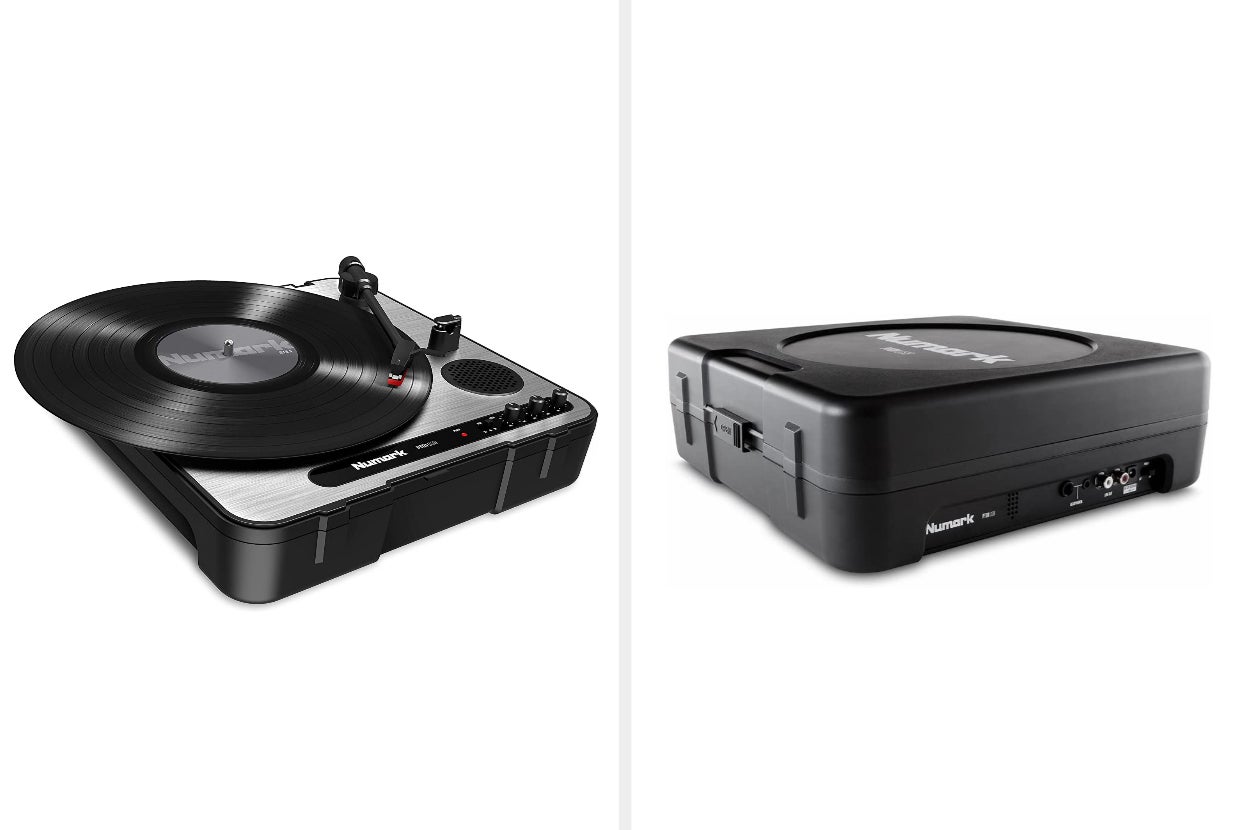 The model comes with a USB cable and requires six D cell batteries, which are not included.

Promising review: "Great portable turntable! The quality was better than expected. Package was nice and neat. If you need a portable turntable to test out used records at your local swap meets, play some old LPs at home, or have a scratch session with your buddies, this turntable is awesome! Although, you can't compare these to Technics 1200 or other industry standard turntables, it's a cheaper alternative for on-the-go situations or listening at home." —tnguy
Get it from Amazon for $119.99.
6.
A portable Bluetooth turntable more than 37,000 reviewers have given 5 stars for how lightweight it is, the crystal clear sound quality, and fun retro look. Whether you decide to gift it to your record-loving friend or keep it for yourself, you definitely won't be able to resist taking it for a ~spin~.

Promising review: "This small, portable suitcase record player allows you to pull your old LP collection out of the closet and listen anywhere in the house. Easy to use and good sound quality. It also comes with an adapter for your 45 RPM records." —Sue
Get it from Amazon for $45.99+ (available in 27 styles).
7.
An MP3 convertible portable turntable to transfer your vinyl onto your laptop, because accidents happen, and the LAST thing you want is to lose your precious Midnights album to scratches.

The design is even Bluetooth-compatible.

Promising review: "I just started collecting vinyl albums, and this player is perfect. Portable and easy to use. My main reason I wanted it was for albums released to vinyl only (aka RSD releases). I wanted a player that would record the tracks and allow me to transfer the digital files. This player does it all." —Classic Rock Fan
Get it from Amazon for $53.99+ (available in two colors).
8.
A belt-driven portable turntable that plays two speeds, can connect to Bluetooth, and is versatile enough to sit on a record player stand OR stand on its own using the detachable legs it comes with. 

Promising review: "My Crosley Dansette series portable record player is the absolute best thing to come out of 2016. The Audio-Technica stylus makes it sound just a bit sweeter, too, in my opinion. Crosley manufactured my grandparents' first refrigerator, so it gives me some extra sense of nostalgia to spin my vinyl discs (old and new releases alike) on this piece of audio magic. I've yet to screw the legs on mine, but either way, this unit is classy and sounds just fine. For the price, you can't go wrong." —Anthony Fletcher

Get it from Amazon for $212.79+ (available in three colors and three styles).
9.
A multifunctional portable turntable, which will not only add a little ~pizazz~ to your space, but will act as a record player, Bluetooth player, FM radio, USB and SD card port, *and* vinyl to MP3 converter. I mean, what can't this thing do???

Promising review: "I like the compactness of this turntable and its portability. I have 33-1/3 albums, 45 RPMs, CDs, and tapes that I have not played in years. I am beginning a project for converting them to MP3s since there is a USB and SD card port. There is also a radio and a jack for headphones! I am truly impressed." —G. A. Davis

Get it from Amazon for $59.99.
10.
A three-speed portable turntable that comes with a 45 RPM adapter and protective cover that'll tell any dust bunnies to ~hop off~ your tunes.

Promising review: "This record player is very convenient to carry around and take places for listening on the go. The two small speakers in the front can get very loud by themselves, which is convenient if taking it with you to a park or bigger room without speakers. There is not a full sound to the speakers, but having speakers in a portable record player that plays a lot of bass can mess up the playing of the record. If you want a fuller sound, then there are RCA or headphone jacks where you can plug it into external speakers to get more bass. It also has an automatic stop that you can turn on or off, but the tonearm does not go back to the resting place, which is nice because those features seem to mess up after a while in my experience. It's durable and is perfect for my kids to listen to, which is my main purpose for this record player. They love their records, but I don't want them to mess with my expensive record player, so this allows them to have their own that they can listen to. This record player is definitely not for the audiophile, but it sounds pretty good for a portable player and does well with the Sesame Street and old Disney records (and, of course, the Beatles '45s) that the kids like to listen to." —Kara

Get it from Amazon for $59.99 (available in three colors).
11.
A handmade portable turntable for giving off total business vibes (when it's closed), but once you open it up and put on your Harry's House vinyl, it'll be a total party.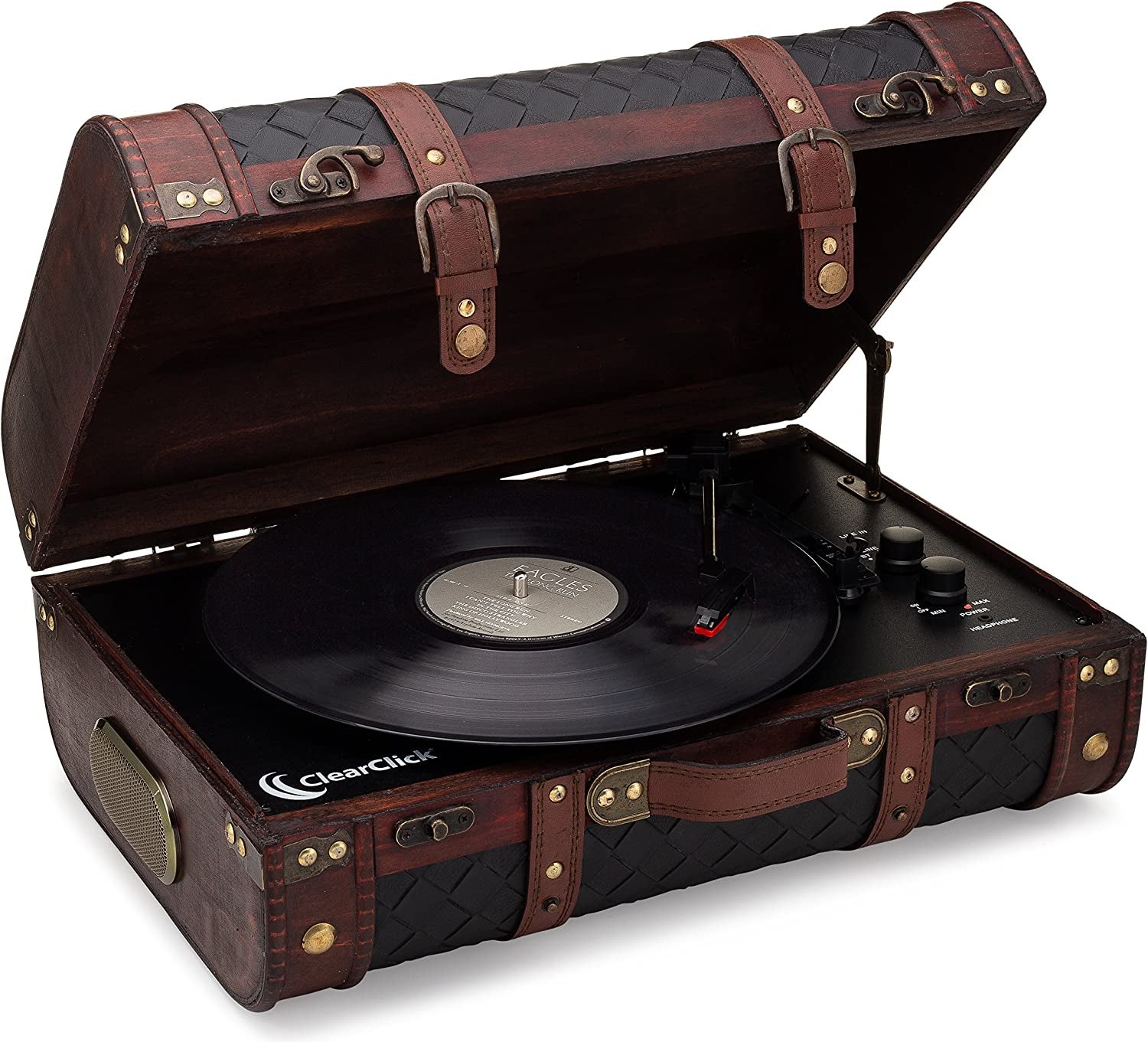 This was designed with two built-in speakers, Bluetooth, and can convert vinyl to MP3s. 

Promising review: "I am totally amazed with this turntable!!! Love the sound and the vintage style. It's very cool as a piece of furniture in the living room. High quality and doesn't look cheap at all!" —Petra H.
Get it from Amazon for $119.95.
12.
A portable turntable with a headphone jack to listen to your vinyl in private — especially when your roommate asks you to stop playing your favorite song over and over again. The handle also makes it easier to take it home with you so you can blast your music without interruption.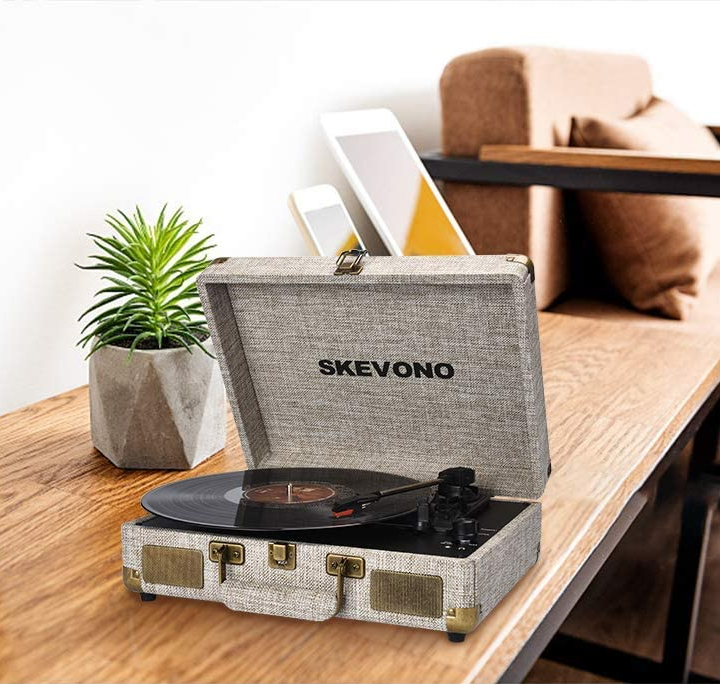 This also comes with Bluetooth capability, converts vinyl to MP3, and supports three vinyl speeds.

Promising review: "Purchased for my dad so he can play his oldies but goodies! He loves it. The Bluetooth option is pretty amazing to him. So easy to pair — literally instantly, and the sound quality is unbelievably amazing! So crystal clear, and it's also a gorgeous machine — pictures do it no justice. It looks lovely in our den; it's durable and well-made. I'm sure it will last for many years to come. So happy with this purchase! Worth the price." —Barby4321
Get it from Amazon for $55.99.
13.
An LED display portable turntable beginners will appreciate for its auto-stop, gentle stylus, AND the four isolated feet that prevent vibration, so the only thing shaking is your hips as you dance to your morning playlist.

This model comes with Bluetooth capability to stream music from your phone or vinyl collection.

Promising review: "This record player has a great sound for such a small and compact portable player. I am amazed at how good the sound quality is. It is super easy to use as well. Definitely worth the purchase!" —Cheryl Burns
Get it from Amazon for $62.99+ (available in three colors).
Time to take your vinyl collection on the road:
The reviews for this post have been edited for length and clarity.