1.
A metal record player stand which will really ~turn the tables~ on your home decor as it features a two-tier setup, including 14 slots to put your favorite albums on display.

Promising review: "Cute little record stand. I was worried it would be too small for the old-school record player my dad passed along to me, but it's perfect! It was a smidge frustrating getting some albums in bc you have to keep it just level, but that's a user error, not an item defect. I'm glad we bought it and would buy another if we decide to move our other turntable to a different room." —erisgrrrl

Get it from Amazon for $64.99 (available in two colors).
2.
A record player stand with drawers you won't want to ~skip~ over since it features *so* much storage including two cubbies just for your vinyl. 

Each cubby can hold up to 20 pounds, and the stand itself can hold up to 60 pounds.

Promising review: "Usually I say you get what you pay for in these reviews, and I consider that when deciding what to rate products. But for the short money this turntable stand costs, the quality is awesome. It's super easy to put together, it has good instructions, but they are hardly needed. It is made of MDF covered in some type of veneer, but the veneer isn't cheap or papery looking, it looks like real walnut plywood. The grain is textured, and everything is sturdy and solid. It looks and feels much better than your typical "flat pack" furniture (which it is)." —John
Get it from Amazon for $131.95+ (available in four colors).
3.
A record player and vinyl storage shelf that will look über sleek in your living room with its smooth (and sturdy) metal material. Now, you can jam out to Harry Styles full blast without worry of your player sliding off.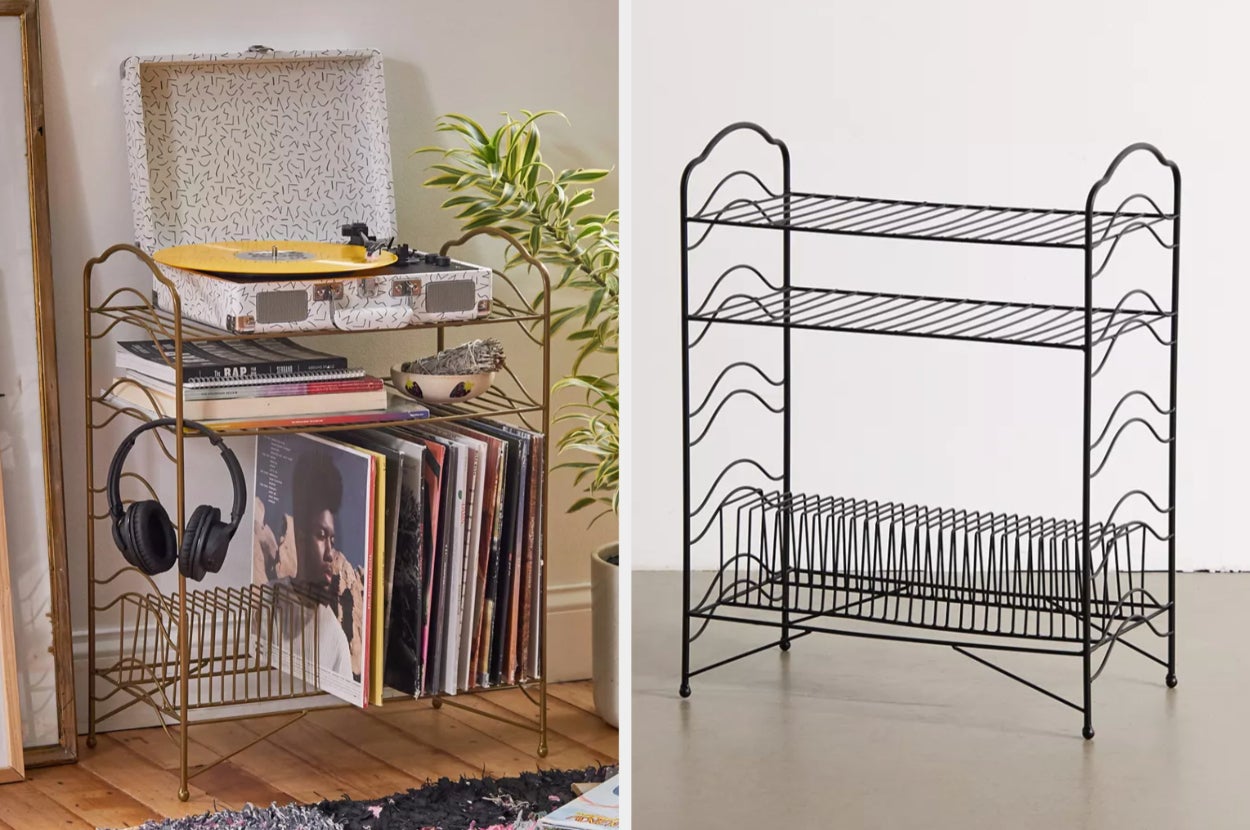 Promising review: "I've had this record console for almost two years and I'm really impressed with it. The design is unique and cute. The shelf feels strong and has held up well through several moves. Definitely best for smaller spaces, but it's a great unit for the price!" —Jennyc22

Get it from Urban Outfitters for $119 (available in three colors).
4.
A mid-century modern record player stand with ridges in the front to add some texture to your apartment — especially if you're looking to go for a more vintage look while blasting Lizzo's latest single.

Features a particleboard frame with wood grain laminate and a sliding slatted door.

Promising review: "Fits a lot of records. It's really sturdy and the packaging and instructions were very well done. It's a nice wood veneer over mdf core, not solid wood. Records in sleeves can sit fully vertical or slanted, but records in a box do not fit. The metal dividers easily pop in or out, so you could use it for something other than record storage if you wanted." —Gary
Get it from Amazon for $185.71. 
5.
A record player stand with storage for a speaker and your LPs, so you can *finally* live out your fantasy of owning a record store (minus, well, the whole running a business part).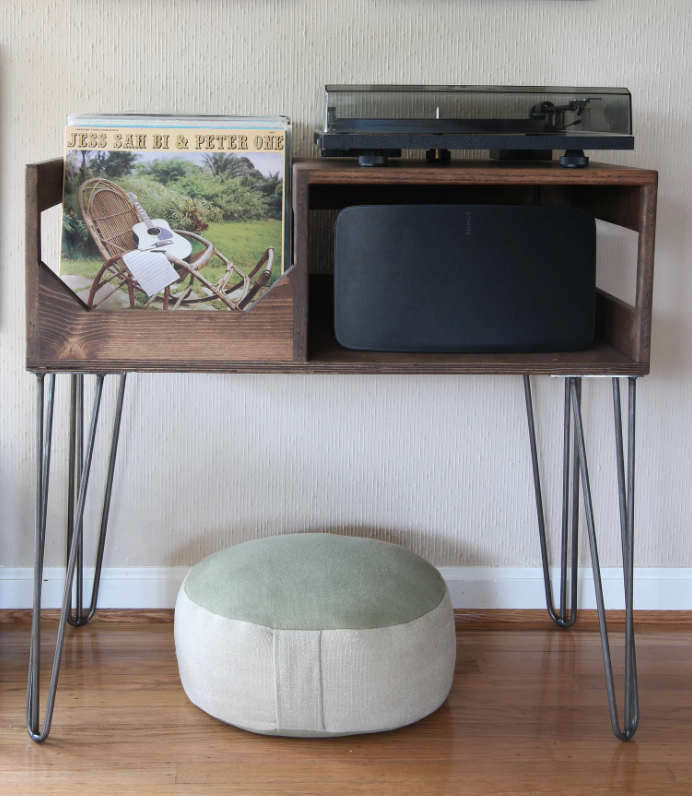 Wicker Wood Works is a small shop on Etsy that creates handcrafted functional and aesthetically pleasing home decor using locally sourced lumbar from Oregon.

Promising review: "Excellent quality and care. I love this piece and it makes the perfect compliment to my music room. Came packaged carefully and was easy to put legs on and set up. I cannot recommend this enough. Will continue to purchase from these guys. A+++++." —Michael 

Get it from Wicker Wood Works on Etsy for $425+ (available in three finishes and three heights).
6.
A record player stand with a glass shelf you can't help but ~light up~ over (no, but actually) since it comes with color-changing LEDs you can control using the included remote.

Promising review: "It took me a few months of searching for a record stand before I finally pulled the trigger on this one! Absolutely love it. It was hard to find one that was large enough for my vinyl player but this fits great and has some extra wiggle room all around it as well. The fun light is a great bonus, but what I was honestly the happiest with is everything with labeled so well, the instructions were super clear, and I was able to put this together myself in about an hour. Well worth the money!" —Kristina
Get it from Amazon for $100+ (available in three colors).
7.
A pine wood record player stand designed with hairpin legs and a contemporary design your stylish (but never snobby) guests will be pining to know where you got it from.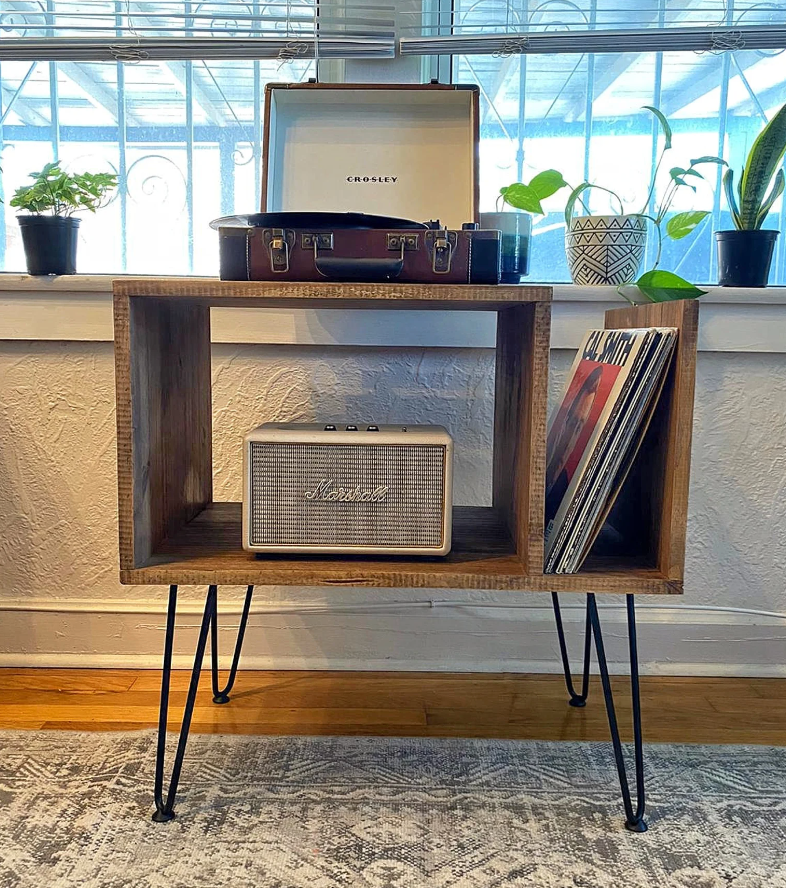 3ft Furniture is a small shop on Etsy located in El Paso, Texas, that produces handcrafted wooden furniture for your home.

Promising review: "I searched for months for just the right piece to hold my turntable, receiver, and CD player, and this table ticked every one of the boxes! It's sturdy, it's beautiful, and it's handmade. Thank you so much!" —stellalorelai
Get it from 3ft Furniture on Etsy for $235+ (available in six colors and three leg heights).
8.
A record player cube stand that's simple enough that it won't take away from your eclectic decor plus its compact design means you can *finally* put something in that quiet, dusty corner of your bedroom.

Promising review: "I was amazed from the moment the product arrived. Made out of recycled paper, yet it looks very classy, professional and is sturdy. It was well engineered, easy to assemble. Heck even the box it came in was engineered to be user friendly! I wouldn't hesitate to use this product again or recommended it to friends!" —Michael Ault 

Get it from Amazon for $66.18+ (available in four colors).
9.
A contemporary record player stand short enough to keep next to your bedside because you just can't bear to be far from your precious music collection.

Promising review: "This can hold around 40 records. I was looking for a stand that was a little taller, but it was not easy to find one that fit records and the player on top, but this one worked for all the needs I had! This one was right up my alley in looks and price range." —Rita Gavin

Get it from Amazon for $79.87.
10.
A mahogany record player stand bringing a ~luxurious~ storage solution for all you music needs, meaning you can *finally* stop leaning your vinyl against the wall in a corner of your bedroom.

Promising review: "I'm so impressed with this stereo cabinet. It's solid, study and the finish is durable. Even the back is finished, so you can put it anywhere and not just against a wall. My daughter and I (who are NOT experienced builders), put it together in a couple of hours. The instructions are clear, the parts are packaged separately, and are clearly labeled so there's no confusion. Just one complaint: There are no openings in the back for cords, which is an odd oversight considering it is intended for appliances with cords. It's a great value at this price point though." —L. Gary

Get it from Amazon for $324.99 (available in four colors).
11.
A record player credenza offering a more elegant decor piece that will not only store your music player AND your LPs, but can hold oh so much more.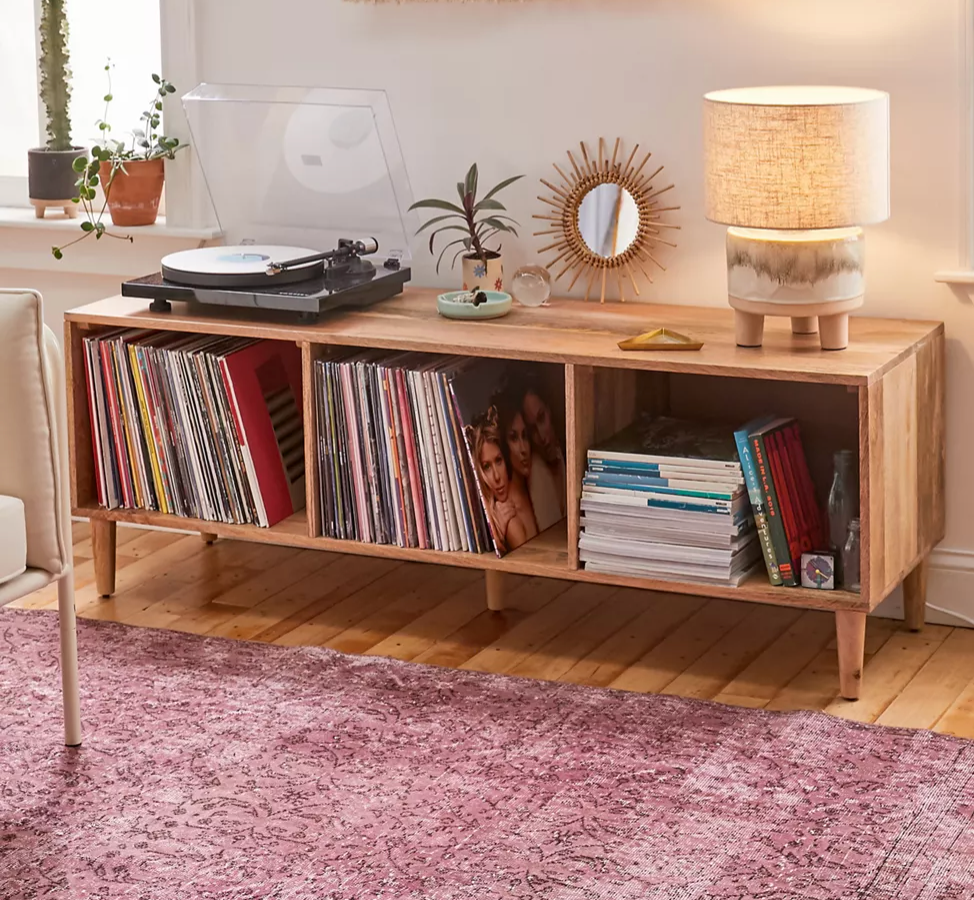 Since it's made from mango wood, this should be wiped clean for the long lasting use. 

Promising review: "Really in love with this one. Was going back and forth for a few weeks on whether or not to drop the money, but it was so worth it. I really love it in my living room. I've got a small place in Brooklyn and this really manages to make the place look even bigger with the chic yet practical storage and sleek, low frame. Now I just have to decorate it!" —ColemanS
Get it from Urban Outfitter for $499.
12.
A customizable record player stand featuring clear acrylic sheets to put your favorite albums on display AND a shelf underneath because can you ever have too much storage??

Ocean Beach Pallet Co. is a small shop on Etsy located in San Diego with a mission to create furniture from reclaimed wood and recycled packaging that's environmentally friendly. Each one comes fully built — just add on the legs!

Promising review: "The item is a masterpiece! Will be a family heirloom. I wish there were more people like David to do business with! I'm grateful." —Andrea Arnold
Get it from Ocean Beach Pallet Co. for $575 (available in nine colors).
13.
A turntable playing station designed with not one but TWO storage spots for all of your platters, which will avoid any arguments between friends over who has control of the aux.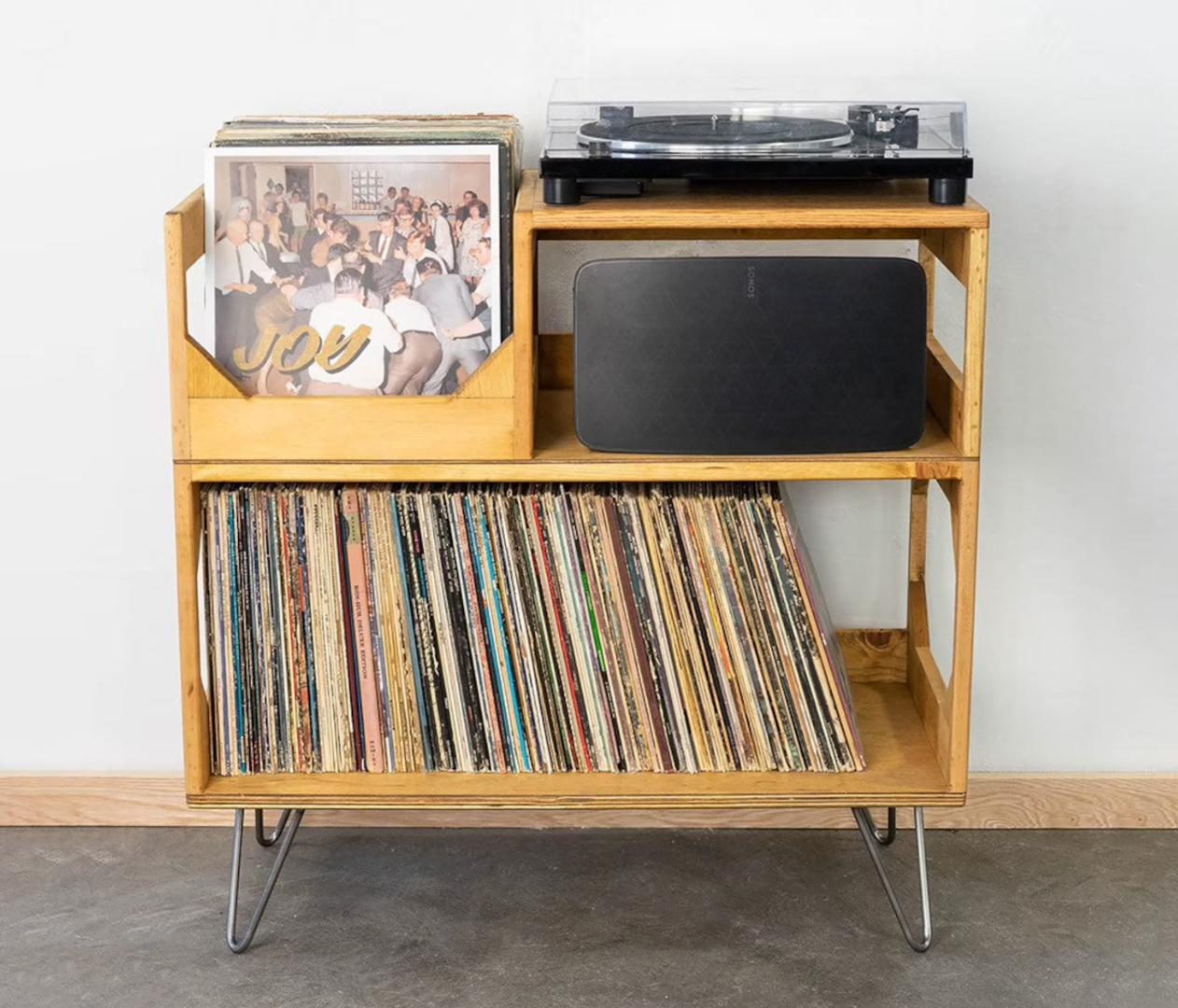 Promising review: "Couldn't be happier with this all-in-one solution for our turntable, speaker, and records. Easy to install the legs and set it up. My favorite part is flipping through records in the upper storage like a record store. So happy I found this; exactly what I was looking for. The style fits perfectly in our mid-century modern house." —themanhattan

Get it from Wicker Wood Works on Etsy for $675+ (available in three finishes and without legs).
Now to determine the first record to spin...
The reviews for this post have been edited for length and/or clarity.