And Khloé always gets comments accusing her of getting too much plastic surgery or overediting her photos:
Well, on Friday, she debuted a new ~look~ — Khloé had long chestnut locks and rocked a corset and spandex in the pic.
In the comments, she laughed off a plastic surgery joke:
But in the IG photo set, she did one thing that I haven't really seen celebs do — she posted the live photos of the shoot. Scroll to the fourth, fifth, and sixth videos here:
Why? Well, to show people this is what she really looks like — no Photoshop or Facetune, or any other body-altering apps.
One fan pointed it out and Khloé confirmed it: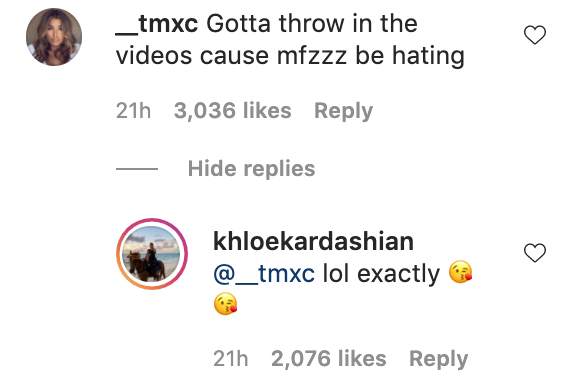 As for the hate Khloé continues to get — she isn't here for it. "I'll never understand how bored or unhappy some people can be. I am someone who would never comment something unless it's positive," she said.
"There still is so much beauty," Khloé said. "You just have to look through the BS, but it's there."
Like it or not, she's 100% right — hang in there, Khloé.