19 People Who Have A Less-Than-Cordial Relationship With Their Boss
These make me uncomfortable.
1.
This girl used her boss's clapback against them:
2.
And so did this guy:
3.
This guy whose boss told his contacts he was bad at his job:
4.
This girl did this...
5.
This boss and employee had a horrifically awkward interaction:
6.
This girl's boss did not appreciate her joke:
7.
This girl's boss printed out her tweets about customers and was fired: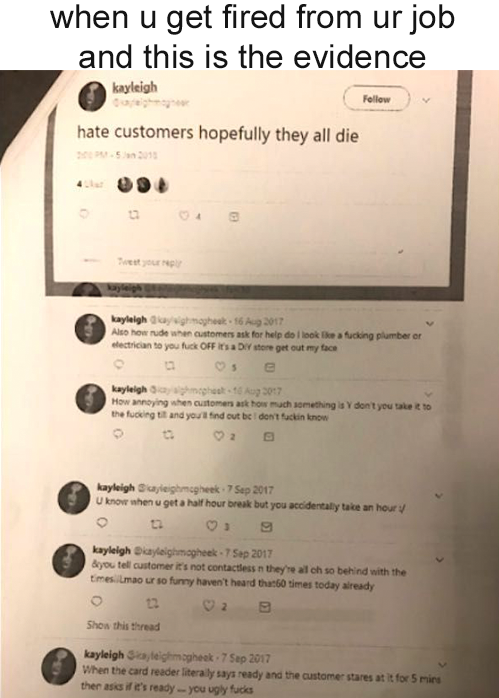 9.
This commenter's boss was just downright out-of-touch:
"Years ago, my city had a major flood, and my neighborhood was hit very hard. People drowned. My apartment flooded. I told my boss I had to miss my shift to deal with the aftermath and he said, 'Wouldn't you rather be here than dealing with that?' No, my life is falling apart — I don't want to seat people at your shitty restaurant." — cyberfemme
10.
And this boss was just petty AF:
11.
This guy responded to his boss's rude email with this:
12.
This boss freaked out for the dumbest reason:
13.
This boss made her employee do this strange setup:
14.
This boss had zero sympathy:
15.
This boss was like, "HELLO!?!?!?" when their employee was zoned out:
16.
This zookeeper kinda broke the first rule of zoo-keeping:
17.
This boss sent a really uninviting invitation:
18.
This boss — I don't even know what they're talking about — sent a text with a bunch of periods and it's stressful AF to me: