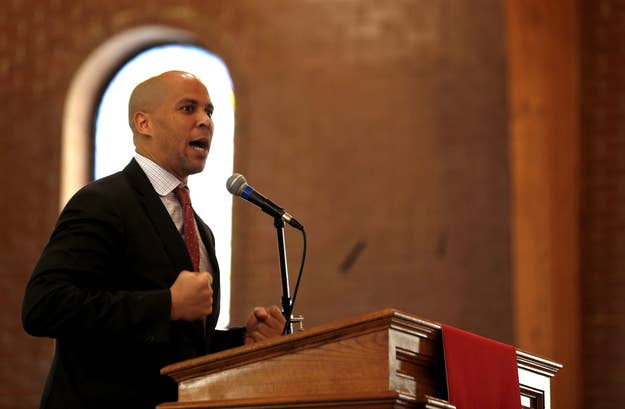 New Jersey state Democrats were disappointed Thursday morning to learn that Newark Mayor Cory Booker had made an official decision to opt out of the 2013 gubernatorial race.
A senior New Jersey official told BuzzFeed that Booker's choice to run for Senate in 2014 instead — issuing a potential primary challenge to current senior Senator Frank Lautenberg — was influenced in large part by the White House.
A second source — a national Democratic official — confirmed that Booker received outside counsel from the White House.
"The White House weighed in and convinced him to run for Senate," said the New Jersey Democrat. "They viewed him as an asset that they didn't want to tarnish, and they wanted him in the Senate."
The Obama administration appears to have started reaching out to Booker at the beginning of December, the source said.
"Cory's hard to read, but when you have the White House and a collection of other people all saying the same thing to you, it becomes very hard to ignore. The establishment of the party was saying, 'Cory, don't run, you're gonna lose,'" the New Jersey Democrat told BuzzFeed.
The incumbent Republican Gov. Chris Christie gave President Barack Obama — who is also a longtime Booker ally — a key boost in the last days of the 2012 campaign.
The decision was a "disappointment" to state Democrats who felt Booker would have given Gov. Christie a more vigorous challenge than any other potential gubernatorial candidate. The New Jersey Democratic partner will now have to work with a host of bench players — such as progressive state Sen. Barbara Buono, who announced her candidacy earlier this month — as well as now-likely candidates Rep. Bill Pascrell and former New Jersey Gov. Dick Codey.
It became clear that Booker would not run, said the source, when "he went into the Bunker last week and you just couldn't get to him."
"The White House essentially conceded the New Jersey governor's race in December of 2012," said the Democrat.
If Sen. Lautenberg goes not give up his seat, Booker would have to challenge the senior senator in a Democratic primary. Lautenberg would be 90 years old running for a six-year term in 2014, were he to run for reelection, but is still not expected to step down, say state officials.
"Frank has not spoken at all about his intention to retire, and the Senate race is more than 13 months away, which in New Jersey politics is 13 lifetimes," said the New Jersey Democrat.
A Democratic primary, said the source, "would be an unpleasant episode for New Jersey."
In a statement, a spokesman for Lautenberg said the senator "is focused on passing a critical disaster relief bill for New Jersey and addressing America's broken gun laws. This is not the time for political distractions and the Senator will address politics next year."
White House and Democratic National Committee officials didn't immediately respond to an inquiry about Booker's decision.
Update: This post has been updated to reflect a second source confirming that the White House had a hand in the Newark mayor's decision, as well as a statement from a spokesman for Sen. Lautenberg.