Hey, y'all! Ross here with another edition of my grocery store taste tests, where I try all the most popular brands of grocery store staples and rank them. With back-to-school season in full swing, there was one product in particular that felt like the perfect choice to test this month: frozen chicken nuggets.
Maybe I'm just a kid at heart, but sometimes a juicy, crispy chicken nugget just hits the spot. They're quick to make, pretty darn cheap, and undeniably delicious — which makes them a perfect snack to lean on when school rolls back around. That said, not every chicken nugget out there is worth buying, so I decided to taste the most popular ones and figure out, once and for all, which nuggets you should be buying — and which ones you really shouldn't.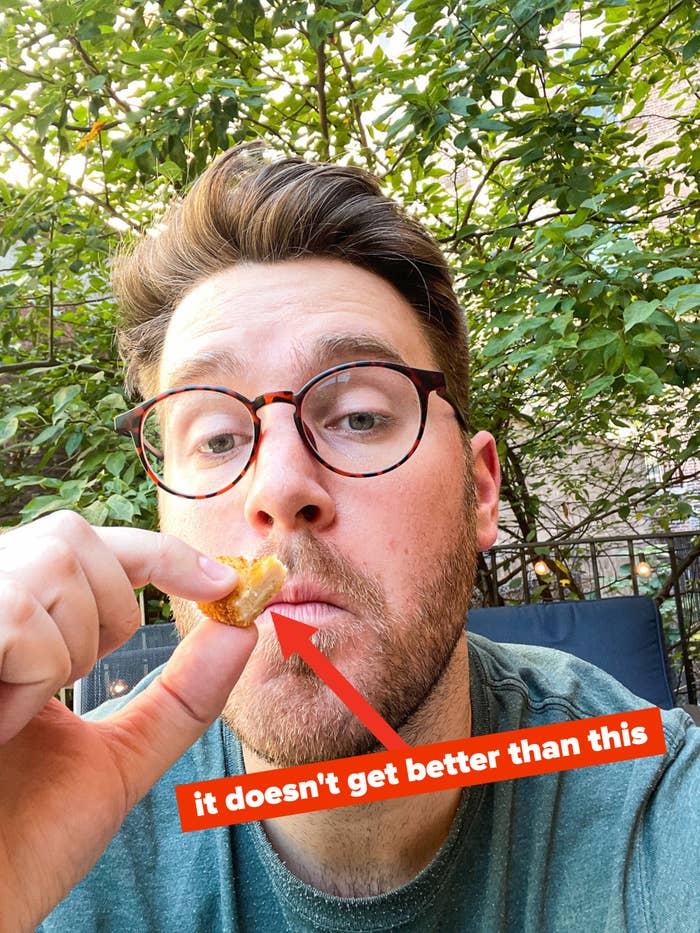 After some deliberation, these were the eight chicken nuggets that I ended up testing.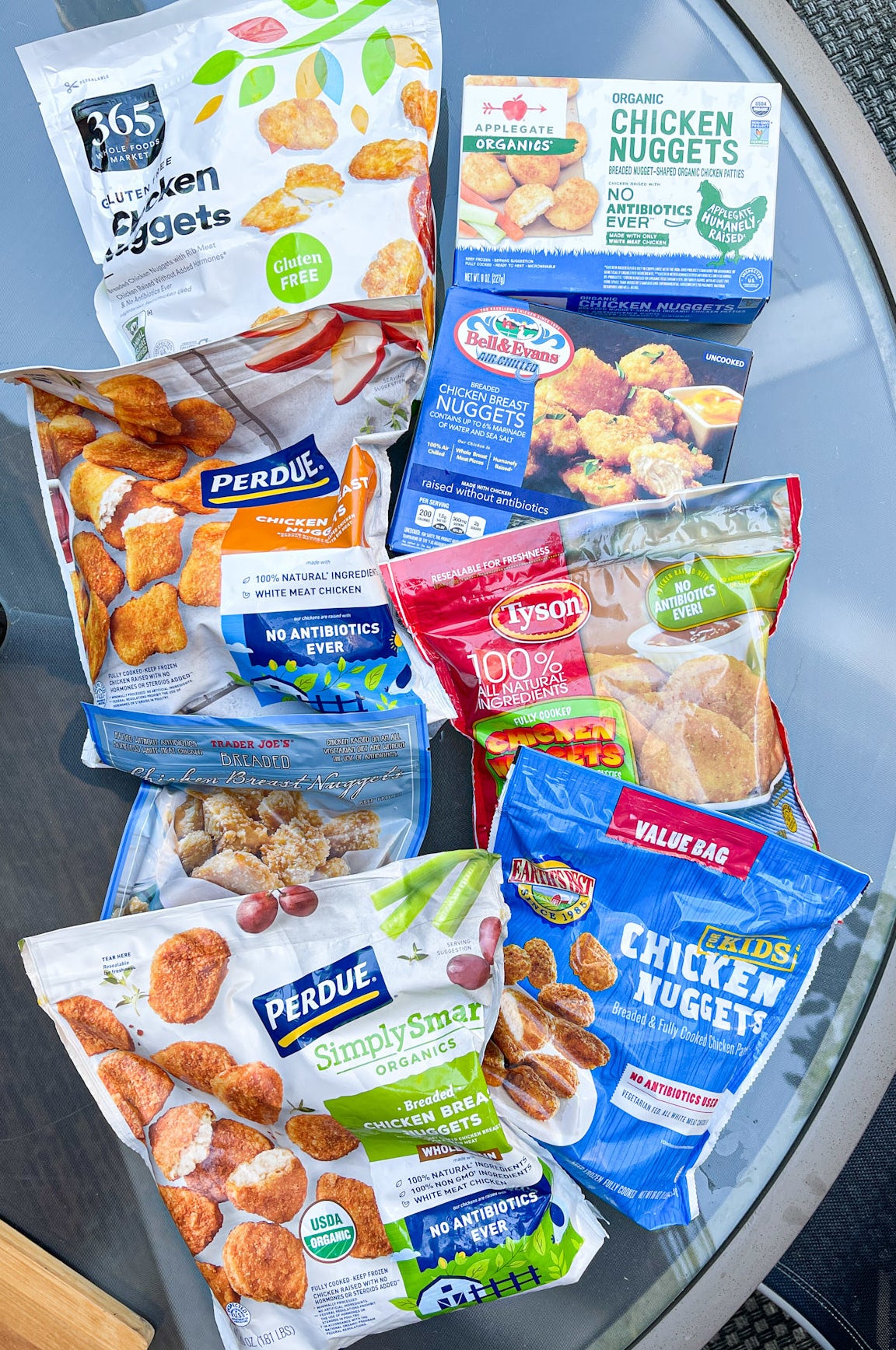 The chicken nuggets above are also divided nicely into three distinct categories. For the first, we've got our brand name classics, aka the ones that immediately transported me to school lunches and college dining hall feasts: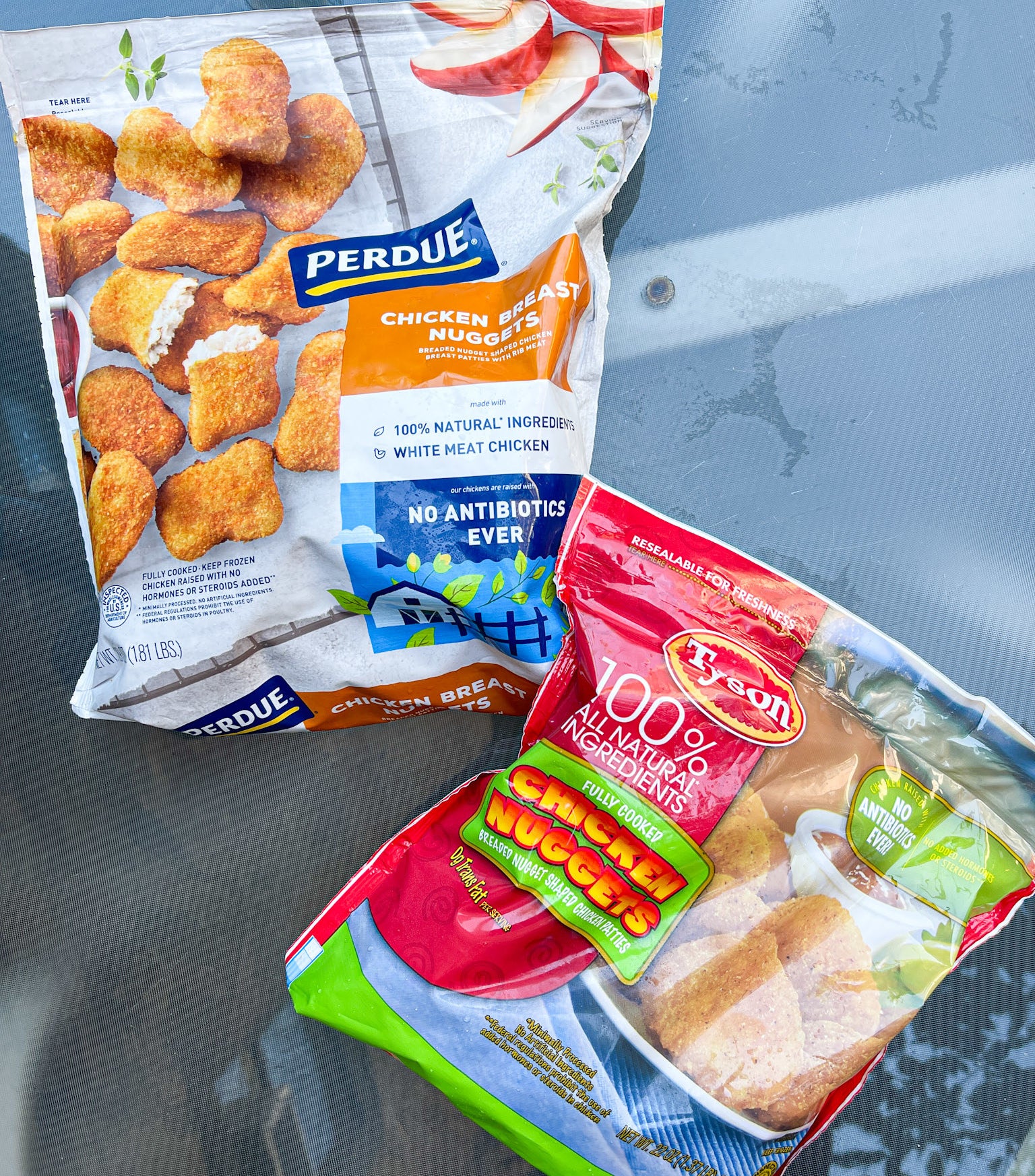 Next, the "house brands" from these national grocery chains: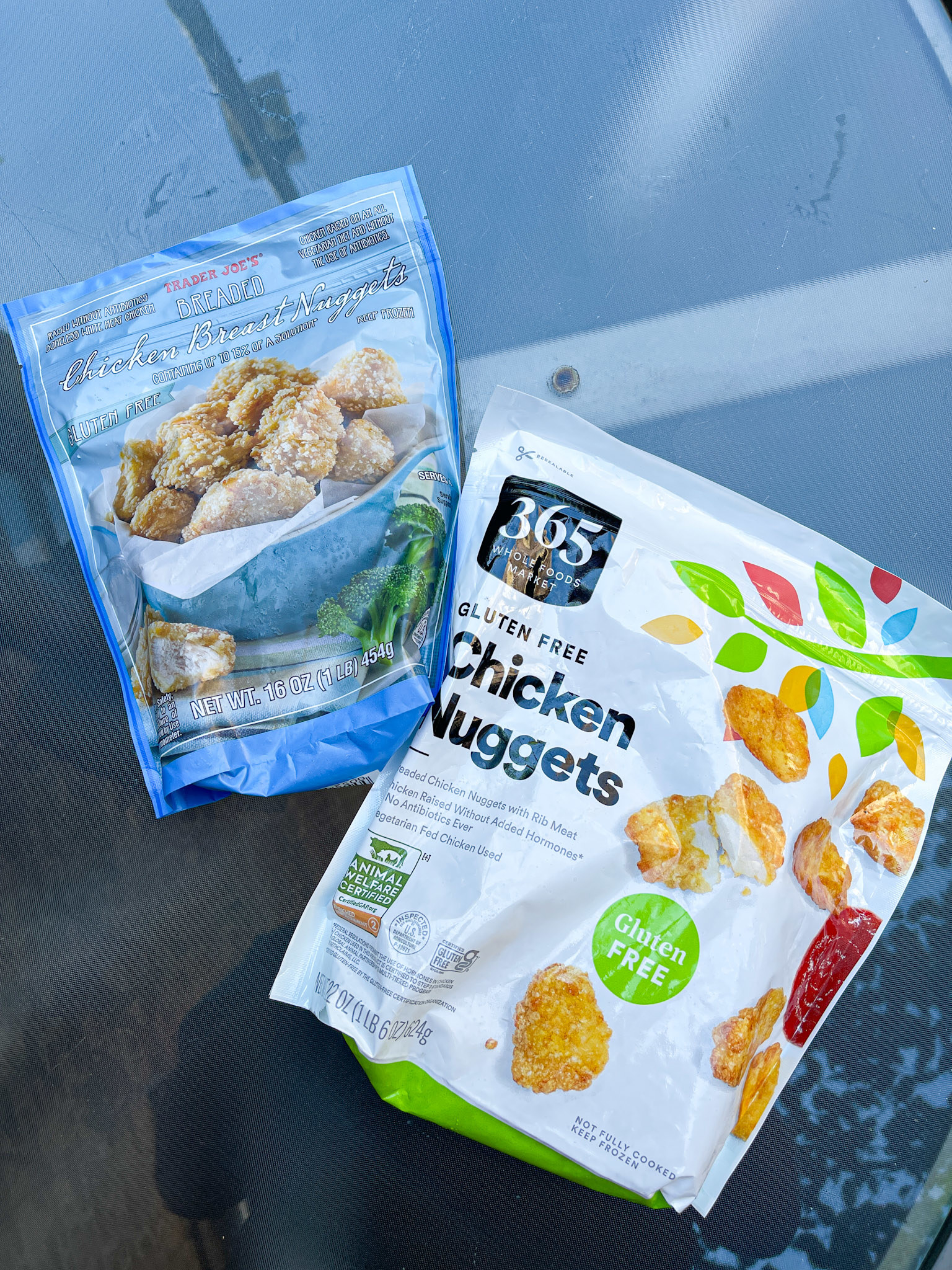 And finally, the last four are the "fancier" alternatives — which are either organic, boast some sort of marketing language to claim that they're a "better" choice than the conventional stuff, or come at a higher price point: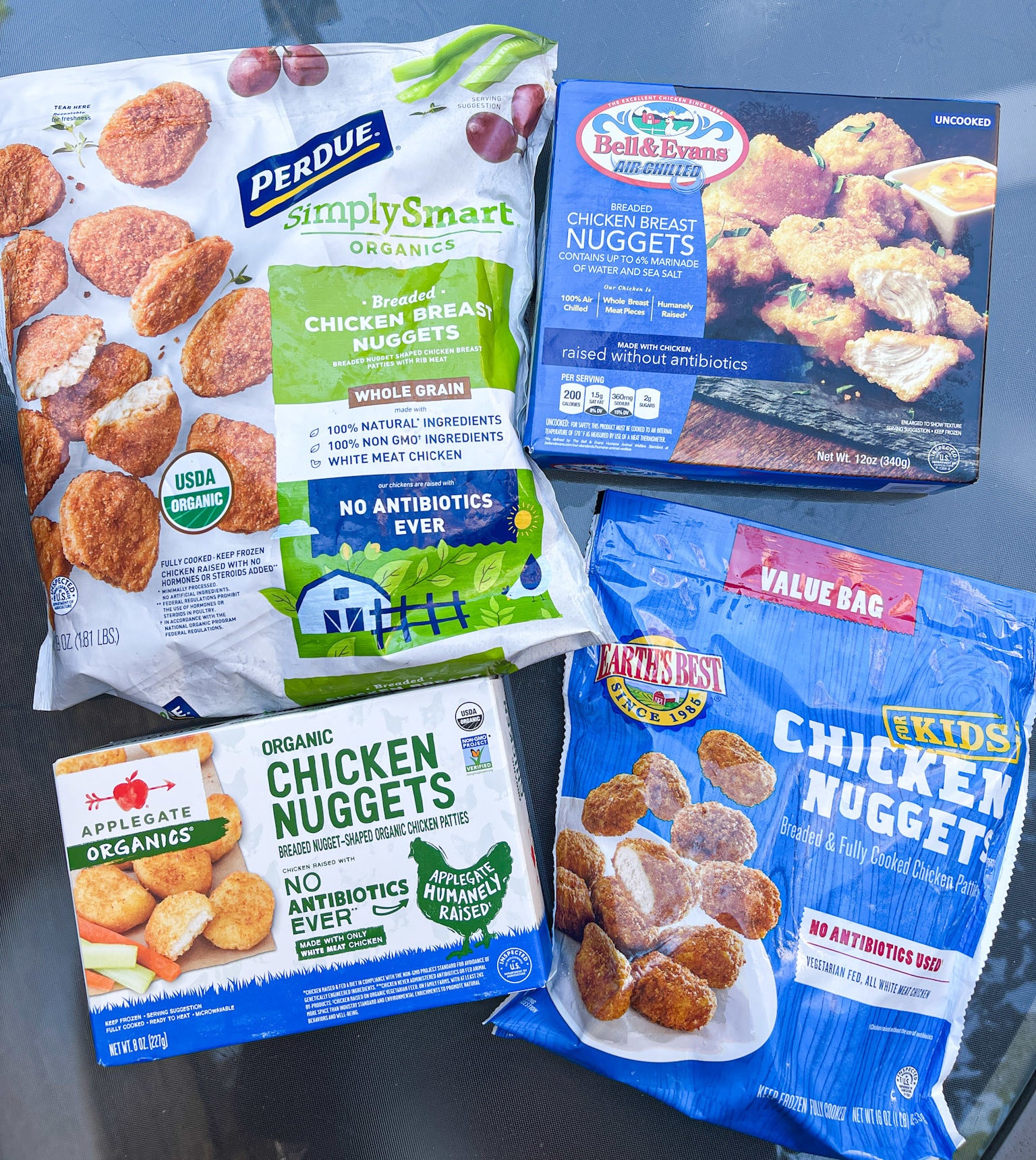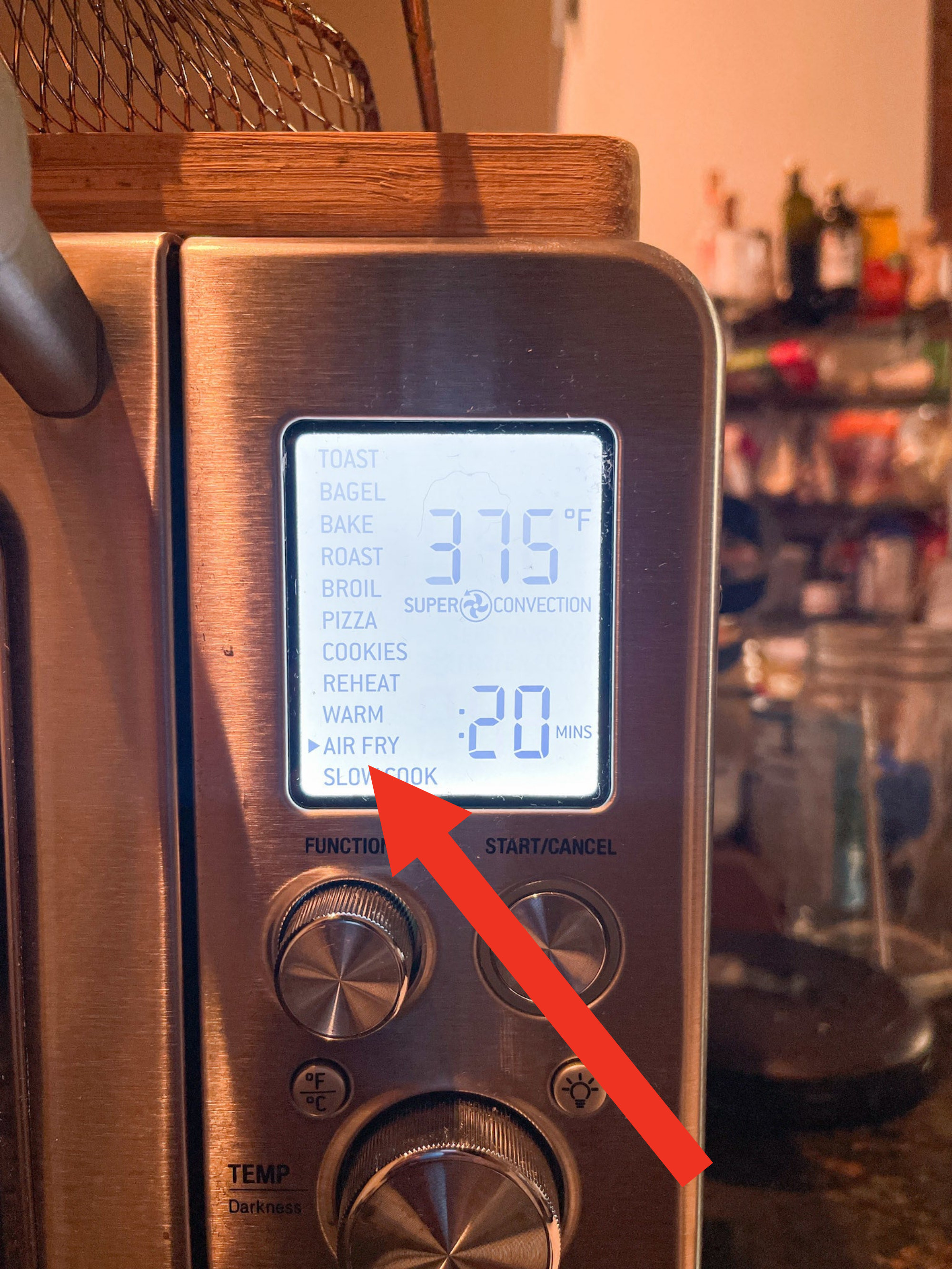 With eight varieties of nuggets in the same air fryer basket, I knew I needed to come up with a sure-fire way to not mix up any of the brands (and consequently render my results useless). Enter: The Nugget Map.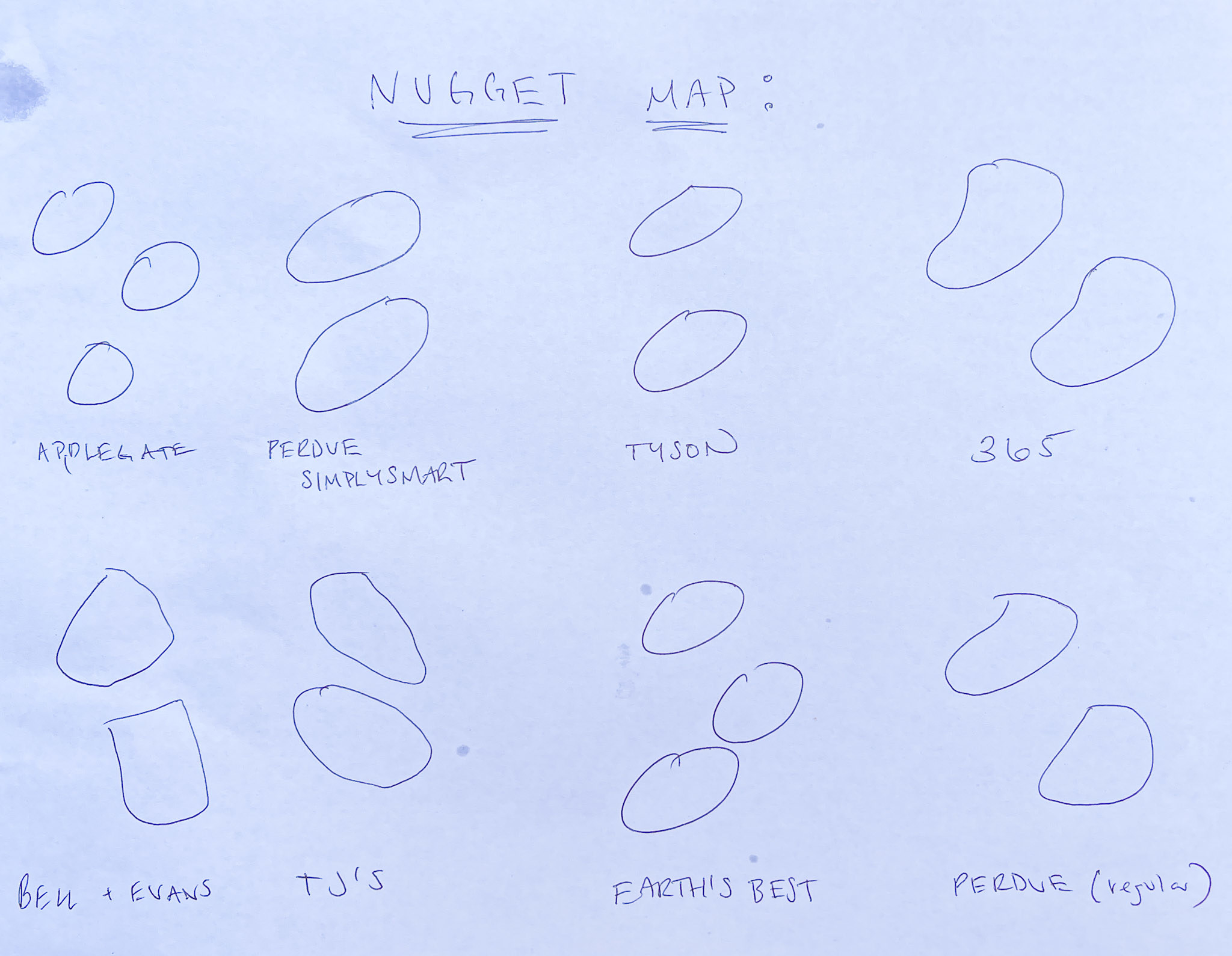 The chicken nuggets on the map corresponded with the exact layout of the nuggets in the air fryer basket.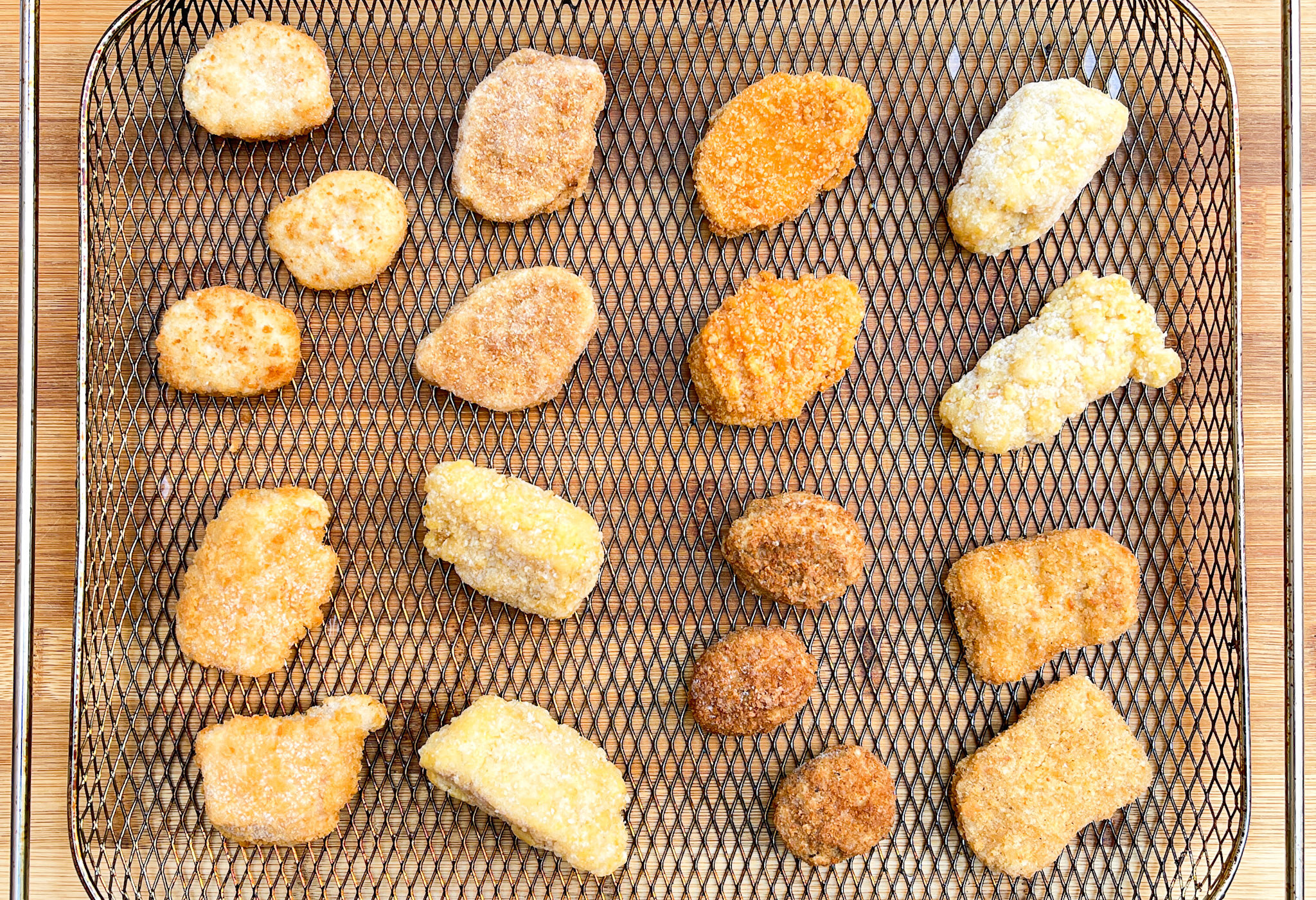 As each brand of chicken nugget finished cooking, I removed them to a cutting board, keeping the layout of The Nugget Map intact. To make sure I wasn't overcooking or undercooking any of them, I waited until the insides registered around 175ºF using an instant-read thermometer.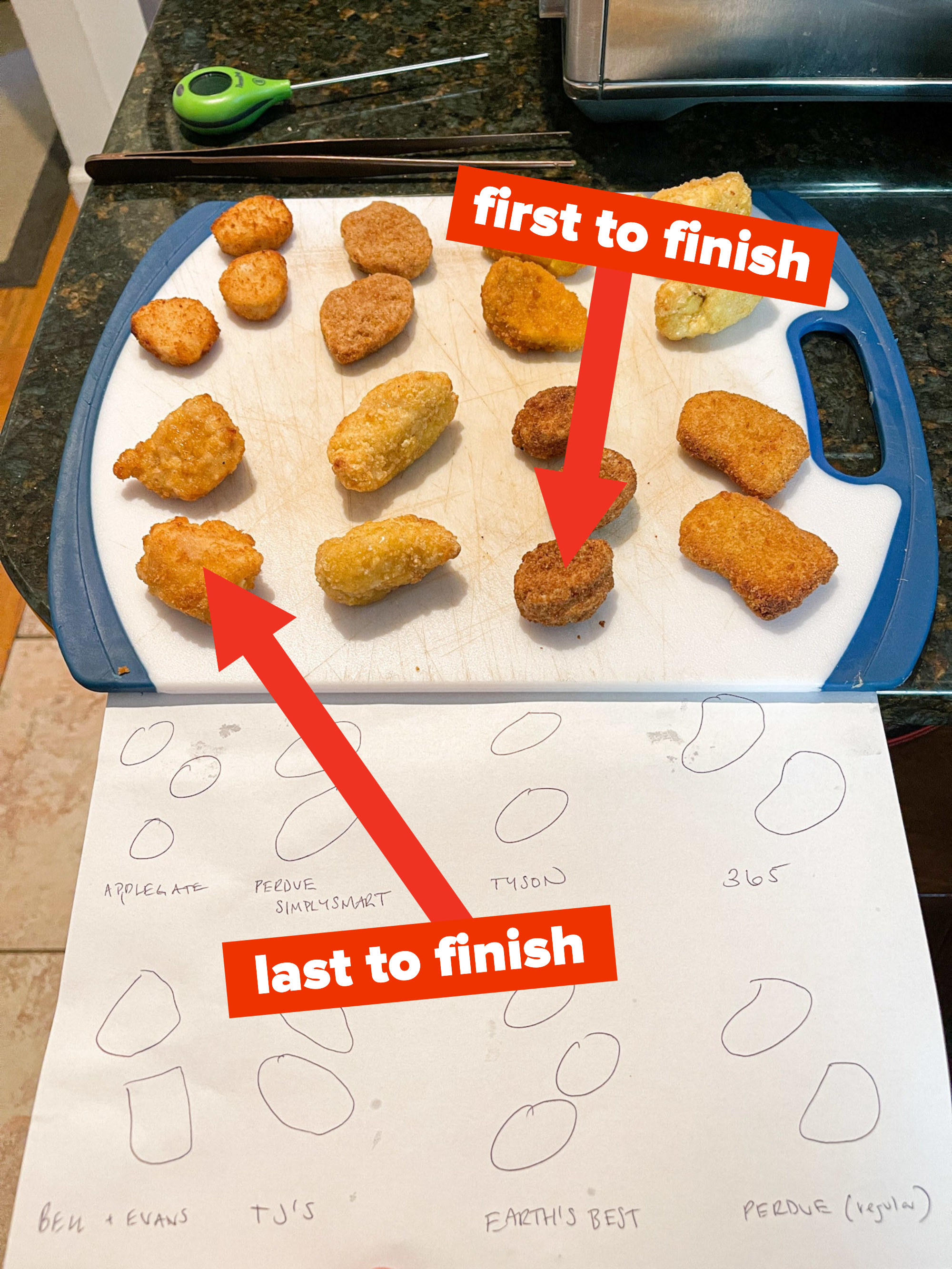 Once they were all cooled down just a bit, I asked my partner to feed me the chicken nuggets one by one — in random order — while I wore this 100% vision-shielding sleep mask. Partner goals, am I right?!
As I tasted all eight nuggets, I also jotted down my initial thoughts on each, paying careful attention to the textures and flavors (or lack thereof).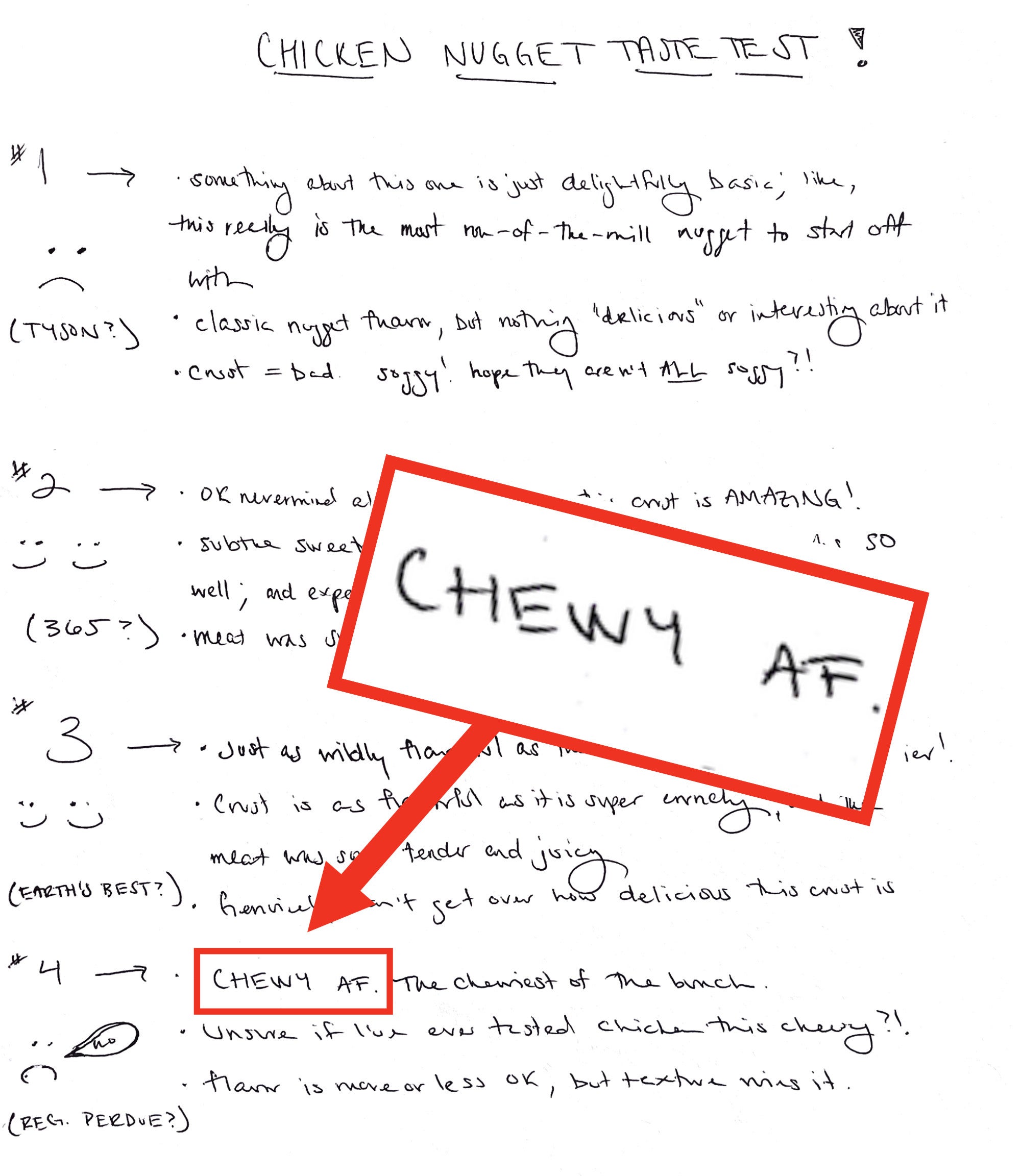 I rated each nugget accordingly using my non-patented (but obviously very official) smiley face technique, and I even took a shot in the dark at guessing the brands as I chomped on them. Spoiler alert: I was incorrect 7 times out of 8. 🤷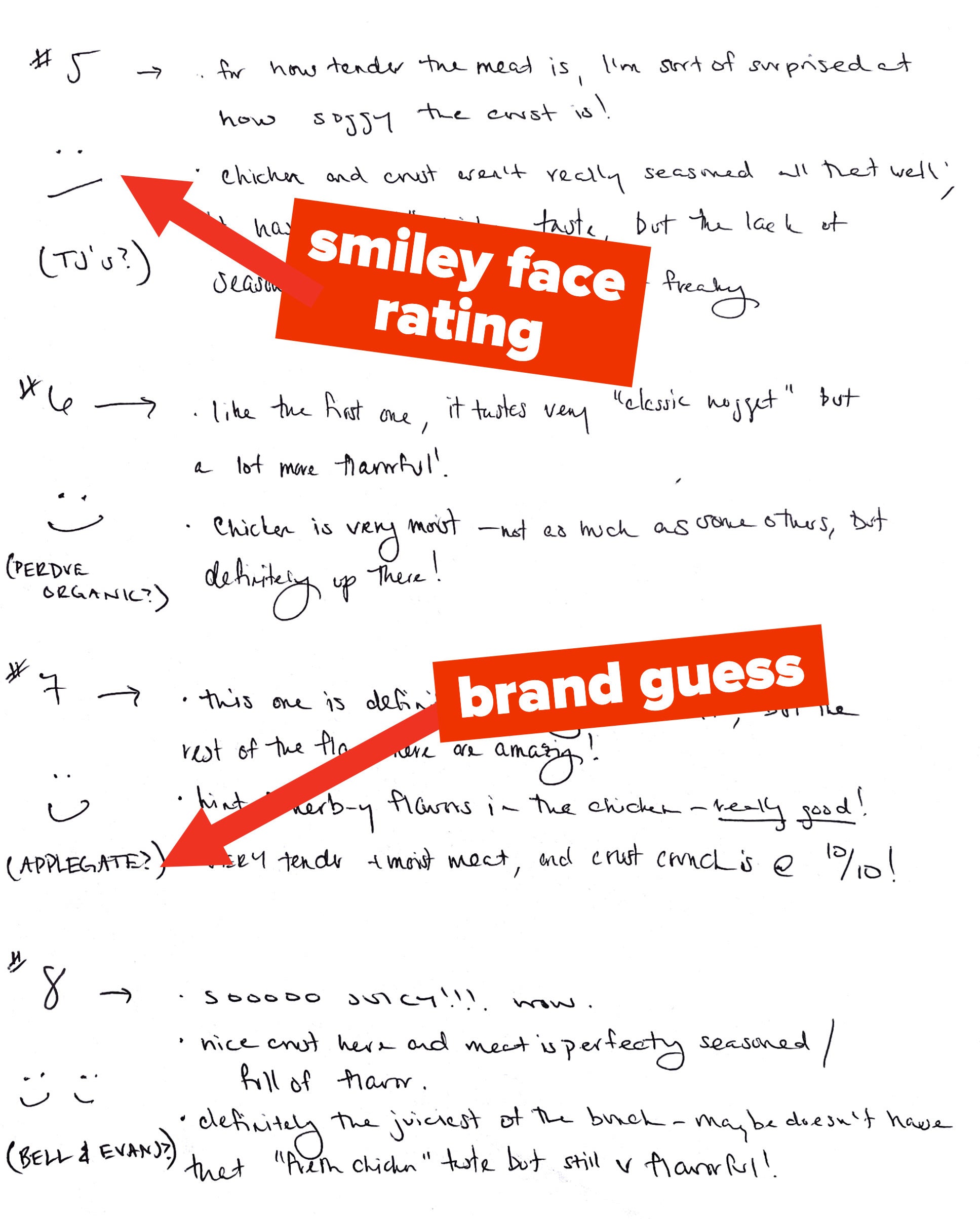 After my thoughts were written down, my partner revealed the order in which I tasted the chicken nuggets. Now look — in my previous taste tests, I've never not been shocked at the results...but I've gotta say this one, in particular, surprised me the most. Especially as far as the lowest performers were concerned. 👀
This is my definitive ranking of chicken nuggets, from worst to best.


8.
Applegate Organics — The good? Organic! The not-so-good? Just about everything else, especially when it comes to the texture of that chicken...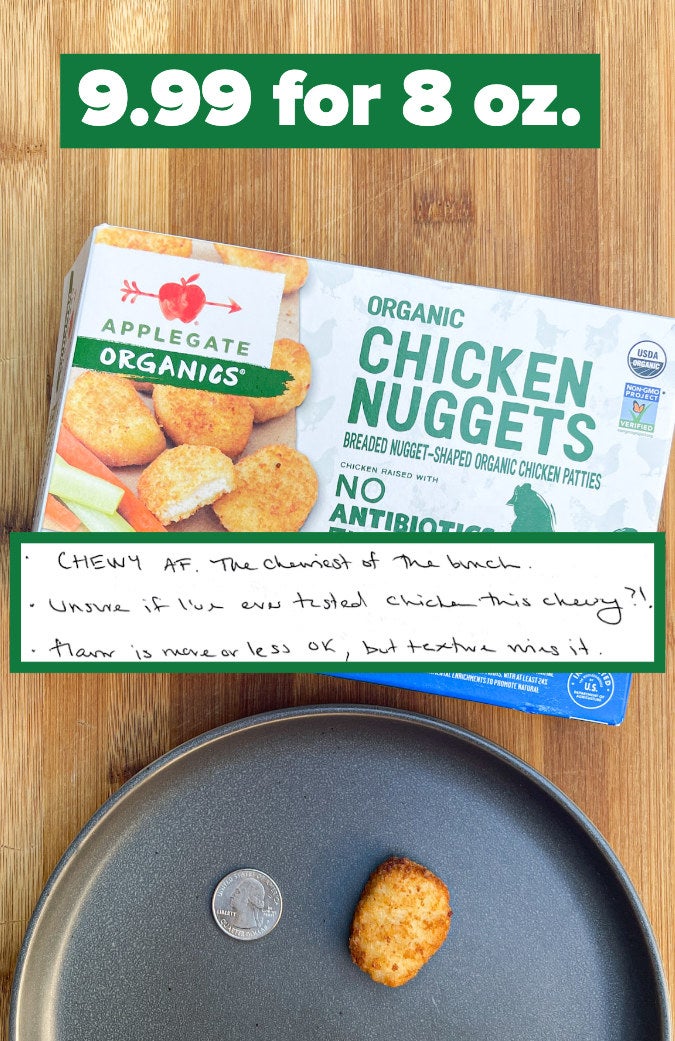 At first, I worried that I overcooked them considering how small they are — see quarter above for size reference. I cooked each variety to the same internal temperature of 175ºF, so I didn't really think it was my fault. However, I wanted to be sure. So after all was said and done, I made a second batch (that I removed just as they were warmed through) to see if they'd taste any different. Nope. Sadly, they were just as tough as the first batch.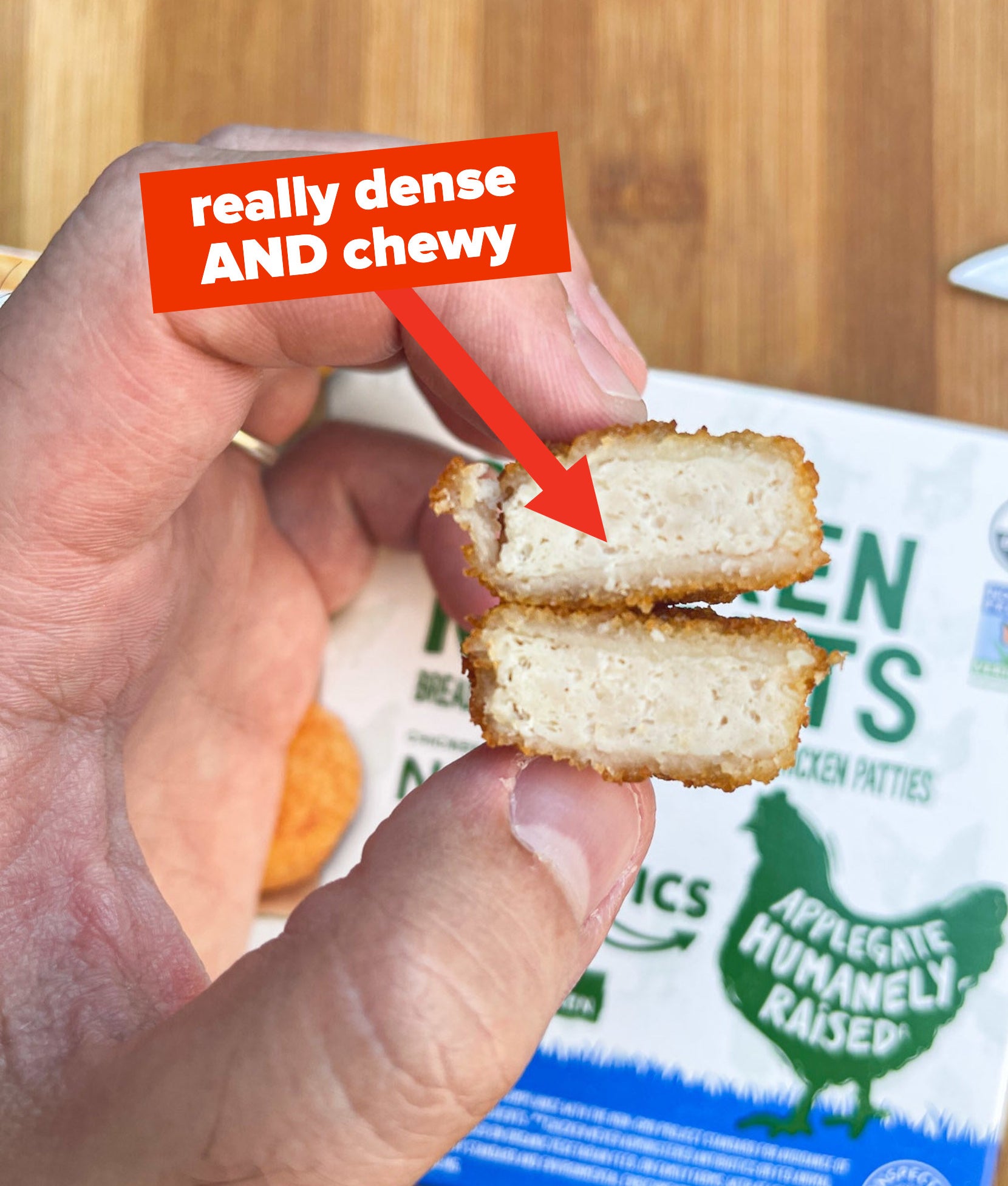 🐔 OVERALL RATING for APPLEGATE ORGANICS: 4/10 🐔
When it comes to that rubbery, leathery texture, it's a no from me. Since there's another organic option on this list that's cheaper and more delicious, I simply can't recommend this one.

7.
Perdue SimplySmart Organics — Nothing about these blew me away, but for a fairly standard-tasting chicken nugget (that just so happens to be organic), I definitely can't complain.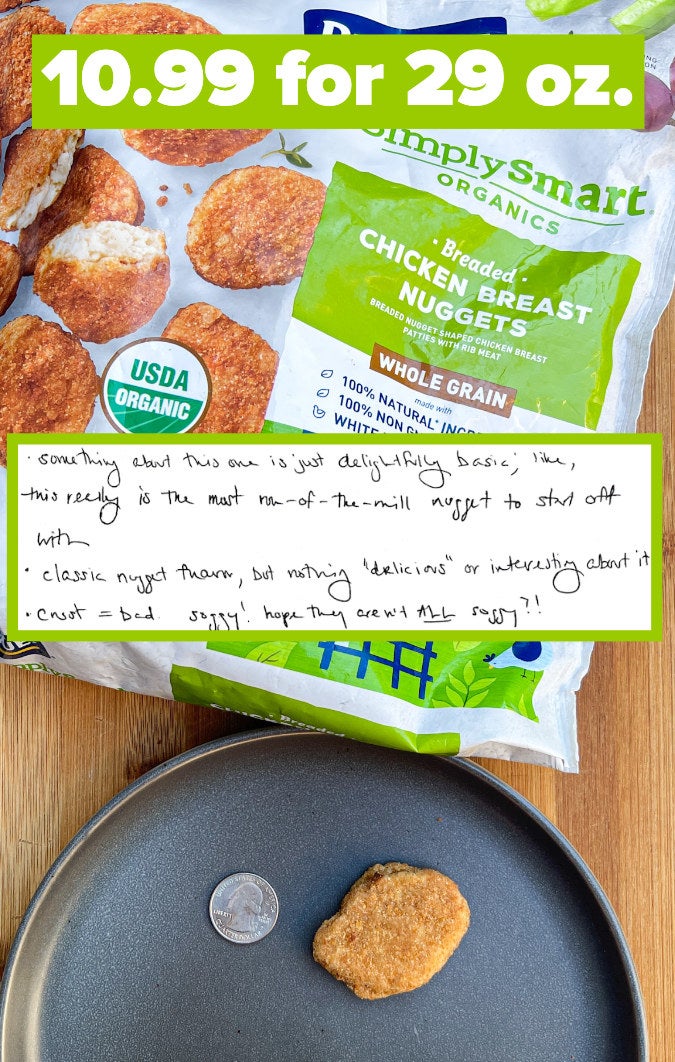 In terms of the chicken itself, I thought it was OK. The texture was fine — not at all chewy, but also not as tender or juicy as some of the others. They're "delightfully basic," as I jotted down in my notes. Compared to some of my favorite brands, the chicken-y flavors here were really muted, and the crust's lack of crunchiness certainly wasn't ideal, especially when compared to how crispy some of the other nuggets got. I actually found the crust on these to be a little bit soggy, though not as soggy as the next brand on this list...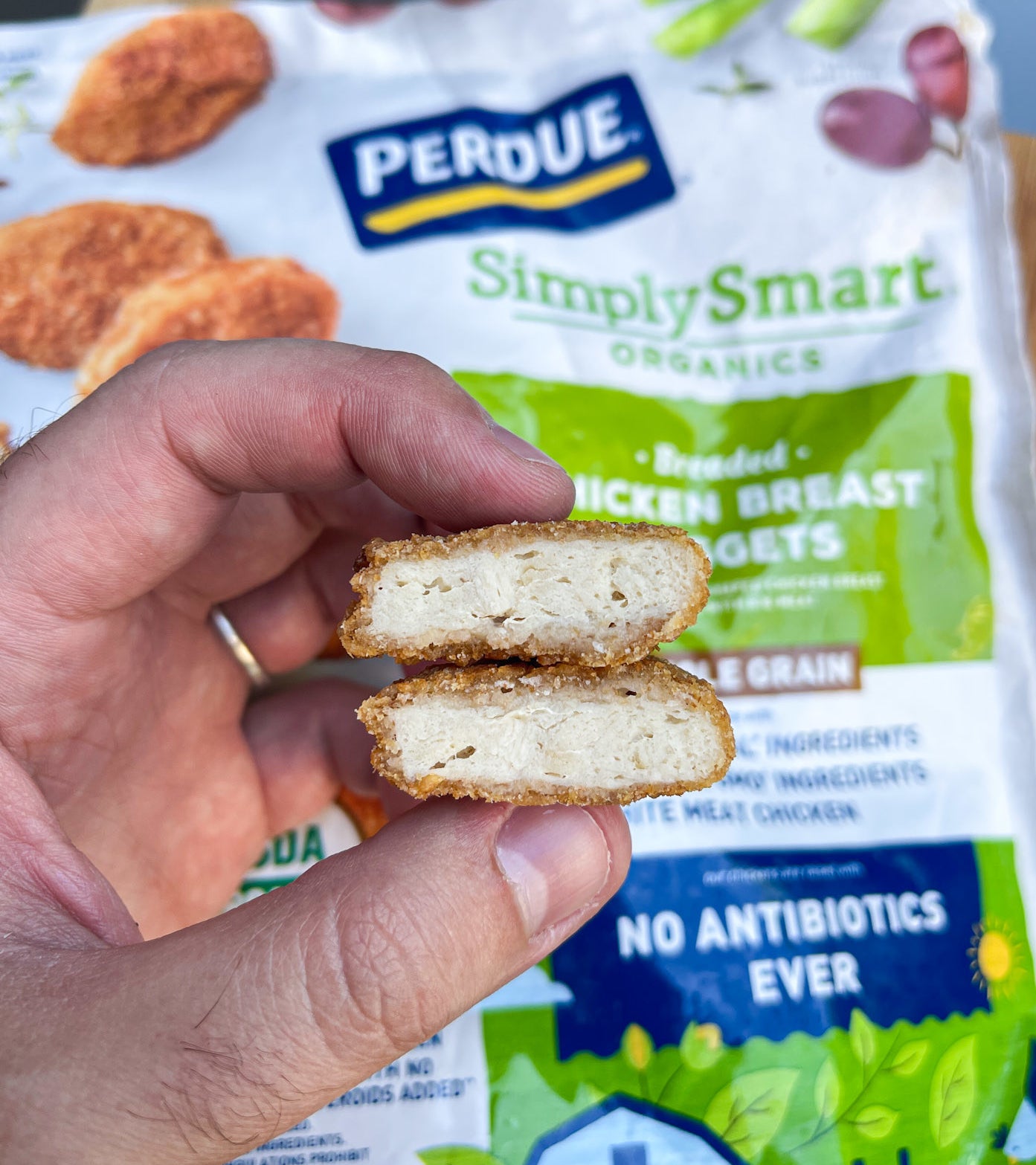 🐔 OVERALL RATING for PERDUE ORGANICS: 6/10 🐔
Don't expect a crispy coating that'll blow you away, and definitely don't expect to be wowed by the flavor, but these nuggets deliver on your typical chicken nugget-y flavor while being pretty darn affordable — and organic.

6.
Bell & Evans — Of the three brands I tested that featured chicken "chunks" instead of ground chicken, these were a bit disappointing in terms of price, texture, and flavor.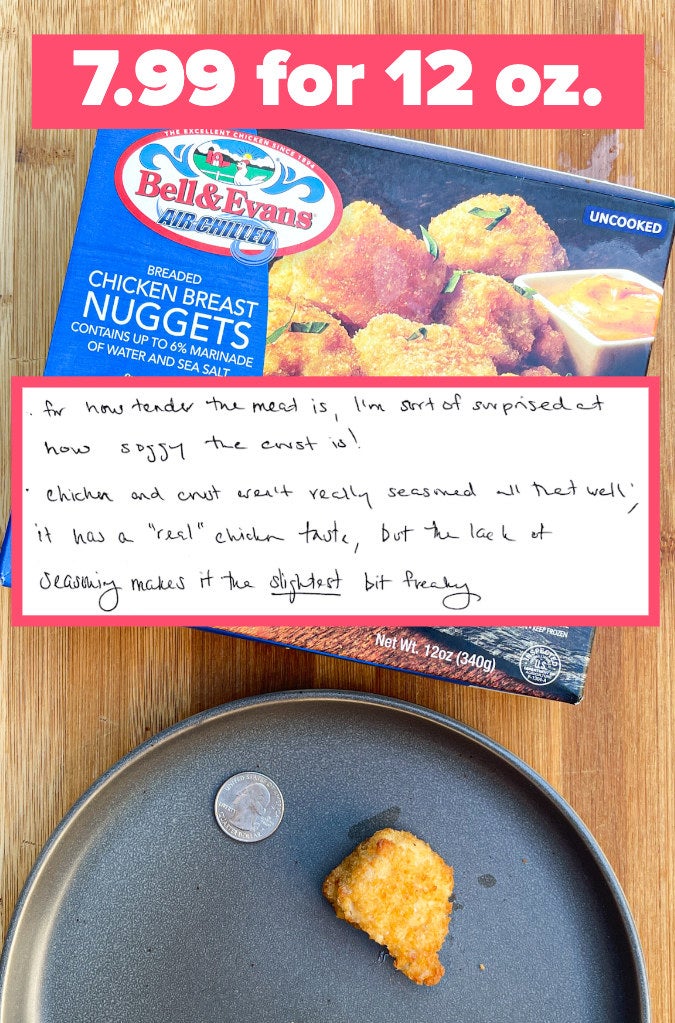 The worst offense here was the crust, or lack thereof. Of all the chicken nuggets I tried, I found the Bell & Evans breading to be the soggiest. The partially cooked chicken seemed to release a lot of moisture as it cooked, which ultimately contributed to a wetter exterior — but on the flip side, the chicken itself was juicy and extremely tender.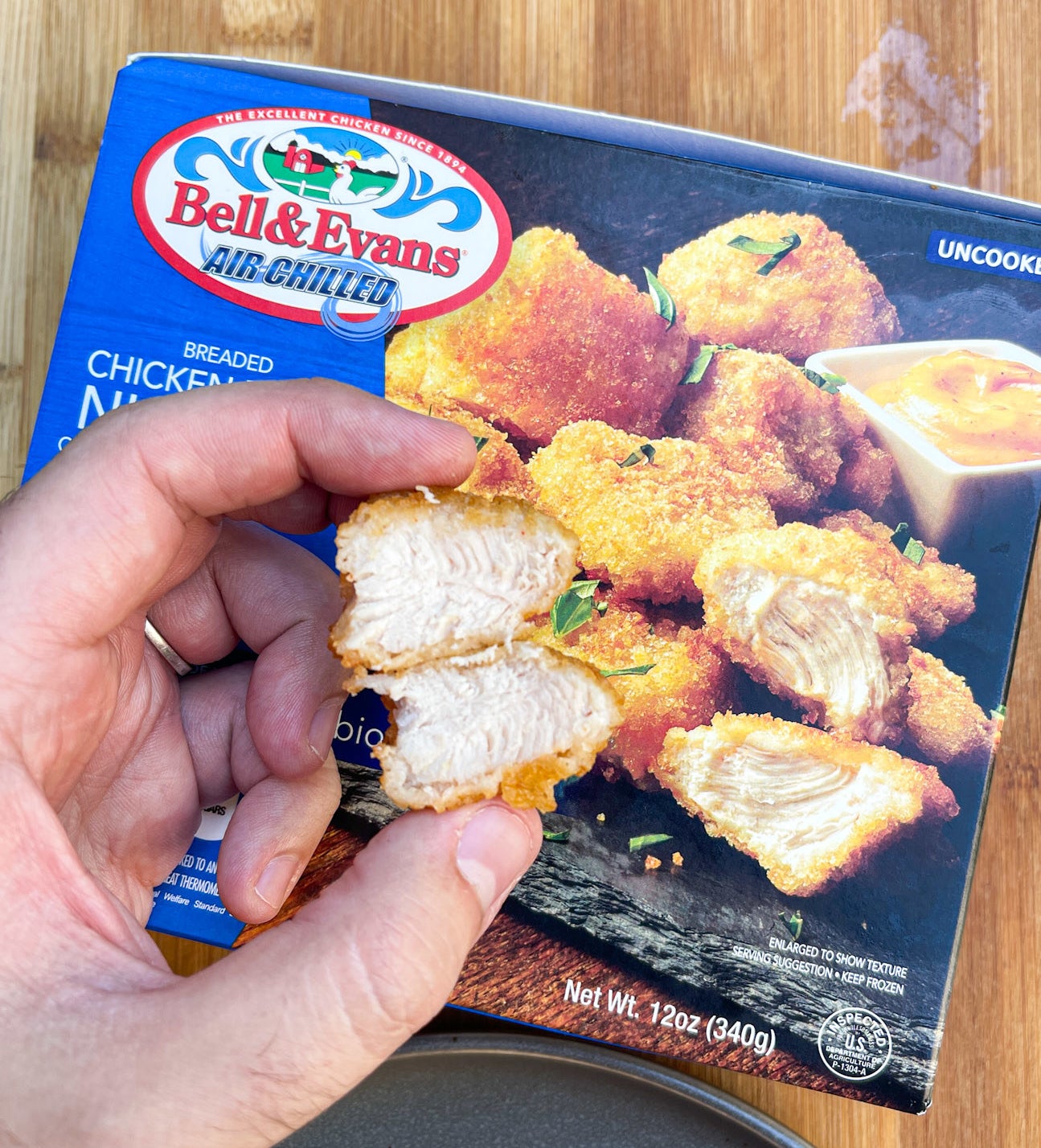 🐔 OVERALL RATING for BELL & EVANS: 6.5/10 🐔
The lack of crispy coating and the overall absence of seasoning in these nuggets might've been a "miss" for me, but you can definitely taste the quality of the chicken they use in 'em. Just don't expect much else in terms of flavor.

5.
Perdue — While they may not boast the same organic certification as the other Perdue variety that I tasted, I found their "conventional" nuggets to be far superior in terms of flavor and texture.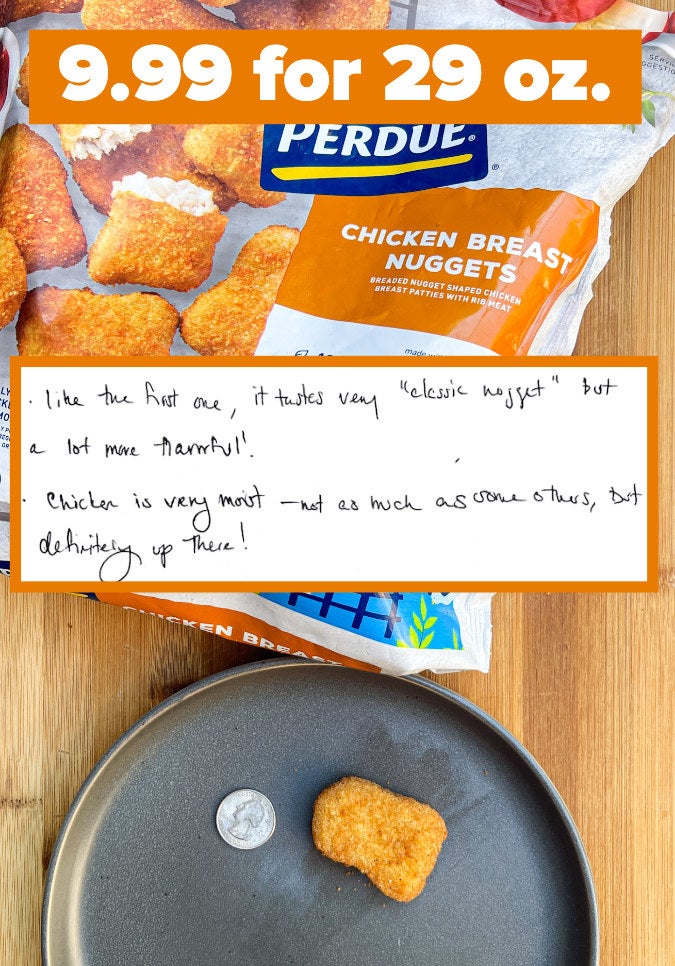 Perhaps most puzzling was the vast improvement when it came to the crust. If Perdue's organic nuggets were lacking in terms of that crunch you'd expect from a chicken nugget, these ones delivered. They cooked for the exact same time (and they're the exact same shape!), so as to why this discrepancy exists? Couldn't tell ya! But that crunch was really darn satisfying.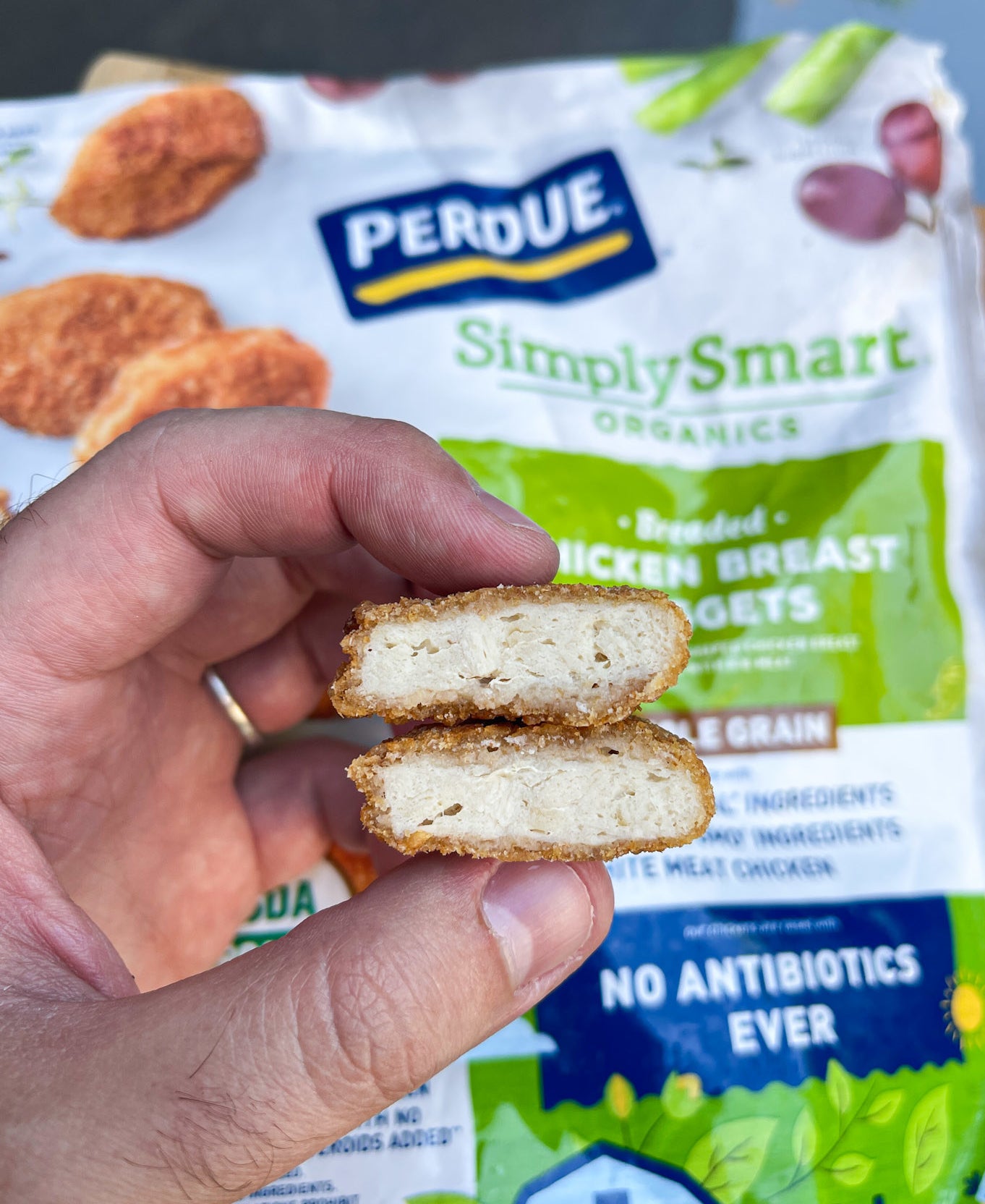 🐔 OVERALL RATING for PERDUE: 7/10 🐔
For a tender, juicy, and certifiably crispy chicken nugget (that also won't break the bank), Perdue's conventional chicken nuggets are a great option.

4.
Earth's Best — As my fourth-place pick, I can't fully back up the title implied by their name, but I can assure you that these snackable, extra-crispy, and very kid-friendly nuggets are an absolute delight to eat.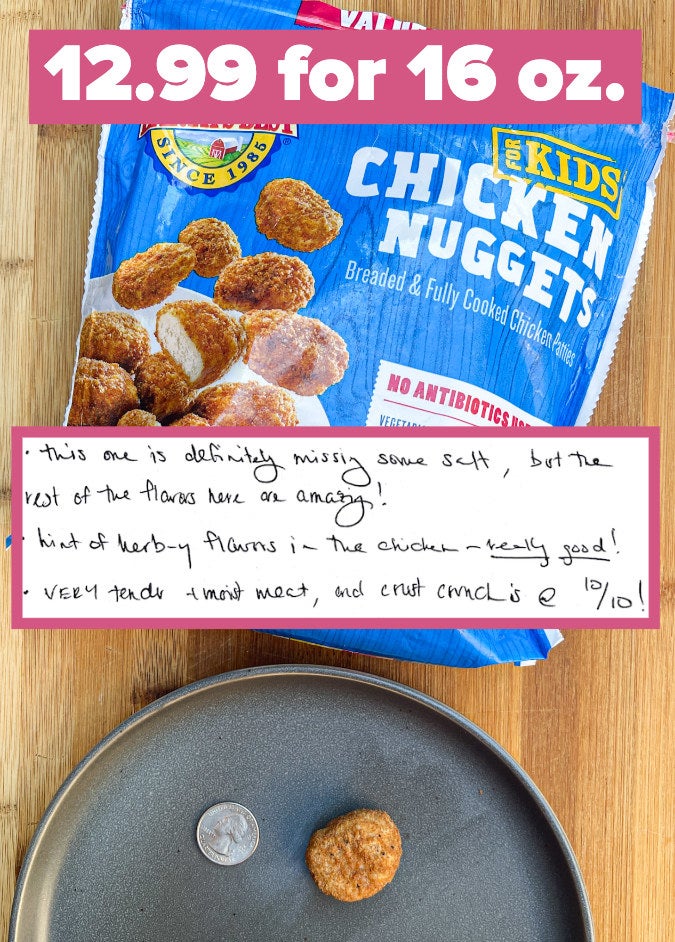 The first thing I noticed about these nuggets as I bit into them was just how substantial and crunchy their exteriors were. They were by no means too bready — rather, I thought they had the perfect amount of coating. Even better: Their peak crunchiness was the best of all the nuggets I tasted, and it wasn't even at the detriment of dry, chewy chicken. The meat itself was juicy and tender.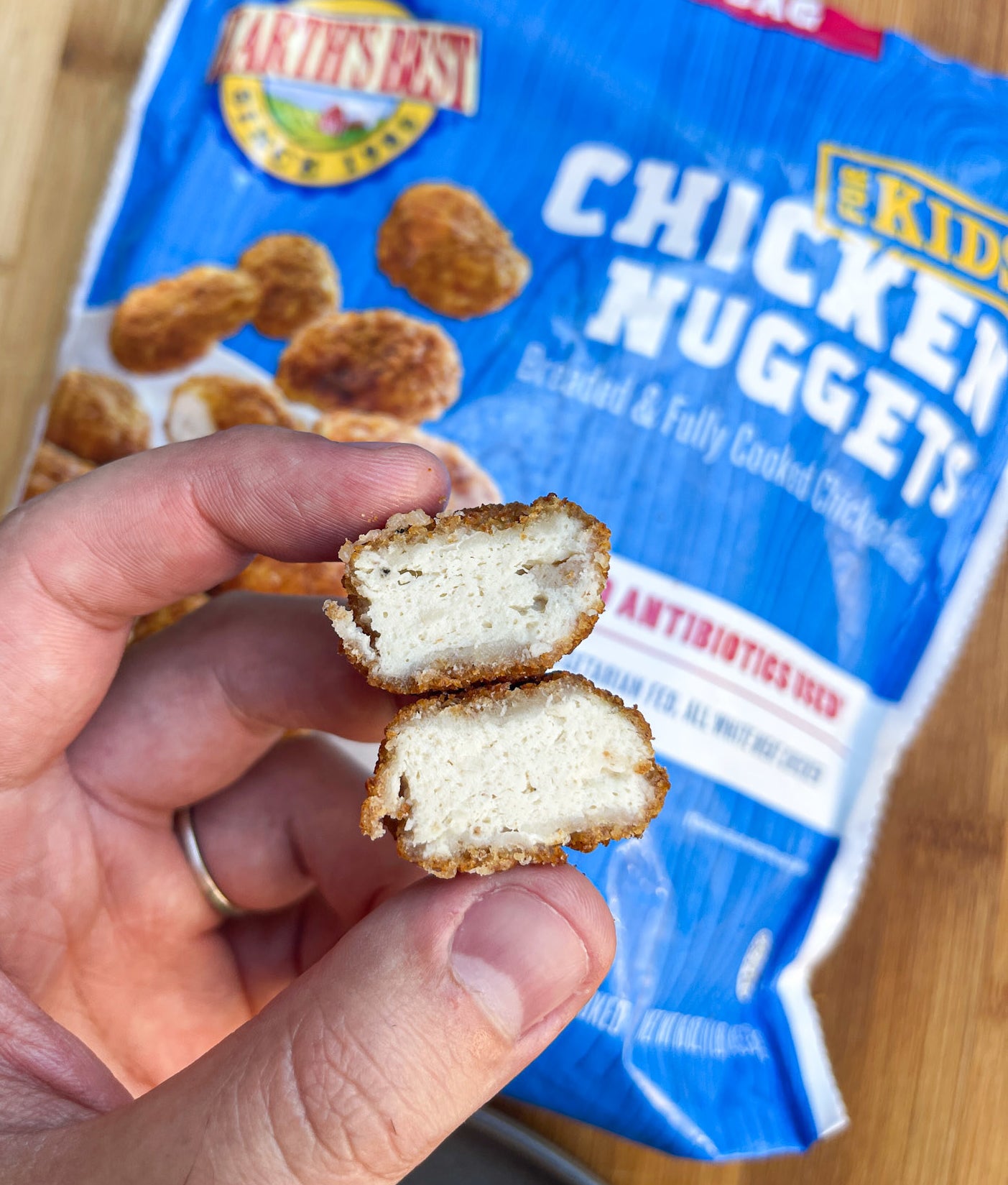 🐔 OVERALL RATING for EARTH'S BEST: 8/10 🐔
While I can confirm that they're not the best nuggets on planet Earth, they're definitely up there. Considering the stellar, crunchy coating and surprisingly delectable flavor profile, I'll definitely eat these again — and that's coming from a full-blown adult.

3.
Tyson — As one of my favorite childhood brands, I'm not sure what I was expecting when I re-tasted these nuggets as an adult...but I was pleasantly surprised.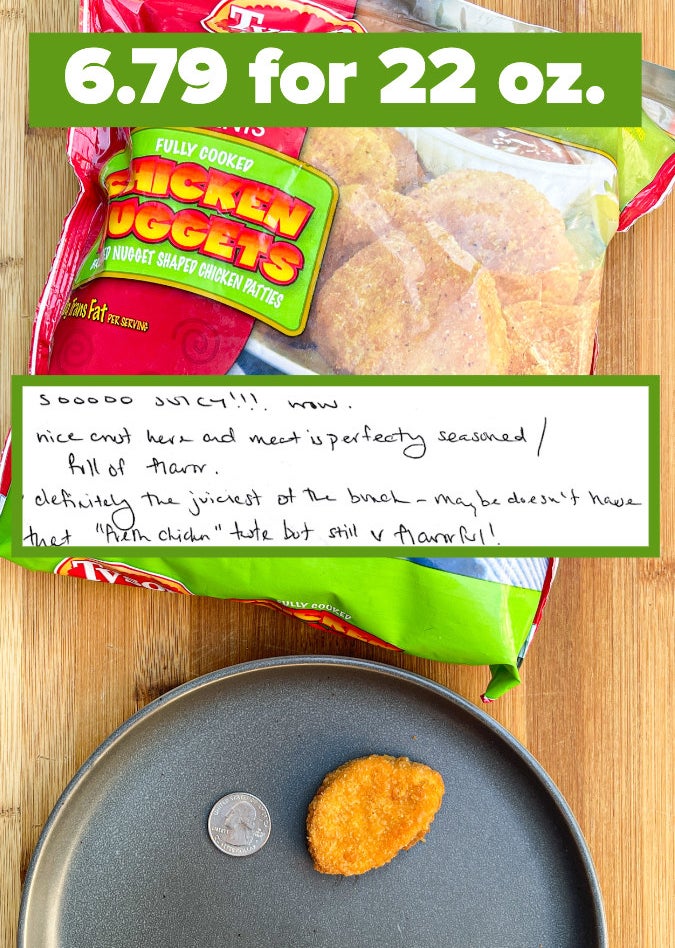 Every element of these chicken nuggets was on point, from the crunchy coating to the flavor of the chicken itself to the meat's tender texture. Unlike some of the others, I found these to be perfectly seasoned. The most standout element, however, was the juiciness of each and every nugget. I mean, holy cow, these things were juicy!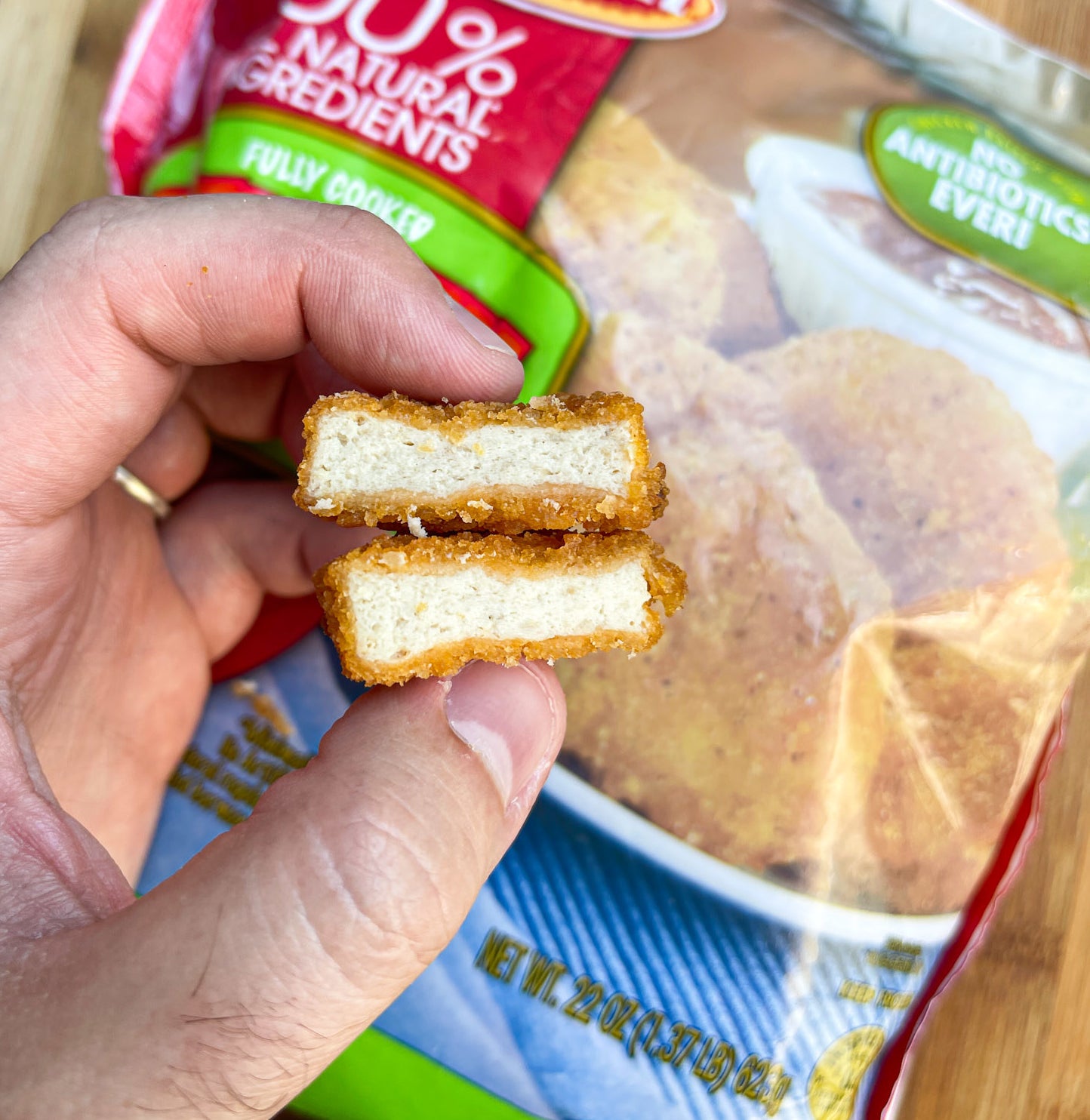 🐔 OVERALL RATING for TYSON: 8.5/10 🐔
Tyson's frozen chicken nuggets have always been some of the most popular nuggets out there, and after re-trying them for myself — now as a full-blown adult — I'm happy to report that they're popular for a reason. At just $.30/ounce, they were technically the most budget-friendly of the varieties I tested, and their excellent taste and texture just sweeten the deal.

2.
Whole Foods 365 — Let me just say, without a single ounce of hyperbole, that I'll be buying a package of these chicken nuggets every time I step foot into a Whole Foods from now on.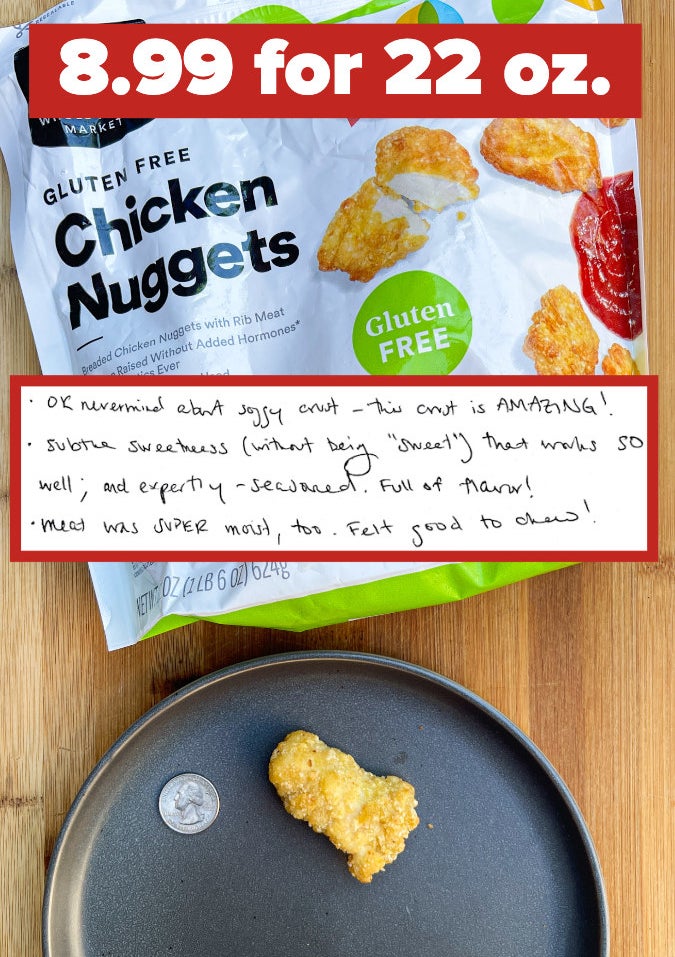 Like the Bell & Evans nuggets, these were only partially cooked before they were frozen, so they actually finish cooking while they're reheating. Unlike Bell & Evans, the juicy chicken was backed up with a whole lot of flavor, and they were perfectly seasoned, to boot. They also happen to be certified gluten-free, which is certainly a bonus for anyone with a gluten allergy. But even as someone who does eat gluten, I didn't miss the "traditional" breading one bit. The crunchy coating here was more flavorful and even crispier than most of the other nuggets I tried, which genuinely surprised me.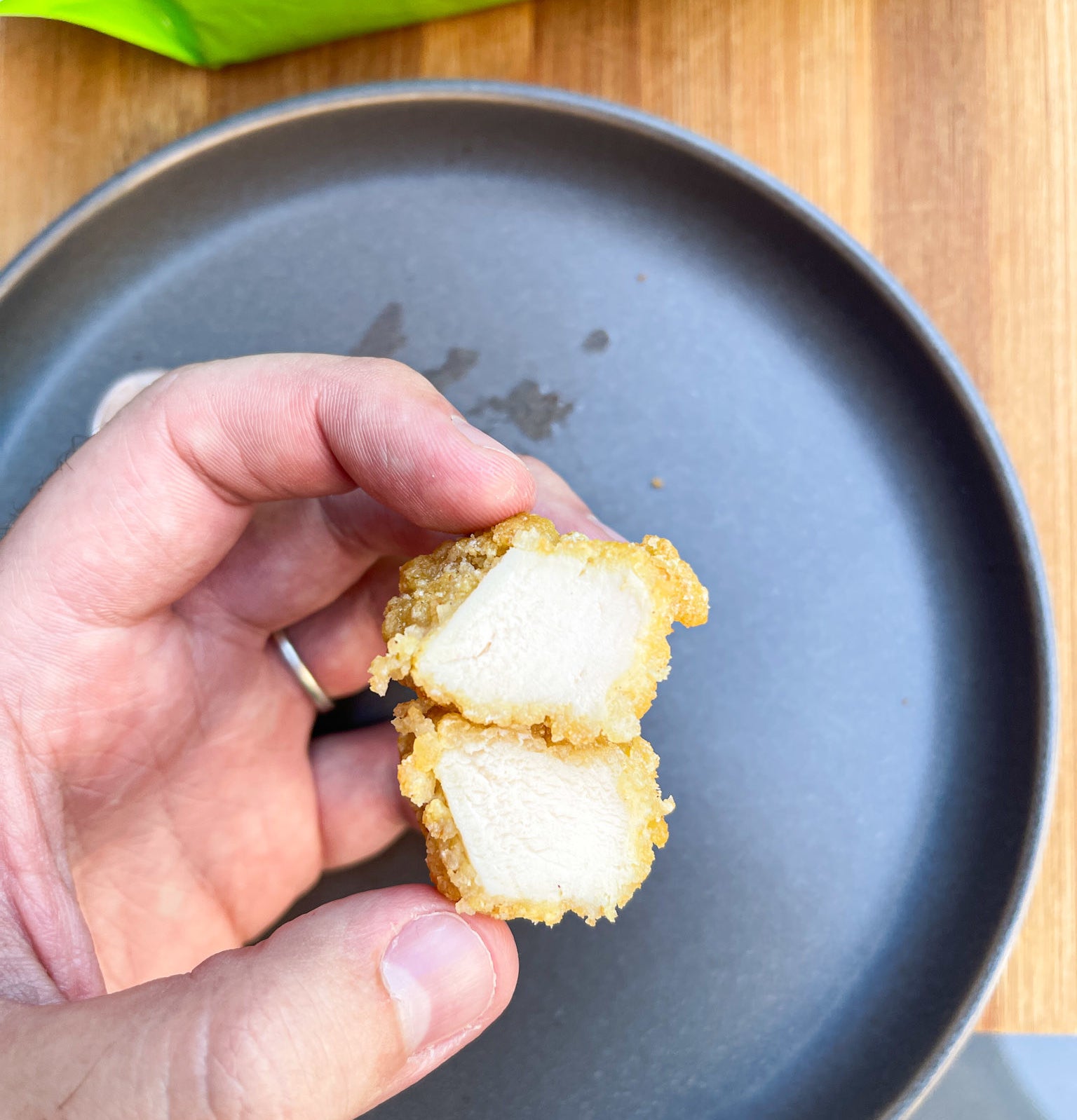 🐔 OVERALL RATING for WHOLE FOODS 365: 9.5/10 🐔
The meat is high-quality, the nuggets are wildly flavorful, and the crunchy exterior just so happens to be gluten-free. Factor in the budget-friendly price point, and like I said before, I'll be buying a bag of these chicken nuggets every time I visit my local Whole Foods.

1.
Trader Joe's — While these nuggets were virtually indistinguishable from the Whole Foods ones, they came out on top for excelling in one specific category. Even better: They're just $.01/ounce more expensive than the most wallet-friendly brand.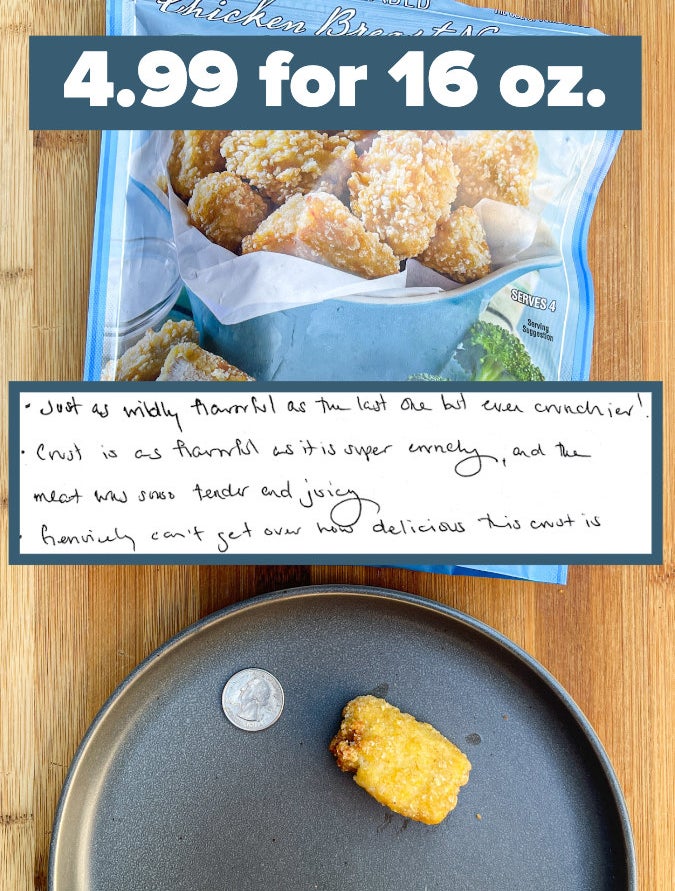 Like the Whole Foods nuggets, these also just so happened to be gluten-free. I actually think that's why the crust is just so darn good — rice flour, which is one of the main ingredients in these nuggets, is commonly used in fried foods to build a coating that's lighter and crispier than versions made with traditional wheat-based flours. So it's not only a win for folks with gluten allergies, it's a major win when it comes to texture and flavor too.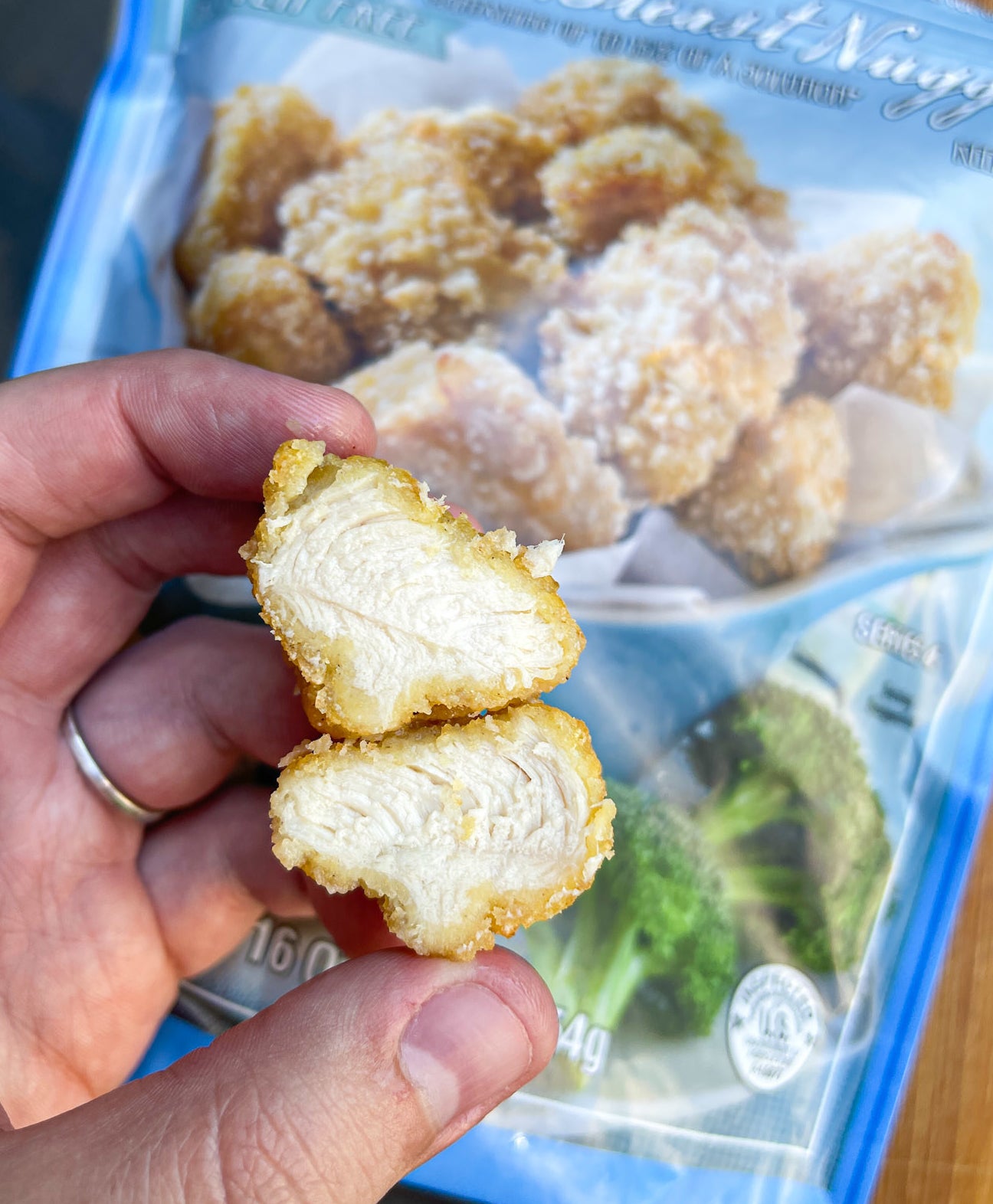 🐔 OVERALL RATING for TRADER JOE'S: 10/10 🐔
I have no qualms! Trader Joe's chicken nuggets are simply extraordinary, with a light-but-crunchy exterior, super juicy chicken, and a price point that makes buying them a complete no-brainer. Next time you visit Trader Joe's, grab a few bags. You'll be so glad you did.

Since chicken nugget preferences can be a little subjective, I wanted to leave you with some nugget-y superlatives too.
BEST VALUE: Tyson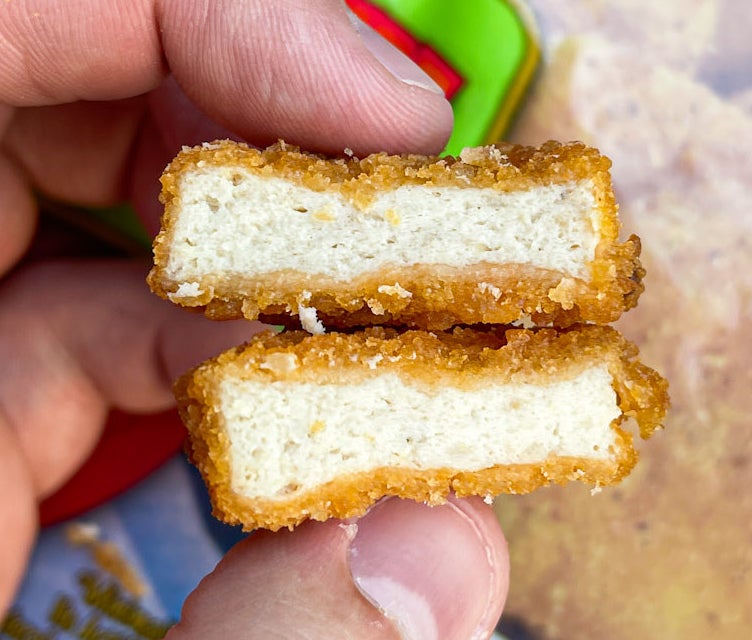 MOST KID-FRIENDLY and CRUNCHIEST CRUST: Earth's Best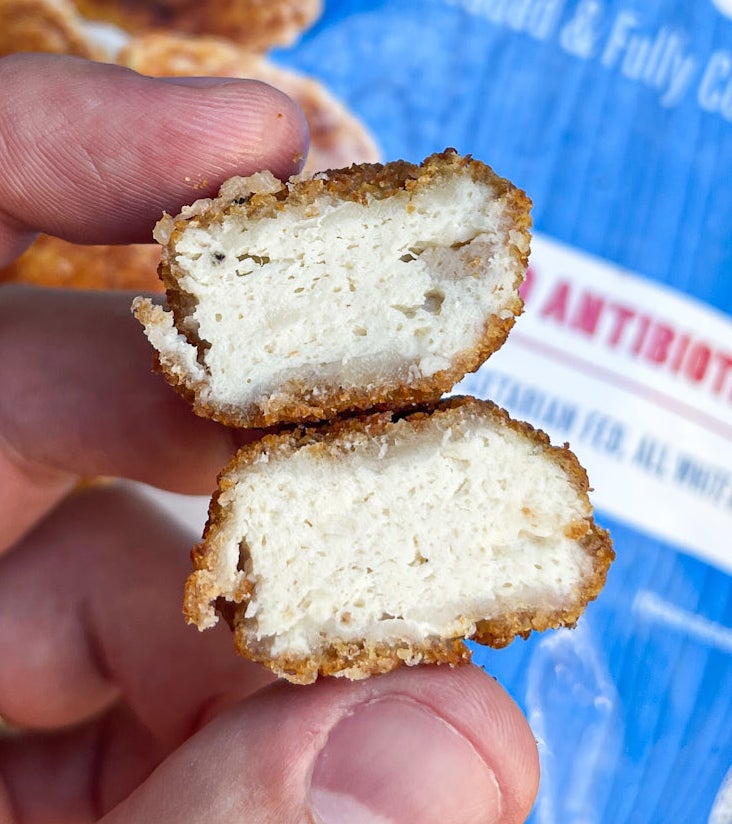 BEST FLAVOR: Trader Joe's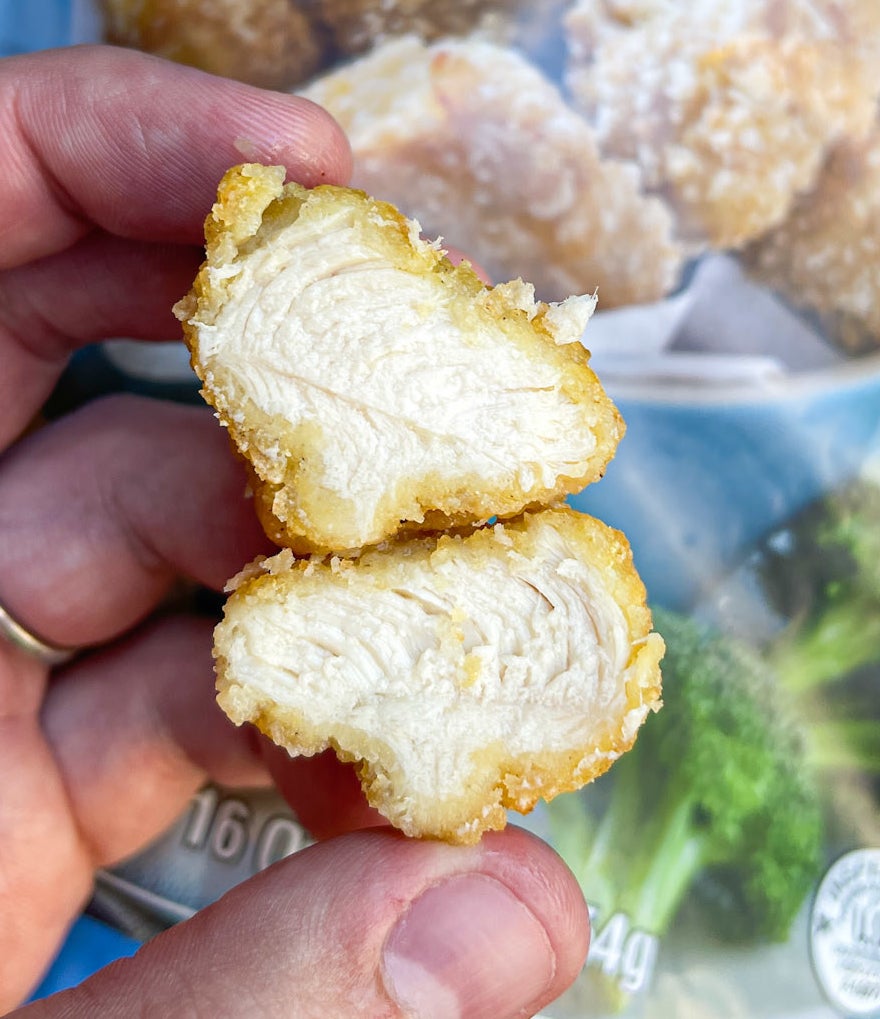 BEST MEAT: Whole Foods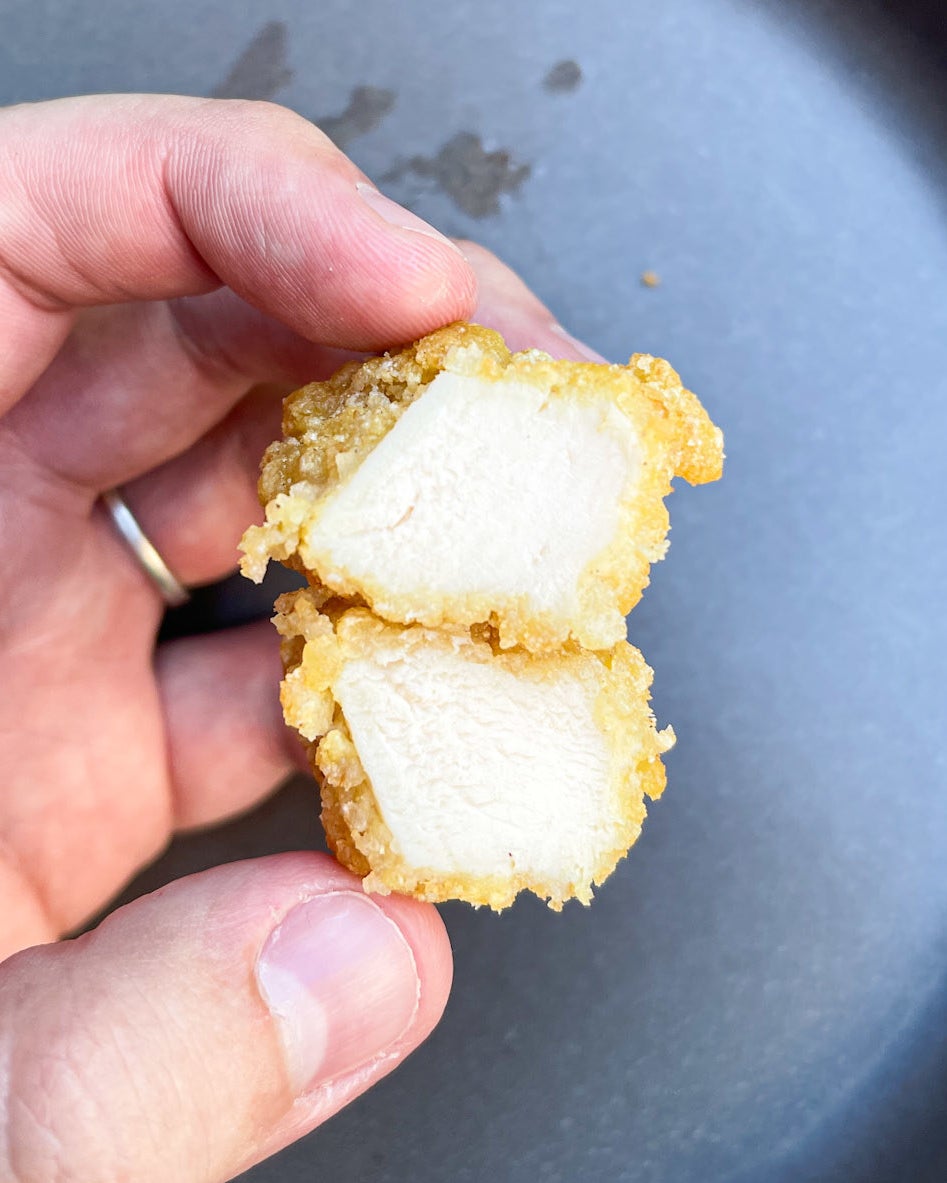 That's all from me, folks! Now, if you'll please excuse me, I have a freezer full of chicken nuggets that I have to (happily) eat my way through.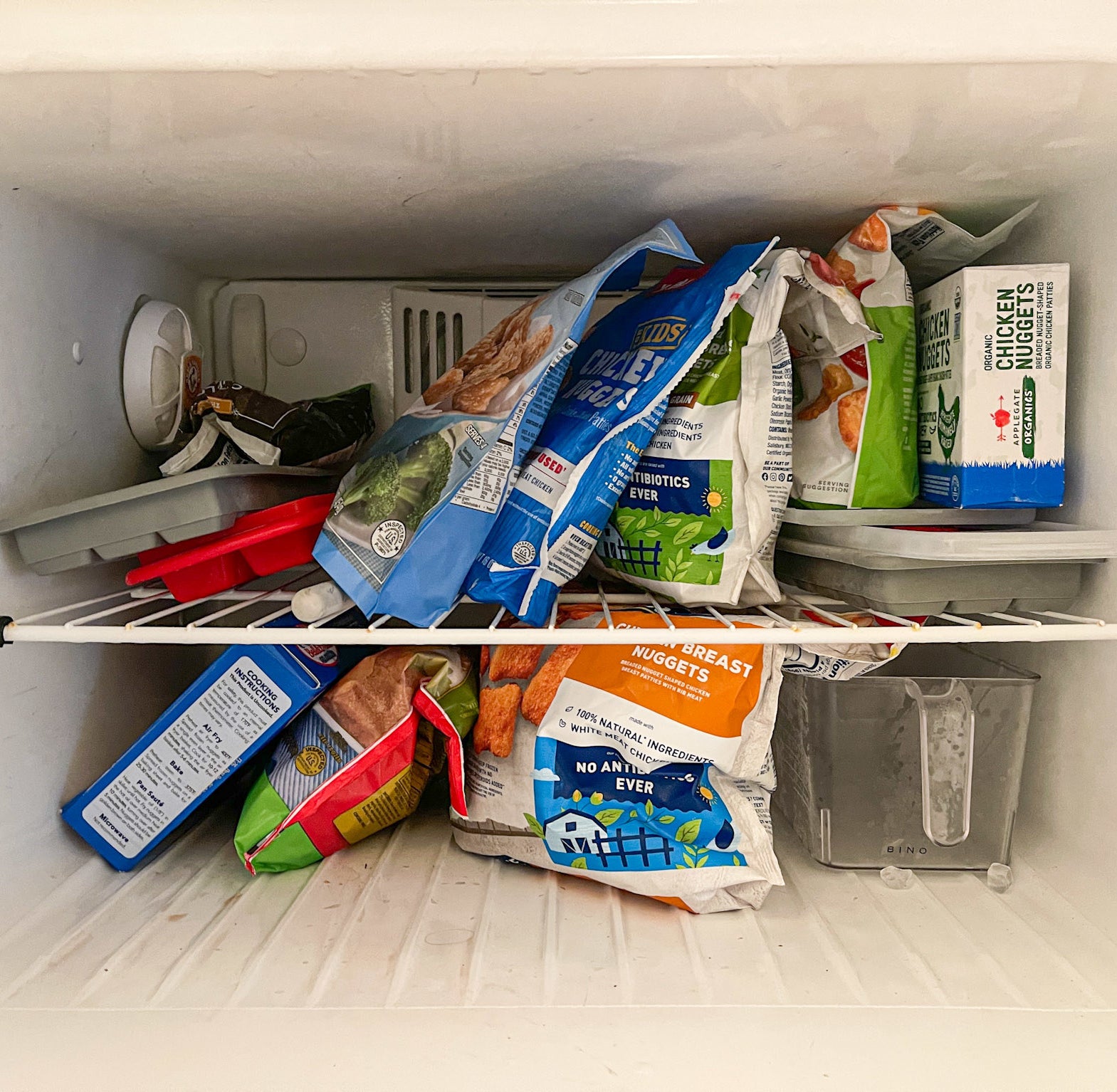 For more grocery store goodness, you can check out the rest of my grocery store taste tests and rankings here: