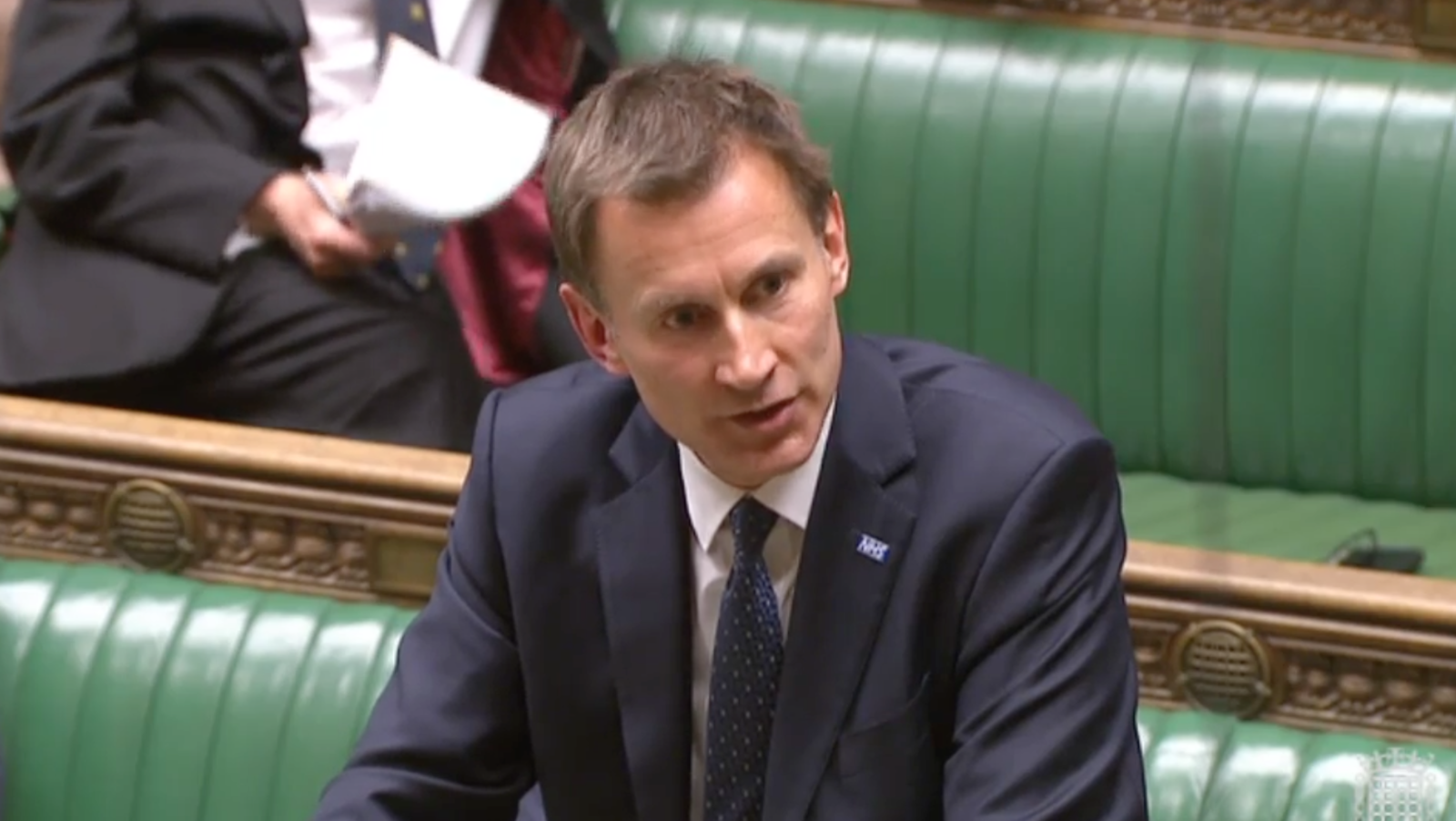 Jeremy Hunt has finally appeared in front of MPs to insist the hugely controversial changes to junior doctors contracts will still be implemented ahead of the first full strike in NHS history next week.

The secretary of state for health told the House of Commons on Monday that the blame for the prolonged and increasingly bitter row over his plans for a new contract increasingly lay in the hands of the British Medical Association's (BMA) refusal to negotiate.
Labour shadow health secretary Heidi Alexander asked Hunt how he could continue to justify a situation, underpinned with nothing but "bravado and bullishness", which could lead to junior doctors withdrawing all labour including emergency care.
"We are imposing a new contract and we are doing it with the greatest of regret because the BMA (British Medical Association) refuse to talk," Hunt told the chamber.
He continued: "We have not changed our position and the fact of the matter is that the government has bent over backwards to try to avoid the strike."
Junior doctors are poised to stage the first full 48-hour walkout, which will include A&E staff, starting at 8am on Tuesday 26 April. The BMA's junior doctors chair, Dr Johann Malawana, said the government had left them "no choice" but to strike.

The government and the BMA have not met for negotiations since February, after Hunt pulled out on the advice of his hospital chief executive Sir David Dalton, and announced he would impose the new seven-day contract which comes into effect in August.
A BMA spokesperson told BuzzFeed News that "no doctor" wished for strike action, but that the union had already exhausted all other options.
"Junior doctors fundamentally believe this contract is both unfair and bad for the delivery of patient care in the long term," the spokesperson continued.
They added that the BMA Had notified several NHS Trusts ahead of the strike, allowing them to suitably prepare. Once again, they called on the government to listen to their concerns and "get back to the negotiating table".
Many doctors also reacted angrily on social media to the health secretary's remarks.
Alexander also questioned whether Hunt had the legal authority to implement his proposals. Hunt responded to her question with a curt "yes."
He reiterated to the House that the proposed new contract was "legally binding" and that "it will apply to all junior doctors in the NHS".
It follows a "letter of action" delivered to the Department of Health on 4 April after a group of junior doctors crowdfunded £100,000 to question the legality of the secretary's health reforms.
Labour MP Valerie Vaz later asked Hunt what his department was doing over the two impending legal cases. Hunt responded: "We have two cases ongoing and we are defending them vigorously."