Back from the dead, instant thoughts from an LCD show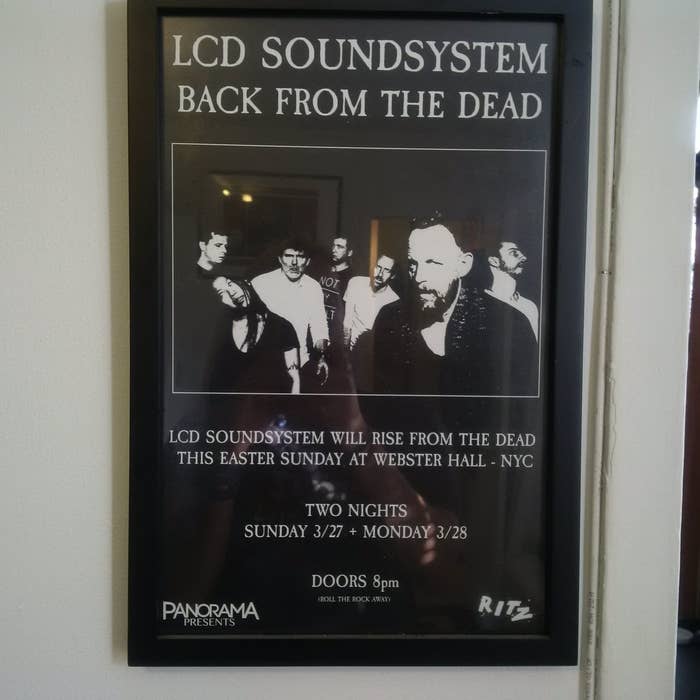 TEN THINGS I REALIZED AT LCD'S REUNION SHOW
1. Good music doesn't get old, just the band members and parts of the crowd do. There were kids in the crowd who barely had taken their first step when Lcd started to perform so to them hearing Daft Punk is playing in my House live is a new thing. I've seen them a half dozen times, but good songs should be played over and over again, they don't get old, they just age. It's why the Stones still play Satisfaction.
2. Lcd is a band who people discover or get turned on to. One of those bands where someone says "hey listen to this", and then you're hooked. They were never popular enough to where non-fans knew their songs. I know many Coldplay songs, I didn't discover them, they were rammed down my ears. Coldplay plays superbowls Lcd's most famous show was their last at the garden. Of course now it isn't there last show so maybe Lcd has a chance to be discovered, but they won't ever play a Super Bowl.
3. Lcd fans are 99 percent white and 1 percent Aziz Ansari, who I never realized was so short. Wearing a leather jacket he looked like he was an extra for an all midget production of Grease. Coldplay audience is 100 percent white. I mention the audience color because it felt like all of Brooklyn came to the show.
4. When an entire crowd bounces, dances and sings for the whole show you know you have them in the palm of your hand. It also means you stick to the hits and play the B sides for another day. Side note, when you're 21 and bounce for the entire show you work up a sweat. When you are 37, you work up your heart rate and also wake up needing to ice your knees.
5. Encores are bullshit, so when James Murphy (lead singer) told the crowd this encore was truly the last song of the night it saved the crowd that moment when the band walks off stage and you start to worry that if you leave you might miss another song. Every concert I have ever gone to has had an encore, only Lcd tells you that they are going off stage to piss then they will come back for an "encore."
6. Never declare any show or tour is your last one. Every band gets back together because they make more money together then they do alone. Half of the original band members of The Who are dead and they have been doing farewell tours for 20 years. This being said, some bands like Lcd, are allowed to retire then have reunion shows because they never had the chance to cash in the first time around and because none of the members of the band are dead.
7. You can see that the members of Lcd truly love playing together and the feeling is contagious. The whole audience basked in this love for the entire concert, greeting each note or lyric with love. Watching bands who hate each other play together is sad. I love Pink Floyd, but when you see them live and realize that Roger Waters and David Gilmore would rather play russian roulette with each other then play music it takes something away from the music. James, Nancy, Pat and the rest of the Lcd tribe have fun together and so the audience has fun too.
8. Every concert is better on drugs, it just depends on what drugs you take and how old you are. When you're 22 seeing Lcd play then by all means do a bump take some x, let your freak flag fly. Try that at 37 and you'll spend half the show sweating and worrying you are having a heart attack or worse about to puke. Smoke a j, drink some vodka and look at the kids coming up from behind and say I WAS THERE.
9. PUT THE PHONE FUCKING DOWN. Have I got your attention, because I really only want to say this once. I get it, you want to say you were there, or you want a little video of the band, but when you spend more time looking at a band play through your phone then your eyes, something is wrong. No one needs you to update every song with a new video of you and the white people around you dancing. Not to sound old, but the first time I saw Lcd everyone had their lighters up at the end to salute the band and see the dark stage. Now there is an app for fake concert lighters and since you can't smoke inside no one has lighters.
10. Playing your first show on Easter Sunday and not sucking is a real resurrection. Not to put Jesus down or anything, but he only was away for 3 days before he came back and did his thing. Lcd has been gone years, yet they came back Sunday and instead of just floating away they led 1500 people through a concert that had more emotion than any mass you will ever go too. They can't turn water into wine, but they can turn a night into a memory and the older you get the fewer memories you truly remember. That's what makes it special, I don't remember the first 5 times I saw them, save for their "final" show at the garden, but I know five years from now I'll remember their resurrection Sunday night.