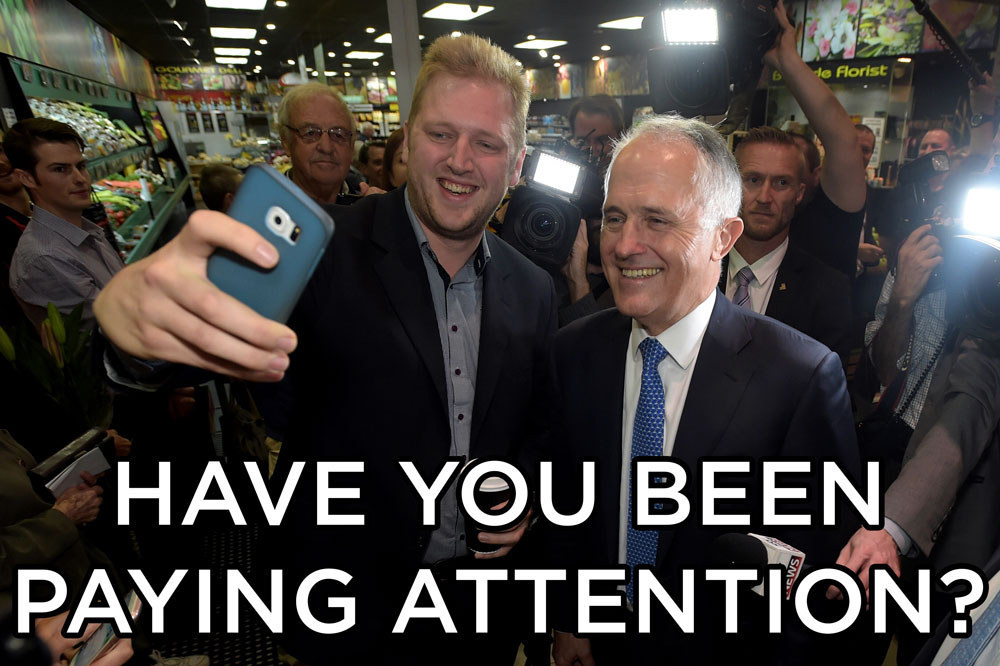 1. Prime minister Malcolm Turnbull called an election on Sunday. When is it?

Only 7 weeks to go hahahahahahahahahahahahahaha

2. Which senior politician has been named in the Panama papers?

There's no suggestion he's done anything wrong though.

3. Who said it: We say what we mean, we mean what we say, we do what we say we'd do in the way we say we'd do it.

We don't know either.

4. Sydney's Daily Telegraph is running a campaign to save which popular politician in his electorate?

He's in the fight of his political life.

5. This man has been the subject of intense media scrutiny this week. What did he do to deserve it?

Advocated overthrowing the government.

Hurled unnecessarily personal insults at the Q&A panel.

Questioned the fairness of the Budget.

It's the last one obviously!

How dare he.

6. Fill in the blank in Labor's campaign slogan: Putting ...... First.

That's nice.

7. Finish the Liberals' campaign slogan: Jobs and....

A pool in every public school.

It's Growth. But that coke in the bubblers thing is a pretty good idea.

8. What's the last day you can enrol to vote?

Do it. It's important.